We use our iPhone 12 for multiple tasks, like downloading apps, browsing web pages and playing games. But sometimes it gets stuck and doesn't work correctly. In such a situation, what can you do?
Well, a simple restart or forced restart can get your iPhone fixed. It is a necessary move when something in your iOS is malfunctioning. In this post, I'll show you how to restart your iPhone 12. Moreover, when a restart doesn't work, I will also provide the best ways to fix your iPhone.
Restarting iPhone 12
About iPhone 12
The iPhone 12 features a ring/silent button on the left side, near the volume up and down buttons and a power button on the right. With the ring/silent button, your iPhone will ring for calls and notifications when the switch is pushed up. And your iPhone's ringer will be quiet if you press the button down. Calls and alerts won't be audible on the device. This side button is used for sleep and wake functions. These all buttons are significant because they are also used when you restore, update, or reinstall your iOS.
iPhone 12 buttons
So now you've known enough about iPhone 12's buttons, next thing you must know is how to restart your iPhone with buttons, especially when it's acting buggy, like unresponsive, stuck, boot loop, etc.
Restart via Buttons
This is the most commonly used method to restart your iPhone, especially when your iPhone freezes or its screen is broken.
Here is how to do it.
Press one volume button and the side button together for a few seconds.
Here you will see an option to Slide to power off. Swipe it to the very right. Then it will turn off.
Keep holding the side button until your iPhone 12 turns on again.
Restart iPhone 12 via buttons
Restart via Settings
You can also restart your iPhone via the Settings app. Usually, this method is used when your iPhone buttons are out of order.
To begin with, hit Settings on the home screen.
Choose General.
From the drop-down option, choose Shut Down.
Move the power off slider to the right by clicking and dragging it.
Wait a few seconds for your iPhone to completely shut down.
Shut down iPhone 12 via Settings
Restart via AssistiveTouch
The AssistiveTouch is just like a virtual home button on your iPhone 12. It consists of a floating button that includes within itself a variety of functions, such as restarting, locking screen, taking screenshots, etc. You will find this floating circle in the same place on your screen all the time unless you drag it somewhere else.
This method is useful when the power button of your iOS device no longer works.
The steps are as follows:
First, select Accessibility from the Settings.
After that, tap on Touch, then click on AssistiveTouch.
Switch on the Assistive touch. Now you've activated Assistive touch if you see a floating circle on your iPhone.
Open the menu by tapping the floating circle and selecting Device. Select More. Then confirm Restart.
Restart iPhone with AssitiveTouch
Restart via Voice Control
If you want to make things easier and cooler, simply talk to your iPhone to make it reboot. Yes, as long as your iPhone is running iOS 13 or above, you can use Voice Control to restart your iPhone hands-free.
Go to Settings and tap Accessibility. Then, tap Voice Control.
On the Voice Control screen, tap Set up voice control. You'll see a screen telling you what you can do with voice control.
Tap Continue. The next screen gives you an example of what you can say using voice control. You can scroll through the list to get an idea of how you can use voice control.
When Voice Control is enabled, you will see a blue and white microphone icon in the upper-left corner of the screen at that time.
Once you've set up voice control, you can enable it using Siri. Just say "Hey Siri" and then say "Turn on voice control." Then, you can use the Reboot Device command to restart your iPhone.
Restart iPhone with AssitiveTouch
What if your iPhone 12 can not turn off or restart?
If you are unable to turn off or restart your iPhone in any of these ways, it may be because of some software issues or glitches. In such a situation, you can use the following methods for a deeper type of repairs:
Via Mobitrix Perfix
Mobitrix Perix is a professional tool specially designed to fix iOS problems. It fully supports iPhone 5s to iPhone 15 and iOS 17 and earlier versions. If you are a non-technical person and find yourself uncomfortable using iTunes, then the Mobitrix Perfix is the best option for you. Using this tool, you can fix all the bugs on your iOS device without any data loss. Here is how to use it.
Install and run the Mobitrix Perfix program on your computer.
Use a USB cord to connect your iPhone or iPad to your computer.
Select the Standard Repair option after clicking Fix Now.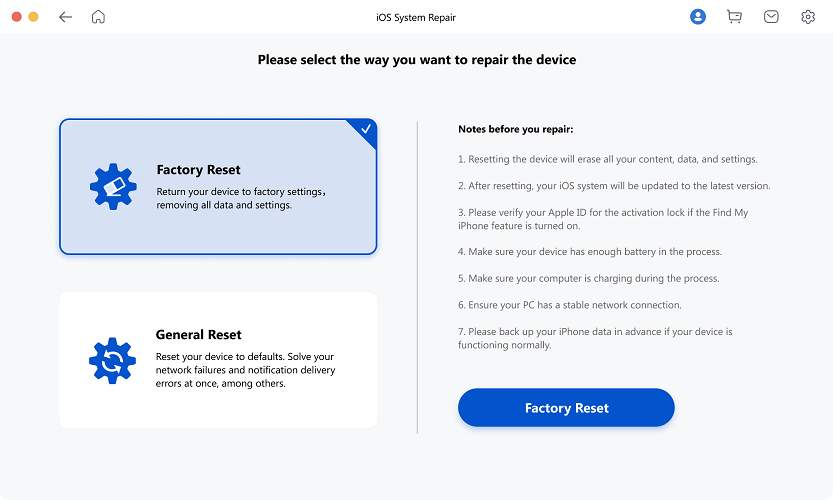 Standard Repair of Mobitrix Perfix
In around 30 minutes, your iPhone will restart as new.
Reset your iPhone 12 settings
Sometimes your iPhone 12 doesn't respond normally due to invalid or incorrect customization. If you have customized your iPhone settings before, there is a possibility that these settings have created conflicts. So it's better to reset all settings. Resetting all the settings on your iOS device doesn't cause any data loss.
Here is how to do it.
From the start screen, go to Settings.
Now choose General.
Scroll down and choose Reset.
Tap on Reset all settings.
Finally, when prompted, enter your password and click Reset all settings to confirm.
DFU restore
DFU (Device Firmware Update) restore is a more complex recovery option that helps us fix our iOS devices. However, it is the most risky method. You can ruin your iPhone hardware if you fail to use it in the right way. It lets you alter and select the firmware you wish to install on your device. If the standard recovery mode does not work for you, DFU can be of help.
In this article, I've told you how you can restart your iPhone 12 with or without buttons. When a restart doesn't fix the problem, you can use advanced methods to get your iPhone 12 back working. Among them all, Mobitrix Perfix is the best option. It's simple and super time-saving, without any data loss.