How Much to Replace iPhone Battery?
When new, the iPhone battery has a good health status and can stay for long without easily draining. However, after some time, the battery life degrades and it starts to drain at a faster rate and the iPhone's performance gets affected. In such a scenario, you need to replace the iPhone battery. This article will tell you how much it costs to replace your iPhone battery to ensure your iPhone regains good performance.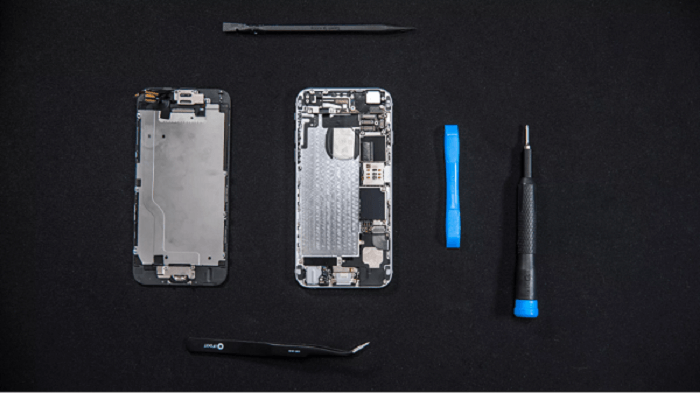 Part 1: Is Your iPhone Battery Draining Too Fast?
Different batteries have different scenarios reducing the battery health condition. However, various tips can help you boost the life of your battery without necessarily replacing it.
The tips will only help to prolong the battery life to reduce how fast the battery drains but you will still have to recharge your iPhone once the battery level runs low. Try the tips below to extend your iPhone's battery life.
1. Turn on Low Power Mode
iPhone has a feature, Low Power Mode, that lets you boost your battery life when it drains up to 20%. Turning on this feature enables the iPhone to gain three additional hours of battery life. So, anytime your iPhone displays the low battery warning indicating you should turn the Power Mode on to extend the battery life, click on Settings > Battery, then click the option to turn on the Low Power Mode.
The power mode reduces the power consumption of your app by closing all background processes and reducing the visual display of the iPhone to ensure it prolongs the battery life.
2. Airplane Mode
When your battery is running low and you are not currently in need of accessing mobile data, receiving, or making calls, you can simply enable Airplane Mode on your iPhone to extend the battery life. The largest source of battery draining is the iPhone's antenna which constantly checks for cellular or Wi-Fi and unless you turn on Airplane Mode, your battery will keep draining at a high rate.
With Airplane Mode on, you can still access data using Wi-Fi but no calls will be received or made. To turn on Airplane Mode, swipe up your iPhone's control panel, and click the Airplane logo. Alternatively, open Settings and set the Airplane Mode to enabled.
3. Screen Brightness
Screen brightness relies on your battery to ensure it displays high pixels, and the higher the pixel being displayed, the higher the rate of battery consumption. Thus, your iPhone's brightness consumes a large share of your battery.
To reduce your brightness and extend the battery life, under the iPhone's control center, drag the brightness slider to the left to a level that suits you without consuming more battery.
Part 2: AppleCare+ Plan
AppleCare + Plan acts as insurance for your iPhone in case of accidental damage in which you can seek repair or replacement of the iPhone provided the iPhone has an AppleCare+ plan. However, if your iPhone doesn't have the AppleCare+ plan, you will need to pay an out-of-warranty fee for your iPhone to be fixed.
1. Under Warranty
When you purchase an Apple device, you are issued a warranty for the device. The warranty has a given period in which, if the device is damaged before the warranty period lapses, Apple will fix or replace the iPhone for free.
So, if your iPhone has a warranty that is still valid, take it to an Apple Store, using the AppleCare+ plan, they should replace your iPhone battery or fix your iPhone at no cost.
2. Out of Warranty
If the iPhone has a warranty whose period has elapsed, it implies that the AppleCare plan won't work for you. However, Apple can still replace your iPhone battery at a fee ranging between $49 and $69, depending on what model of iPhone you have.
3. How Much does the AppleCare+ Cost?
iPhone model Battery repair (AppleCare+ service fee)
iPhone models under warranty $ 0
iPhone models out of warranty $49 - $69
Part 3: Damaged iPhone Battery Repair
If your iPhone has a damaged iPhone battery, the following Apple Service options can be used.
1. Carry-in repair
For this, you can either book an appointment day in which you will then take your iPhone for repair at an Apple Authorized Service Provider. Alternatively, you can schedule for an Apple-authorized service provider to come to repair your iPhone battery at your home or work area.
If your Apple is out of warranty, you will incur a fee depending on your iPhone model as illustrated below. The repair damage fee is only for a damaged battery, in case of other damages, the price may be higher moreover, the fee indicated below applies in the United States.
For iPhone XS, X, XS Max, 11 Pro Max, XR, 11 Pro, 11, 12, 12 Pro Max, 12 mini, iPhone 12 Pro the fee is $ 69. For iPhone SE (2nd generation), SE, 6, 6 Plus, 6s, 6s Plus, 7, 7 Plus, 8, 8 Plus the fee is $ 49. For the other eligible iPhone models, the fee is also $49.
If your iPhone is covered by the AppleCare+ plan, no fee will be incurred.
2. Mail-in repair
You can send your iPhone for repair by first arranging for the iPhone's shipment to an authorized Apple repair center. Once you do so, Apple will send you a box to be used to collect the iPhone. Once your iPhone is repaired, it will be shipped back to you.
3. 3rd Party Repair Company Costs
If you chose to take your iPhone to a third-party repair service company, replacing or fixing your damaged iPhone battery will cost you between $50 to $80.
4. DIY Repair Kits
To repair your battery by yourself, you require a DIY Repair kit. However, only attempt this if you have an understanding of the inner working of the iPhone to avoid causing more harm than good. Using websites like iFixit, you can get the needed instructions to repair your iPhone.
To acquire a DIY repair kit, you will need $29 to $40 depending on where you purchase it.
Part 4: Summary
The performance of your iPhone is greatly determined by the health status of your iPhone's battery. If you have an iPhone with a damaged battery you might need to replace it. This article introduced you to tips that can aid in increasing the battery life of your iPhone but if the tips don't work, you can replace the iPhone, either for free if you have a warranty, or at a cost if out of warranty, using the various options discussed in the article.