Your iPhone 12 battery is running out, and you want to shut it down to save battery, yet suddenly you find that it cannot be turned off? Or you simply want to restart it to fix some bugs but can't? Well, you are not alone.
I'm a former ex-Apple customer care representative. Let me show you how to fix this issue effectively in simple steps. Read on!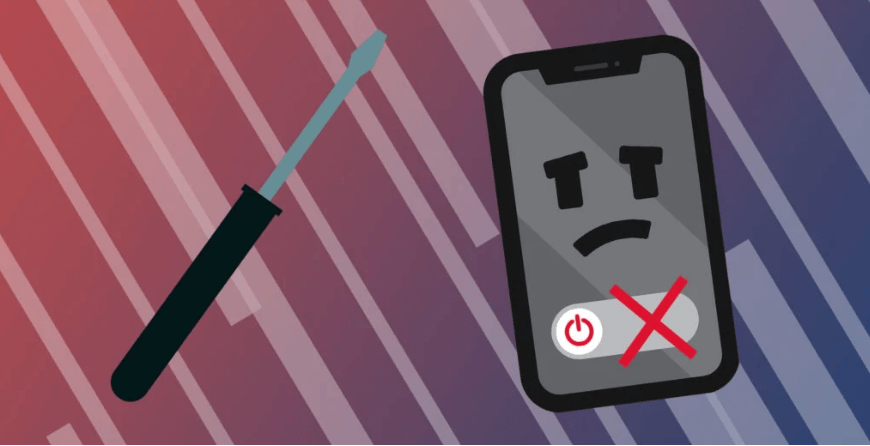 iPhone 12 won't turn off
Why iPhone 12 won't turn off?
There are many reasons why your iPhone 12 won't power off. Understanding them helps you find the effective solution faster.
1. Software crash: This is the most common occurrence. Each iOS comes with its loopholes and bugs. A software glitch can be triggered due to a sudden power off, or when you've had a failed update to iOS 15.4, or an interrupted data transfer, etc.
2. Hardware damage: Maybe one of your shutdown buttons has an issue. Or your iPhone 12 screen is broken and doesn't respond well.
3. Faulty apps: Some running apps aren't fully compatible with your iPhone's latest OS. They may become unresponsive sometimes and can close unexpectedly, causing errors that interrupt the powering-off process.
4. Virus attack: Although virus attacks are rare in iPhones, they can indeed result in your iPhone 12 not shutting down normally. Your iPhone 12 can be vulnerable to virus attack, if you have recently jailbroken it, downloaded apps from untrusted sources, or clicked suspicious links.
5. Low storage: Maybe you've installed too many apps or not cleared your cache, making your iPhone 12 run low on storage. In such cases, your iPhone can get stuck and refuse to turn off.
6. Running iOS15.6 beta version: Although the iOS15.6 beta version is ultimately relatively stable, your experience using it won't be perfect. It is still under development and will have bugs, crashes, quirks, and more that could be causing your iPhone 12 not to shut down. Restoring your iOS should be a repair option.
All in all, I will show you next what to do when your iPhone 12 can't turn off. Let's get rolling.
2. Force restart
If the buttons are okay, then you need to rule out hardware failure. Try a force restart. This can cut off the power supply and force the software to reboot. Also, you don't lose any data.
Press and release the volume up button quickly.
Repeat step 1 for the volume down button.
Press and hold the side button and release it once you see the Apple logo on your screen.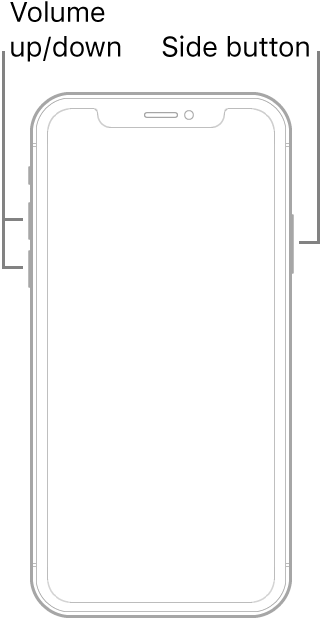 Force restart iPhone 12
3. Uninstall faulty apps
You may also want to check whether you are running any corrupted apps on your iPhone 12. If so, you need to delete them permanently. Here are three different ways to remove such apps:
Hold down on the icon of the very app you want to uninstall until a todoist popup comes up.

Tap Remove App > press Delete App > confirm Delete.

Click one app icon for deletion

Unlike in method 1, here you press and keep holding down on any app until your apps start to wibble.

Tap the right top corner of the required app icon, press Delete App then Delete.




Hold down an app icon until all apps wibble to select what to unistall

Open Settings > General and go to iPhone Storage.

Press the app you want to uninstall, tap Delete App and confirm.

Uninstall faulty apps with Settings

Deleting faulty apps should easily fix the iPhone not shutting down issue. However, if it persists, you can try the next hack.
4. Free up iPhone storage
If you keep getting a pop-up window on your iPhone 12 saying "iPhone Storage Full", it could be the storage issue causing the shutdown glitch. You can choose to offload apps to fix the issue.
Go to Settings, tap General > iPhone Storage. All installed applications will appear and the storage space they occupy.

Here you can choose to:

Tap on any unwanted app and press Offload App to manually offload it.

Alternatively, Enable the option to Offload Unused Apps and the iPhone will automatically find apps you don't use and delete them.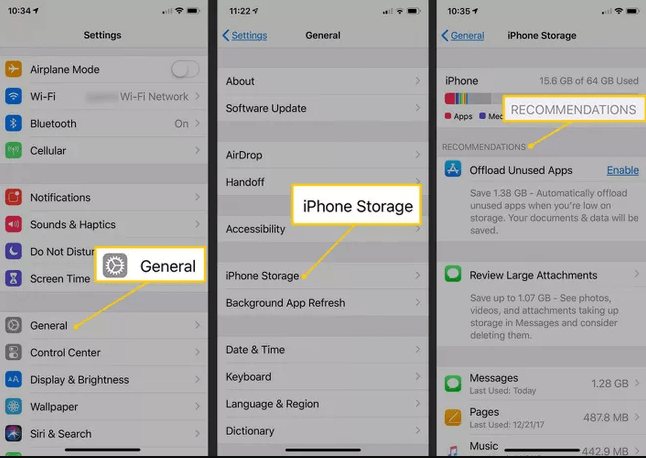 Offload unused apps
Also, you can decide to or optimize iPhone storage for your photos and videos by enabling iCloud Photos.
Open Settings and tap your Apple ID at the top of your screen.
Go to iCloud > tap on Photos > turn on iCloud Photos, then Optimize iPhone Storage. Your iPhone will upload all your photos and videos on iCloud.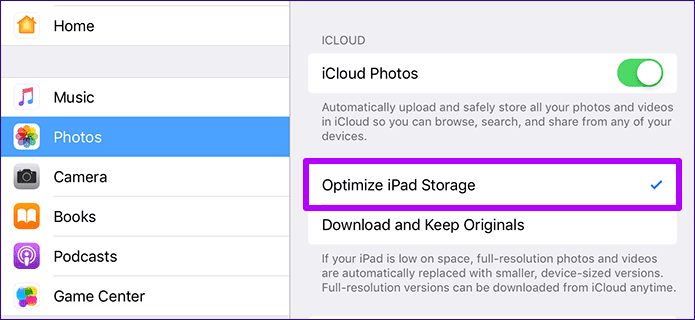 Clean iPhone storage
5.Fix iPhone 12 via Mobitrix Perfix
Mobitrix Perfix is a more advanced solution. It is a professional software tool to resolve various iOS system errors. It fully supports iPhone 5s to iPhone 15 and iOS 17 and earlier versions. Here is how it works:
Launch Mobitrix Perfix on a laptop.
Plug your iPhone 12 with a lighting cable to the computer.
Click Start, then go to Fix Now.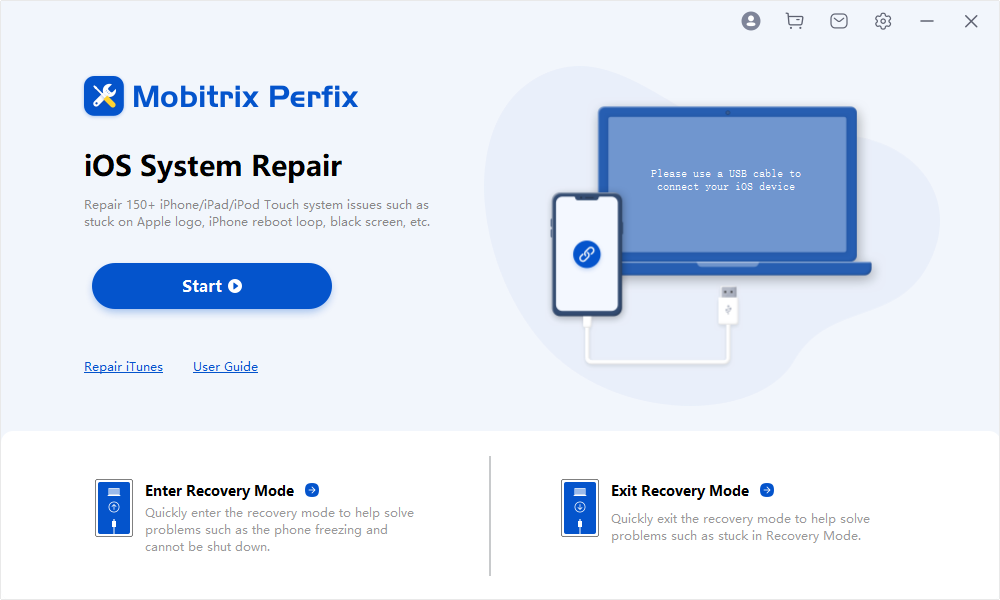 Launch Mobitrix Perfix
It will look for any system issues and fix them automatically. In around 30 minutes, your iPhone 12 can function in the usual way. And then you can shut it down successfully.
6. Reinstall iOS with iTunes via recovery mode
Putting your iPhone 12 in recovery mode and using iTunes to reinstall the iOS can also help fix the problem. Recovery mode will grant iTunes the access to diagnose and fix potential bugs and issues in your iPhone. It works by updating or restoring your iPhone 12 to a new iOS version.
Connect your iPhone 12 to a computer with a USB lighting cable.
Press and release the increase volume button and repeat the same for the volume down button.
Go on to press and hold down the side button until the recovery mode screen appears.
Find your device on the computer and choose the option Update. If it doesn't work, select Restore instead.
Wait a moment to finish the update or restore. Once done, the issue of your iPhone 12 not shutting down normally should be fixed. It should power off without any flaws. But if not, I got one more trick to solve the puzzle. Read on!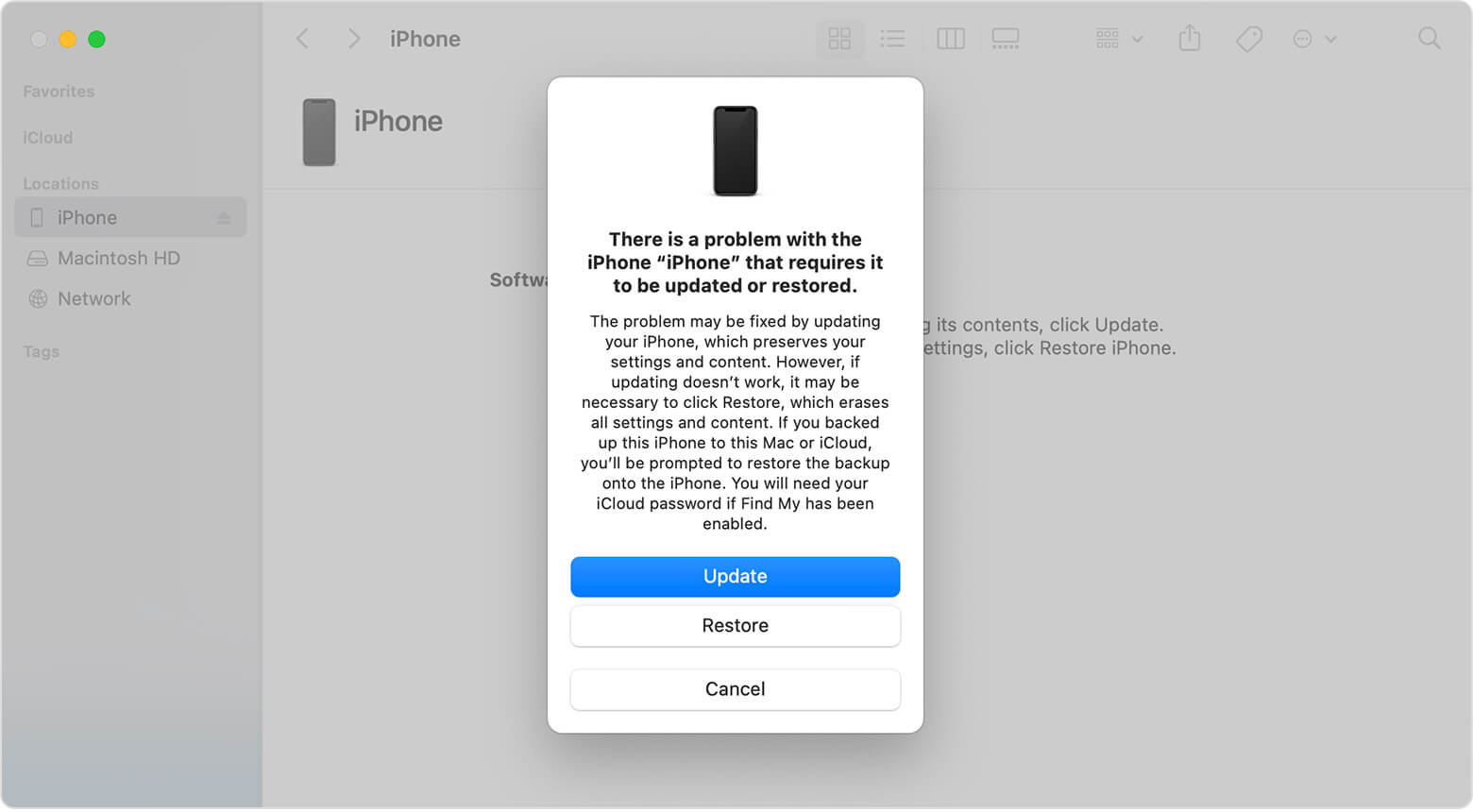 Update or restore your iPhone 12 in recovery mode
7. Perform DFU restore
DFU, also known as Device Firmware Update, is a state that you put your iPhone 12 in to make it accessible to Finder or iTunes to fix it at a more privileged level. However, you must be careful because DFU restore will permanently erase all the data in your iPhone. Make sure you backup your iPhone data beforehand.
Plug your iPhone 12 into a computer and open Finder or iTunes.
Click Restore and wait to finish the process.
After it restores, your iPhone 12 should be fixed and can now shut down without any issues.
8. Visit Apple
If you experience the issue even after trying the above methods, I recommend scheduling an appointment with your local Apple store. They will dig deeper into the root problem, do some physical repairs and replace missing parts if any.
In this article, we have looked at what could be causing your iPhone 12 not to shut down and how to fix it. All these methods are straightforward, but if you want an easier and faster way, Mobitrix Perfix is your best bet. The tool will help fix the issue without losing any data.