Turn off iPhone 11 via Settings
Apple has introduced a new feature to turn off your iPhone from the Settings app.
Tap Settings on the Home screen.
Tap General on the Settings screen.
Select Shut Down at the bottom of the General screen.
Now, drag the "Slide to Power Off" slider to the right side to turn off your iPhone.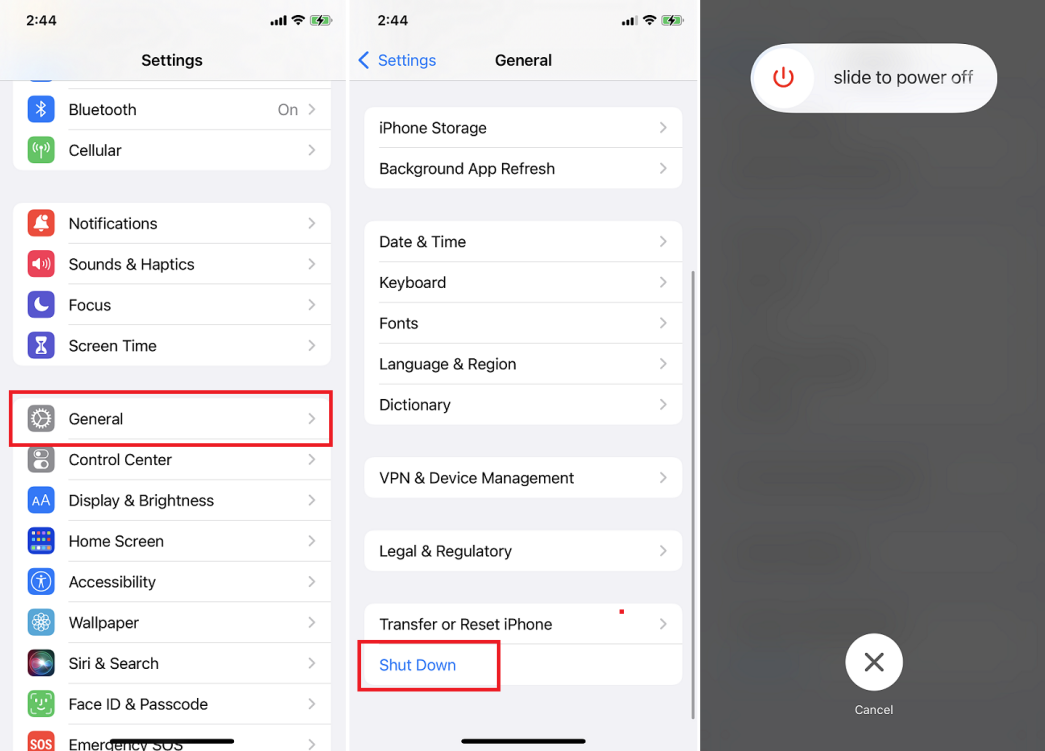 Switch off iPhone 11 via Settings
Turn off iPhone iPhone 11 via AssistiveTouch
AssistiveTouch helps you use your iPhone, when your screen isn't very responsive, or the buttons are broken.
Go to the Settings app.
Select General.
Tap Accessibility.
Select the first option AssistiveTouch.
Click on the switch next to AssistiveTouch and turn it on. It will turn green. A floating circle will appear on your iPhone screen.
Tap on the floating circle that appears.
Tap the Device icon (it looks like an iPhone)
Hold the Lock Screen icon and volume up icon until the slider to power off appears on your screen.
To turn it off, swipe the power off icon from left to right.What if you cannot turn off your iPhone 11?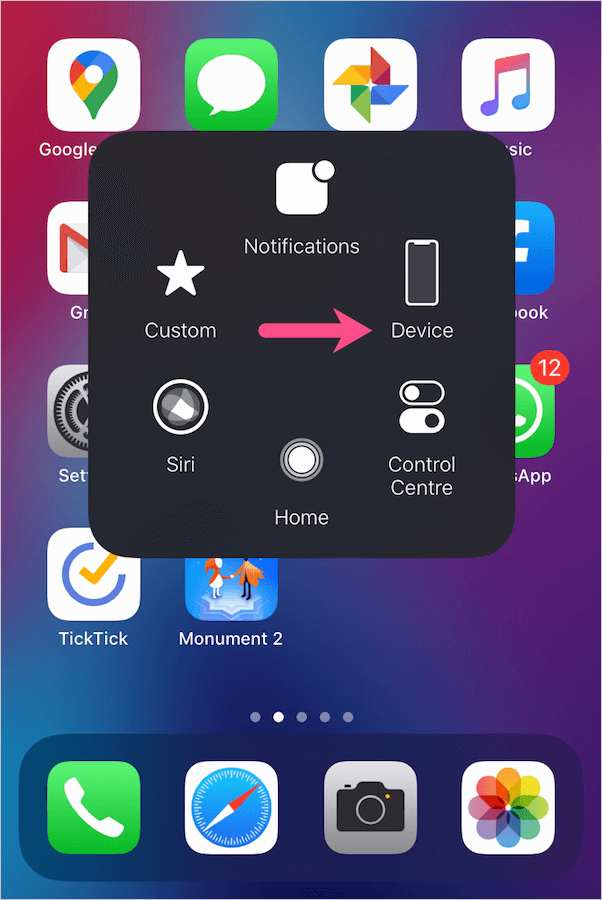 Turn off iPhone 11 using AssistiveTouch
What if you cannot turn off your iPhone 11?
If your iPhone does not switch off, you might be concerned that it is malfunctioning or that the battery will soon run out. Both of these worries are genuine. A stuck iPhone is an uncommon occurrence, but if it happens to you, don't panic.
Is this your concern while turning off your iPhone 11? It is time to bring in the experts!
Fix your iPhone via Mobitrix Perfix
Mobitrix Perfix is an expert-developed tool that repairs Apple devices in a matter of a few minutes. It is a one-stop solution to fix various iOS and iPadOS issues without causing any data loss. It fully supports iPhone 5s to iPhone 15 and iOS 17 and earlier versions.
Connect your iPhone 11 to the computer.
Click Start the main menu.
Identify the issue and download Fixfile Package. (If there are no corresponding types in the list, please click "Next").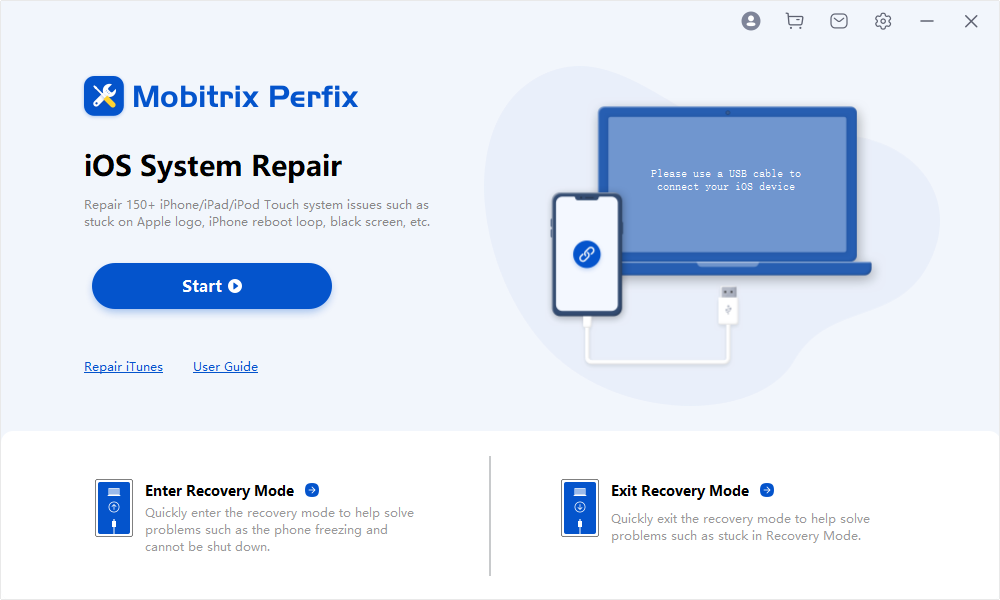 Mobitrix Perfix iOS System Repair
Factory reset iPhone
If you cannot turn off your iPhone, you might want to attempt a fix by wiping it clean and factory resetting it. A factory reset will restore your iPhone to its original state.
Go to Settings > General > Reset > Erase all Settings and Content.
When a pop-up appears, tap Erase and enter your passcode, Apple ID, and password when prompted.
The Device will begin to erase all your data before rebooting and starting up again as if it were new. You can then leave it as it is or restore your most recent backup.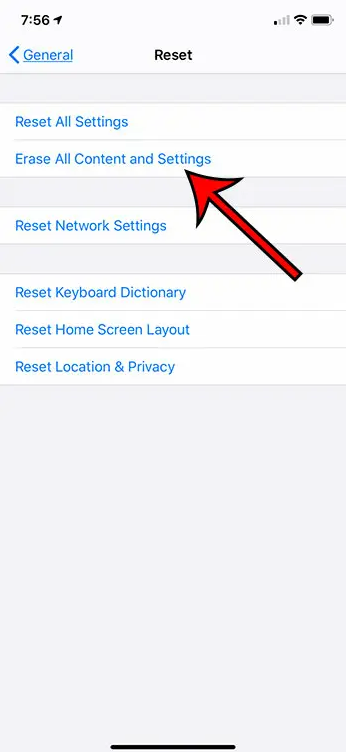 Factory reset iPhone 11
You can also factory reset your iPhone remotely. Want to know how? Here are the steps to follow:
Browse to icloud.com/#find on the computer
Enter your Apple ID & Password.
Choose your iPhone from the All Devices list and click Erase iPhone. All the data on your iPhone will now be erased.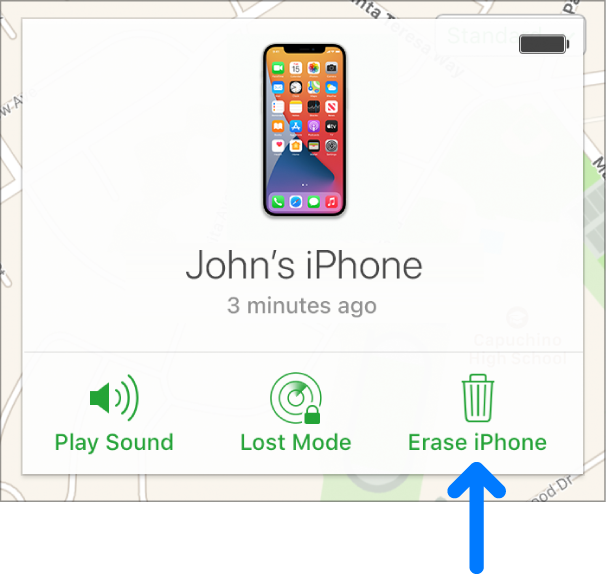 How to factory reset iPhone 11 remotely
How to turn on iPhone 11
If you are also facing problems with how to turn back on your iPhone 11, follow the steps given below:
Hold the side button. Wait till the Apple logo appears. Release the button as soon as the logo appears. Your iPhone 11 will switch on right away.
Congratulations, you've successfully turned off your iPhone! I encourage you to share this on social media to teach your family and friends how to turn off their iPhones without a power button. But what if, unluckily, your phone buttons are not working? Use Mobitrix prefix to put your iPhone in recovery mode, As it doesn't require any button presses.