Is your iPhone stuck on the Restore screen and that's making you anxious? Well, this can happen when you try to restore or update your device via iTunes or Finder. Read on to know why it occurs and how to solve it!
iPhone is stuck on the restore screen
Why Is My iPhone Stuck on The Restore Screen?
Anything that interrupts the iOS upgrade or restore process can get your iPhone stuck, such as follows:
Software Update Issues: Maybe the update packages you've downloaded are corrupt, or incompatible with your iOS model. Or the network connection is suddenly broken during the update/restore process, or the USB cable connecting your iPhone and computer is faulty.
Beta Testing: If you are running a iOS 16 beta version on your iPhone, chances are that this glitch is due to an error in UI/UX, usability error, a virus, or even incompatibility of the beta version with the device.
Jailbreak Failure: Jailbreaking penetrates through the Apple security and encryption of your iPhone. A jailbreaking failure can even make it prone to instability errors such as crashing and screen freezing. It is therefore more vulnerable to malware and viruses. You can try jailbreaking again or restore your jailbroken iPhone. Always ensure that you change the root password after completing the jailbreak to eliminate further problems.
Wrong button presses: Maybe you have accidentally pushed the wrong buttons, getting your iPhone stuck in the restore screen. Or you didn't use the right button combinations while trying to put it into the recovery mode.
Low Storage Space: If you update or restore your iPhone on low storage (below 15%), it won't have enough room to install new iOS files. Hence it gets stuck on the Restore screen, as it cannot move further with the update or restore.
Hardware issues: Your device might also get stuck on the Restore screen, if your iPhone ages, or the inner components are broken.
How to Fix iPhone Stuck on Restore Screen?
Restart
Most problems can be resolved with a simple restart. It turns off your iPhone and makes it start afresh. Your iPhone may unfreeze without any data loss.
iPhone 6s or earlier: Hold down both the side (or top) button and the Home button until the Apple logo appears.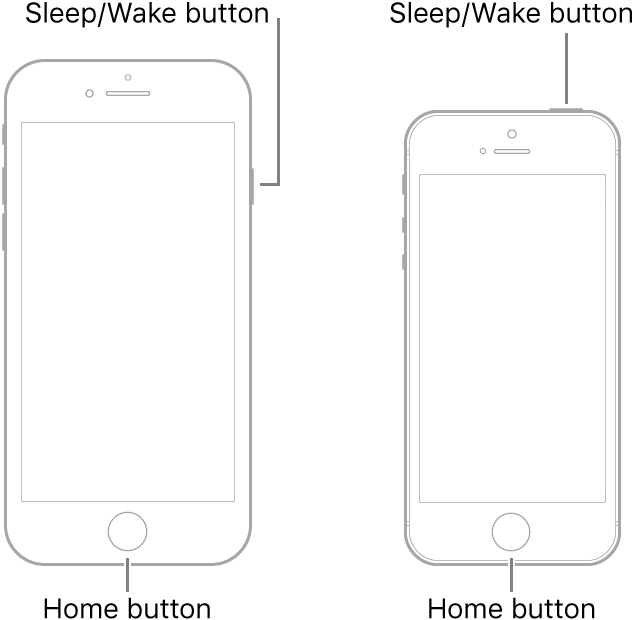 restart iPhone 6 series and earlier iPhone models
iPhone 7 series: Hold both the side (or top) button and the volume down button together until the Apple logo shows up.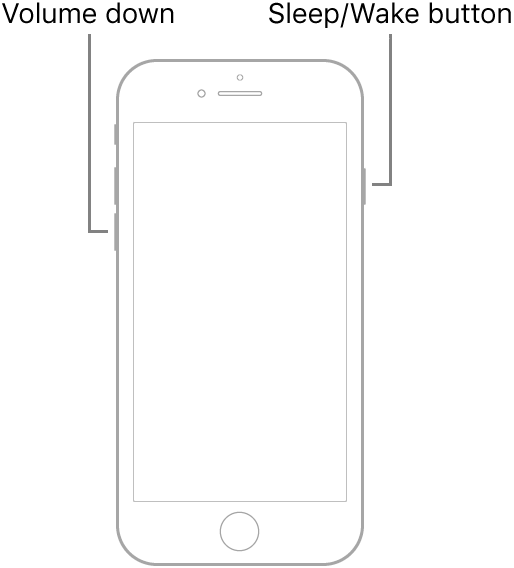 restart iPhone 7 series
iPhone 8 or later: Hold down and release the volume up button, then the volume down button. Long press the side button until the Apple logo pops up.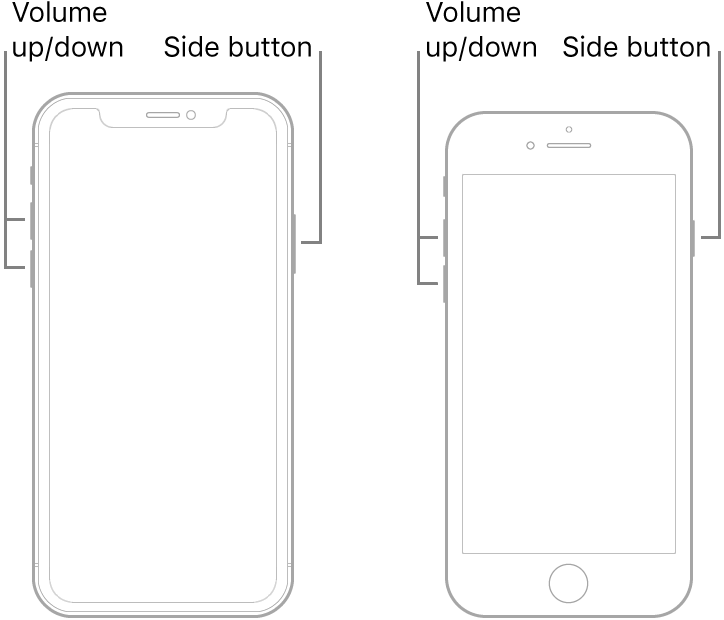 restart iPhone 8 series and later iPhone models
Force Restart
You can force restart your iPhone if the normal restart doesn't work. This will forcefully end all running activities in the background and clear the cache, therefore fixing potential software crashes in your iPhone.
iPhone 8 or later:
Long press the volume up button and then quickly release it. Repeat this on the volume down button. Then hold down the side button until the Apple logo appears.
This applies to models like iPhone X, iPhone XS, iPhone SE (2nd generation and later), iPhone XR, iPhone 11, iPhone 12, and iPhone 13
iPhone 7:
Long press the volume down button and Sleep/Wake button together until the Apple logo appears.
iPhone 6s or iPhone SE (1st generation) or earlier:
Hold the Sleep/Wake button and the Home button together until you see the Apple logo.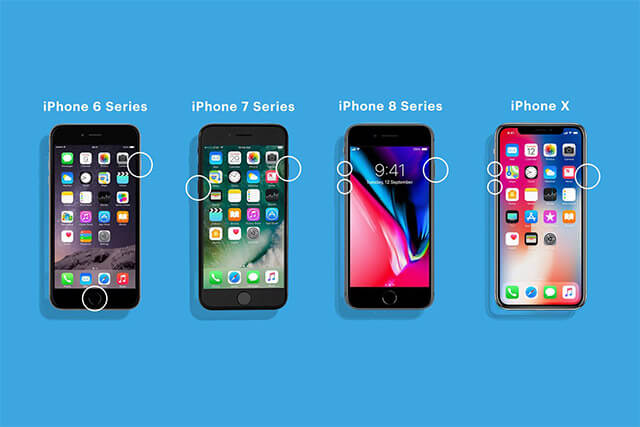 force restart all iPhone models
If force restart doesn't work, you will still need the help of a computer to fix it. Make sure your iPhone is stably connected to a computer with an Apple original USB cord.
Fix your iPhone with Mobitrix Perfix
Mobitrix Perfix is a professional software tool to resolve a plethora of iOS issues from home without any data loss. It can easily fix an iPhone stuck on the Restore screen within 20 minutes. It fully supports iPhone 5s to iPhone 15 and iOS 17 and earlier versions.
Install the software Mobitrix Perfix on your PC and launch it.

Launch Mobitrix Perfix

Connect your iPhone to the PC with a USB cable.
Click Fix Now and then choose Standard Repair.

Standard Repair Mode of Mobitrix Perfix
Then, Mobitrix Perfix will start detecting your iPhone issues. In around 30 minutes, you should be able to get your iPhone back.
Here is more about Mobitrix Perfix:
Quick as a wink: It takes only 30 minutes to fix any iPhone issue
Super easy: It only needs a few clicks to finish the whole repair process
100% secure: it doesn't delete your data.
Guaranteed to work: It comes with a 99% success rate.
Factory reset your iPhone via iCloud
If you've enabled Find My iPhone and set up iCloud on your device before, then you can reset your iPhone to factory defaults via iCloud. This way, you get to fix iOS bugs and system crashes by wiping out all content and settings remotely.
Here is how:
Go to icloud.com/#find.
Click "Find my iPhone" and Enter your Apple ID.
select the All Devices option, Choose your iPhone from the All Devices list and click Erase iPhone.
This method will delete all your data. If you've backed up your data before, you can restore it after the reset.
Fix it with iTunes
iTunes is a software program launched by Apple for mobile device management. It can also be used to fix some iPhone issues.
5.1 Update your iTunes
An outdated iTunes may come with loopholes, reducing your chances of fixing the iPhone.
Therefore, you should first follow the steps below to update iTunes:
Open iTunes
Choose Help
Go to Check for Updates
Update iPhone with iTunes
5.2 Remove Third-Party Security Software
Third-party security software on your PC may see your iPhone as an external threat, hence cutting off the connection. You should disable or uninstall it first before launching iTunes to fix your iPhone.
Select the Control Panel from the Start menu.
Click Programs and Features, and then choose the antivirus program you wish to remove.
Click Uninstall/Change. After that, restart your computer.


remove the security software on your PC to ensure stable connection
5.3. Reinstall iOS
Next, install a new version of iOS on your device. If you are using a Mac running macOS Catalina and later, make sure you update the whole system. If you are using a Windows PC or a Mac running macOS Catalina and earlier, install the latest iTunes.
Connect your iPhone to your computer. A message will pop up saying "There's a problem with the [your device name] that requires it to be updated or restored."
Click Update. Then your iOS will be reinstalled without data loss. If Update doesn't work, go back and then choose Restore, which will erase all your phone data.
5.4 DFU Restore
DFU stands for Device Firmware Update, a built-in mode within the iPhone. Via DFU, your iPhone can be repaired to the deepest level with every bit of code rewritten.
How to prevent your iPhone from being stuck on the restore screen again?
To prevent your iPhone from getting stuck on the restore screen again during an iOS upgrade or restore, it's necessary to:
Make sure your device always has enough power.
Make sure there's at least 3 GB's storage space in your iPhone.
Test your internet connectivity. Ensure the internet connection of your device is stable, so that the iOS 16 packages can be downloaded and installed smoothly.
Make sure that you backup your iPhone data regularly.
Use the original USB cable to connect your iPhone with the PC.
Clean dirt, dust or debris from the ports of your computer and iPhone often.
Don't plug the USB cable into your keyboard, in case that a restore error occurs.
Switch to a USB port on a different computer if the restore doesn't work.
Having an iPhone stuck on the Restore screen disconnects you from the world. Using the methods mentioned above can help you fix the issue. If you want a quicker and more effective solution, go for Mobitrix Perfix. It only takes 30 minutes to unfreeze your iPhone. Think about the time and money saved!