User Guide of Mobitrix Perfix
New to Mobitrix Perfix? We will take care of you. Click here to know how to set up the software and complete the process.
iTunes herstellen
Stap 1 Download en Installeer Mobitrix Perfix.
Stap 2 Sluit iPhone/iPad aan op de computer.
Stap 3 Klik op "iTunes repair".
Stap 4 Klik "Repair".
Stap 1
Mobitrix Perfix downloaden en installeren
Download en installeer Mobitrix Perfix op uw PC of Mac, start dan het programma.
Stap 2
Verbind iPhone/iPad met Computer
Sluit de iPhone/iPad aan op de computer via een USB-kabel.
Stap 3
In het hoofdmenu van Perfix, klik op "iTunes repareren"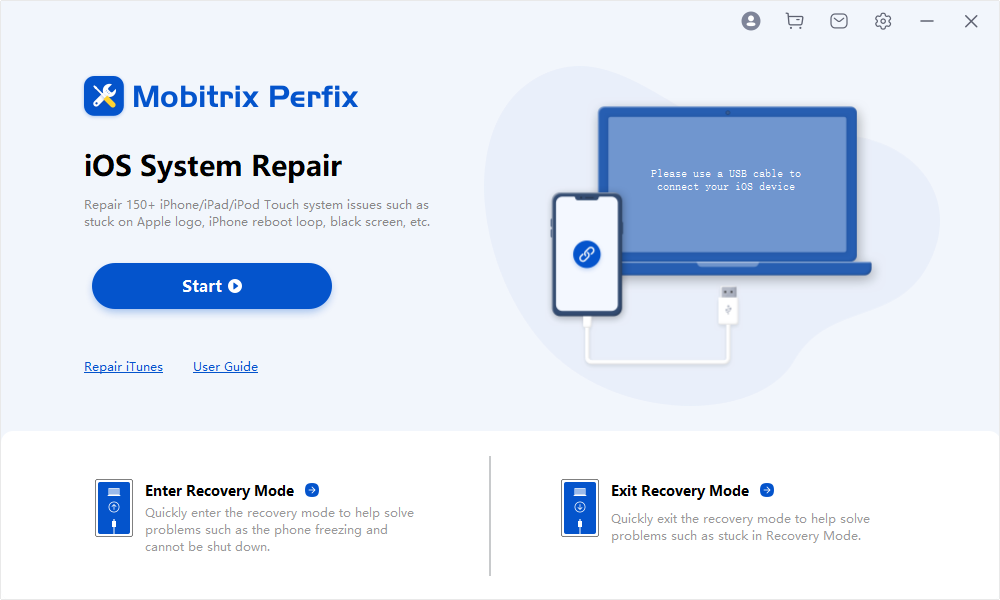 Na het klikken op "Repareer iTunes", zal Perfix uw iTunes automatisch diagnosticeren.
Stap 4
Klik op "Repareren"
Download en installeer automatisch de benodigde stuurprogramma's om uw iTunes te repareren.

De reparatietijd bedraagt normaal gesproken minder dan 10 minuten en uw iTunes is weer klaar voor gebruik.
---
De software zal herstarten na een succesvolle herstelling.
Indien de herstelling mislukt, gelieve het ganse proces opnieuw te starten of contacteer ons.