My WhatsApp data is more important to me than anything else.
It has so many prized moments of me, my friends, and my family that losing it is simply out of the question. Being sensitive to my data, I used to back up my WhatsApp on iCloud Drive, thinking it will be with me forever.
However, one day my iPhone's battery died on me, and I missed an important business deal. That was the day I decided to get an Android phone with a larger battery. But I got worried, thinking how do I move my data to the Android phone?
I dived deep into the internet and discovered the best methods that can be used to backup WhatsApp data from iPhone so as to access it any time and restore it to other devices.
I am sharing all I found out on the subject so that it might help someone.
Backing up WhatsApp on iPhone – All Methods
I learned that there are three methods that can be used to backup WhatsApp data on an iPhone.
1. Use iCloud Backup
This is the simplest way to backup iPhone WhatsApp data. You can make a backup using iCloud by following the steps below:
Make sure you are signed into your iCloud account and iCloud Drive is activated in your iPhone's settings.
Open WhatsApp and go to the Settings menu.
Tap Chats and then Chat Backup.
Here you can set your WhatsApp data to be backed up daily, weekly, or monthly.
Or you can tap the Backup Now button to back up the data at any time.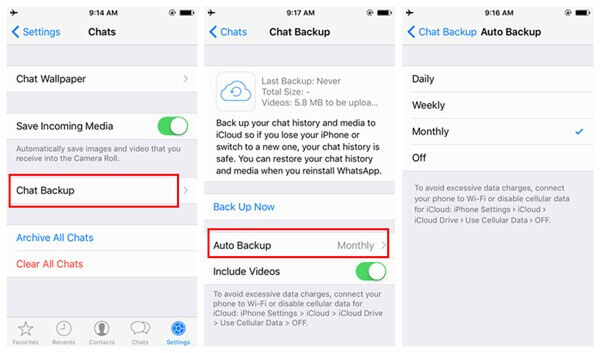 backup whatsapp icloud
I found this method to be simple and quick, but it comes with its own limitations.
Disadvantages of Backing Up WhatsApp to iCloud
Here are some disadvantages of using this method:
iCloud Drive offers just 5GB of free storage, and it is used to back up your phone's apps, photos, and videos. This means that you'll often find yourself in a position where your iCloud account does not have enough space to backup WhatsApp.
You need a good internet connection to backup iPhone WhatsApp to iCloud.
iCloud backups are not compatible with Android devices, meaning if you switch the device, the backup will be gone for good.
2. iTunes Backup
If you are running low on storage on your iCloud account, I'd advise you to use iTunes to back up your phone, including WhatsApp to a computer.
Here's how you can do that:
Before you start, make sure that you have the latest version of iTunes installed on your computer, and your iPhone is running the latest iOS version.
Run iTunes on your computer and connect the phone to it using the original lightning cable that came with your phone.
This should open the device in the iTunes app. If it does not, click on the phone icon in the upper left corner of iTunes interface.
Click on backup now and iTunes will make a clone of your phone, containing all your WhatsApp data on the computer.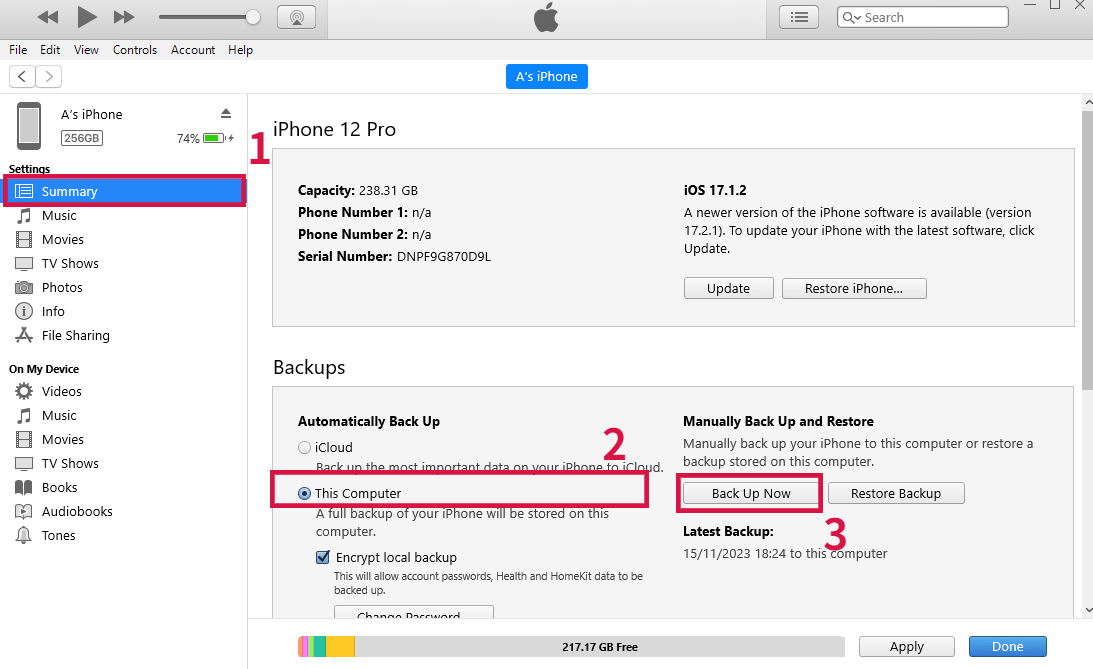 backup iphone whatsapp via itunes
The need for a strong and stable internet connection and free storage on iCloud is eliminated by this method, but this is not the perfect one.
Disadvantages of Backing Up WhatsApp Using iTunes
Here's what I found wrong about this method:
It does not back up just the WhatsApp data but instead goes for backing up the whole phone. This makes the process lengthy.
If you have to restore the data to a new iPhone, you cannot restore just WhatsApp. All the data will be restored.
The format of the backup is not compatible with Android devices.
At this point, I had lost hope and accepted the fate of my data - but then I found this!
3. Use Mobitrix WhatsApp Transfer
Mobitrix WhatsApp Transfer is a fun little tool that you can use to back up your WhatsApp data to a computer for free. This third-party tool is totally safe to use.
The best part of using this tool is that it can transfer WhatsApp data across platforms. You can use it to shift your WhatsApp data from an iPhone to an Android device and vice versa.
I found this method to be very easy and simple.
How to Use Mobitrix to Backup iPhone WhatsApp Data?
Here's how to do that:
Download and install the latest version from Mobitrix's official page on your computer.
Connect your iPhone to the computer with a USB cable.
When the program detects the device, just tap the backup button to create a backup of your WhatsApp data on your computer.
If you want to transfer the data straight to an Android phone, just connect that device with the computer, select the source and destination devices, and click on the Transfer button to move the data.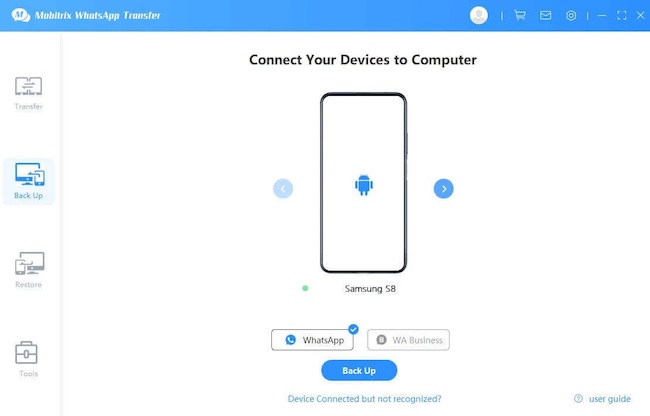 backup whatsapp to pc
What Makes Mobitrix the Best Tool for this Job?
I found that:
Mobitrix can create the backup for free and offers the ability of shift WhatsApp data from iPhone to Android.
It uses the highest level of security to make sure that the privacy of the users is never compromised.
It does not only backup the texts but also all other data related to WhatsApp, including documents, pictures, videos, and other attachments.
The backup process is way faster than it is with iCloud, and there is no limit for the size of the backup.
How to restore WhatsApp backup to Android phone
You cannot transfer your WhatsApp data from an iPhone to an Android device as you can do among iPhones. This is because iOS and Android are totally different operating systems, and what's compatible with one does not work for the other.
Another factor is that iPhone backs up the data to iCloud, whereas Android does to Google Drive. In short, there is no ordinary way of transferring data from iPhone's WhatsApp to that of an Android phone.
Luckily, Mobitrix can make this possible for you.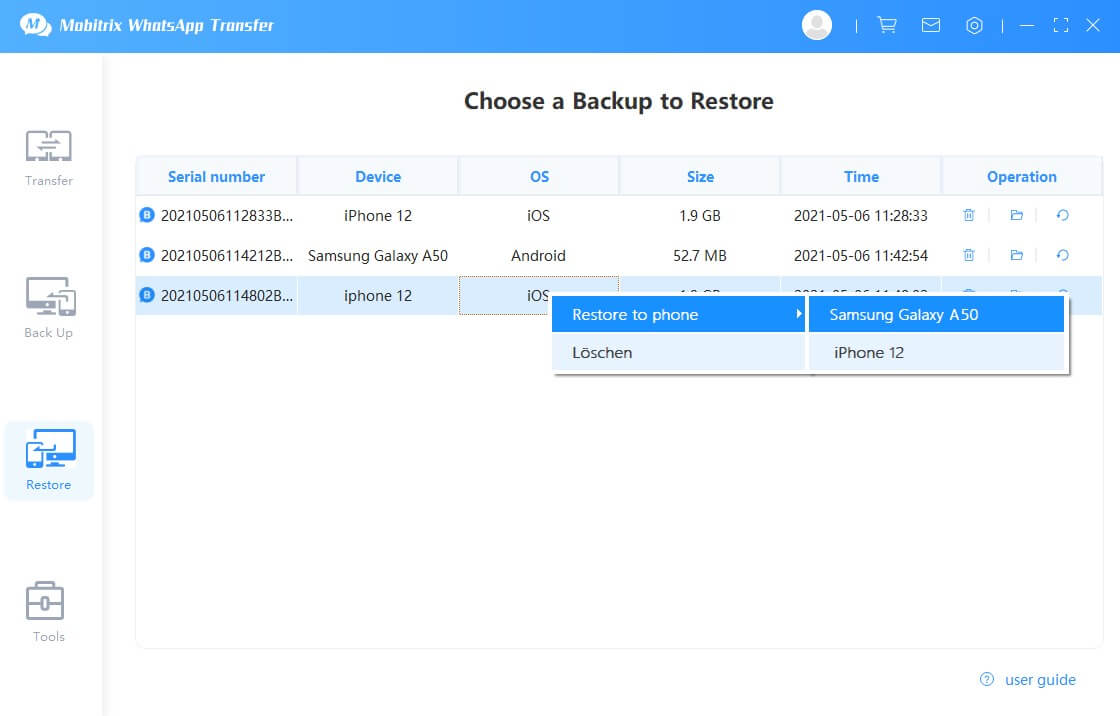 restore whatsapp data
It is imperative to back up your data to make sure it does not get lost if your phone goes missing or is rendered useless for some reason. You can use iCloud or iTunes to back up your data, but there's a catch. This data will not be compatible with an Android device.
If you use Mobitrix WhatsApp Transfer, you can safely back up your WhatsApp data to any computer and then restore it on any iOS or Android device. This tool is simple, easy to use, and 100% secure.