Switching phones every once in a while may sound attractive to you, but it also means you're gonna need to transfer all your data to a new phone. Including your WhatsApp chats too. And that isn't easy. I recently went through the same ordeal and had to spend days looking for a solution on the internet.
To help others like me, I have listed all the ways you can use to transfer your WhatsApp data, including chats and media, to an Android phone. Here's everything I found.
Part 1: Ways to Transfer Data from an Android Phone to Another Android Phone
Use Google drive
One of the simplest methods to transfer your WhatsApp data across Android devices is Google Drive. Google Drive is free and easily accessible to everyone. You can easily keep a backup of your WhatsApp data on Google Drive and then use that backup to transfer the data to your new Android phone.
Before you transfer your WhatsApp data to your new phone, you need to check on a few things.
Requirements:
Ensure that you have both Google Play Services and Google Drive installed and available on your devices (both old and new).
Make sure you have a google account to access Google Drive and Google Play Services.
You have enough storage on your old device for backup and on your new device for transfer.
If you have checked and meet all the requirements I mentioned above, you can follow the steps below to transfer your data:
On your old Android phone, open WhatsApp and then go to Settings.
Now go to Chats, then Chat Backup and tap on the Back Up to Google Drive option.
Select the frequency of your choice for the backup. If you are transferring the data on the same day, then select the Daily option and then tap the Back Up button.
Now, turn on your new Android phone and sign in with the same Google account that you used for the backup.
Install WhatsApp on your new phone and set it up. Make sure to use the same phone number as the old phone.
After you verify your phone number, you will be asked whether you want to Restore your messages from Google Drive or skip it. Tap the Restore option.
Wait until the restoration is complete, then tap Next. You will all your WhatsApp chats displayed on your new device.

transfer whatsapp via google drive
And that's it! You've successfully transferred WhatsApp data from your old Android phone to the new one.
Advantages
Using Google Drive to backup and transfer your WhatsApp data has a bunch of advantages, such as:
It is an official method provided by WhatsApp.
It is easy to follow through.
WhatsApp backup doesn't use any of the free 15GB space provided by Google to every user.
This method is compatible with all Android devices independent of the manufacturing company.
Disadvantages
However, the method has certain disadvantages as well, such as:
You can't transfer specific chats or data from one device to another. It's either all or nothing.
This method is only compatible with Android devices. No support for iPhone is provided.
Part 2: Ways to Transfer WhatsApp Data from iPhone to Android
Even though there are no official methods provided by WhatsApp to transfer your data from an iPhone to Android, all hope is not yet lost. There are some unofficial but useful methods that you can use to transfer your WhatsApp data from an iPhone to your new Android phone.
a. Use Email
You can easily use your email to transfer WhatsApp chat history from your old iPhone to your new Android phone by following these simple steps:
Open WhatsApp on your iPhone and then open the conversation you wish to email.
Tap the three dots on the top right (the menu hamburger) and select Export Chat.
You will be asked if you want to attach media or not. Select based on your own preference.
When options appear asking you to select the medium of transfer, select Email.
At this point, it will open the email Compose page. Here you can either enter your email and send it to yourself or save it as a draft.

transfer via email
Viola! You can now access this chat on your email on any device, including your new Android phone.
Disadvantages
Transferring WhatsApp data through email is a simple process, but it is not without its disadvantages:
You cannot access the WhatsApp files you transferred through email on the WhatsApp interface of your new phone.
It is recommended to only use this method for small amounts of data.
b. Use Mobitrix
Alternatively, if you want to transfer all your WhatsApp data from iPhone to Android, you can use a free tool called Mobitrix WhatsApp Transfer. It doesn't have a transfer limit, so as long as your receiving phone has enough storage space, you can make the transfer.
Mobitrix WhatsApp transfer is an easy-to-use and a quick solution to transfer your chats and all the associated media and contacts reliably. Unlike other methods, it doesn't involve you having to go through too many steps.
You can just follow the few steps given below and quickly transfer your chats:
Install the Mobitrix tool on your PC or computer.
Connect both of your devices (your old iPhone and the new Android phone you want to switch to) to the computer through USB cables.

connect the 2 devices to pc

You'll now see the names of both of your devices at the top right. Make sure that the Source field has your iPhone's name and the Destination field has your Android device's name.
Click transfer, and your work will be done. Mobitrix will handle the rest and transfer all your WhatsApp data from source to destination phone. Make sure not to disconnect any of the devices until the transfer is complete!

start to transfer whatsapp
Advantages
Using Mobitrix over other methods has certain advantages, such as:
You are able to reliably and quickly transfer even huge data and media files.
You can easily transfer WhatsApp data in a way that allows you to use WhatsApp as before on the new phone.
Mobitrix knows how important your data is to you, so it upholds data privacy. You also do not need to worry about time wastage with Mobitrix. It transfers all your WhatsApp data from one device to the other, with speed, reliability, and security. All it needs is just a few clicks!
c. Use WhatsAppTrans Box
What is WhatsAppTrans Box? This is a free tool provided by Mobitrix to help you transfer WhatsApp chats with some PC background needed. The tool supports the transfer of WhatsApp chats across iOS and Android devices, and extensive data can be transferred provided it's within the last three months and its chat history only.
To use WhatsAppTrans Box:
Step 1: Download the Toolkit of WhatsAppTrans Box.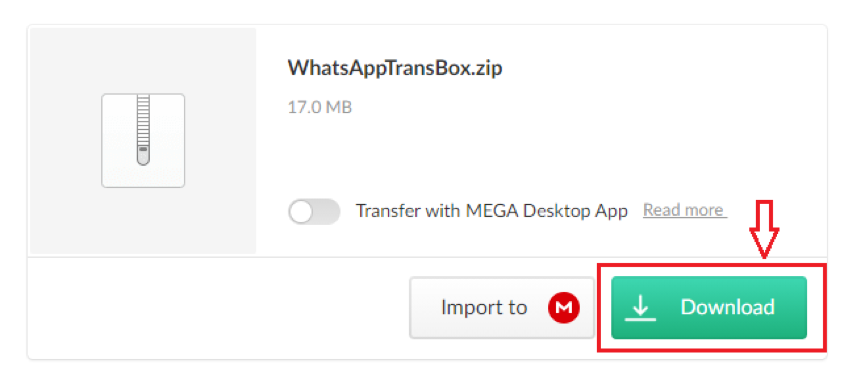 Download the Toolkit of WhatsAppTrans Box
Step 2: The next step is to extract WhatsApp data from the iPhone using the steps below.
Connect iPhone to your PC and run [idevicebackup] to back up your iPhone data. It might take you a bit more time here.
When you finish backup, run [ExportiPhoneWhatsApp] to extract WhatsApp data from your backup.
Step 3: How to transfer WhatsApp data from iPhone to Android?
whatsappiphone2android.exe is our core tool. It can transfer the WhatsApp data you back up in your iPhone to an Android phone. However, it has several limitations: It can only transfer chat history and just for the past 3 months.
Execute [whatsappiphone2android]. Transfer data from iPhone to Android.
Step 4: How to restore the backup data from your Android phone into WhatsApp.
Please follow the steps below:
3. Disconnect the Android device and install an Android emulator. Various emulators exist, but Bignox can be used..
Give it ROOT permission once installed.

Set ROOT permission after installing the simulator

Set ROOT permission after installing the simulator

Open the emulator. Install WhatsApp and log in.

Directory of Emulator

Welcome to WhatsApp in Emulator

Execute [pushwhatsappdatatoandroid] and converted Android data into WhatsApp data directory.
Restart WhatsApp then you can see your chat history right over there.
Execute [pullwhatsappdata]. Extract WhatsApp data and back it up into your computer. Turn off the emulator.
Execute [pushwhatsappdata]. Transfer the extracted data into your new Android phone.
To restore the WhatsApp data to the destination Android, download and install WhatsApp, and log in to restore the data. All chats from the last three months will be displayed on your device
Using WhatsAppTrans Box is best applicable if you have large data that is within the last three months. If you want absolute data transfer, other methods like Mobitrix WhatsApp Transfer will work better.
Part 3: FAQs About Transferring WhatsApp Data to New Android Device
Let's now see the answer to some important questions you might have when transferring WhatsApp data from your old Android/iPhone to your new Android device.
Question 1– Will I lose all my WhatsApp data and chats if I switch phones?
Answer: Absolutely not! There are ways to backup all your WhatsApp data and chats. You can then transfer this data to your new phone. I have detailed some of these methods above. Take a look at them if you are looking to switch phones and want to transfer WhatsApp data.
Question 2 – Can I have two WhatsApp accounts on a single phone?
Answer: Unfortunately, there is no official way to have two WhatsApp accounts on a single phone. However, some smartphone companies provide the option of Dual apps or Dual mode to allow the user to log in to apps such as WhatsApp with two different accounts.
Question 3 – Am I needed to unload WhatsApp on my previous phone?
Answer: If you are using Google Drive to make the transfer, then you need to do this. But if you are using Mobitrix, you don't need to. Mobitrix works on the principle of transferring the data to the computer. This data on the computer is then restored to the new phone.
WhatsApp has become a very important part of our lives. It holds a great amount of your data, conversations, and cherished memories. So, if data loss was holding you back from making new memories with a new phone, you don't need to worry anymore.
I have all the methods that you can use to transfer WhatsApp data from your old phone to your new Android device. Whether your old device is an iPhone or an Android phone, you can easily do WhatsApp transfer for both by Mobitrix WhatsApp Transfer tool. It is one of the best tools out there that can help you transfer your data with just a few clicks and in a totally safe manner!