If you have changed your phone from an Android to an iPhone, you may encounter a problem: these two systems are not compatible with one another.
While there is a solution to this issue, there are also several wrong methods that can waste time and cause problems with your new phone. Learn the most effective WhatsApp chat history migration method and which options to avoid together in this article.
Part 1: What Makes it so Difficult to Transfer Between iPhone and Android?
Android and iPhone run on different operating systems, this means that the integral functions of the phone are based on one of these systems. In order to be competitive in the market these systems have been designed to not be compatible with one another. This issue shows itself most prominently when a customer switches phones to a new operating system and attempts to move data, such as Whatsapp chat history, between devices.
What may be good for sales can be frustrating for customers. However, Mobitrix WhatsApp Transfer is an app that can help solve this dilemma.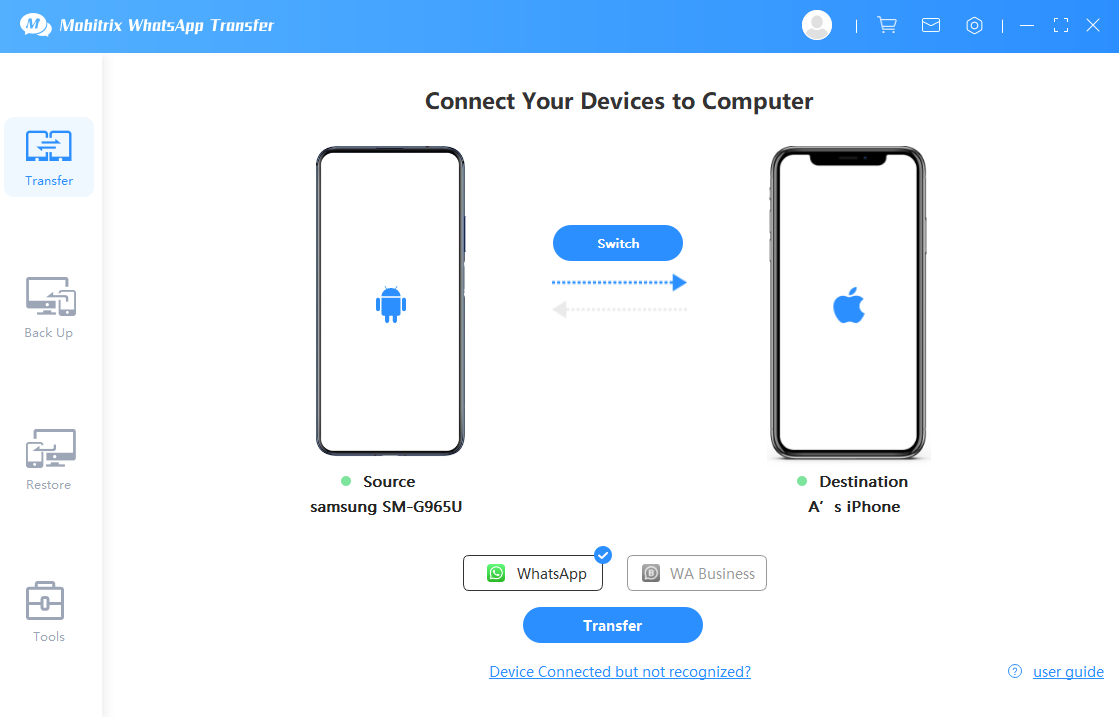 transfer WhatsApp messages from android to iPhone
Part 2: Transfer WhatsApp Messages from Android to iPhone via Mobitrix
Mobitrix is a free, easy-to-use app that allows users to transfer WhatsApp chat history between devices - including Android to iPhone or iPhone to Android.
How to Use Mobitrix
Mobitrix is user-friendly. Even those without in-depth knowledge of computers and cellphones can easily transfer data with Mobitrix.
Simply download the free transfer tool from Mobitrix.com and connect both devices to your computer with usb cables. Then, follow the prompts to move data from one device to another.
Use Mobitrix's easy-to-follow guide to transfer data now.
Advantages of Mobitrix
1. Mobitrix is easy to use.
Mobitrix is designed to be user-friendly, offering a simple solution for WhatsApp data transfer without complicated steps. All you need is a computer, your two phones and their accompanying usb cables.
2. With Mobitrix, your private data will not be leaked.
User's privacy is Mobitrix's priority. Rest assured that your privacy is fully protected when using Mobitrix. After the data transfer tool has been downloaded, there is no internet required to complete the data transfer process - so you can rest assured that your information is protected.
3. Mobitrix can transfer all your chat data to the new device.
Large file sizes are no problem for Mobitrix! Don't worry about filling up free storage space with other options, such as Google Drive or iCloud when transfering data; Mobitrix is designed to allow users to transfer large amounts of data.
Also, when you transfer your WhatsApp chat history with Mobitrix, your important photos, videos and voice recordings transfer, too.
4. Mobitrix works with many devices.
Mobitrix supports all iOS versions, it supports also iPhone models 5s to iPhone model 12. Moreover, it also supports other brands of Android such as Nokia, Samsung, Sony, Oppo, Huawei among others.
Part 3: Using WhatsAppTrans Box to Transfer WhatsApp Messages from Android to iPhone for Free
WhatsAppTrans Box is a tool that enables WhatsApp users to transfer their chats from one device to another. It is free to all users, and Mobitrix launched it.
The steps for using this method are outlined below:
Step 1: Download the Toolkit for WhatsAppTrans Box.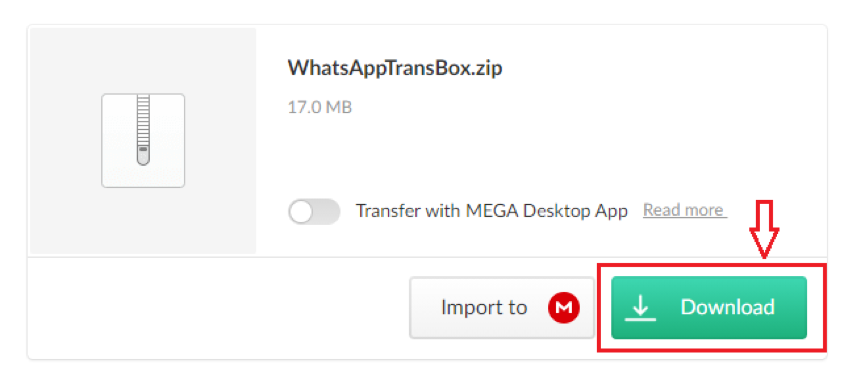 Download the Toolkit of WhatsAppTrans Box
Step 2: To extract your data for WhatsApp on an Android device:
Back up the data for WhatsApp into the storage of your phone.

Backup your WhatsApp data into your phone storage

Connect the Android device to a computer using a cable. To copy your data for WhatsApp to your computer, execute [copywhatsapptopc].
Disconnect your device from the PC and then install an emulator for Android. Install one emulator from the many available.
Bignox is an example of an emulator.
After the simulator is installed on the PC, set your permission for ROOT.

Set ROOT permission after installing the simulator - Setting

Set ROOT permission after installing the simulator

Visit WhatsApp's official website and download the app. Install the downloaded app in your emulator.

When the installation is complete, wait for some time and then log in to WhatsApp.

Directory of Emulator

Welcome to WhatsApp in Emulator

Run [copywhatsapptoandroid] so that you can copy the folder for WhatsApp on your computer to the Android emulator.
From the emulator, log in to your account for WhatsApp and then restore your WhatsApp data.
From the Android emulator, extract the databases for WhatsApp. Execute [pullwhatsapptopc] that enables you to copy your directory for database into the computer.

Note: The database path is /data/data/com.whatsapp/databases/.
Step 3: Transferring data for WhatsApp from Android device to iPhone
whatsappandroid2iphone.exe tool is used while transferring data for WhatsApp that was previously backed up in an Android device to iPhone. The limiting factor with this method is that only users' chat history can be transferred. Also, the chats transferred are the ones sent in the last 3 months.
Execute [whatsappandroid2iphone].
Step 4: Restoring data for WhatsApp from Android device to iPhone
On your iPhone, download WhatsApp and then install it. Then log in to the installed WhatsApp.
Connect the iPhone device to your computer and then run [restorewhatsappdata].
Your history for chats can been in WhatsApp.
Advantages
All users can access this method for free
It enables users to restore their history for chats on another device.
It supports the transmission of large amounts of data.
It supports transfer among devices running on Android and iOS.
Disadvantages
The chat history that is transferred to another device is the one within 3 months.
Other data like pictures, emojis, stickers, attachments, and videos cannot be transferred. The that history is the only one that can be transferred.
This method of chat history transfer applies to chats that were sent in the last 3 months. If you require to transfer your data fully, including your attachments, videos, and images, Mobitrix WhatsApp Transfer is the recommended tool.
Part 4: How to use WhatsAppTrans to transfer WhatsApp messages from an Android to an iPhone for free
Mobitrix WhatsAppTrans is a free WhatsApp data transfer tool that enables you to transfer your WhatsApp data to your iPhone from your Android by following the given instructions.
Before you start using the tool, here's what you need to know:
It's free to use the Mobitrix WhatsAppTrans tool.
You need to have some basic computer knowledge and skills to successfully use the tool.
By using the tool, you risk losing your WhatsApp data as it doesn't guarantee to be 100% successful in the transfer process.
Although the transfer tool can transfer at once many messages of multiple contacts, you can't check messages on your iPhone.
WhatsAppTrans is a highly recommended, rated, and trusted transfer tool to use and the chat history can be easily accessed on the "Files" app on your iPhone.
To use WhatsAppTrans, follow the steps below:
Step 1: From Github which is the largest and most advanced development platform in the world, click the "Download" option to download the customized WhatsApp (.apk) or WhatsApp business (.apk).
You also need to download the ExportAndroidWhatsApp.exe transfer tool.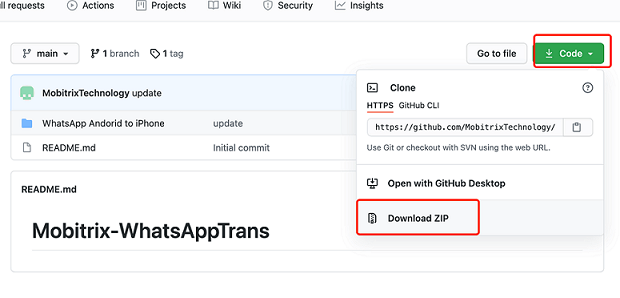 export android whatsapp data
The next crucial thing is to check whether from your file manager you can see a "WhatsApp" folder on your Android phone. If the WhatsApp folder exists, then you can proceed with step 2. If however, the folder doesn't exist then, you need to look for alternative methods to use as this won't be applicable for you.
Step 2: WhatsApp has a feature that lets you create a local backup, uses it to backup your WhatsApp on your Android phone. Ensure that the backup creating process was successful as if it wasn't you risk losing your WhatsApp data. Go ahead and uninstall the current WhatsApp and install the newly downloaded one on your Android device. Install it and allow it to restore data from the previous backup.
Step 3: While still setting up the WhatsApp, create a "data.flg" on the WhatsApp folder on your Android. Once you finish setting up WhatsApp, you will notice a file "ok.flg" that will be created and a folder "chatpath". This acts as proof that the export of your chat history was successful.
Step 4: Connect via a cable your Android phone to your PC then copy the WhatsApp folder and paste it anywhere inside the PC.
Step 5: On the PC, open CMD and enter the command below as show:
ExportAndroidWhatsApp.exe WhatsApp path
This will lead to a txt file containing your WhatsApp chats being created inside the same WhatsApp folder.

save android whatsapp chat history
Step 6: On your PC download and install iTunes then connect your iPhone via a lightning cable to the PC.
Step 7: Having connected your iPhone, import the media files from the "Media" folder located inside the WhatsApp folder into your iPhone. We recommend that import all media files to iPhone's "Photos". This will enable you to easily access the media files from your iPhone.
Step 8: You can also choose to import your txt files from the WhatsApp folder. If you choose to import them, store them inside the "Photos" directory on the iPhone. To permanently store the txt files containing your transferred WhatsApp chats, you can send them to trusted relatives or your other accounts.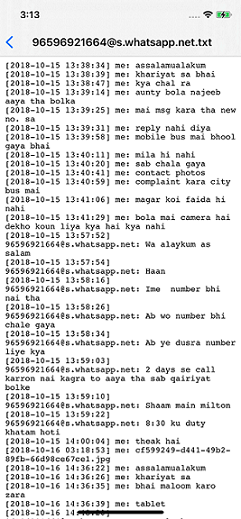 import android whatsapp chat history to iphone
Users that have a good background in computer in terms of skills are advised to use WhatsApp Trans. If you don't fall in this category, use the other highlighted methods like Mobitrix WhatsApp Transfer software which is simpler and easier to use.
Part 5: Methods to Avoid
Save time and effort by avoiding the following methods for WhatsApp chat history transfer between phones.
Back up to Google Drive, then Restore to iPhone
While this option may be suggested, it doesn't work. The operating systems of Android and iPhone are not compatible and your data will not transfer between these devices through Google Drive.
Backing up to Google Drive will eat up your storage, which is already limited to 15GB of free space. Consider another option for data transfer that doesn't require Google Drive.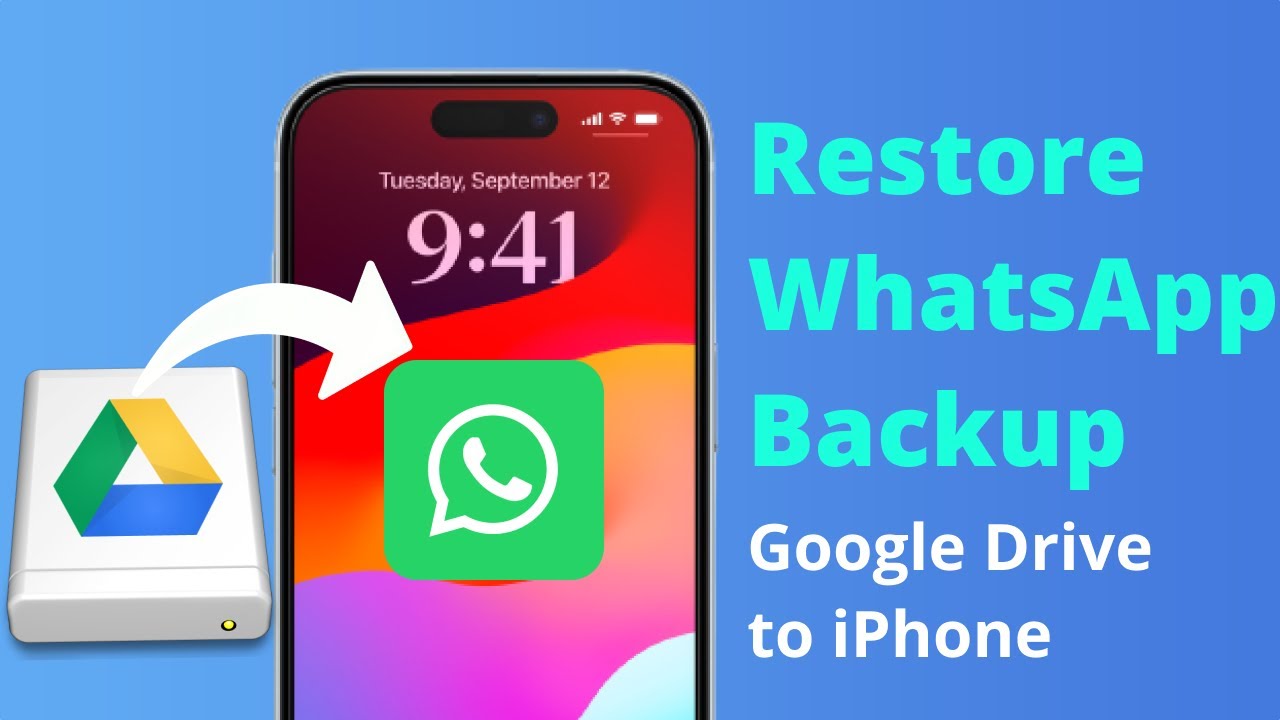 Restore WhatsApp Backup from Google Drive to iPhone
Transfer to iPhone via E-mail chat
Transferring data to an iPhone through an email doesn't work, either. While you can export chat history through email, because of the formatting it can only be viewed as an email and will not be able to be viewed through WhatsApp on your new phone.
Further, most mail servers will only allow you to export chat history up to 20MB, which limits what chat history you can export.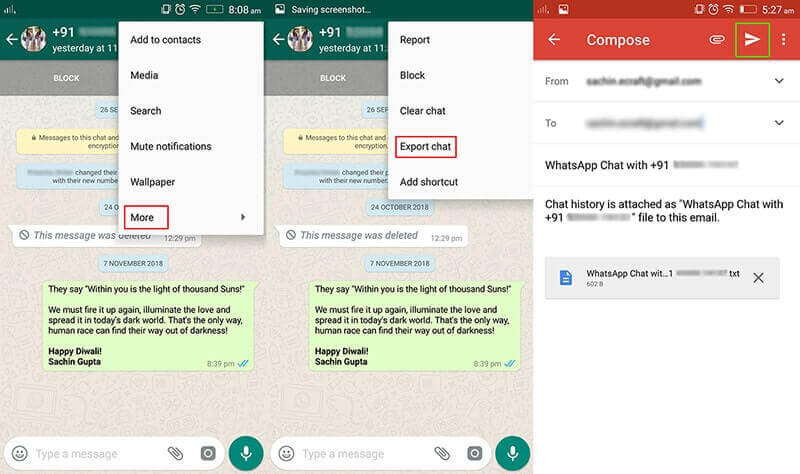 export whatsapp messages via email
At present, only third-party tools are appropriate to transfer WhatsApp chat history between Android and iPhone devices. In order to ensure your privacy and the security of your data, consider Mobitrix WhatsApp Transfer to transfer your chat history between devices.