How to Transfer WhatsApp Messages from Android to iPhone
If you have changed your phone from an Android to an iPhone, you may encounter a problem: these two systems are not compatible with one another.
While there is a solution to this issue, there are also several wrong methods that can waste time and cause problems with your new phone. Learn the most effective WhatsApp chat history migration method and which options to avoid all together in this article.
Part 1: What Makes it so Difficult to Transfer Between iPhone and Android?
Android and iPhone run on different operating systems, this means that the integral functions of the phone are based on one of these systems. In order to be competitive in the market these systems have been designed to not be compatible with one another. This issue shows itself most prominently when a customer switches phones to a new operating system and attempts to move data, such as Whatsapp chat history, between devices.
What may be good for sales can be frustrating for customers. However, Mobitrix WhatsApp Transfer is an app that can help solve this dilemma.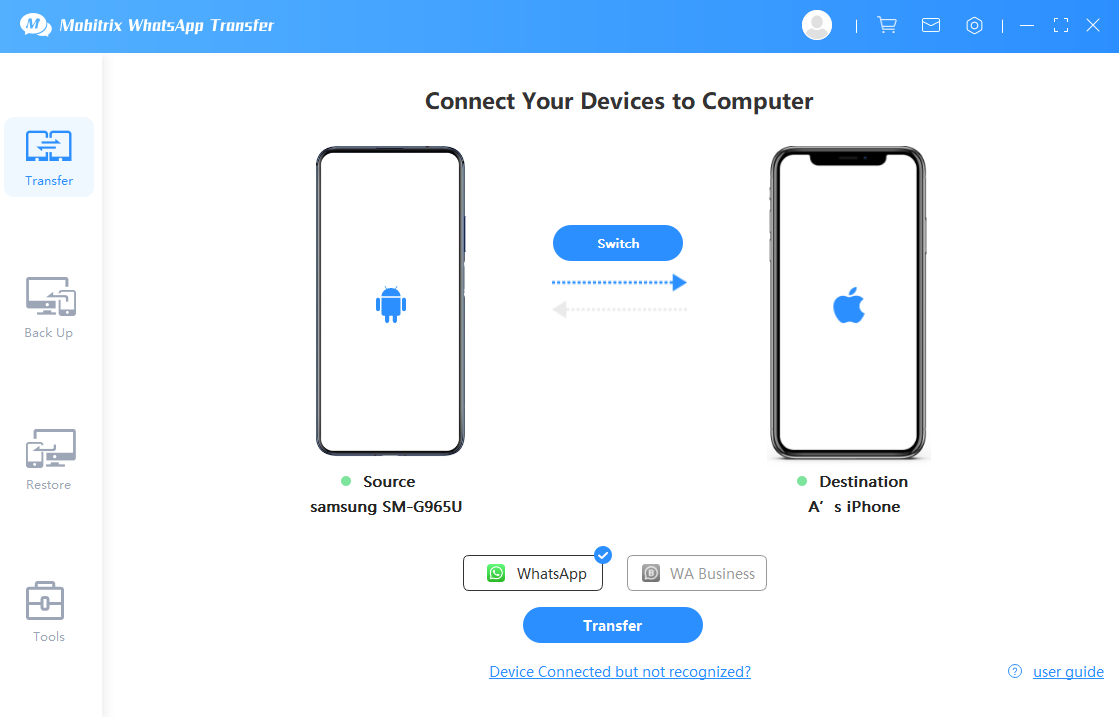 Part 2: Transfer WhatsApp Messages from Android to iPhone via Mobitrix
Mobitrix is a free, easy-to-use app that allows users to transfer WhatsApp chat history between devices - including Android to iPhone or iPhone to Android.
How to Use Mobitrix
Mobitrix is user-friendly. Even those without in-depth knowledge of computers and cellphones can easily transfer data with Mobitrix.
Simply download the free transfer tool from Mobitrix.com and connect both devices to your computer with usb cables. Then, follow the prompts to move data from one device to another.
Use Mobitrix's easy-to-follow guide to transfer data now.
Advantages of Mobitrix
1. Mobitrix is easy to use.
Mobitrix is designed to be user-friendly, offering a simple solution for WhatsApp data transfer without complicated steps. All you need is a computer, your two phones and their accompanying usb cables.
2. Mobitrix is safe.
User's privacy is Mobitrix's priority. Rest assured that your privacy is fully protected when using Mobitrix. After the data transfer tool has been downloaded, there is no internet required to complete the data transfer process - so you can rest assured that your information is protected.
3. Mobitrix transfers all data.
Large file sizes are no problem for Mobitrix! Don't worry about filling up free storage space with other options, such as Google Drive or iCloud when transfering data; Mobitrix is designed to allow users to transfer large amounts of data.
Also, when you transfer your WhatsApp chat history with Mobitrix, your important photos, videos and voice recordings transfer, too.
4. Mobitrix works with many devices.
Android to Android transfer, iPhone to iPhone - we've got you covered. If you have switched operating systems with a new phone, don't worry; Mobitrix allows data transfer between Android and iPhone, or iPhone to Android, too.
Part 3: Methods to Avoid
Save time and effort by avoiding the following methods for WhatsApp chat history transfer between phones.
Back up to Google Drive, then Restore to iPhone
While this option may be suggested, it doesn't work. The operating systems of Android and iPhone are not compatible and your data will not transfer between these devices through Google Drive.
Backing up to Google Drive will eat up your storage, which is already limited to 15GB of free space. Consider another option for data transfer that doesn't require Google Drive.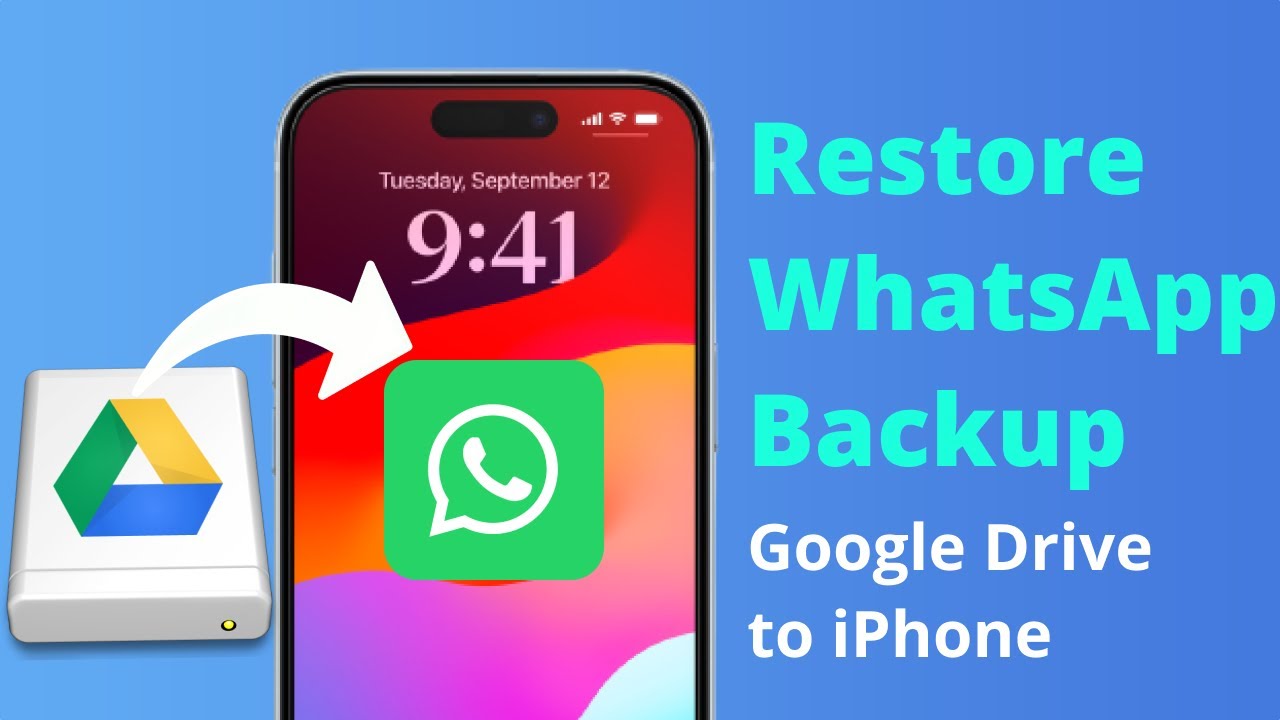 Transfer to iPhone via E-mail chat
Transferring data to an iPhone through an email doesn't work, either. While you can export chat history through email, because of the formatting it can only be viewed as an email and will not be able to be viewed through WhatsApp on your new phone.
Further, most mail servers will only allow you to export chat history up to 20MB, which limits what chat history you can export.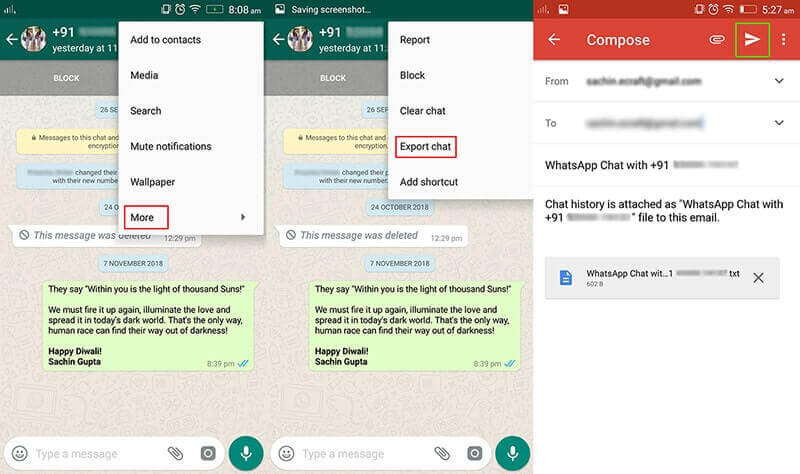 Summary
At present, only third-party tools are appropriate to transfer WhatsApp chat history between Android and iPhone devices. In order to ensure your privacy and the security of your data, consider Mobitrix WhatsApp Transfer to transfer your chat history between devices.