I recently shifted from Android to iPhone, and let me tell you; it wasn't simple. You may or may not know this, but Android phones and iPhones use a completely different underlying system. So, there's no way to directly transfer data from specific apps such as WhatsApp from one device to another.
Obviously, I couldn't just let my years of WhatsApp chats and happy memories go to waste. I had to scour the internet for days to find how to transfer my WhatsApp data. To help others like me, I have outlined all the methods that I found to make this move a lot easier.
Part 1: Some Tips for You Before You Dive in Further
Before I dive into all the methods you can use to transfer WhatsApp data from Android to iPhone; there are a few things I want you to check. They may seem like a hassle right now, but I promise they will take just two minutes, and they will make your life a whole lot easier.
These might be the difference between 15 minutes of effort vs. 2 hours of stress, so make sure not to skip them:
Before you do anything else, make sure that the phone number you are using is the same for both devices.
Backup is never a bad idea, so have a backup of your chats just in case.
WhatsApp doesn't offer any official way to transfer chats from one device to another, and neither do iPhone or Android. But you can achieve this with third-party apps.
Part 2: Transfer WhatsApp Chats From Android to iPhone With Email
There is no way for you to transfer WhatsApp chats from your Android device to your iPhone directly by just transferring the backup. However, there is another way.
WhatsApp has a feature that allows you to email some important chats to yourself. Though it doesn't let you import these chats into your new iPhone's WhatsApp, it does allow you to access your important chats any time you want through email.
You can follow the steps we've mentioned below to email some important chats to yourself to keep as a backup:
Open WhatsApp and then open the conversation you wish to email.
Tap the three dots on the top right (the menu hamburger) and select Email Conversation.
Now, it will ask you to select whether you want to email media files too. It is recommended not to include these as email servers usually have a 20MB limit.
At this point, it will open the Gmail compose page. Here you can either enter your email and send it to yourself or save it as a draft.
Viola! You can now access this chat on your email on any device, including your new iPhone.

transfer via email
Note: Remember, you can only view these chats as text files and not in the WhatsApp interface. It is also recommended that you use this method for only important chats, not your entire WhatsApp data.
Advantages
The biggest and most important advantage of this method is that you don't need to download any other software
Disadvantages
Using email is a desperate effort to have your old chats accessible, so it comes with a few disadvantages:
You still cannot access the files you email through WhatsApp interface on your new iPhone.
It is only useful for small-size files that don't cross the 20MB threshold for email servers.
WhatsApp has certain limits it imposes on different countries. These can include the number of messages you are allowed to transfer through email, depending on your country.
Part 3: How to Transfer WhatsApp Chats From Android to iPhone Reliably and Quickly
Now that you have finally decided to switch from your Android phone, you want to transfer your WhatsApp chats quickly and reliably. You didn't back them up just to not be able to access them anymore.
If you're anything like me, you probably don't like hassles and a million complicated steps to follow just for a single thing. You want easy and direct steps to make your life easier.
Simplicity, ease of use, and quick actions are not too much to ask for in a world as advanced as ours. And even a tech illiterate like me knows that I don't want my data to get misplaced or misused, so security is of essence too. But you might be wondering, 'Where on earth do I find something that does all of that?'.
This is where my hours of effort come in handy. I found a tool that does all of these and more. It is called Mobitrix WhatsApp Transfer. Mobitrix is a third-party tool that takes away all your problems when you want to transfer WhatsApp chats from Android to iPhone.
It is an easy-to-use tool and a quick solution to transfer your chats and all the associated media and contacts reliably. Unlike other methods, it doesn't involve you having to go through too many steps.
You can just follow the few steps given below and quickly transfer your chats.
The first step is the most obvious one. You guessed it! Install the Mobitrix WhatsApp Transfer tool on your PC or computer.
Now connect both of your devices to this computer through USB cables. This includes both the old Android phone and the new iPhone you want to switch to.

connect the 2 devices to pc

After connection, you'll see the names of both of your devices displayed at the top right. Here, you have to make sure that Source has your Android device's name and iPhone's name is in the Destination field.
Now, just click transfer, and your work is done. Mobitrix will handle the rest and start to transfer all your WhatsApp data from source to destination phone.

start to transfer whatsapp
Note: Do not disconnect any of the devices until all the data transfer is complete!
Advantages
Mobitrix is an easy-to-use tool and a quick solution to your transfer problems. It has a lot of benefits that include but are not limited to the following:
Transferring all your WhatsApp chats and data from Android to iPhone is very quick.
Mobitrix offers compatibility over a wide range of devices, so you can have any type of Android device or any model of iPhone, and there is a very good chance you can use Mobitrix to transfer data between the two.
Mobitrix offers complete security of your data. It keeps all your data and chats safe and private.
It has a user interface that is easy to understand and even easier to use.
Part 4: Transfer WhatsApp Chats with WhatsAppTrans Box (Free Tool)
For users who are conversant with using computers well then, WhatsAppTrans Box is a free tool launched by Mobitrix to enable you to transfer your data of WhatsApp from Android to iPhone.
To use the tool, the steps are as follows:
Step 1: Install the Toolkit of WhatsAppTrans Box after downloading it..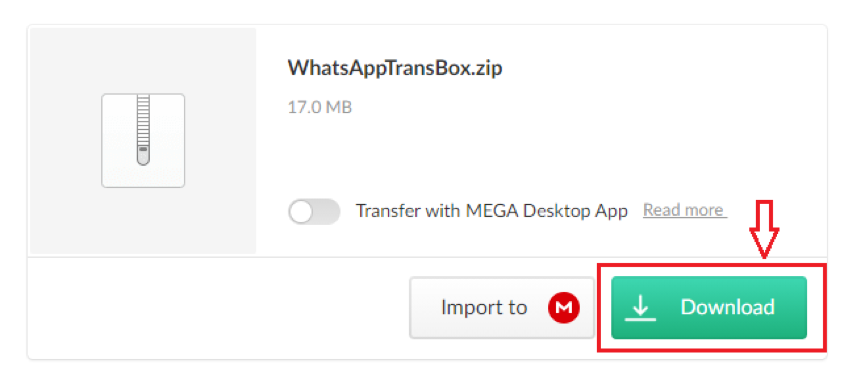 Download the Toolkit of WhatsAppTrans Box
Step 2: To obtain the data from the Android phone, use the steps below.
Use the local Android storage to back up the data.

Backup your WhatsApp data into your phone storage

Ensure that the Android is plugged into the computer then copy the data from WhatsApp to the computer by executing [copywhatsapptopc]
After disconnecting the phone from the PC, search the internet for an emulator to install on the Android phone. One emulator you can install isBignox.
Ensure you set the ROOT permission upon the installation of the emulator.

Set ROOT permission after installing the simulator-Setting

Set ROOT permission after installing the simulator

On the emulator on your Android phone, find a suitable WhatsApp version to install.

Note: DON'T login to the installed WhatsApp.

Directory of Emulator

Welcome to WhatsApp in Emulator

Transfer the data you copied to the PC back to the emulator by running [copywhatsapptoandroid] .
To restore the data, log in to WhatsApp from the emulator.
Run [pullwhatsapptopc] to transfer the databases of WhatsApp to the computer.

Note: The database path is mapped as /data/data/com.whatsapp/databases/.
Step 3: How to transfer WhatsApp data from Android to iPhone?
whatsappandroid2iphone.exe is the tool that enables data to be transferred between devices.
But the drawback of this tool is that if you have data past three recent months, it will not be transferred.
Execute [whatsappandroid2iphone].
Step 4: How to restore WhatsApp data from Android to iPhone?
The first step is to get a new WhatsApp version installed on the iPhone.
Then connect the iPhone to a computer and run [restorewhatsappdata].
All your data will be seen now.
Advantages
It is entirely free to use the tool.
If you want to restore WhatsApp data on a new device, the tool will facilitate that.
Huge data size transfer is supported.
WhatsApp data between Android and iPhone are supported by this tool.
Disadvantages
Only chat history within the last three months can be restored.
Only WhatsApp data can be restored without videos and other attachments.
If you wish to transfer your WhatsApp data within the last three months, this is the best method because it is free.
But, to transfer all your data, including emojis, videos, and other attachments, without being limited on the period, then the Mobitrix WhatsApp Transfer tool is the recommended option.
No one wants to (and should) lose all their precious WhatsApp memories while switching from an Android phone to an iPhone. If you have been stressing out about changing your phone because you don't know how to transfer your WhatsApp chats to your new iPhone, you can easily make the switch by using one of the methods I have detailed above.
If you, like me, don't want to go through complicated ways to keep your chats, you can just use the Mobitrix WhatsApp Transfer tool instead. I used this tool to transfer all my essential data without having to worry about any data loss, and it was pretty quick. Just a few clicks and your WhatsApp data will be safely transferred from one device to another!