iPhone and Android both support WhatsApp, which contains our memories, chats, files, and data. However, these two platforms are incompatible with transferring WhatsApp between them directly. This article introduces the various ways users can transfer their WhatsApp from iPhone to Android with ease.
Part 1: Transfer WhatsApp Conversations from iPhone to Android Using a Computer
Transferring WhatsApp from iPhone to Android using a computer has its benefits which include:
It's more convenient.
It facilitates the cross-platform transfer of WhatsApp.
It is faster, unlike other methods.
Some of the methods of using a computer to transfer WhatsApp include:
1. Via Mobitrix
Mobitrix is a WhatsApp transfer tool that allows the transfer of WhatsApp between iOS and Android.
Mobitrix is a third-party tool recommended for WhatsApp transfer for its benefits which include:
Convenient to use.
It is fast in data transfer.
It supports both iOS and iPhone.
It supports all formats of data.
User and data privacy is guaranteed.
To use Mobitrix, you need first to download Mobitrix software from the official website and install it on your computer, then follow these steps.
Using a cable, connect your iPhone and Android to your computer.
Set source to be the iPhone and the destination to be the Android then, Click "Transfer".

connect the 2 devices to pc

Let the process complete without any interruptions.

start to transfer whatsapp
Once it completes, WhatsApp will be transferred to your Android.
2. Via Mobitrix WhatsApp Trans
You can also transfer WhatsApp using a free tool, WhatsApp Trans, from iPhone to Android. The main shortcoming of using this method is that you need to have some technical computer skills.
The steps include:
On GitHub, click "Code" then "Download ZIP.". Extract the zipped file.

how to download whatsapptrans

Download on your computer and install iTunes, then connect using a USB your iPhone to it.
Back up the data of your iPhone.
Connect via a cable, your iPhone to your computer.
Open iTunes, then click on the iPhone's icon.
Unselect the "encrypt local backup" option.
Tap the option to "Back Up Now".
From your iPhone, import the WhatsApp data. First, determine the backup path that iTunes will use in creating the backup. Secondly, import from the back up the WhatsApp data. Finally, on your CMD, enter the command: ExportiPoneWhatsApp.exe [backuppathforiphone] [whatsappdatapath]

transfer whatsapp via whatsapptrans
To Unpack WhatsApp data
First, enter on CMD the command: AnalysisWhatsAppChat.exe [whatsappdatapath]
Secondly, to transfer media files to your Android, send the folder named "media" created inside the WhatsApp directory to the "Photos" folder on your directory.
Similarly, send to your Android the "txt" folder as it contains the WhatsApp messages.

transfer via mobitrix whatsapptrans
Despite Mobitrix WhatsApp Trans being free and cross-platform, it is complicated for most users, and messages are in a "txt" format.
3. Via other 3rd party tools
There are other online third-party tools that you can use to transfer your WhatsApp. Some of them might be free, but for others, you have to pay for them. Moreover, some may be insecure, and their prices are not cost-effective.
Here's a list of some of the third-party tools. To use them, visit their official website and follow the given instructions.
Part 2: Transfer WhatsApp Conversations from iPhone to Android without a Computer
Via email
To transfer WhatsApp without using a computer, you can use email. You can transfer WhatsApp conversations by emailing them to yourself then download the attachment as a "txt" file.
To use email:
Open your WhatsApp on iPhone, then select the chat to transfer.
Click Settings > More > Export Chat > Email.
Send the attachment to your email.
Download the attachment from your email to see the WhatsApp messages.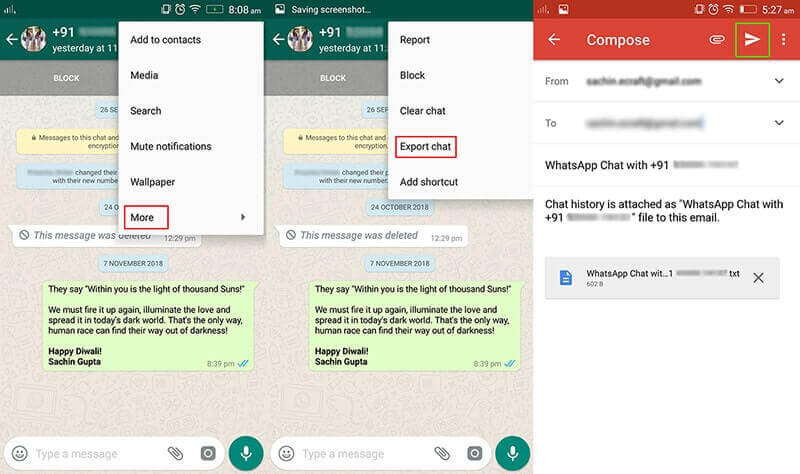 transfer via email
With email, you don't need any third-party tools, it's free, and you don't need a computer. However, chats are transferred one at a time. Thus it's a slow method of transferring WhatsApp.
Part 3: Some Tips: Save Your Time
Note the following:
Tip 1: iCloud can't be used to transfer WhatsApp directly from iPhone to Android as iCloud is an Apple service that Android can't use. However, with tools like Mobitrix, a backup on iCloud can be transferred to an Android using a computer.
Tip 2: Using a phone number, you can't transfer WhatsApp across an iPhone and Android as a phone number only binds the phone to the WhatsApp account associated with it thus, it can't be used in a different phone to restore WhatsApp.
To transfer WhatsApp to an Android from your iPhone requires others methods as the direct transfer is not supported. This article introduced you to some methods that can help you transfer your WhatsApp from your iPhone to Android.
Although various methods have been discussed, the most recommended method is Mobitrix WhatsApp Transfer, which transfers WhatsApp easily with few steps involved. With Mobitrix, you will quickly, successfully, and safely transfer your WhatsApp from iPhone to Android.