One of the troubling things is how to transfer a backup from an iPhone to an Android phone. Although there is no official way of doing so, there are other ways of doing this, as explained in this article.
Part 1: Third-party tools to transfer WhatsApp backup from iPhone to Android
With the design of third-party tools, the transfer of WhatsApp backup from iPhone to Android has been made simple. These third-party tools are:
Mobitrix
Mobitrix is the most recommended tool that has simplified the transfer of WhatsApp backup from iPhone to Android. The tool directly transfers data between iPhone and Android, making it the best among all other tools.
Below are simplified steps of transferring your WhatsApp backup to your Android from an iPhone:
Firstly, install the application on your computer, open it, and connect both the iPhone and Android to the computer.

connect the 2 devices to pc

The process of transferring your WhatsApp data starts as soon as you click the "Transfer" option.

start to transfer whatsapp

Ensure that connection is maintained throughout the transfer process. It will take a few minutes to a couple of hours, depending on the data size.
On completion of data transfer, you will see all your backup of WhatsApp on your Android phone.
Now, let's find out why Mobitrix is the recommended tool:
Someone can transfer all WhatsApp data with a few simple clicks. The steps are straightforward; hence getting lost or confused is not possible.
All data is fully protected, meaning no data loss during the transmission process.
It allows you to transfer Bulk data, including images, audios images, and even videos.
It preserves your WhatsApp memories in the original format, just like they were in the iPhone.
It supports most phone versions and different operating systems, meaning that you can use this tool on a Mac or Windows platform.
Mobitrix WhatsAppTrans
It is a free tool that can help you transfer your WhatsApp backup from an iPhone to an Android. But you must carefully follow each step for you to transfer the data successfully.
Before utilizing this tool, ensure you have computer skills and no successful data transferred is guaranteed.
The following are the steps to be followed:
Open GitHub on any browser, click on "Code," and then download the Zipped file.

how to download whatsapptrans

Use a computer to download and install iTunes, then connect the iPhone to it.
Start the iTunes application, select your device from the top left, unmark the "encrypt local back up" if marked, and then back up your WhatsApp data stored in the iPhone.
Know the location of your backup. Normally located under the "C: Users/your Username/AppDataRoamingApple." Then, import your WhatsApp data into the computer from the backup by selecting a directory in a disk that has enough storage capacity and through the command line run the command "ExportiPhoneWhatsApp.exe[iPhonebackuppath][WhatsAppdatapath]."

transfer whatsapp via whatsapptrans

Run the command "AnalysisWhatsAppChat.exe [WhatsAppdatapath]" to Unpack the WhatsApp data backup. Under the WhatsApp root directory, you will see a txt and media folder. You can transfer the txt folder to access your text messages or the media folder to access media files.

transfer via mobitrix whatsapptrans
Advantage:
You can transfer many contacts and messages to your Android phone or any other device, unlike email.
Disadvantage:
You cannot access the transferred data from the WhatsApp application but can only view them in the txt file and use built-in apps to check media.
The process is not easy to follow and takes a lot of time.
Other third-party tools that might be helpful are:
MobileTrans
WazzapMigrator
Backuptrans
Syncios WhatsApp Transfer
For the tools listed above, note that:
You have to pay to use them, and some of them charge very high prices
Some of them are insecure. You may risk leaking some of your valuable data.
Some of them are complicated to use and may require intense computer skills.
Use of email
You can also your email to transfer your WhatsApp data to an Android from an iPhone.
This method is free, and no third-party tool is needed. However, any data transferred through email gets saved as .txt, meaning you cannot view it from your WhatsApp but the file.
To use email, follow the steps below:
Open Settings on the WhatsApp app > Chat Setting > email chat.
Please select your desired history to transfer. You can either attach media or not attach it.
Enter an email address, then select "Send."
Use your Android, then provide the same email you provided before to start viewing your data.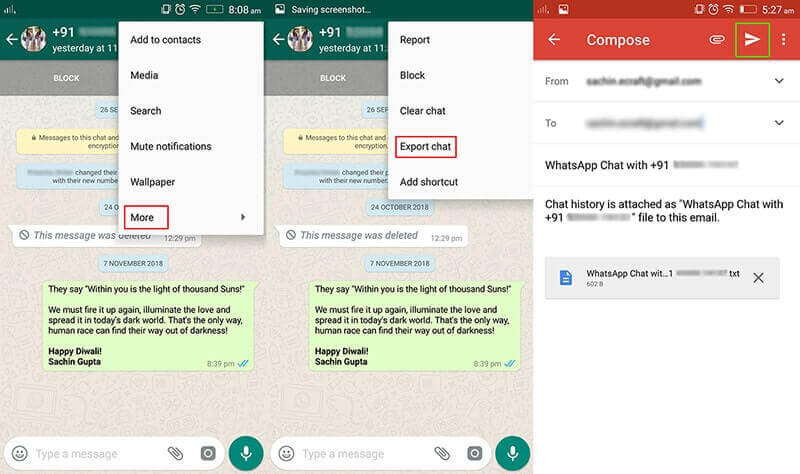 transfer via email
Advantages:
It is free to use.
It is easy to use, no need of having computer skills to use it.
It does not need to have any third-party tools installed.
Disadvantages:
It has size transfer limits.
Chats transferred through emails are sent one at a time till all of them get transferred.
You can only view your WhatsApp data in a txt file and not from WhatsApp.
Part 2: Some confusions users may have
Can we transfer WhatsApp backup from iPhone to Android via iCloud or google drive?
iCloud or Google drive is not officially supported and won't work because it involves different OS versions. You can use the methods explained in the article like Mobitrix.
Can we transfer WhatsApp backup from iPhone to Android via phone number?
Unfortunately, no. The phone number only creates a WhatsApp account for you, but it can not transfer or restore the WhatsApp data to a new phone because data is stored in the account and not the phone number.
To conclude, this article has guided you on how you can easily transfer WhatsApp backup from an iPhone to an Android. The article introduced the various tools you can use, and the recommended one is Mobitrix.
Mobitrix is easy to use, and it involves few and precise steps that anyone can follow without any difficulty.