Are you currently looking for the best methods regarding WhatsApp transfer backup & restore options? This article is all you need as it will teach you all of the time-saving ways. It also contains reviews as well as the pros and cons that will help you in making better choices.
Which is Best for WhatsApp Transfer, Backup & Restore?
| | Best solution | Uninstall WhatsApp | Storage Limits | Transfer to different WhatsApp account |
| --- | --- | --- | --- | --- |
| Between Android and iPhone | Third-party tools like Mobitrix WhatsApp Transfer | No need | No | Yes |
| From Android to Android | Google Drive | Need | No | No |
| From iPhone to iPhone | iCloud | Need | Yes, need 2.05x free Storage on iCloud and iPhone | No |
Part 1: WhatsApp Transfer, Backup & Restore Using Third-party tools
In order to have a cross-platform transfer, using third-party tools is the best solution. However, finding which one would suit you the best can be a little challenging. Thus, below compiled is the list of all the idea tools and their benefits and drawbacks to help you make the right choice.
For quick and stable transfer on the desktop
1. Mobitrix WhatsApp Transfer
WhatsApp hasn't enabled the users to switch files and chats across-board if you are changing the platforms altogether.
To find a super easy solution, Mobitrix WhatsApp Transfer is serving as a stress-free alternative to help you move valuable data from iPhone to Android and vice versa.
All you have to do is follow the steps below, and you are all set to use your new phone:
Download and install Mobitrix on your PC.
Using USB cables, connect both of your phones to the PC. Next, let the program detect these devices.
When they're in the correct order, select "Transfer" to initiate the transfer process.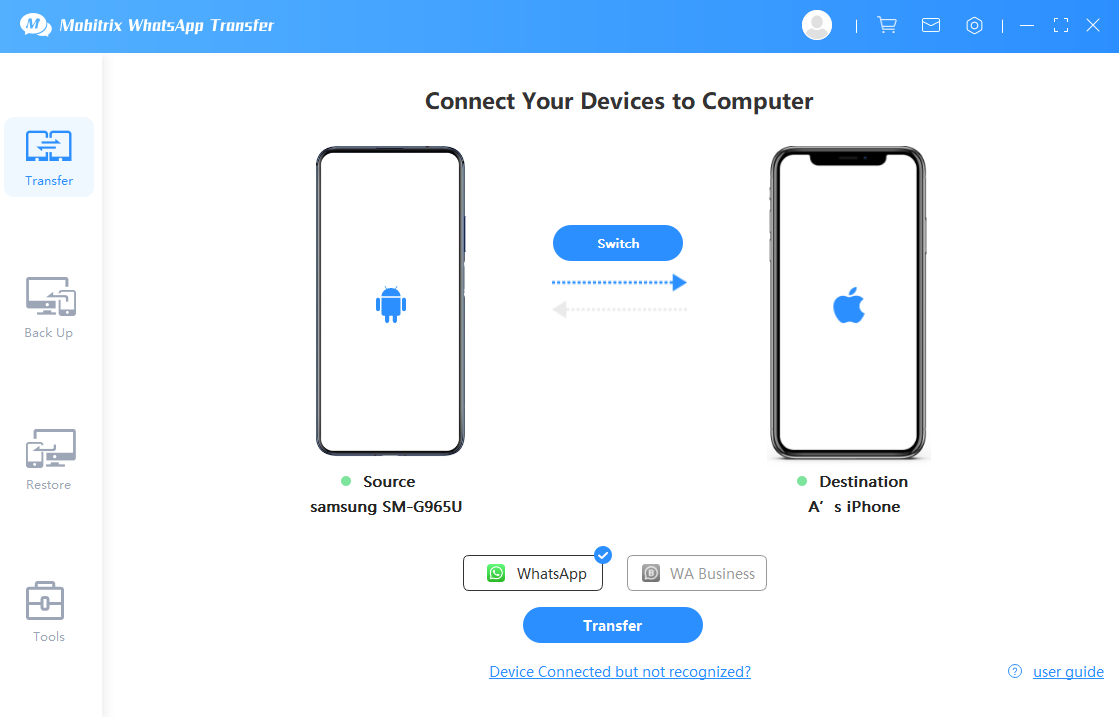 transfer WhatsApp messages from android to iPhone
Watch the video tutorial:
The rates are as follow:
$18.95/1-Year Plan for 5 Devices
$19.95/Lifetime License for 1-5 Devices
But what makes Mobitrix such an ideal tool for WhatsApp data transfer?
As easy as one-click to transfer WhatsApp data. It is a hassle-free and quick way to go about it.
Transfers all data, including chats, attachments, and files. Even your videos, emojis, and images stay safe during the transfer process.
It provides you with free of cost backup for WhatsApp. There is no restriction of capacity to save all of your valuable data.
The pricing is in line with the competitors and will not make a dent in your bank account.
It is compatible with a wide variety of phone models. Almost all of them are covered.
The privacy of the user is completely protected. There is no fear of data leakage.
Is there any limitation?
Well, you are required to download and use it on a Mac or Windows computer.
2. Backuptrans iPhone WhatsApp to Android Transfer
Backuptrans iPhone WhatsApp to Android Transfer is another excellent option to make this migration successful. All messages and chats are emerged seamlessly on Android.
This management tool is designed to copy WhatsApp messages from iPhone to Android in a direct way on the PC.
Connect your old and new phones to your computer and within a few seconds, get it done. Users can either move all the chats or a specific one according to their preference and convenience.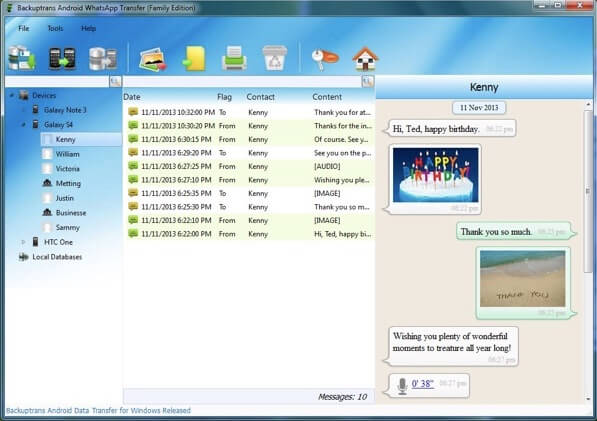 backuptrans android whatsapp transfer
The Price package is:
$19.95/Lifetime for 3 Devices
$29.95/Lifetime for 8 Devices
$149.95/1-Year Plan for Unlimited devices
Pros:
It transfers data directlyfrom ios to Android.
It can extract pictures, videos, and audio.
It enables the users to print out chats
The tool is compatible with many phone models
Cons:
It can only be used to transfer data from iOS to Androidi and not the other way around.
You need a Mac or Windows PC to download and use it.
3. MobileTrans - WhatsApp Transfer
Developed by Wondershare, MobileTrans is entirely reliable and secure to transfer data between Android and iOS.
You can do this by:
Launch MobileTrans. Open it and select "Whatsapp transfer." Then choose "Backup WhatsApp Messages."
Connect both of your phones to the PC and wait for the detection.
Select "Start" to initiate the transfer.
The rates are:
$23.96 / 1-Year Plan for 5 Devices
$31.95/ Lifetime for 5 Devices
Pros:
It supports apps like WhatsApp Business, Kik, Line, Viber, and WeChat.
It can also export messages from PC to HTML/PDF.
The tool can back up chats, attachments, photos, videos, and more.
It can also transfer WhatsApp data between the two platforms.
It is compatible with many devices.
Cons:
Users need to have a Windows or Mac PC to use it.
For convenient but unstable transfer on Mobile
1. WazzapMigrator
WazzapMigrator is an app that helps you move WhatsApp data from iPhone to Android. For doing this, users need to back up their chats using iTunes. The tool also enables its users to move WhatsApp archives to Dropbox from Google Backup. Once the archive is detected, you can extract all the saved data to your phone.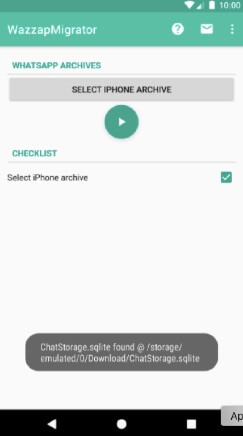 wazzap migrator
Price: $8.49
Pros:
You can transfer all data formats, including chats, pictures, videos, audios, location, etc.
Cons:
The transfer is restricted from iOS to Android.
The transfer process is relatively complicated.
2. Wutsapper (WhatsApp from Android to iOS)
Wondershare has launched Wutsapper. It is an application that helps users transfer WhatsApp messages and files from Android to iPhone devices without having a PC. It makes this alternative a smooth and convenient solution for transferring data.
Price :
Starting from $29.95 /1-Year Plan/
Pros:
It is a convenient solution as you do not require a PC.
Transfers chats, pictures, videos, and more.
It is relatively less time-consuming.
Cons:
WhatsApp data can be transferred only from Android to iOS.
Part 2: WhatsApp Transfer, Backup & Restore Using Google Drive
If you are using an Android phone and switching to a device with a safe system, Google Drive is the most straightforward, simple, and official way to transfer WhatsApp data. How can you do it? Follow the steps below:
Step 1: Backup WhatsApp to Google Drive
>Open WhatsApp
Click on "more options," then go to settings and select chat. Next, create a chat backup and go back to Google Drive.
Choose a backup frequency except "Never"
Enter the Google account for backing up the data
Select "Back up over" to select a network required for the backups.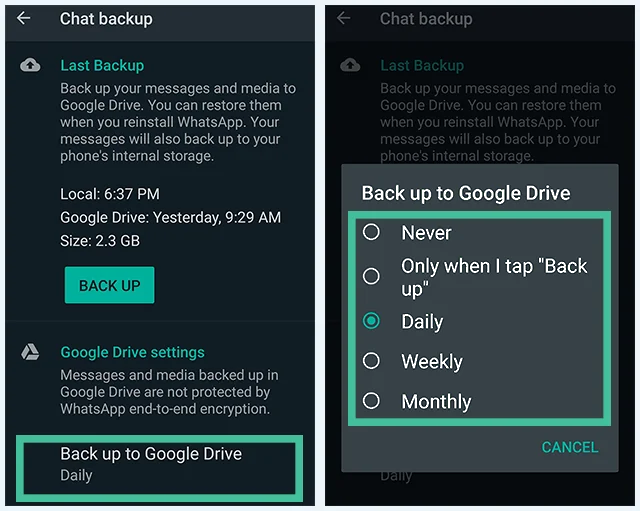 backup whatsapp google drive
Note:
WhatsApp backups are not counted against the quota of your Google Drive storage.
Backed-up messages and media are not protected by end-to-end encryption in Google Drive.
Tips: how to delete backups on Google Drive after the transfer:
Visit drive.google.com and log in from the same account you created the backup with.
Go to"settings"in the main Google Drive Windows
Then click "Managing apps."
Find "Whatsapp" from the list of apps in the next window. Select "options" followed by "Delete hidden app data."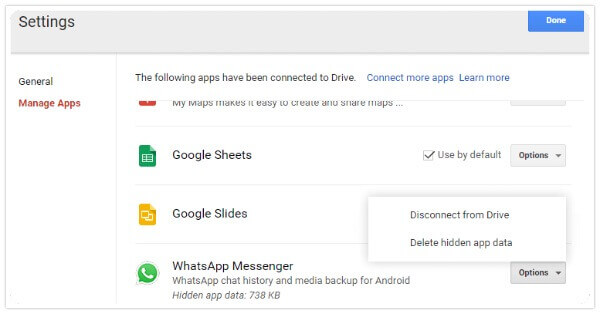 find whatsapp on google drive
Step 2: Restore WhatsApp backup to Android phone
Since you already have a WhatsApp backup on Google Drive, the next step is to restore it to your new Android phone to complete the transfer .
To restore your Google Drive backup:
Reinstall WhatsApp after uninstalling it once
Go to WhatsApp and verify your number
Select "restore" to recover all chats and media from Google Drive
Tap"Next" to see your chats displayed after the initialization is done
Your media files will recover after your conversations are restored.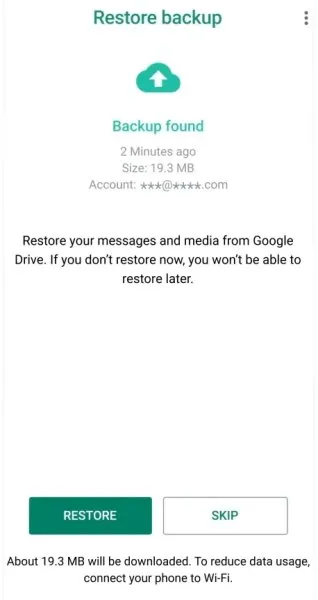 restore whatsapp data google drive
Note:
Make sure you are using the same Google account and phone number to create the backup.
Part 3: WhatsApp Transfer, Backup & Restore Using iCloud
To transfer WhatsApp data from iPhone to iPhone, using iCloud is the official way.
Step 1: Backup WhatsApp to iCloud
Manual backup
You can do it manually anytime. Open WhatsApp and select settings. Go to chats and choose the "chat backup" option. There you will find the option of "backup now."
Automatic backup
Ensure to choose a suitable backup frequency. Enable this option by selecting "Auto backup." This will work for your chats and media. It is up to you if you want to include or exclude the videos.
Requirements:
To access iCloud, sign in with an Apple ID
You are required to have iOS 10 or newer. Make sure iCloud Drive is turned on.
Your iCloud and iPhone should have enough space.
The users need at least 2.05 times the available space in their iCloud accounts and their phones relative to the actual size of the backup.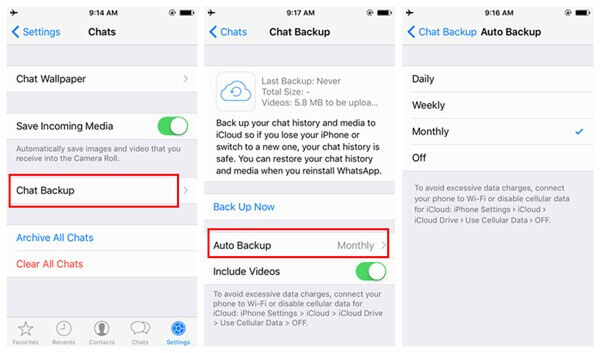 backup whatsapp icloud
Step 2: Restore WhatsApp backup to iPhone
To complete the transfer, the next step is to restore the iCloud backup to your new iPhone .
How to restore:
Ensure that an iCloud backup exists. You can do this by going to WhatsApp settings and then selecting chats to find the chat backup.
If the last performed backup is visible, delete the app and reinstall it.
Verify your phone number and follow the prompts to restore chat history.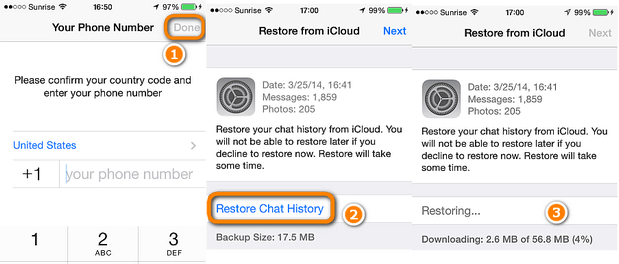 restore whatsapp from icloud
Note:
Both your iPhone and iCould needs to have 2.05 times the storage space of WhatsApp backup.
When switching phones, the most significant challenge phone users encounter is preserving their memories in chats, pictures, and videos. WhatsApp is one of the most used social networking apps. Data from this app can get challenging to transfer when you need to make a cross-platform transfer.
This is where the third-party matrix comes into play. Apps like Mobitrix WhatsApp Transfer are practical tools to make this migration easier regardless of the phone systems. Now you can save your precious memories and that too in a secure way.