How to Restore WhatsApp Backup from Android to iPhone
I was excited when I bought my dad a new iPhone, but the excitement was short-lived. He was not going to give up his WhatsApp data, not even for a new iPhone.
I searched the internet, and WhatsApp's official site told me there is no way to transfer chats and media from an Android device to one running on iOS. However, I found a way of doing it – and I am going to share that with you in this post.
Where is Android WhatsApp Backup Stored?
The first obstacle that I had to overcome to restore my dad's WhatsApp data from his Android phone to the new iPhone was to get my hands on the backup file. Only then could I figure out a way of uploading that data to the iPhone for the chats and media to appear in it. Here are my findings:
WhatsApp data is stored locally on the phone and on Google Drive Cloud Storage.
You can only restore the backup file to another Android device and cannot use it any other way. You cannot even access the messages and media inside it.
Since everyone who uses WhatsApp knows how to backup WhatsApp data, I'll touch on the topic briefly and then move to locate the backup file on the phone and in Google Drive.
Backing Up WhatsApp
To back up your WhatsApp data on an Android device:
Open WhatsApp and click on the three dots in the upper right-hand corner.
Click on settings and then on chats.
Go to chat backup.
Click on the green backup button, and the chats will be backed up.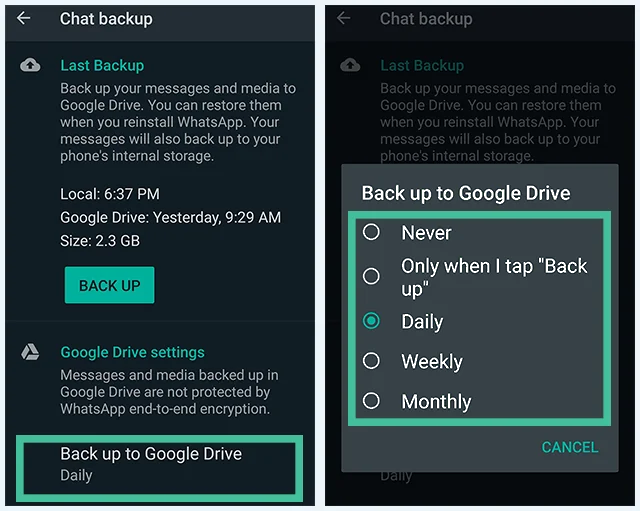 Your phone will store the backup locally in the internal storage of your device and remotely in Google Drive cloud storage.
Locating WhatsApp Backup on Google Drive Cloud Storage
For locating WhatsApp backup on Google Drive, do the following:
Open www.drive.google.com on a computer.
Click on storage in the left-hand column.
Click on Backups just under your profile picture in the upper right-hand corner of the page.
Here you'll see a list of your phone and WhatsApp backups stored on Google Drive.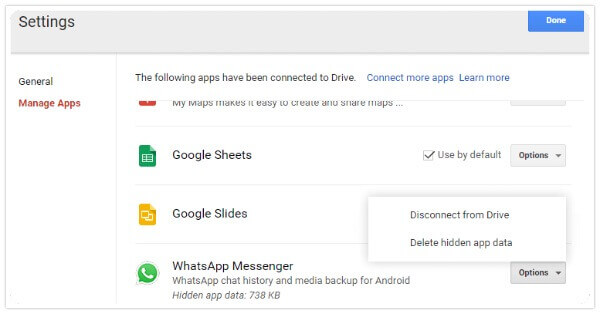 Locating WhatsApp Backup on Phone's Internal Storage
To locate the WhatsApp backup file on your phone, do the following:
Open the 'My Files' or any other file explorer app that you use.
Open Device Storage or SD Card, if your phone has one.
Locate the folder named WhatsApp.
Open it and go to the Databases folder.
Here you can find all the WhatsApp backup files. The older files are there with a date on them, and the latest backup file is without the date. This is the one that you need.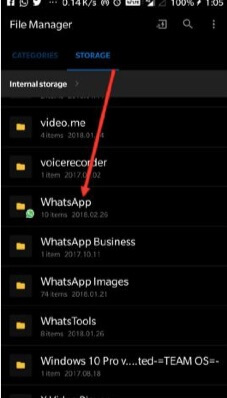 With the backup in your hand, the logical next step is to just go ahead and restore the backup to the iPhone and call it a day, but it is not that simple of a task.
Is it Possible to Directly Restore Android WhatsApp Backup to iPhone?
In simple words, it's beyond the realm of possibility to restore an Android backup of WhatsApp to an iOS device. Here's why:
Android and iOS are vastly different, and WhatsApp data is stored by them in an entirely different way. You cannot just swap the data across these two platforms, owing to the differences in them.
iPhone uses Apple's iCloud Drive for storing backups, while Android relies on Google Drive. These two services are totally different in coding language and logic, and transferring data across these two is not possible in any way.
WhatsApp is an end-to-end encrypted service, and this makes the backups even harder to transfer across operating systems.
The result of all that is, you need to use a third-party app to transfer data across these two platforms, and that's exactly what I did for my dad's WhatsApp data. Let's see how.
Mobitrix WhatsApp Transfer – The One-Click WhatsApp Data Transfer Solution
There are several tools in the market that you can use to transfer WhatsApp data from an Android device to an iPhone, but not all of them deliver what they promise. I went back and forth with a bunch of them before my problem was solved by Mobitrix WhatsApp Transfer.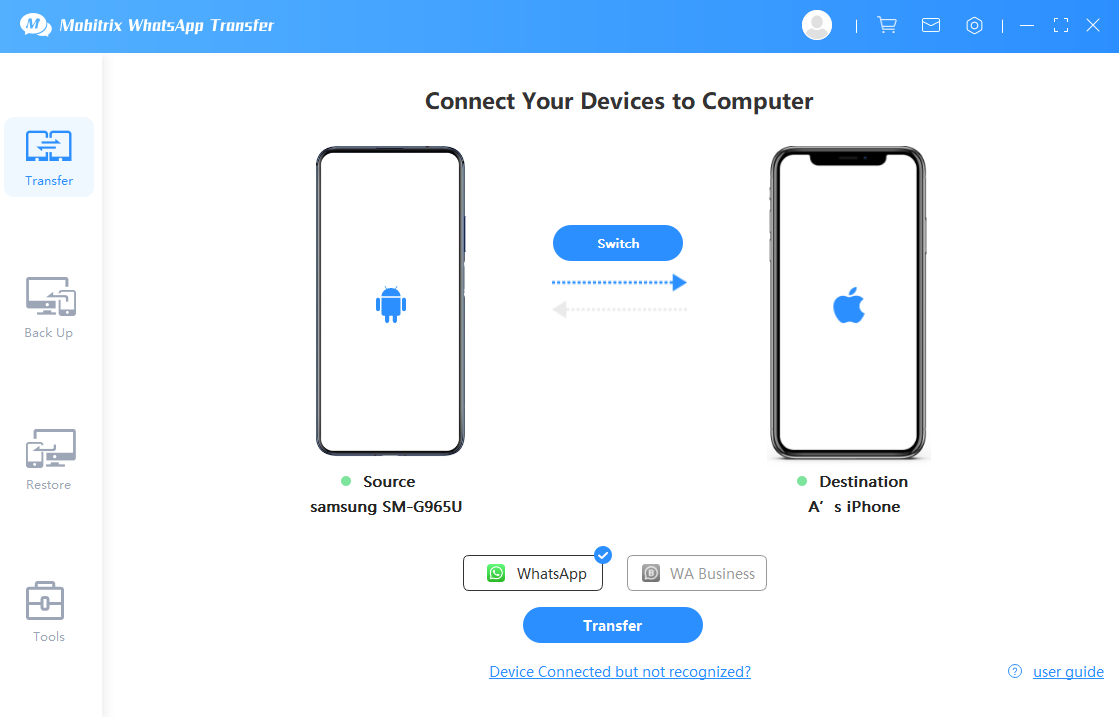 Now, why am I advocating this tool? Here's why:
The transfer process takes just one click.
This tool works on your computer; hence there is no chance of privacy breach as all the data stays on your own computer and not any cloud server.
There is no data limit for the transfer.
All your data is transferred in such a way that you will not even be able to tell the difference.
How to Transfer WhatsApp Data from an Android Device to an iPhone Using Mobitrix?
The process is as easy as it can get. Here's how you can do it:
Step 1 – Install Mobitrix
First of all, install Mobitrix WhatsApp Transfer on your computer. This is simple and will take a few minutes.
Step 2 – Connect the Devices
Now, connect the old Android phone and the new iPhone to the computer using USB cables. Once the devices are connected, both will be visible on the Mobitrix user interface.
Step 3 – Transfer
Set the Android device as the "Source" and the iPhone as the "Destination" device and hit the transfer button to transfer all your WhatsApp data to the iPhone.
NOTE: Keep the devices connected to the computer until the data transfer is complete. Failing to do so might result in the data not being transferred.
Using Mobitrix WhatsApp Transfer to migrate WhatsApp data from Android to iOS is that simple.
To Sum Up
No one wants to lose their WhatsApp data when switching phones, but it happens all the time.
With Mobitrix, it is now possible for anyone and everyone to keep their WhatsApp memories with them no matter which device they are using the app on.
Use Mobitrix WhatsApp Transfer today to save your data from being lost during the phone switching process. This app would help you a lot, just like it helped me.