So, you finally decide to jump the fence and put aside your love for Android, switching over to an iOS device?
Most of your data moves quite conveniently, right up until you want to transfer data from your WhatsApp account.
There seems to be no official method, and you fear you might lose all your messages in the moving process.
This is the same concern that I faced, and I realized that to solve this problem, you can take the help of a third-party application such as iCarefone WhatsApp transfer.
Read on as I guide you to overcome this overly complicated problem in just a few clicks.
What is iCarefone for WhatsApp Transfer and iCarefone for WhatsApp Transfer App?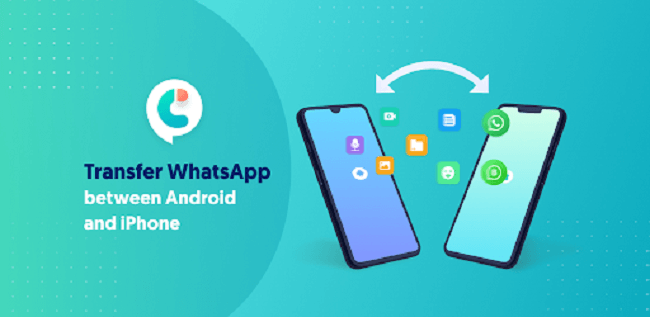 iCarefone for WhatsApp Transfer
With support for the latest firmware, iOS 16 and Android 12, iCarefone is a powerful tool that helps transfer your data from one device to another.
The software must be installed on a PC to use and can also be used to create backups of your device and later restore them when the need arises. Additionally, messages can also be exported in an HTML format that can be viewed by any basic browser.
However, in the case that you don't have access to a desktop, you can try the iCarefone WhatsApp transfer App, which can be downloaded through the Play Store.
Also, you will need a USB-C to Lightning Cable for the transfer process or an adapter of similar nature that connects both the devices together.
Moreover, Android to Android transfer can also be done solely through WiFi. Yet, it can be time-consuming for large amounts of data with the added risk of losing data.
Shall I Use an App or Desktop Software for WhatsApp Transfer?
The choice is simple, if you have access to a desktop, iCarefone for WhatsApp Transfer desktop software is the way to go.
So, not only can you keep backups of your entire phone on your PC and restore them whenever you desire, but your images, messages, media, and other files can also be safely stored there.
On the other hand, if you need to transfer your data urgently and cannot wait to find a desktop for access, the iCarefone for WhatsApp Transfer app can offer a good alternative and get the job, albeit with lesser features.
However, if you are searching for tools other than Tenorshare iCarefone for WhatsApp transfer, look at the comparison table below.
iCarefone for WhatsApp Transfer VS Alternatives Tools
| Tools | iCarefone for WhatsApp Transfer | iCareFone Transfer to iPhone | Mobitrix WhatsApp Transfer | Chatrans |
| --- | --- | --- | --- | --- |
| Platform | Desktop enabled application with basic mechanics | Mobile-based application with a clear and clean interface | A desktop-based all-in-one tool allowing single click transfer | Desktop enabled web app requiring a detailed procedure to transfer |
| Android to iPhone | Yes | Yes | Yes | Yes |
| Cable required | USB cable | an OTG/USB-C to Lightning cable | USB cable | an OTG/USB-C to Lightning cable |
| Phone compatibility | Mainstream mobile brands | Mainstream mobile brands | Up to support for 6000+ phone models | Mainstream mobile brands, such as |
| Pricing | $39.95/year | $14.99/item | $23.95/year | $18.99/year |
| Ratings | 4.2 | 3.5 | 4.4 | 4.4 |
Almost all alternatives come with the basic functionality of transferring WhatsApp data, so the comparison boils down to the cost effectiveness, customer rating, range of phones supported and the features offered.
So looking at the table, it's crystal clear that Mobitrix wins by a long shot.
Read on to find out more about the best alternative for iCarefone for WhatsApp transfer.
The Best Alternative to iCarefone for WhatsApp Transfer
Mobitrix WhatsApp Transfer is an alternative that does the job at an equal or even better than iCarefone. You get the usual data transfer feature between two devices along with seamless back and restore functionality.
Another huge benefit of Mobitrix is its compatibility for over 6000+ mobile models and a nice success rate for the transfer process.
Trustpilot
Why I Do Recommend Mobitrix?
Transfer WhatsApp from Android to iPhone directly.
Transfer All WhatsApp Data(texts, grout chat, photos, videos, etc.)
Supports all WhatsApp versions(WhatsApp/WhatsApp Business) - Including the modded apps(GB/FM/OG/AERO WhatsApp)
Supports 6000+ different smartphone models running on iOS and Android.
Here's how you can transfer WhatsApp data through Mobitrix:
Launch Mobitrix WhatsApp Transfer. Click Transfer.
Connect your Android phone and iPhone to the PC. Click Transfer.

Set up devices to start the WhatsApp transfer

Go to WhatsApp Settings and backup chats locally.

Backup WhatsApp chats locally

Install the developer version of WhatsApp on your Android phone. Log in and tap Restore.

Restore chats to the developer version of WhatsApp

WhatsApp Messages will be copied to the computer, which will be converted and restored by Mobitrix to your iPhone.

Copy WhatsApp data to the computer

Your WhatsApp messages will be transferred from Android to iPhone.

WhatsApp Transferred from Android to iPhone
You can also watch the video guide on how to transfer WhatsApp from Android to iPhone:
The Best Alternative to iCarefone for WhatsApp Transfer App
Chatrans is considered a reliable alternative to iCarefone for WhatsApp transfer.
Here, you can transfer extensive data files, including audio, video, documents, and images, to Android and iOS devices. I went through its many prominent features and realized that they make it simple and efficient to handle.
Following are some brief steps for transferring data from Android to iPhone through Chatrans:
Launch Chatrans. Tap START.
Select a WhatsApp version. Tap Android to iPhone.

Transfer WhatsApp from Android to iPhone

Backup your WhatsApp data as instructed. Click Next.

Locate WhatsApp android backup

Enter your phone number for WhatsApp.

pair WhatsApp backup

Connect your Android and iOS device with an OTG/USB-C to Lightning cable.

Connect Android device and iPhone using cable

Tap Transfer Now on Chatrans.

Transfer WhatsApp data to iPhone

Once the transfer is complete, your iPhone will restart.

WhatsApp transfer completed
Pros
Faster procedure and easy to follow
Transfer data from the conventional WhatsApp app and WhatsApp Business
Cons
It does not work without an OTG/USB-C to Lightning Cable
How to Use iCarefone for WhatsApp Transfer?
There can be multiple reasons for WhatsApp transfer from business chats to contacts or important documents you want to move to your next device.
For this purpose, iCarefone offers a simple procedure with hassle-free export to save your time and efforts.
Start by connecting both of your devices to the PC and download the iCarefone WhatsApp Transfer app.

connect your divices to the PC

Once it is connected, click the Transfer button. It'll ask for verification that you can easily do by typing your phone number and country code.

verify WhatsApp backup account

After clicking Verify, the data will start transferring, shown with the loading scale on your computer screen. Within some minutes, your WhatsApp data will be completely moved.
Pros
Easy transfer media including audio, video, image file as well as documentation among all devices
Selective backup and restore options
Accessibility to simplify editing, managing, copying, and deleting files
High compatibility; even operable on iOS 14 and Android 11
Cons
Pricing varies for PC and Mac versions
Slow response while loading and backing up WhatsApp chats
The trial version has additional restrictions; unable to test some technical features
iCareFone Transfer to iPhone (WhatsApp Transfer App)
iCarefone is a free-to-install application branched from Tenorshare that is available on Google Play to move your data among Android and iOS devices.
Here are some basic steps for transferring WhatsApp files to iPhone through the iCarefone app:
Start by installing the iCarefone app on your device via Google Play.
After accepting the terms and conditions, you'll find an option within the category labeled Transfer to iOS that can help you back up the latest WhatsApp file.
Connect both iPhone and Android devices with the OTG cable and allow the app to access the iPhone by clicking the Trust on your iPhone button.

connect devices with OTG cable

Next, you have to verify the WhatsApp account by typing the phone number and verification code.
After verification, the app will automatically start analyzing files that need to be backed up. Once your data is wholly scanned, it'll be displayed.
This way, you can easily transfer WhatsApp data files from your iPhone to Android.
Pros
Smooth transfer even with low technical skills
Free to install
Don't need to connect your phones to the PC
Highly compatible with the latest iOS and Android operating systems
Cons
Additional charges to upgrade the storage for large files
Hot FAQs

Q1: Is iCarefone for WhatsApp Transfer Free?
iCarefone for WhatsApp transfer has different pricing plans depending on your usability and accessibility. If you want to utilize its data backup services, you must choose either one of its individual or business plans ranging from $19.95 to $49.95.
Not only that, but if you are planning to test the features before usage, then it also offers a free trial with restricted features.
Q2: Can I Crack iCarefone for WhatsApp Transfer?
It is not much of a hectic task to download and install iCarefone WhatsApp crack. However, it isn't a good approach to use the cracked version for transferring a huge bulk of data.
There can be several risks and challenges to opening or viewing these transferred files as they may result in a data breach.
Q3: What if I don't Have an OTG/USB-C to Lightning Cable for WhatsApp Transfer?
You may be stuck in a situation where you can't find a USB-C to lightning cable or even an OTG adapter, but you have to immediately transfer WhatsApp.
Simply opt for platforms, such as Mobitrix WhatsApp Transfer or iCarefone for WhatsApp Transfer, and install the app on your PC in such a case. Later, instead of going into the hassle of wire attachments, you can connect your device to your PC and follow the transfer instructions.
As official support does not exist, alternatives can provide a way to get your data moved from one phone to another. Nevertheless, the experience will depend entirely on the app you choose.
Your choice of the app can vary depending on your requirements, but if I would give you a single recommendation, then go with Mobitrix.
It not only comes with a good amount of useful features, but you also get compatibility for a huge number of devices and support for modded WhatsApp versions, all wrapped up in a nice economical package.