WhatsApp is a good way to share and store our precious memories whether in the form of chat data or files.
Changing your phone implies a need to transfer WhatsApp messages between the devices.
This article gives you a guide on how to transfer WhatsApp chats and data to a new iPhone from an old iPhone or an Android phone easily and securely.
Part 1: Transfer WhatsApp messages from old iPhone
Whenever you upgrade your iPhone to a newer one, your WhatsApp data remains in your old iPhone. To easily transfer your WhatsApp chats and data to the new iPhone, iCloud is the easiest and official way to go about.
Step 1: Restore the iCloud backup to the new iPhone
The first thing is to backup to iCloud your WhatsApp data on your old iPhone.
This can either be through a manual or automatic backup.
For the manual backup: open your WhatsApp on your old iPhone and click on the settings button. This will open a chat menu option, click chats then click backup, and finally backup now. And that's it, the backup to iCloud has been successful.
WhatsApp also allows automatic backup, initiated by the user by selecting a schedule and the backup frequency of choice.
The auto backup is for both chats and media files to your iCloud account, it also gives an option to exclude videos from the backup.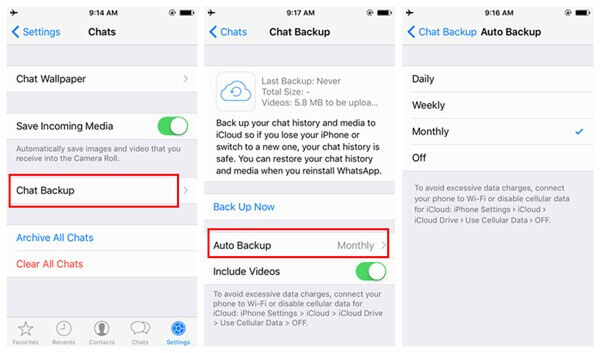 backup whatsapp icloud
To use the auto backup, few things need to be in place prior:
On the old iPhone, ensure you are signed in using the Apple ID that you access iCloud with.
iCloud Drive on the phone needs to be turned on.
Ensure you have adequate free space to hold the backup on your iPhone and iCloud account. The recommended free space is at least 2.05 times the backup size.
As auto-backup occurs frequently if using cellular data limiting the backup to iCloud to only use Wi-Fi is recommended.
Step 2: Restore the iCloud backup to the new iPhone
The next step is to restore the backup made to iCloud on your new iPhone.
Similarly, ensure that iCloud Drive is on and enough free space is available and you are signed in via your Apple ID.
You now need to install WhatsApp on your new iPhone and verify the phone number.
Few prompts will appear, just click through and ensure that you click on the restore your chat button.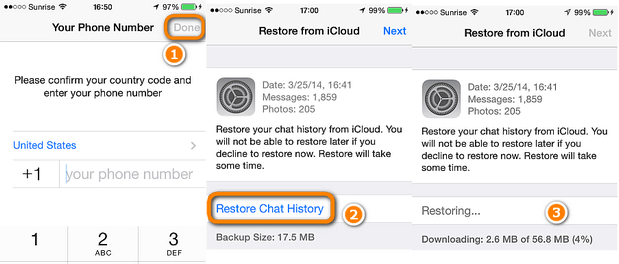 restore whatsapp from icloud
Once clicked, it will take a while but once done your chats will be fully restored.
You've successfully transferred WhatsApp chats and data from the old iPhone to the new iPhone, bravo!
Part 2: Transfer WhatsApp messages from old Android device
The iOS world is sweet especially if you've just switched from Android, but that doesn't mean we shun and forget our memories stored in form of WhatsApp chats on our previous Android phones.
Official WhatsApp fails to give any means of transferring WhatsApp messages between Android and iPhone.
It calls for an easy-to-use and effective tool to achieve the transfer, this is where Mobitrix WhatsApp Transfer comes in handy.
Mobitrix WhatsApp Transfer is a third-party tool for transferring WhatsApp messages through the steps below:
Download and install Mobitrix on your computer from their official website.
Use a cable to connect your Android as the source device and iPhone as the destination device.
Click "Transfer" and the transferring begins, wait till it completes. That's it, WhatsApp messages have been transferred from your Android to your iPhone.
Mobitrix has rated one of the best transfer tools for its various cool features such as:
You don't need to uninstall your WhatsApp to transfer your WhatsApp messages.
It transfers all forms of chat data, from videos, attachments, and texts.
User privacy is safeguarded thus ensuring it's safe to use.
It's compatible with all Android and iPhone versions.
In summary, transferring WhatsApp messages to a new iPhone may seem a dilemma, but in essence, it's easy.
This article has ensured so by addressing how to use iCloud and Mobitrix WhatsApp Transfer to achieve a successful transfer of WhatsApp messages to a new iPhone.
Worry less if you've just acquired a new iPhone as with just a few steps all your memories will become part of your new iPhone.
Enjoy your memories and new iPhone.