Have you bought yourself a new Samsung? Are you wondering how you can transfer your WhatsApp messages from your iPhone to Samsung? This article will guide you on the various ways that you can use to achieve this.
Use Mobitrix (the best method)
Mobitrix is a third-party tool that can enable you to easily transfer WhatsApp from your iPhone to your Samsung without any data loss and with just a few clicks.
Below are the reasons why Mobitrix is the most recommended approach to use.
Mobitrix has no storage limitation of the data size.
It is reliable and safe to use with no risks involved.
You can transfer WhatsApp to different phones regardless of the platforms of the phones.
Mobitrix has a high performance with lower pricing involved (per year it costs $18.95 for a 5-device plan).
Here's how to use Mobitrix WhatsApp Transfer.
Download Mobitrix from the official website and install it
Connect your Samsung and iPhone to the computer then open Mobitrix.

Connect the 2 devices to computer

Set the Samsung to be the destination and the iPhone to be the source once they are detected.
To start the process, click "Transfer".

Start to transfer WhatsApp data
Once the process completes, you will have your WhatsApp on your Samsung.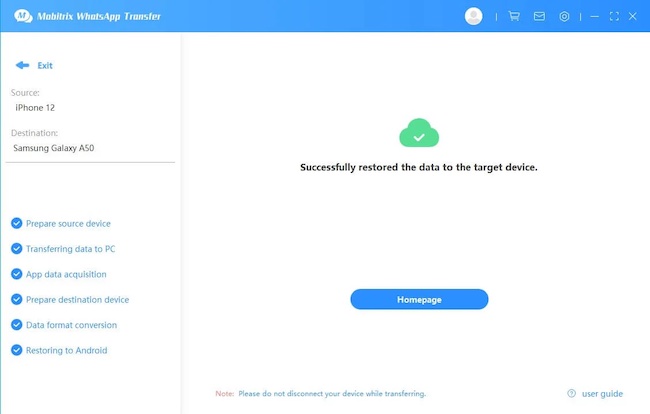 Transfer WhatsApp successfully
Free methods of transferring WhatsApp
1.WhatsAppTrans
WhatsApp Trans is a free tool that you download from GitHub and use to transfer your WhatsApp text messages and media files. The text messages are transferred as a .txt file. Although the method is free to use, it's a bit complicated and only users who have good knowledge of the PC are advised to use this method.
Here's a quick guide on how to use WhatsApp Trans.
Go to GitHub and download the given files by clicking on "Code" then "Download ZIP" Extra the zip file inside the folder, you should have two .exe programs.

how to download whatsapptrans

Download and install iTunes on your PC then connect your iPhone to it.
Back up your iPhone using the steps below.
Open iTunes and at the top left click on the iPhone's icon.
Unselect the option for "encrypt local backup".
Click the option for "Back Up Now".
Import the WhatsApp data Identify the backup path of the data then open CMD and enter the command: ExportiPoneWhatsApp.exe [backuppathforiphone] [whatsappdatapath]

transfer whatsapp via whatsapptrans
Unpack the WhatsApp data
Still on the CMD, type the command: AnalysisWhatsAppChat.exe [whatsappdatapath]
A txt folder and media folder will be created. To transfer the WhatsApp text messages, send the txt folder to your iPhone. If you need the media files like images, send the media folder to your Huawei's Photo/Media folder.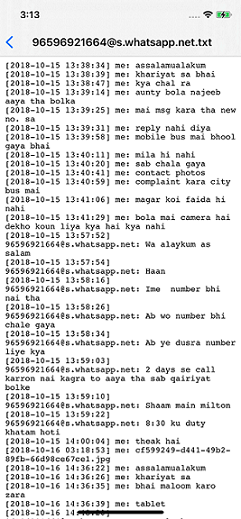 transfer via whatsapptrans
Your text messages will be in a .txt format and the method itself is technical and this is a limitation.
2.Email
Using Email to transfer WhatsApp messages is recommended if you have small chat files as chats are transferred one chat per time.
To use email, do the following
Select the target conversation and click more options while on WhatsApp.
Click on "Email Chat" and if need be, include media files then email yourself the chat.
On your Samsung, inside your email inbox, you can access the WhatsApp messages.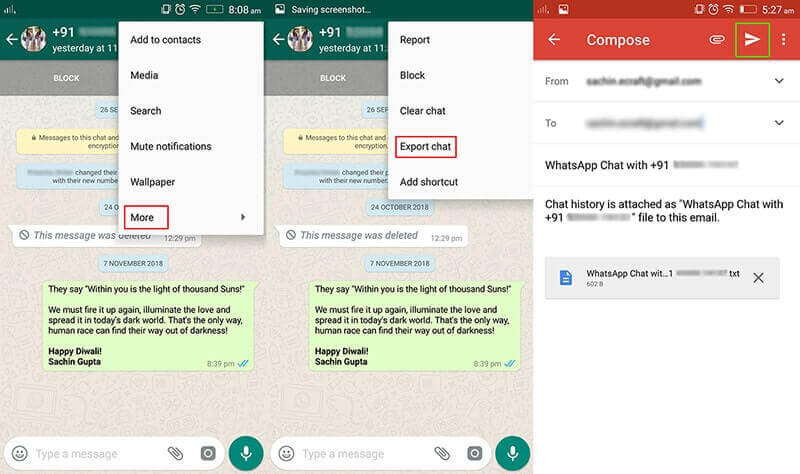 transfer via email
This method is time-consuming and only applicable when small chat files are needed to be transferred.
Other third-party software
This section highlights some of the available third-party software that you can use to transfer your WhatsApp from your iPhone to your Samsung. Note that, their prices are higher and they are not cost-effective.
1. Syncios WhatsApp Transfer
Syncios is a tool that facilitates WhatsApp transfer between iOS and Android. Syncios is compatible with Android 11 and iOS 14. With Syncios, you can restore, backup, or transfer WhatsApp with just a click. However, per year it costs $219 for unlimited devices which is very costly.
2. iTransor
This is an app that facilitates WhatsApp transfer between Android and iOS, it supports backing up WhatsApp to a PC without any limitation in storage. However, it has a user-unfriendly interface and costs $29.95 monthly for 5 devices which is higher than the yearly plan for other tools.
3. Wutsapper
Wutsapper is an app that allows you to transfer WhatsApp from an Android to an iPhone without using a computer, it supports all brands of phones. However, you can still use it to backup your data to the PC if need be.
The tool is very costly as per year it cost $29.95 per device and it is not stable to transfer WhatsApp without using a computer.
This article came in handy to provide some of the ways that you can use to easily transfer your WhatsApp from an iPhone to your Samsung. Our WhatsApp chats are part of our memories thus, we need a quick, safe, and easy method of ensuring we safely transfer our WhatsApp messages and that's why this article recommends using Mobitrix to transfer your WhatsApp.