If you move from an iOS to Huawei you might want to move with your WhatsApp chat history. This is causes problems while trying to transfer WhatsApp as iOS and Huawei use different platforms.
Moving WhatsApp between an Android to an Android or iOS to iOS is straightforward, however, worry not as this article will guide you on how you can transfer WhatsApp from your iPhone to your Huawei using 3 methods.
Using Mobitrix WhatsApp Transfer
Mobitrix WhatsApp transfer is a third-party software that is designed to solve issues with all models of phones. If you want to achieve a quick solution in transferring your WhatsApp to your new Huawei then Mobitrix WhatsApp Transfer is the tool you should use.
Features of Mobitrix WhatsApp Transfer:
Safeguarding your data and privacy is one of its aims.
It easily and quickly transfers your WhatsApp messages.
It is the most recommended method of transferring your WhatsApp between any model of phone whether it's Huawei to iPhone or the reverse.
It is user-friendly and your data is not lost in the process.
To use Mobitrix WhatsApp Trans first, go to the official website and download and install it on your computer then follow the steps below.
Connect your Huawei and iPhone to the computer then open Mobitrix.

connect the 2 devices to pc

Set the Huawei to be the destination and the iPhone to be the source once they are detected.
To start the process, click "Transfer".

start to transfer whatsapp
Once the process completes uninterruptedly, you will have your WhatsApp now on your Huawei.
WhatsApp Trans
WhatsApp Trans is another method that you can use to transfer your WhatsApp from your iPhone to your Huawei. It's a free tool to use but it requires you to have some computer skills to use it as it is more technical. Moreover, it doesn't guarantee successfully transferring your WhatsApp as you risk losing your data in the process.
To use WhatsApp Trans, follow the steps below.
Go to GitHub and download the given files by clicking on "Code" then "Download ZIP". Once downloaded, extract the zip file. It should contain two programs; AnalysisWhatsAppChat.exe and ExportiPoneWhatsApp.exe. if you encounter errors in trying to execute the .exe, you should download VC_redist.x86.exe which is an environment package offered by Microsoft.
Download and install iTunes on your PC then connect your iPhone to it.

how to download whatsapptrans

Create a backup of your iPhone using the steps below.
Having connected your iPhone to the PC, open iTunes and at the top left click on the iPhone's icon.
Ensure you unselect the option for "encrypt local backup".
Finally, click the option for "Back Up Now".
From the iPhone import the WhatsApp data
You first need to identify the path for the backup where iTunes will save the backup. If unable to locate the path, go to Apple for more details.
Navigate to a disk that has adequate space then, open your PC's CMD terminal and enter the command: ExportiPoneWhatsApp.exe [backuppathforiphone] [whatsappdatapath]. This will import your WhatsApp data from where it was backed up

transfer whatsapp via whatsapptrans
Unpacking the WhatsApp data
Back to the CMD, type the command: AnalysisWhatsAppChat.exe [whatsappdatapath]
Two folders, txt, and media will be created inside the WhatsApp directory.
To transfer the WhatsApp text messages, send the txt folder to your iPhone. If you need the media files like images, send the media folder to your Huawei's Photo/Media folder. You can locate the messages or media files using your Huawei.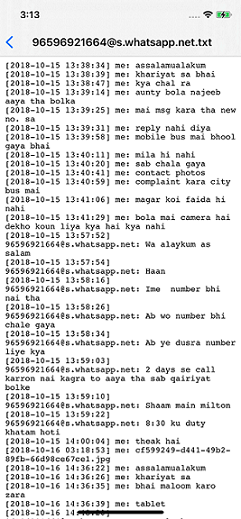 transfer via whatsapptrans
This method has its limitation as you can only access the messages in a .txt format moreover, it's technical to use and is not recommended for users who don't have some computer skills.
Via the Email Chat Feature
Using Email to send your chats will limit you to only accessing few chats as you get to send one chat per time which is time-consuming and not recommended to use if you need to transfer all your messages.
Open WhatsApp on your iPhone and select the conversation that you want to transfer and click more options.
Click on "Email Chat".
Choose to either send or exclude other media files then send the email to yourself.
From your Huawei, you can read or save the chats from your email.

transfer via email
TIPS
A common question people ask is, "Can I transfer WhatsApp from iPhone to Huawei by phone clone?". Well, the answer to this is that the method is useless as it can't transfer WhatsApp as only calendar, contacts, photos, and videos can be sent from an iOS to a Huawei. Sending WhatsApp is not supported.
Thanks to the current methods discussed in this article, you can easily transfer your WhatsApp from your iPhone to your Huawei ensuring that you keep your chats and memories with you.
More conveniently, to easily send your WhatsApp from iOS to Huawei using Mobitrix WhatsApp Transfer eases the load for you moreover, you get to save all your data with no limitations involved.