You may also need to transfer your WhatsApp to the new phone whenever you want to change your phone. Transferring WhatsApp across phones having different platforms is difficult unless you have the simple ways to do it.
This article will introduce you to free ways that you can use to transfer WhatsApp from Android to iPhone for free. In addition, other methods which are not free but offer better ways to transfer WhatsApp will be introduced. So, read the article to know how to transfer your WhatsApp easily.
Top Ways to Transfer WhatsApp from Android to iPhone for Free
There are two ways that you can use to transfer WhatsApp for free.
1. Via Mobitrix WhatsAppTrans
WhatsAppTrans is a free tool supported by iOS and Android and can transfer WhatsApp from Android to iPhone using the steps below.
Check if your Android has a WhatsApp directory. If the folder exists on your phone, from GitHub, download either the customized WhatsApp(.apk) or the WhatsApp(.apk) version. Download also ExportAndroidWhatsApp.exe.If you don't have the WhatsApp folder, don't use this method.

how to download whatsapptrans

Create a local backup of the Android WhatsApp, then uninstall the WhatsApp and install the downloaded version. During installation, click "Restore" data.
Still, create a "data.flg" folder inside the WhatsApp folder on the Android phone. Once the installation process of WhatsApp completes, an "ok.flg" file and "chatpath" directory will be created inside the WhatsApp folder.
Copy the WhatsApp folder and paste it inside a location on your computer.
Open CMD and transfer your chat history by entering the command: ExportAndroidWhatsApp.exe WhatsApp path.

whatsapptrans

Install iTunes and connect your iPhone via a cable to the computer.
Using file manager, transfer the "Media" folder containing the media files to your iPhone's "Photos" folder.
To import WhatsApp messages, import the "txt" folder still inside your iPhone's "Photos" folder.

mobitrix whatsapptrans
This method is complicated, and some users may find it challenging to use. However, if this is the case for you, the article has other better approaches to use.
2. Via email
To use email to transfer WhatsApp, open WhatsApp on your Android device and select the chat you want to transfer. Then click on "Settings > More > Export Chat > Email". Use your email as the recipient email. To access the transferred WhatsApp, log in to your email from your iPhone. You will see the transferred messages in a ".txt" format.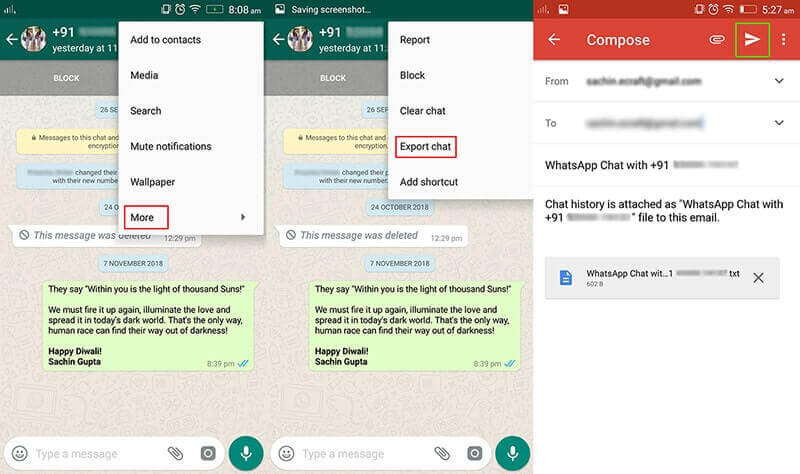 via email
With the two methods discussed above, they have their shortcomings making them not effective to use. For one, they are time-consuming, and the procedures involved are complicated. Thus, the free methods may not be the best to use, and that's why we provide other better alternatives to use, as discussed below.
Other Non-free but Better Methods
1. Via Mobitrix
Mobitrix is the best WhatsApp transfer tool in the market. Mobitrix is a third-party but professional tool designed for use with Android and iOS devices to transfer WhatsApp without losing data in the process. With Mobitrix, transferring WhatsApp from Android to iPhone will instantly take just a few simple steps, as shown below.
First, ensure you have Mobitrix, download and install it on your computer.
Open Mobitrix and connect your Android and iPhone to the computer.

connect the 2 devices to pc

Your phones will be detected. Set the Android as the source and the iPhone as the destination.
Click "transfer" and let the process run uninterrupted.

start to transfer whatsapp
The advantages of using Mobitrix are:
It is affordable
The process is fast and simple.
Mobitrix has no storage limit for the data being transferred.
Your data is kept safe and secure when being transferred.
Mobitrix supports both iOS and Android devices.
Mobitrix has a user-friendly interface
2. Other third-party tools
Other third-party tools exist that can be used to transfer WhatsApp from Android to iPhone. However, not all of them are secure, and their costs are higher in comparison to Mobitrix.
The other third-party tools include:
Some Tips about these third-party tools:
Most have a high price to be incurred in transferring WhatsApp.
Not all of the apps are secure, and your data may be leaked.
Some don't protect your data. It may be lost during the process.
Some of the tools require you to have good technical skills to use them.
There are various options for transferring WhatsApp from Android to iPhone. In this article, the free methods of transferring WhatsApp were introduced. In addition, other better alternatives, although not free, were presented alongside their strengths and weakness. Among all the tools discussed, Mobitrix stands out above them as it is simple to use, effective, safe, and offers a convenient way to transfer WhatsApp from Android to iPhone. So, if you want to save yourself the hassle of using other ineffective methods, try Mobitrix today.