I was devastated when I read on WhatsApp's official website that I could not transfer my chats and other data from an Android device to an iPhone.
This meant one of two things for me, either I'd have to lose the precious WhatsApp data, my prized possession, or I'd have to let the new iPhone 12 Pro Max go, which I got as a gift.
Not comfortable with any of those, I turned the internet upside down and was finally able to transfer my data. Here's how I did that.
Mobitrix WhatsApp Transfer – The App that Saved My Day
Just when I felt that my case was hopeless and was thinking of letting the new iPhone go because sacrificing my WhatsApp data was not an option for me, I found a software named Mobitrix WhatsApp Transfer.
To say that this software is the best one for this job will be an understatement.
Mobitrix WhatsApp transfer is a software designed for backing up, restoring, and transferring WhatsApp data.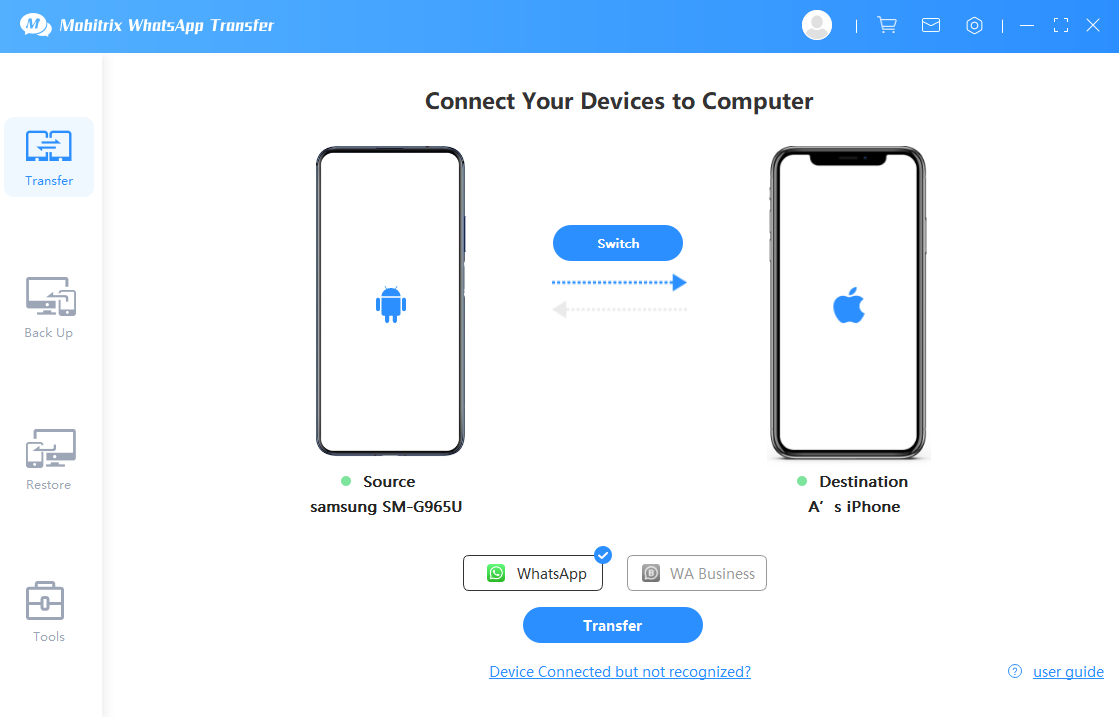 transfer google drive whatsapp backup via mobitrix whatsapp transfer
It can be used to transfer WhatsApp data across any two devices regardless of their operating system, to backup WhatsApp on your computer with no storage limits, and to restore the backed-up WhatsApp data to any device from the computer the backup was made on.
What Makes Mobitrix the Best?
When I say Mobitrix is the best app for this job, I mean it.
As you can already tell, I am a bit too sensitive about my WhatsApp data, I was going to take no chances and made sure that I am using the right tool.
The things that make Mobitrix WhatsApp Transfer the best app for transferring data from an Android device to an iPhone include:
It can transfer all data from the source device to the destination device. It means all the texts, images, videos, emoticons, documents, and stickers.
Unlike other WhatsApp backup methods that involve the use of cloud storage, where the data can be exposed to threats, this method stores your data on your own computer. The result is impeccable security and privacy.
You don't even need to uninstall iPhone on the old device. Just set it to flight mode, check the restored messages on the destination device, and if you see any problem, your WhatsApp data would still be intact on the old device.
It supports all Android phones, even the ones running Android 11 and all iPhone models.
The transfer process literally takes three clicks.
Using Mobitrix WhatsApp Transfer:
One of the best things that I noted about Mobitrix, the reason why I am suggesting this app is that it is very easy to use.
All you need is a computer. It can be a Mac or PC, and the USB cables to connect the phones to the computer. Once you have these things, transferring the WhatsApp data is a matter of minutes.
There are two approaches that you can use to transfer WhatsApp data from an Android device to an iPhone using Mobitrix WhatsApp Transfer.
You can either transfer the data directly or you can back up the data on your computer from the Android device and then restore it to the iPhone.
Let's see how both of these work.
Transferring WhatsApp Data Directly Using Mobitrix WhatsApp Transfer
In this method, you need to connect both the Android device (source) and the iPhone (destination) to the computer at the same time. Once they are connected, the transfer process is simple.
Here's how you can do this in one:
Install Mobitrix WhatsApp Transfer on your computer and launch it once it is installed.
Attach both devices to the computer you installed Mobitrix WhatsApp Transfer on. Make sure you use good-quality USB cables for this in order to avoid problems and make the process fast.
Once the devices are displayed on the Mobitrix interface, set the Android device as the source and the iPhone as the destination.
Click transfer, and all your WhatsApp data will be immediately transferred from the Android device to the iPhone.
NOTE: You need to keep both devices connected to the computer until the transfer process completes. Failing to do so will lead to the data not being properly transferred.
Transferring WhatsApp Data from an Android Device to iPhone Indirectly
If you want to keep a copy of your WhatsApp data for any possible use in the future, this is the method that you need to follow.
In this method, you first make a backup of the data on your computer and then transfer it to the iPhone. This is just as simple as the previous one.
Install Mobitrix WhatsApp Transfer on your computer and run it to start the process.
Connect the Android Device to the computer and click on the "Backup" button on the Mobitrix interface. Wait for the software to create a backup of your WhatsApp.
Connect the iPhone to the computer and go to the restore backup option.
Select the backup and click restore to restore it on the iPhone. Wait for the process to complete and you are good to go.
Make sure you keep the phone connected when the backup is being made or being restored.
Transfer WhatsApp Data from Android to iPhone for Free
1. Use WhatsAppTrans Box
WhatsAppTrans Box is a software tool launched by Mobitrix to enable users to transfer their WhatsApp history easily. The benefit of this tool is that you can use it for free to transfer your WhatsApp data across systems.
Advantages
You can use it to transfer your WhatsApp data from Android to iPhone.
It enables easy restoration of your WhatsApp chat history to a new phone.
It facilitates the transfer of large amounts of data.
You can use it for free.
Disadvantages
It enables you to transfer a chat history that is within the past three months only.
You cannot transfer other data except the chat history. This means that it will not be possible if you wish to transfer pictures, videos, and other data.
Follow the instructions described below to use this tool:
Step 1: Download the Toolkit of WhatsAppTrans Box.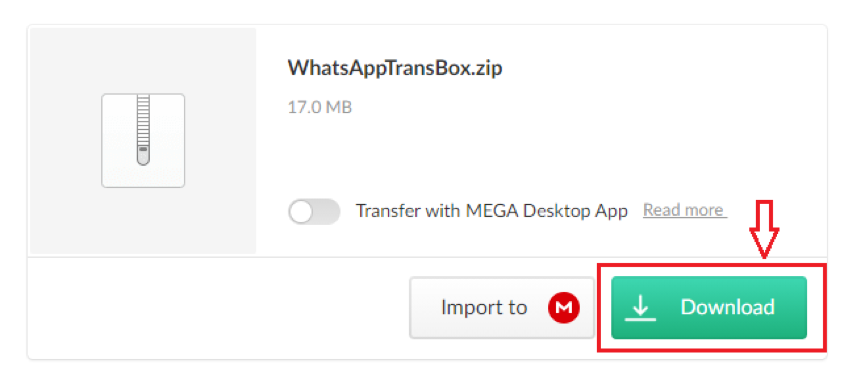 Download the Toolkit of WhatsAppTrans Box
Step 2: Then follow the steps below to get your WhatsApp data from Android.
In your Android phone storage, backup your WhatsApp data.

Backup your WhatsApp data into your phone storage

Plug your Android phone into your computer, then use the command [copywhatsapptopc] to paste the data to your computer.
Terminate the connection to your computer, then from the internet, select a suitable Android emulator to install. For instance, you can install the Bignox emulator.
After the simulator is installed, set up the ROOT permission.

Set ROOT permission after installing the simulator - Setting

Set ROOT permission after installing the simulator

Visit the official WhatsApp website and download WhatsApp, and install it on the android emulator you installed.

Please note to avoid logging in to WhatsApp immediately after the installation is complete.

Directory of Emulator

Welcome to WhatsApp in Emulator

Copy the folder you pasted on your computer to your Android phone by running the command [copywhatsapptoandroid]
Open WhatsApp on the emulator and log in to restore WhatsApp data on the emulator.
Type the command [pullwhatsapptopc] to copy the WhatsApp databases to the PC so that they can be used for other transfers.

Take note of the database path which is /data/data/com.whatsapp/databases/.
Step 3: How to transfer WhatsApp data from Android to iPhone?
The main tool that facilitates the transfer of WhatsApp data from Android to iPhone is whatsappandroid2iphone.exe.However, the tool's limitation is that it can only transfer data within the last three months.
Execute [whatsappandroid2iphone].
Step 4: How to restore WhatsApp data from Android to iPhone?
On your iPhone, install WhatsApp and log in.
Execute [restorewhatsappdata] after connecting your iPhone to the PC. You will be able to see your WhatsApp history.
Mobitrix WhatsAppTrans Box tool is recommended if you wish to transfer your WhatsApp data from Android to iPhone for the past three months.
However, the Mobitrix WhatsApp Transfer tool is highly recommended if you want an efficient and easy way. You can use WhatsAppTrans if you are skilled in using a computer.
2. Using WhatsAppTrans
WhatsAppTrans is another transfer tool that lets you transfer your WhatsApp data to your iPhone by first exporting the data from your Android phone.
Few things to note about WhatsAppTrans are:
It is a free tool to use.
You should have some technical computer skills to comfortable use the tool.
The tool is not 100% successful, you risk incurring data loss in the process.
With WhatsAppTrans, you can transfer messages of many contacts at once but you can't access messages on your iPhone
The transferred chat history can be accessed in the "Files" App of your iPhone.
The steps below will guide you on how to use WhatsApp Trans.
You will first export the WhatsApp data from the Android device.
Step 1: From Github, download the customized version of either WhatsApp business (.apk) or WhatsApp (.apk)
Download the below data export tool:
ExportAndroidWhatsApp.exe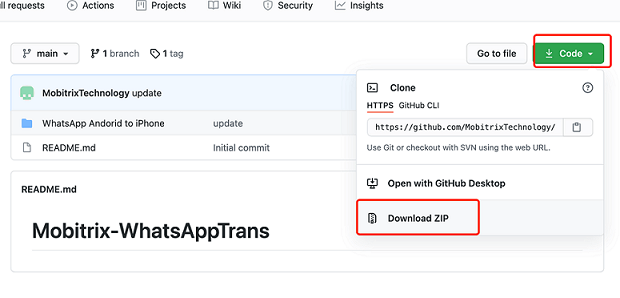 export android whatsapp data
Note: On your Android phone, locate the "WhatsApp" folder using your file manager. If no such folder exists then, this method is not suitable for you. Use another method in this article to transfer your WhatsApp data.
Step 2: If the WhatsApp folder exists, create a local backup of the current WhatsApp and verify if the backup is created otherwise if it's not created you might lose the data. You now need to install the downloaded new version of WhatsApp but first, uninstall the current WhatsApp from your Android. Launch it and verify your account details, at the last prompt, allow WhatsApp to restore your previous data.
Step 3: Go back to the WhatsApp folder on your Android phone and create a "data.flg" file. Once you complete customizing the newly installed WhatsApp, a folder named "chatpath" and a file named "ok.flg" will be created inside the WhatsApp directory to confirm that indeed the chat history of your Android device has completed being exported.
Step 4: You now need to copy the WhatsApp folder on your Android and paste it on any directory on your PC, the two devices should be connected via a cable.
Step 5: On your PC, open CMD and enter the command below, this will create a new "txt" file containing the chat history inside the WhatsApp folder.
ExportAndroidWhatsApp.exe WhatsApp path

save android whatsapp chat history
Step 6: Download iTunes then connect your iPhone via a cable to the PC.
Step 7: Import media files from the WhatsApp directory to the "Media" directory on your iPhone using file manager. We recommend that import all media files to iPhone's "Photos", which allows you to check all WhatsApp images, photos, videos, and audios on your iPhone.
Step 8: If need be, the txt files inside the WhatsApp directory should also be imported to the "Photos" directory. From there, you access them on your iPhone. Sending the txt files to relatives or other accounts that you are signed in with is recommended to act as a permanent store of your WhatsApp data.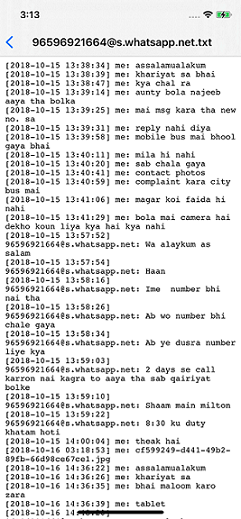 import android whatsapp chat history to iphone
Using WhatsAppTrans is best recommended to use if you have good knowledge of using your PC but if you don't have the needed skills, feel free to use the other methods discussed in the article as some like Mobitrix WhatsApp Transfer software are easier to use.
This article introduced you to some of the methods that you can use to quickly and easily transfer your WhatsApp data from your Android phone to your iPhone.
The article recommends using Mobitrix WhatsApp Transfer software as it is more guaranteed to succeed in the transfer and it is easier to use for all users.
If you have computer expertise, then using Mobitrix WhatsAppTrans, a free tool, is also a good choice.