How to Transfer WhatsApp chats to a new phone?
One of the stressful things about changing phones is when it comes to transferring WhatsApp data.
This article is going to teach you the different ways of transferring all of your WhatsApp media regardless of the version of the phone.
Part 1:Different phone system
It is a difficult task to transfer WhatsApp history between different mobile systems. Some of the reasons why this is so are:
The systems have different storage platforms. WhatsApp that can run on android is not the same as that used in iPhone, this incompatibility issue makes it a challenge.
One way of transferring WhatsApp data history that does not involve using iCloud or Google Drive is the use of third-party tools like Mobitrix.
Using Mobitrix WhatsApp Transfer
Mobitrix WhatsApp Transfer is a valuable tool that can be used to transfer your WhatsApp data between different phone systems.
To use Mobitrix follow the steps explained below;
Install this tool on your computer.
Connect both devices to the computer via USB cables.

Finally, click on the "Transfer" button and your data will be transferred between the devices.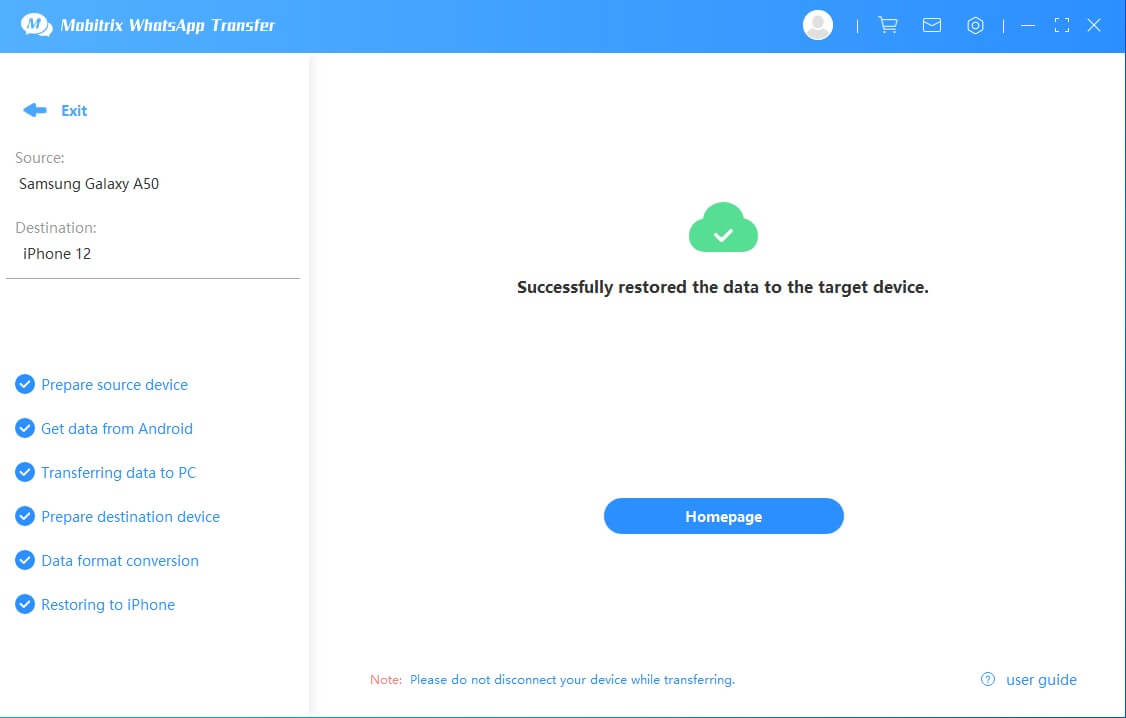 The benefits of using this powerful tool are:
It guarantees 100% safety of your data as no information will be leaked during the process.
It supports almost all Android and iOS devices.
The steps are very simple to use and are enhanced with videos to ensure you perform them correctly.
Your data can be transferred in every desired format such as emotions and videos.
All your data can be transferred at one go which makes it fast unlike email.
It is highly rated and recommended by many professionals.
Using WhatsAppTrans Box
This is a tool that Mobitrix launched to enable users to freely transfer their WhatsApp data across platforms.
Advantages
It is free.
It can be used to transfer WhatsApp data between Android and iPhone.
The tool can be used to transfer large volumes of data.
Supports chat history restoration on a new device.
Disadvantages
You cannot use it to transfer other media data like pictures or videos.
It supports the transfer of data that is within the past three months only.
The steps to follow are as follows:
Step 1: From the Website, download the Toolkit of WhatsAppTrans Box.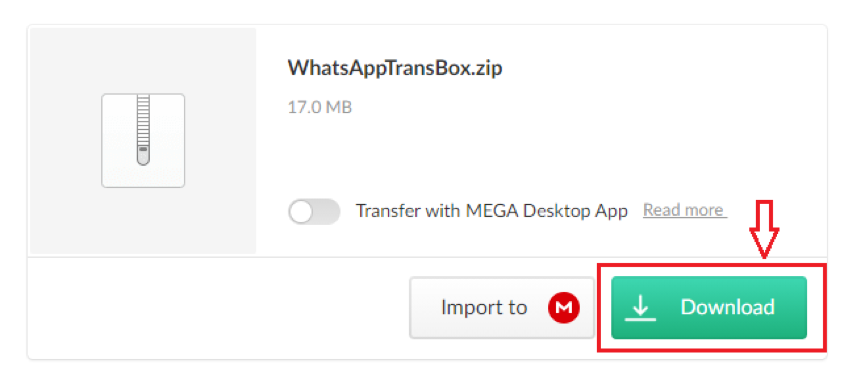 Step 2: To extract WhatsApp data from your Android device, follow the steps that follows:
Use the local storage of your phone to back up the data.

After ensuring the Android is connected to a PC, type the command [copywhatsapptopc] and run it to transfer the data to the computer.
Install an emulator for Android after disconnecting the phone from the computer. Select the emulator you want from the internet.Bignox is one of the emulators that you can install.
After successful installation of the simulator, set ROOT permission.

Use the WhatsApp official website to download WhatsApp and install it on the emulator. Don't log in immediately after the installation is completed

Transfer the folder of WhatsApp you copied on the computer to the emulator by running [copywhatsapptoandroid]
Restore your WhatsApp data on the emulator after logging in to WhatsApp.
Obtain databases of WhatsApp from the emulator. Execute [pullwhatsapptopc] and the databases will be copied to your computer.

Note: The database path is /data/data/com.whatsapp/databases/.
Step 3: How to transfer WhatsApp data from Android to iPhone?
The tool that facilitates WhatsApp data transfer is whatsappandroid2iphone.exe.This tool can be used to transfer WhatsApp data between Android and iPhone, but it only transfers data within the past three months.
Execute [whatsappandroid2iphone].
Step 4: How to restore WhatsApp data from Android to iPhone?
Use your iPhone to download another WhatsApp, then log in.
Go ahead and plug your iPhone into the PC, then execute [restorewhatsappdata] and you will see your WhatsApp chat history.
If you are transferring WhatsApp data within the past three months, Mobitrix WhatsAppTrans Box is the recommended tool because it is free.
However, if you wish to transfer your WhatsApp data regardless of the period and size, we recommend Mobitrix WhatsApp Trans because it is easy to use and very effective.
You can also use Mobitrix WhatsAppTrans if you have a vast knowledge of computers.
Using WhatsAppTrans
This is a free tool for transferring WhatsApp data between different phone systems and it is highly recommended by tech websites.
However, this method is not guaranteed that it will 100% transfer data successfully and may lead to loss of data if instructions are not followed well.
Again if you don't have enough computer skills, this method may not be helpful to you because you must have the computer skills before using it.
To transfer WhatsApp chats from Android to iPhone follow the following steps:
At GitHub click "Download".According to what you require download either the customized version or the business version of WhatsApp and then download the WhatsApp data export tool.

Use the local backup of your WhatsApp to back up the data in the Android phone. Delete the version of WhatsApp in your phone and install the customized version then Restore data.
Launch the file management app and search for the WhatsApp folder. On that folder create a file with the name "data. flg", open the customized version, and reopen the WhatsApp folder again to ensure you have a "Chatpath" folder with a file called "ok. flg".
Use your PC and connect the android phone to it then copy and paste the WhatsApp folder into the PC.
Launch the command line terminal and type the command "ExportAndroidWhatsApp.exe WhatsApp path" then run it.

Connect iPhone to the PC after installing iTunes.
Import all the media files you want from the WhatsApp folder on the PC to the iPhone.
You can also import the files in the 'txt' file on the WhatsApp folder.
Click here for more information on how to use this method.
To transfer WhatsApp chats from iPhone to Android:
Visit GitHub then on the code button click on it then select "Download ZIP"

Ensure you have the latest version of iTunes on your PC then connect your iPhone to the PC.
Back up the data in your iPhone.
From your iPhone import the WhatsApp data.
Unpack the data for WhatsApp from the iPhone.
A more detailed procedure is found here.
Part 2:From iPhone to iPhone
Via iCloud
Steps to use iCloud:
Open the Settings app from your old iPhone then tap on iCloud.
Tap on "Storage and Backup".

Turn on "iCloud Backup" then select "Backup Now".
Turn on your new iPhone then follow the instructions displayed on your screen then finally click "Restore from iCloud Backup"

Use the same Apple Id to sign to an iCloud account then select to restore your latest backup.
The disadvantages of this method:
It needs a strong network connection.
iCloud storage is limited meaning you cannot back up very large amounts of data.
Part 3:From android to android
This way can also be helpful when transferring WhatsApp data between Android phones provided you have Google Drive and Google play services installed.
Steps:
Launch WhatsApp in your previous Android phone then go to Settings > chats > chat backup > Backup and select to create a backup on google drive.

Using the same account for Google you used in the old iPhone log to google drive in the new device.
Ensure that you install another WhatsApp then provide the same phone number to complete the process of installation.

Tap on "Restore' for the chats to start being restored.
This way does not require any third-party tool to use and it is easy as you only click a few times then the data is transferred, but you cannot use this method for iPhone.
Part 4: Questions that users may be concerned about
Question 1. Will I lose my WhatsApp conversations if I change phones?
It depends on the method that you use. In the case of transferring between different systems, there is no official method but a lot of tools exist for doing this, and the most convenient and recommended tool is the Mobitrix WhatsApp transfer tool. The tool is secure and no data is lost during the process but always back up your data before trying any method.
Question 2. How to transfer WhatsApp business to new iPhone?
You simply do this by selecting the option for transferring WhatsApp business on the Mobitrix tool interface.
Summary
To sum up, we have discussed the different ways of transferring WhatsApp data between Android phones, iPhones, and even between different phone systems.
We have seen that the most recommended way that has no drawbacks and is suitable for everyone with or without skills is the use of Mobitrix WhatsApp Transfer. Regardless of the phone system, Mobitrix will help you.