WhatsApp allows us to chat, share ideas and memories. Whenever we want to change our phones, we need ways that we can use to transfer our WhatsApp to the new phone.
This article examines the available strategies that users can use to transfer their WhatsApp from iPhone to Android.
Part 1: How Do I Transfer WhatsApp Chat from iPhone to Android for Free?
Having free methods to use to transfer WhatsApp is convenient and saves on cost. Some of the free techniques that users can use to transfer WhatsApp include:
1. Via WhatsApp Trans
WhatsApp Trans is a new tool that is free to use to transfer WhatsApp from iPhone to Android. The benefits of WhatsApp Trans are that it is free to use and supports the bulk transfer of WhatsApp. However, data gets transferred in TXT format, and complicated technical steps are involved.
To use WhatsApp Trans, follow the steps below.
Open GitHub. Under "Code" click on the option to "Download ZIP.". Once the zip file downloads, extract it on your computer. If you encounter execution problems with the file, download a Microsoft package, VC_redist.x86.exe. This will fix the issue.

how to download whatsapptrans

Download and install iTunes, then connect the iPhone to the PC.
Back up the iPhone's data using the steps given below.
Connect your iPhone using a cable to the PC, then open iTunes.
Click your iPhone icon.
Unselect the option of "encrypt local backup".
Tap "Back Up Now".
Import your WhatsApp data. To import the data, start by identifying the path iTunes will use to create the backup. To import the data, open CMD and enter: ExportiPoneWhatsApp.exe [backuppathforiphone] [ whatsappdatapath]

transfer whatsapp via whatsapptrans
Unpack the WhatsApp data
Open CMD and enter: AnalysisWhatsAppChat.exe [whatsappdatapath]
Once the command above runs, two folders; txt, and media, will be created inside the directory named "WhatsApp".
To transfer your WhatsApp messages to your Android, open the "WhatsApp" folder, then send the "txt" folder to your Android inside the "Photos" folder. Send the "media" folder, which contains your media files, to your Android still inside your "Photos" directory. You can then access your chats and media from your Android.

transfer via mobitrix whatsapptrans
2. Via email
The next free method that you can use to transfer your WhatsApp to your Android device is via email. The steps to use email are as shown below.
Open WhatsApp on your iPhone.
Under Settings, click "chat setting" from the list choose "email chat".
Select the chat history you want to transfer. You can also attach media files or other documents if you require them.
Use your email as the receiver email. Once sent, you can access the attachment on email from your Android device.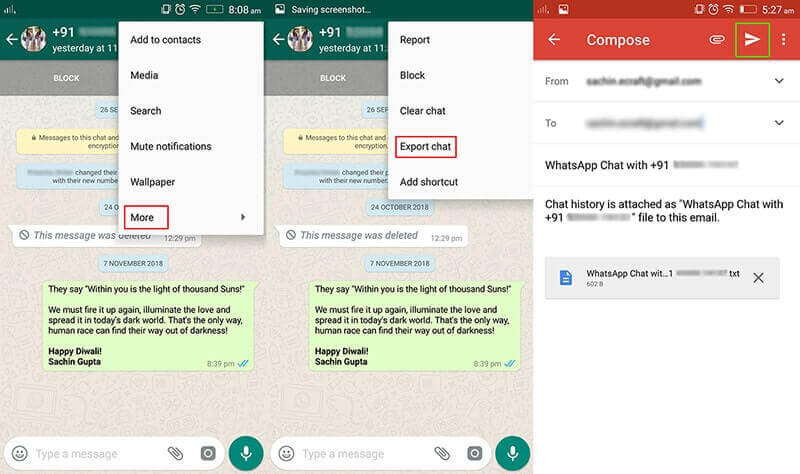 transfer via email
Using email is both free and easy to implement, but the transferred chats are in ".txt" format, and it is not applicable for bulk WhatsApp transfer. Moreover, WhatsApp has restrictions in some countries.
Part 2: Ways to Transfer WhatsApp Chat from iPhone to Android via Third-party software
1.Mobitrix (best method)
The best third-party tool to use to transfer WhatsApp from your iPhone to Android is Mobitrix. To use Mobitrix, the steps below will guide you.
Download and install Mobitrix on your PC.
Connect the Android, the receiver, and iPhone, the sender, to the PC, then open Mobitrix.

connect the 2 devices to pc

Click "Transfer".

start to transfer whatsapp
Ensure that both devices remain connected to the PC until the process completes. Once completed, WhatsApp will be transferred to your Android.
The advantages of Mobitrix WhatsApp Transfer are:
It ensures high performance at a low cost.
It is 100% safe to use and protects the user's privacy.
Mobitrix is user-friendly.
It supports the transfer of data in all formats.
Using Mobitrix is the recommended method, but you have to download and install the software on your PC to use it.
2.iTransor
iTransor is an application that allows WhatsApp transfer between Android and iPhone. To use iTransor, connect the Android and iPhone to the PC, open iTransor, and set the iPhone as the source and the destination to be the Android. Click "Transfer," and the process will begin.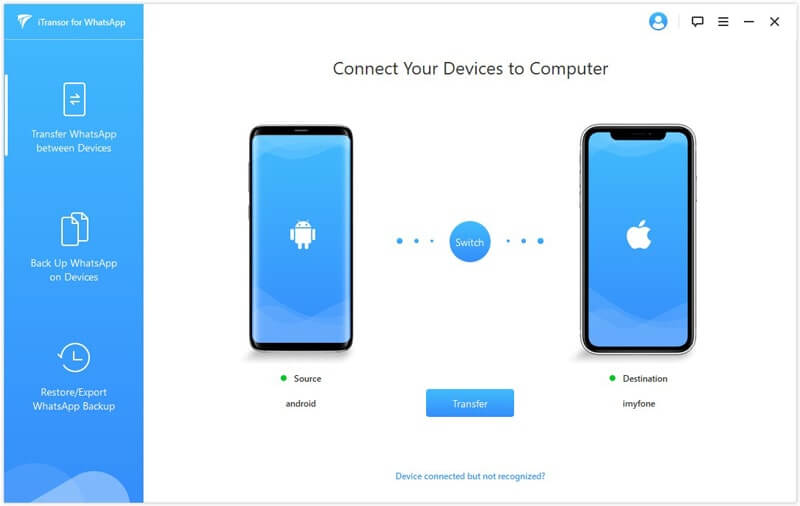 itransor for whatsapp
The advantage of this tool is that it offers free Android and iOS desktop WhatsApp backup. Moreover, it has no storage limitation. However, you must download the app and install it on your PC. In addition, its monthly payment plan is high.
3.Wazzap Migrator (for the Tech-savvy)
WazzapMigrator is a user-friendly third-party tool that is cross-platform and facilitates the transfer of WhatsApp across Android and iPhone.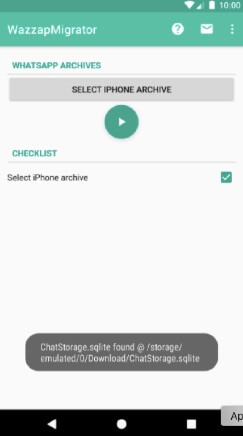 wazzap migrator
The advantage of this tool is that it supports both Windows and Mac. However, it is complicated to use as it is designed to be used by tech specialists as an average user may fail to understand how to use it.
Having seen the various methods to transfer your WhatsApp from the iPhone to the Android, choosing the suitable method for you is easy. You don't need to worry about how you can transfer WhatsApp quickly across your devices. To save you time and guarantee you success, the article recommends using Mobitrix over other methods as it is cheaper, easy, and more convenient.