WhatsApp says there is no official method to transfer backups between operating systems. However, there are plenty of 'unofficial' methods, some which are complicated or expensive. This article will share the various options users can consider for transferring their WhatsApp backup to another system, including our recommended method.
FAQs about it
Before you start,here are some helpful answers to common questions about transferring between operating systems.
1. Can I Transfer my WhatsApp backup from Android to iOS?
Absolutely! We 100% guarantee that you can transfer your backup between Android and Apple devices, but only through certain methods. There are some misleading guides that suggest you can simply move your WhatsApp backup by activating your same phone number on a new device that uses a different operating system. This is not accurate, so please don't risk losing your information and time.
2. Can I Transfer my WhatsApp backup from Android to iOS using Google Drive?
No, you cannot. Google Drive is not compatible with Apple's iOS system. You can only restore a WhatsApp backup to an Android with Google Drive, or to an iOS using iCloud.
We share an easy way to accomplish this transfer without using Google Drive later on, so keep reading.
3. Can I Transfer my WhatsApp backup from Android to iOS for free?
There are some options that advertise that they are free. However, you should be cautious of anything free that you might download on your phone or allow access to your sensitive information, including WhatsApp chats and backups. Make sure you are only using services and applications that are secure - most of the safe providers that value your security are inexpensive, but not totally free.
4. Can I use the "Move to IOS" App to transfer my WhatsApp backup?
This app is specifically designed to transfer data between Android to iOS, but it won't work for moving WhatsApp backups to an iOS system. While you can transfer some important files with this app, it does not work with WhatsApp.
Ways to Transfer WhatsApp backup from Android to iOS
Via email
Transferring WhatApp backup via email is free - but it is not a good option. The formatting of your WhatsApp backup information will be altered when it is sent via email, and you will not be able to view it in a meaningful way.
You can perform this action by following:  WhatsApp>Settings>Chats>Chat History, then selecting "Export".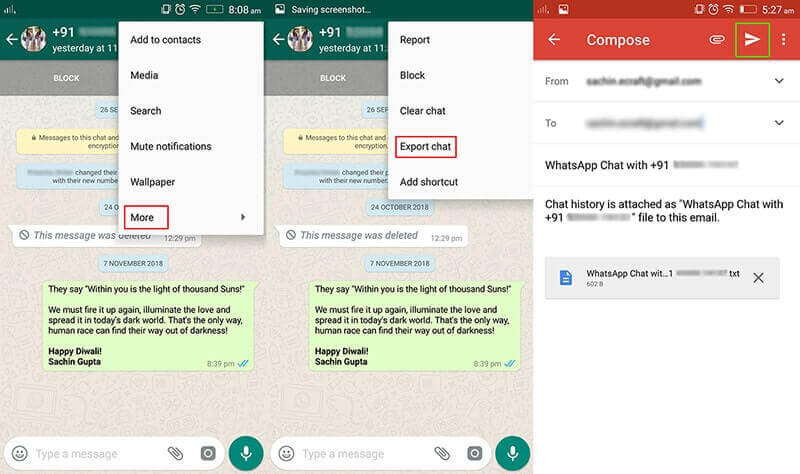 transfer via email
Transferring via email doesn't send it to your WhatsApp application on your new phone, it merely creates an email with the messages as an attachment. You still have to enable your email account on your new phone and then download the backup from your email on your new device. So, you won't be able to view your messages and information easily. There are better options, such as Mobitrix, to complete this transfer.".
via third-party services or apps
There are several options to transfer your WhatsApp backup to a new device, even if it is a different operating system than your previous phone. These options are called 'third-party services' because they act as a middle-man between the two operating systems to allow for the conversion of information.
Use Mobitrix (Editor's Pick)
We recommend Mobitrix as a safe, easy method to transfer all your WhatsApp chat history. Other third-party services or applications can have complicated processes or expensive fees (some as high as $149.99!). After reviewing the options, Mobitrix is the obvious best choice for users to transfer their WhatsApp backup easily.
We also prefer Mobitrix because this option offers a secure way to transfer data between Android and iOS systems. They ensure your personal and sensitive data is protected during the transfer.
How does it work?
Simply download the Mobitrix software to your computer. Then, connect your two devices to your computer using USB cords. Follow the simple prompts to assign a 'source device' and 'destination device' - then transfer! The software will complete the transfer quickly.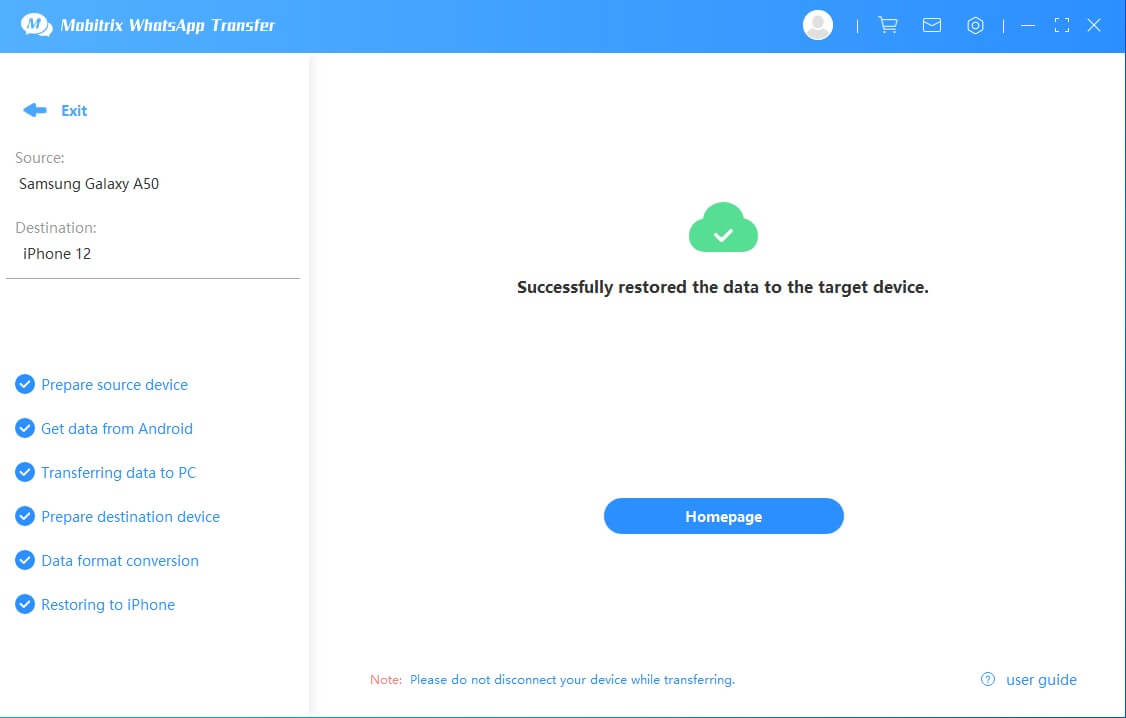 start to transfer whatsapp
Advantages of using Mobitrix:
Mobitrix does more than just transfer WhatsApp - users can also backup and restore information to multiple devices
it is compatible with all operating systems, including Android to iOS and iOS to Android
Secure method to transfer data
Works with a single download - no need for multiple downloads or large files that clog your computer storage
Mobitrix has no limitations for data size. No matter how large your files, you can easily transfer with this software
Without PC
If you don't have access to a personal computer (PC) there is another app available – Wutsapper.
Wutsapper works with or without a computer. However, one drawback is that it only works to move data from Android to iOS, not the other way around. Another con is the price - Wutsapper costs $29.95 per year for a single device. That means you can only complete one transfer between devices, and then you're done. Not the best financial deal on the market, however it is a safe and secure option.
FREE Option Using WhatsAppTrans
There is one last free option for users - a free download from Mobitrix called WhatsAppTrans. While it is a safe way to transfer your WhatsApp backup to iOS from Android, the reason it is not our first recommendation is because it is more complicated and recommended for those who have some tech know-how. Basic computer skills are needed, and users risk losing their data if they make an error in the process.
To use this method, exactly follow the steps listed in this article. The details process includes downloading the WhatsApp Trans tool as a zip file and extracting the files. The user will also manually import the data from their Android phone to Apple phone in the computer's CMD terminal - the command operating system that controls your computer.

transfer whatsapp via whatsapptrans
Advantages of WhatsApp Trans
Free option for users
Safe and secure - you are in charge of transferring your own data
Remember, this option is recommended for users who are confident in their computer skills, as it requires working from the text-based operating system of your computer to manually import the data.
Users need to use third-party tools to transfer WhatsApp backups between Android and iOS; of the options available, Mobitrix offers the best value and convenience. Those feeling confident in their computer skills could try using Mobitrix's free option, WhatsApp Trans tool - however, it requires some detailed steps to complete the transfer. The simple, safe way to transfer WhatsApp data between Android and iPhone or iPad is with Mobitrix's WhatsApp Transfer tool.