Did you or your child delete your WhatsApp messages or chats by mistake? Are you panicking because it got some crucial texts from your office?
This article contains some of the most comprehensive and effective ways of restoring WhatsApp messages and chats in an easy and fast way.
Have you ever wondered if messages or chats that accidentally got deleted on WhatsApp can be restored? Well, I stumble across this question a lot of times by my customers.
As a mobile phone repairer and shop owner, I see people coming in with a tense mood that their chats have been deleted on WhatsApp since it got some pretty important messages.
While looking for a solution, I found some amazing and effective ways to restore WhatsApp and tested all of them to provide you with a comprehensive guide.
In this article, I have listed some of the best methods to restore WhatsApp. But make sure you read this guide till the end for a better understanding.
Restore WhatsApp on Android
Are you using a phone with an Android operating system and got your WhatsApp chats deleted? If yes, worry no more. Here are two of the most effective methods to restore WhatsApp messages or chats.
Restore from Google Drive
You might not have noticed, but several times the automatic backup is on which continuously backs up your WhatsApp data and chats on Google drive. The steps to restore WhatsApp from Google drive are as follows, and it can be easier if you already have a backup.
Steps
Uninstall and then reinstall WhatsApp from the play store.
Open WhatsApp and agree to the privacy terms.
Select the 'Restore' option.
Allow the app to access data and wait to recover.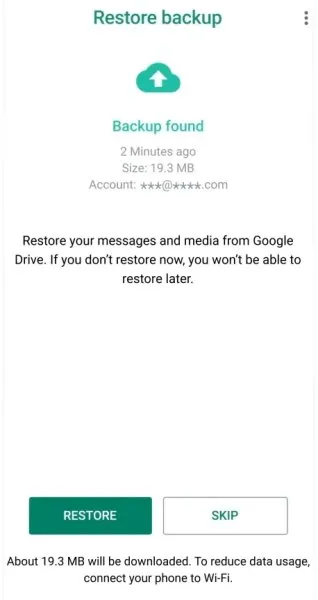 restore whatsapp from google drive
Pros
The method isn't bound to a computer.
Steps are really very easy.
You can restore deleted data if you have a backup.
Cons
The method will only be effective if you have a backup.
The process is a little time-consuming.
Note: If you don't have any previous installs from Google Drive, all your backup media will be restored automatically by WhatsApp through local backup.
Restore from local backup
Do you not have a backup on Google drive? Don't worry, here is another method for you. WhatsApp automatically creates a local backup on your phone's internal memory or SD card. The steps to restore WhatsApp from a local backup are listed below.
Steps
Download file manager.
In the file manager, locate "sdcard/WhatsApp/Databases" or find the WhatsApp database in internal memory.
Rename file from 'msgstore-YYYY-MM-DD.1.db.crypt12' to 'msgstore.db.crypt12.' Do not change the crypt extension.
Reinstall WhatsApp after uninstalling it.
Choose the restore option while making a WhatsApp account.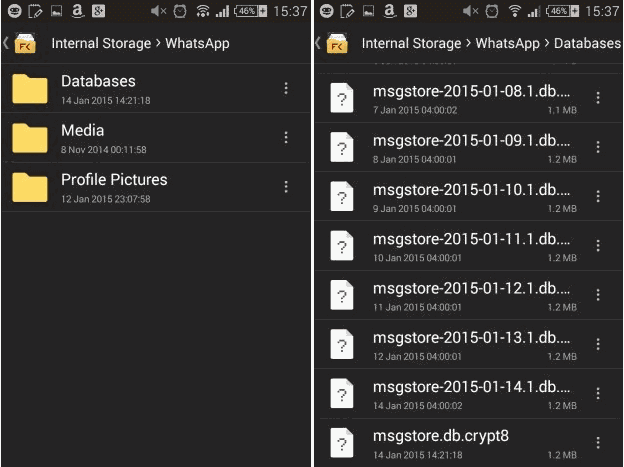 restore WhatsApp from local backup
Pros
This method also does not require a computer.
The steps are easy to follow.
Cons
You will have to download the file manager.
You will have to reinstall WhatsApp.
Restore WhatsApp on iPhone
We saw about restoring WhatsApp on Android, but what about iPhone users. Don't worry. I got them covered too. If you are an iOS user and wondering how to restore your chats and messages on WhatsApp, then here is a good method to try.
Restore from iCloud
Like Google Drive, iCloud also keeps a backup of your WhatsApp data and can also be recovered with the following steps. It will be easier for you to recover if you have a backup on iCloud.
Steps
Check your last backup status in the WhatsApp settings of chat.
Uninstall your WhatsApp from your iPhone and reinstall it.
Open WhatsApp and follow the prompt.
Choose the restore option while following the prompt.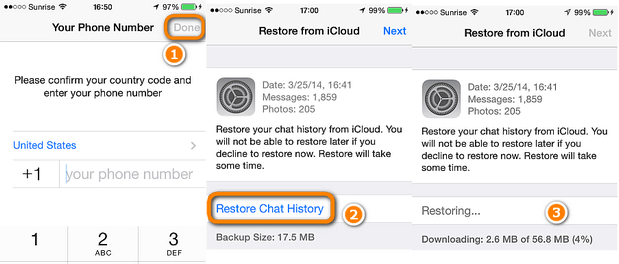 restore whatsapp from icloud
Pros
Do not limit yourself to the computer.
The steps are simple.
It can also restore deleted data if you have a backup.
Cons
The method is only effective if you have a backup on iCloud.
The processing is slow.
Restore WhatsApp via Mobitrix
I have been repairing mobile phones and systems for some years now, and according to my experience, using a tool to restore WhatsApp is the best way as it does not limit you in any way.
Mobitrix WhatsApp Transfer is a professional tool I have been using for years to restore WhatsApp chats and data of my customers without any complication. Even if you do not have a tech background, Mobitrix won't disappoint you as it has a friendly interface.
Let's take a look at the functions of Mobitrix to see how it can help you.
Major functions
Backs up your WhatsApp data to PC
You can restore WhatsApp chats to any phone.
It can transfer WhatsApp between Android and iPhone.
Pros
It can transfer all WhatsApp data such as images, videos, text, and documents.
The steps are super easy to follow.
The tool supports both WhatsApp and WhatsApp Business.
Compatible with all the latest versions and models.
The processing comes with a 100% success rate and keeps up with your data privacy.
You do not have to reinstall WhatsApp.
Steps
Download Mobitrix on your PC
Connect Android and iPhone to the computer
Click transfer.
Done! All your backup will be restored on your iPhone immediately.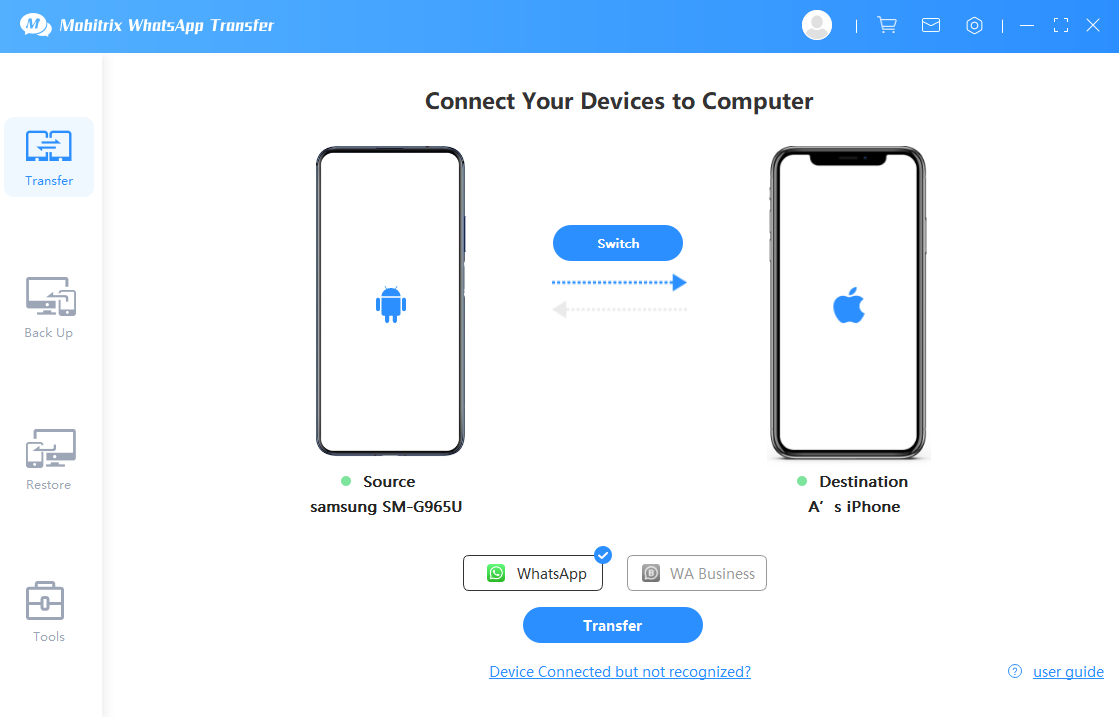 transfer WhatsApp from Android to iPhone via Mobitrix WhatsApp Transfer
Restore WhatsApp via WhatsAppTrans Box
Are you a tech-savvy kind of person? If yes, I got a perfect method for you to restore WhatsApp. However, if you do not have a technical background, then this method won't prove to be friendly for you. In such a case, I will recommend your Mobitrix WhatsApp Transfer method as it is specially designed for non-tech persons.
Pros
The method is free.
Compatible with both Android and iPhone.
Restores all the texts.
Cons
Works only with the texts instead of all the other data.
The method is technical and complex.
Steps
Download WhatsAppTrans Box Toolkit.

Download the Toolkit of WhatsAppTrans Box

Backup your data in your phone storage via WhatsApp chat settings.

Backup WhatsApp into phone storage

Now connect your phone to the computer
Launch [copywhatsapptopc] and copy your WhatsApp data and chats into PC
Disconnect the Android phone and download an Android emulator on a PC. Please set ROOT permission after installing the simulator.

download an Android emulator on a PC

Install WhatsApp on your Android emulator

Install WhatsApp on Android emulator on PC

Run [copywhatsapptoandroid] to copy the WhatsApp folder into the emulator on your PC.
Log in to WhatsApp on the emulator; then, you can restore WhatsApp data on the emulator.
Extract the WhatsApp databases from the emulator.
Run [pullwhatsapptopc] to copy the database directory to the PC in order to facilitate the subsequent transfer.
Download and install WhatsApp on your phone and log in.
Connect your phone to PC and execute [restorewhatsappdata].
FAQs of Restoring WhatsApp

FAQs of Restoring WhatsApp
Are you having some thoughts about WhatsApp restoring? Well, I will never leave you in a confusing state, so here are some frequently asked questions with clear answers for your help.
Can I restore deleted messages? 
Yes, you can quickly restore data and messages on your WhatsApp, but only if you have a backup. The methods for both Android and iPhone have been explained above.
Methods without uninstalling WhatsApp?
Uninstalling and reinstalling is a lot of headache for restoring WhatsApp, but Mobitrix Transfer comes along with no such obligation. You do have to uninstall WhatsApp in the Mobitrix WhatsApp Transfer method.
Why can't I restore WhatsApp from Google Drive?
The reason you might be unable to restore your WhatsApp data and chats from Google drive is that you turned off your automatic backup or did not take a manual backup also, so there is no backup in Google drive to restore.  If you have a backup and are still unable to restore WhatsApp then you can have a look at this support page.
How do I transfer WhatsApp messages from Android to iPhone? 
The simple answer is Mobitrix WhatsApp Transfer. Yes, Mobitrix WhatsApp Transfer allows you to transfer your WhatsApp messages from Android to iPhone with only a few steps. 
How do I move WhatsApp files from Google Drive to iCloud?
I encountered a number of people who were asking to move WhatsApp from Google Drive to iCloud so they can restore backup to their new iPhone. But this is not the right way to do things. The right way is to restore WhatsApp data to your Android phone, transfer it to iPhone, and then create a backup in iCloud for future use. Don't worry, Mobitrix WhatsApp Transfer will completely take care of transferring WhatsApp from Android to iPhone with just a single click. 
I can understand that things get complicated when you accidentally delete your WhatsApp chats, especially if they got some pretty essential messages or when you consider them as a memory. There is nothing to worry about or get anxious about because all the methods listed above will help you in such situations. 
However, if you are looking for an easy way to go, then Mobitrix WhatsApp Transfer is the perfect option for you. I have been using this tool to restore my customers' WhatsApp for a long time, and I'm really impressed with how it works and guarantees success.