How to Recover Deleted WhatsApp Messages on Android
As someone who repairs mobile phones for a living, I have encountered several requests from my clients to help them retrieve important Whatsapp messages such as wedding photos, agreement messages, and so on.
So, in this article, I will explain how simple it is to restore Whatsapp messages to your current phone or a new phone. Let's start.
Different ways to restore WhatsApp messages
Restore Whatsapp Messages that are Deleted
Whatsapp is a great app, but it has limitations when restoring deleted messages. In this article, I will give that it is easy to understand when you need to restore messages that have been deleted.
Don't worry about which kind of phone you're using since this method work both with iPhone and Android phones. So, let us start with android devices.
All messages can be recovered if you've them backed up in one way or another.
This method will enable one to restore WhatsApp chats that are backed up in Google Drive or local storage.
Restoring WhatsApp Messages from a Google Drive WhatsApp Backup
Before you begin to restore these messages, ensure that:
You have backed up the said messages to your google drive to enable this process to work and restore your messages.
You use the same phone number and google account you used while creating the backup.
Your device has a strong internet connection and sufficient storage space.
Steps to enable a straightforward restoration of the messages:
Uninstall then reinstall WhatsApp on your phone.
Once you open the app, you will be prompted to verify your number, after which there will be a pop-up to restore where you select next, which will then initialize the restore process.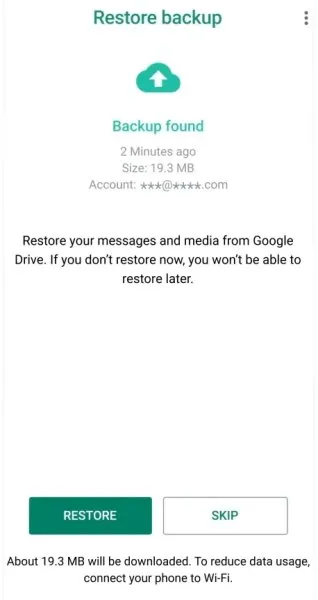 restore whatsapp from google drive
While using this method, you have to delete WhatsApp first. Only your most recent backup is restored. After helping people to restore WhatsApp data using google drive, I had instances where some of my clients who come to my store needed help to restore WhatsApp data without using google drive.
Therefore, it's important to introduce another method many WhatsApp might be familiar with but don't know how to use it. The following method will be to restore WhatsApp data from a local backup.
Restoring WhatsApp Messages from a Local Backup
How Does Local Backup Work?
Your phone will save up to seven days' worth of local backup files.
Local backups will be produced automatically every day at 2:00 a.m. and stored on your phone as a file.
If your data isn't in the /sdcard/WhatsApp/ folder, you may see "internal storage" or "primary storage" directories.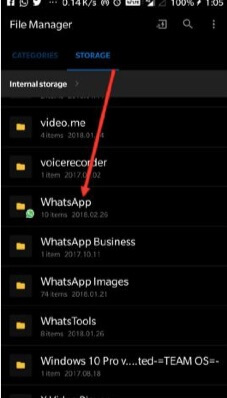 file manager whatsapp
This guide will show you how to retrieve deleted WhatsApp messages from your phone's local backup if you have an Android phone.
Go to the File Manager. Please note that the Google Files app may be necessary if you cannot locate the file manager.
You may access the Database by going to the WhatsApp folder and selecting Database . This is where you'll find all of the messages you've sent and received.
Change the file name to msgstore.BACKUP.db.crypt12.
Rename the msgstore.db.crypt12 backup to msgstore.db.
You'll see the three-line symbol and then hit Backups.
Remove the WhatsApp backup from the backups folder by deleting it.
Reinstall WhatsApp by first uninstalling it and then reinstalling it.
Open the app and enter your phone number to confirm it.
Press the Restore button.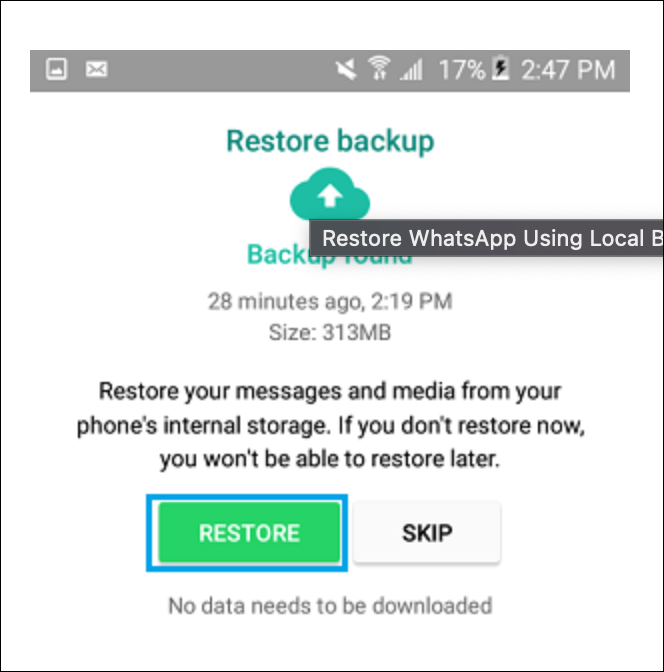 restore local whatsapp backup
How to Recover Deleted WhatsApp Messages on iPhone
To restore your iPhone's texts from a backup, you'll need to use iCloud instead of Google Drive, as with Android devices.
Whether you're unsure if you have a conversation backup, you may check it by launching WhatsApp, going into the Settings tab, choosing Chats , and then heading to Chat Backup .
Reinstall WhatsApp on your phone after it has been uninstalled.
Verify your phone number by opening the app and entering your phone number.
To get your deleted messages back, choose "Restore" to begin recovering your data from a backup.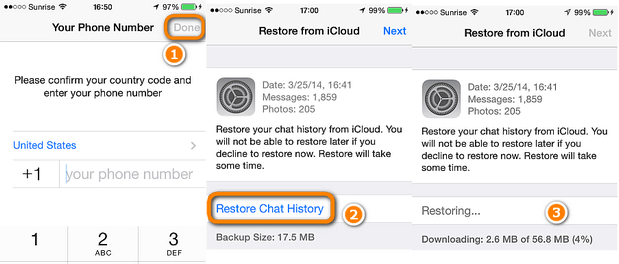 restore whatsapp from icloud
Restore Whatsapp Messages to a New Phone
The Most Recommended Way for Any Phone
Mobitrix is software that will enable you to restore WhatsApp data to a new phone. This method is essential since it can quickly help iPhone and Android users.
Functions of Mobitrix WhatsApp transfer:
Transfer WhatsApp data from iPhone to Android and vice versa
Help to backup your WhatsApp data to your PC
Help to restore WhatsApp conversations to any device
Simply follow the steps below to restoring WhatsApp messages through Mobitrix:
Install Mobitrix on your computer.
Android and iPhone may be plugged into a PC.
Press next to the transfer.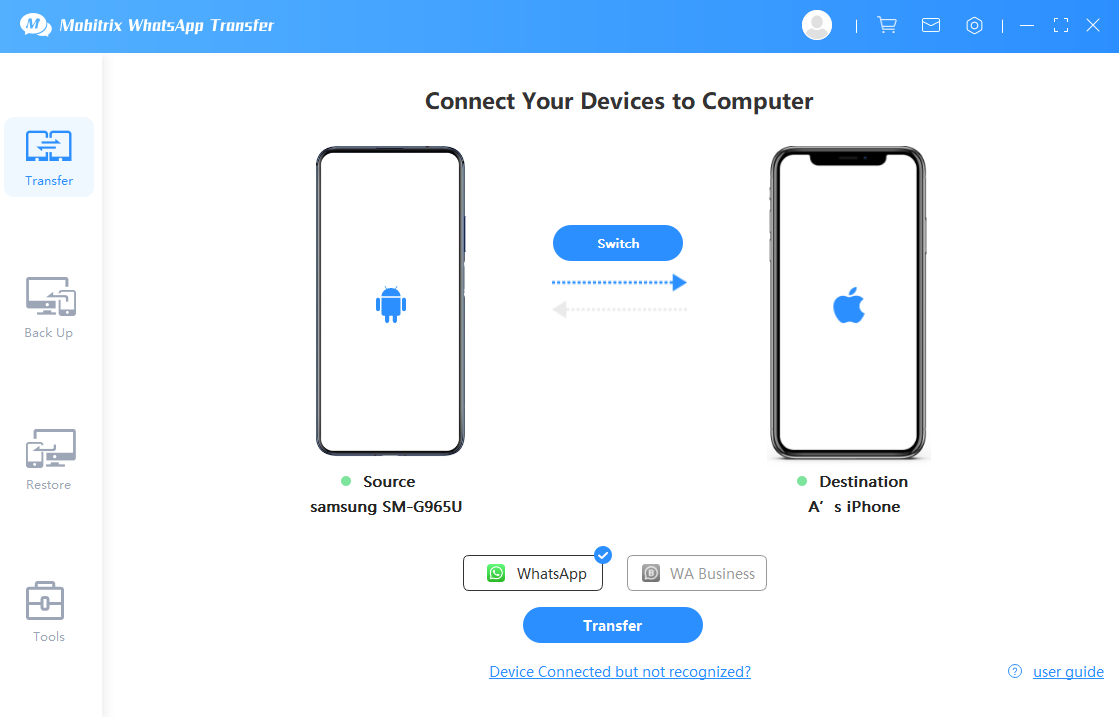 transfer WhatsApp from Android to iPhone via Mobitrix WhatsApp Transfer
This method is fast, and it is highly convenient.
Advantages:
Messages, movies, photos, and files of all forms (even emojis) may be sent.
WhatsApp and WhatsApp businesses are supported.
Compatible with the latest iOS 16 and Android 12
Protect your privacy, 100% assurance of confidentiality
Disadvantages:
Need a cable to connect to PC
Restore WhatsApp Messages to Another iPhone
Open WhatsApp on your old iPhone, go to the Settings > Chats > Chat Backup .
Hit on "Backup Now" to backup WhatsApp messages to your iCloud Storage.
You should first uninstall your WhatsApp on your old iPhone and then install it on your new iPhone.
On a new iPhone, open it and set it up by following instructions on the screen, then hit on the "Restore from iCloud Backup " option.
All data will be transferred to the new iPhone.
This method is easy, and it is also convenient. However, it requires a Wi-Fi connection. It also has a free storage limit and can only be used for iOS devices.
Restore WhatsApp Messages to Another Android Device
Via Google Drive WhatsApp backup
Steps :
Restoring your conversations from an old Android smartphone requires first backing them up. Open WhatsApp and choose More options > Settings > Chats > Chat Backup from the drop-down menu.
Make sure you choose the Google account to store your conversations. Your device's internal storage may also be used to back up your data.
Click RETURN to return to the previous screen.
Remove WhatsApp from your old Android smartphone and reinstall it on your new one once you've made a backup.
Open WhatsApp and verify your phone number once you've installed it.
You may restore your conversations and media from Google Drive by pressing RESTORE when requested.
Next, hit NEXT after the restoration procedure has been completed. Once the startup is complete, your conversations will be shown to you.
After your conversations have been recovered, WhatsApp will restore your media files.
Backup WhatsApp messages on Android
Via a local backup
To utilize a local backup, you will need a computer, file explorer, or SD card to transfer the contents to the phone.
Restore your backup by following the instructions below:
Make use of a file manager .
Navigate to your sd card or local storage > WhatsApp > Databases in the file management app. Internal or primary storage may be shown instead of saving your data to an SD card. Make a copy of your most recent backup to the Databases folder on your new device's local storage.
Open WhatsApp and verify your phone number once you've installed it.
On your local backup, tap RESTORE when you're requested to restore your conversations and files.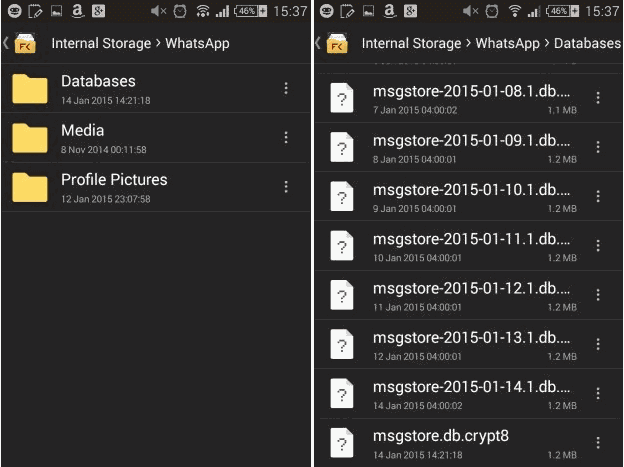 restore WhatsApp from local backup
Via Email
Using email is another method that can be used to restore your WhatsApp on your iPhone from an android phone. But this method only allows you to transfer a single message at a time.
Here are the steps:
Start running WhatsApp on your Android Phone, then select your iPhone's specific chat that you wish to send.
Open Setting > More option > Export Chat via email . Media can be attached or not according to your preference.
Provide an email where the data will be backed up, then use the same email on your iPhone to access the chat.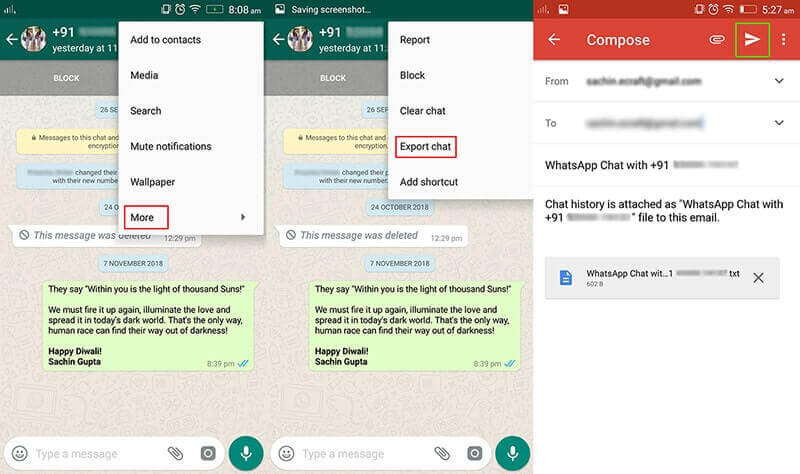 transfer via email
Advantages of using email:
It does not require third-party tools to be installed.
It is free.
Cons of using email:
The process takes a lot of time due to transferring a single chat at a time.
It needs a network connection for the transfer to take place.
It supports a 'TXT' format only.
The article has explained the various ways to recover lost WhatsApp data both on Android and on iPhone phones while ensuring the data stays protected.
Additionally, we introduced the Mobtrix WhatsApp Transfer tool, which, as highlighted above, gives a safer, efficient, user-friendly tool that can be used between Android phones, Android and iPhone phones, and two iPhones.
As explained, the Mobtrix tool serves as the most modern, simple and excellent tool to help WhatsApp users recover their data with ease.