WhatsApp contains most of our best memories. We may change our phones or accidentally delete our WhatsApp messages thus the need to have a way to restore our WhatsApp messages.
This article presents various ways to restore WhatsApp messages alongside their advantages and disadvantages and offers you the complete guide you need for the restoration process.
Part 1: Restoring deleted WhatsApp messages
Here we look at how we can restore WhatsApp messages in an event that we had a previous backup or not.
Restoring WhatsApp messages from a backup
Method 1: Using Google Drive Backup
First, to view your current backup visit drive.google.com and on the left under storage click on backups, this gives you an option to view or delete your backups.
Reinstall WhatsApp and verify your phone number, ensure it's the same phone number as the one used to create the backup.
On the prompts during installation, click "Restore" and let the process complete. Your WhatsApp messages and media will then be restored.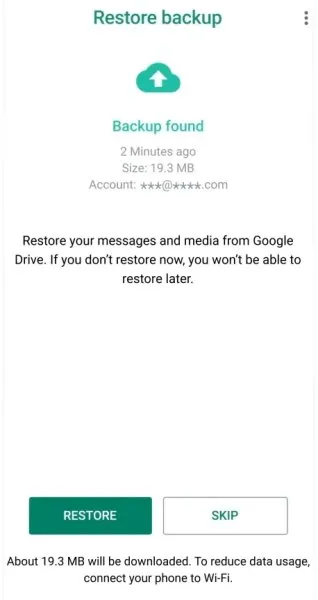 restore whatsapp data google drive
The advantage of this method is that it only requires you to have a Google account and to know how to create the backup with the right frequency, daily frequency is recommended as it's easier to restore.
Its only disadvantages are, you need to reinstall WhatsApp, data must be backed up prior, and requires a Google account to create the backup.
Method 2: Using iCloud backup
This method applies to iOS users.
On WhatsApp > Settings > chat > chat backup, check to confirm that an iCloud backup exists.
Delete your WhatsApp and reinstall it, verify your phone number and click through the steps to restore WhatsApp messages.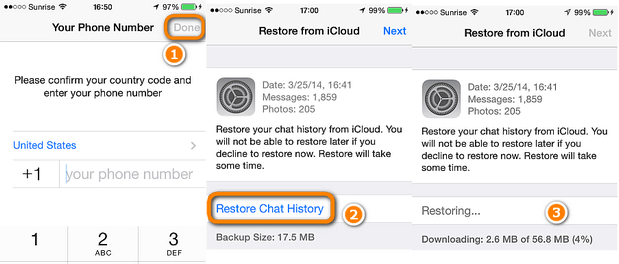 restore whatsapp from icloud
Few things to note here are:
You need to use the same phone number while reinstalling WhatsApp and be signed in using the Apple ID used to create the backup.
Ensure that you have adequate free backup space on your phone and iCloud account.
The method is suitable as no software needs to be installed and uses iCloud for the backup, however, you need to uninstall WhatsApp and have free space 2.05 times larger than the backup.
Method 3: Mobitrix WhatsApp Transfer
Mobitrix WhatsApp Transfer is the best method that doesn't require you to uninstall your WhatsApp.
Download Mobitrix WhatsApp Transfer and install it on your PC then follow the steps below:
Open the program on your computer and click "Backup WhatsApp on device". Connect your phone to the computer and make the backup.
To restore your WhatsApp messages, connect your phone to the computer and click "Restore WhatsApp to Device" and select the backup you want to restore.
Click "Restore" and the transfer of WhatsApp messages will commence till completion.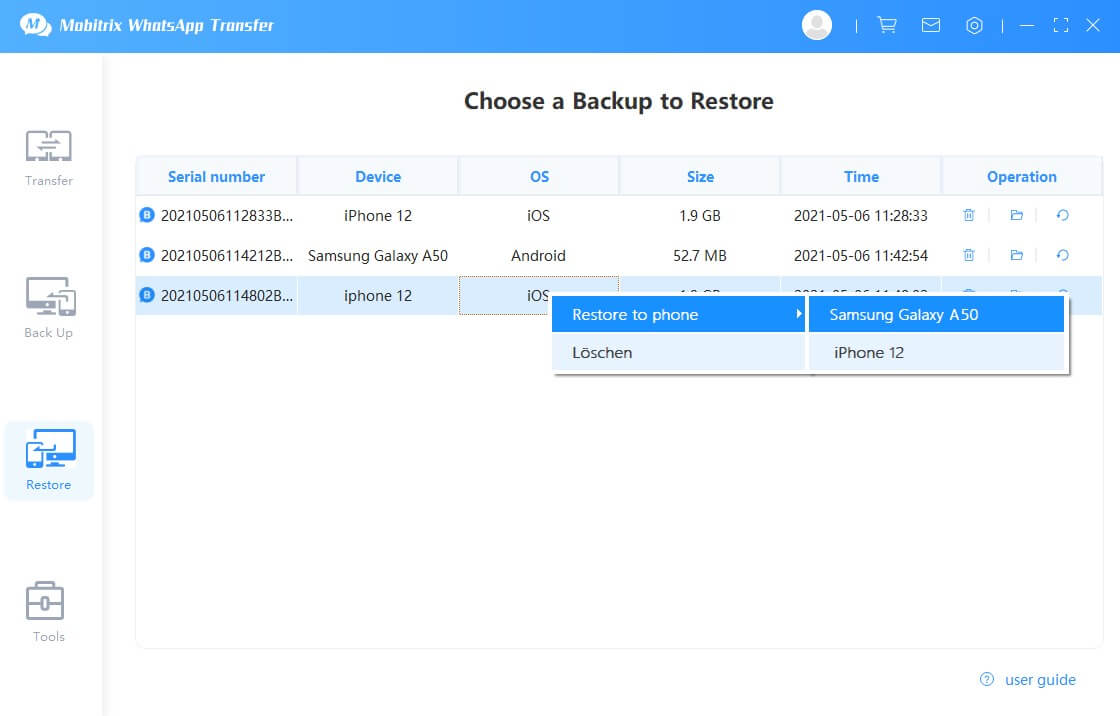 restore whatsapp data
Mobitrix is the most suitable way as:
It supports all platforms of devices whether Android or iOS.
It is safe and secure to use and transfer WhatsApp messages.
Unlike iCloud and Google Drive, it's not limited in space.
WhatsApp doesn't have to be uninstalled.
Its shortcomings however include: WhatsApp messages have to be backed up on a computer before restoring and Mobitrix needs to be downloaded on a computer to use it.
Restoring WhatsApp messages without backup
Often, we fail to create WhatsApp backups thus, we also need a way to recover WhatsApp messages in a scenario where we deleted them without prior backup. This works for both iOS and Android.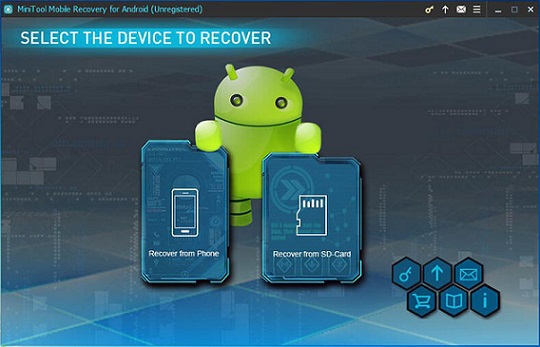 restore whatsapp messages via mini tool mobile recovery
To achieve this in Android:
On your computer download and install Mini Tool Mobile recovery, click on "OK" on the popup and let the installation finish.
Open the program and select "Recover from phone", ensure your phone is connected to the computer. Rooting is required if you want to access all recoverable data.
On the "Device Ready to Scan", choose either deep or quick scan. You should now see your deleted WhatsApp messages, select those to recover, and click "Recover".
For iOS download the Mini Tool recovery and install it on your computer, connect your phone to the computer. Open the installed program and click "Scan".
Once installation finishes, on the left of the list of data types select "WhatsApp". Select messages to recover and click "Recover". Your WhatsApp messages will start being restored.
Pros:
The recovery process is fast and simple.
It can restore 10 files of the same data type for free.
You don't need to uninstall WhatsApp to use it.
Its only disadvantages are; it has to be downloaded and installed on your computer and it's not compatible with iOS 11 or above.
Part 2: Restoring WhatsApp messages on a new phone
In an event that we acquire a new phone, we still need to restore our WhatsApp messages to our new Android or new iPhone.
1. To restore from Android to Android:
In this, we need to first have either a local backup or a Google Drive backup that already exists.
To make the recovery, install WhatsApp on the new Android. However, ensure that you sign with the same phone number and Google account you created your backup with on the old phone.
Once your phone number is verified, click RESTORE to restore your WhatsApp.
If a local backup exists on your old phone or SD card, transfer it to your new phone before installing WhatsApp to use it as the restore source of the messages.
2. iPhone to iPhone:
First, ensure you create a backup on your iCloud account.
On the new iPhone, ensure you sign in using the Apple ID used for the backup and turn on your iCloud Drive.
Install WhatsApp, once verification is successful follow the restore prompts through and WhatsApp messages will be restored.
3. Transfer between Android and iPhone:
As these devices use different platforms, WhatsApp officially has no way to transfer WhatsApp messages between these devices.
However, as mentioned earlier we can easily use a third-party tool, Mobitrix, as it supports the transfer of WhatsApp messages regardless of whether the devices are iOS or Android.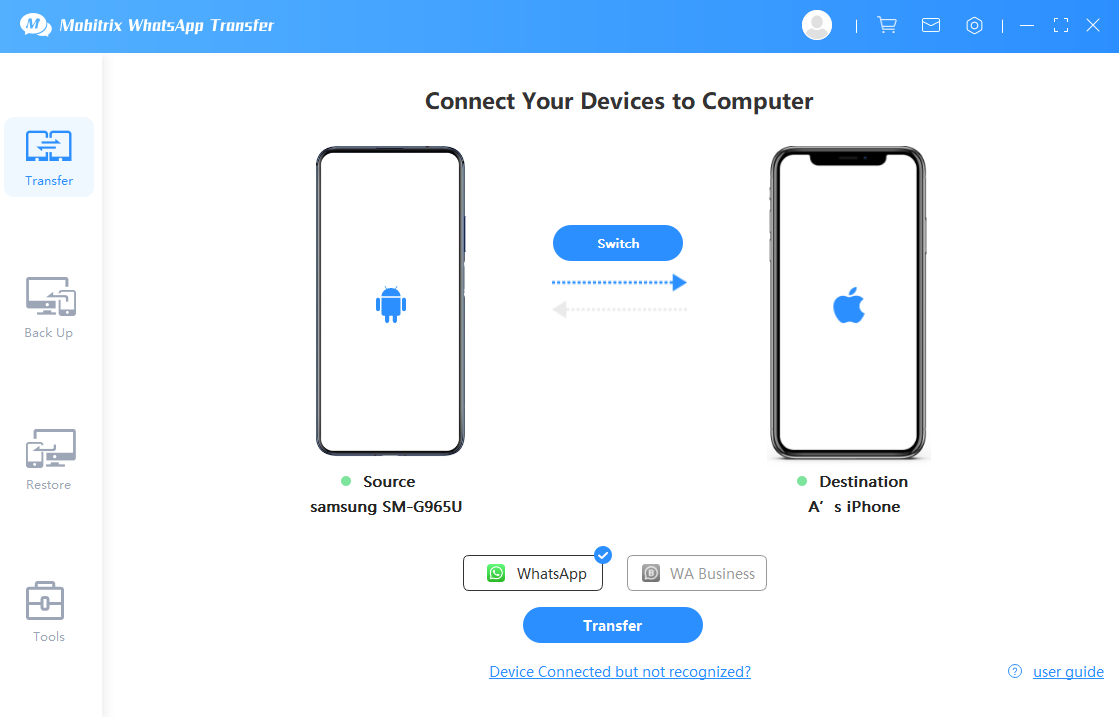 transfer google drive whatsapp backup via mobitrix whatsapp transfer
Here is how to transfer between Android and iPhone with Mobitrix:
Download the transfer tool from Mobitrix's official page and select "Run" to start the program.
Connect your two phones (Android and iPhone) to your computer using USB cables.
Select the "Transfer" button and sit back while your data is transferred to your new phone!
This article will ensure all your WhatsApp memories are restored by offering the complete guide you need.
With the Mobitrix WhatsApp Transfer, restoring WhatsApp messages has been made both easy and efficient.