It is not uncommon among phone users to forget backing up their WhatsApp chats frequently. If you are looking forward to switching to a new phone and the thought oflosing valuable memories is distressing you, this guide is the perfect place to start.
You can stillretrieve your data. However, it is also worth noticing that changing to the same phone system will be relatively easier than changing from iOS to Android or vice versa. Let us learn how to restore WhatsApp chat even without iCloud Backup or Google Drive.
Part 1: Restore WhatsApp Chat to New phone – Same Phone System
WhatsApp is one of the most used social messaging, voice, and video calls platforms available to users in today's age. This is because of its user-friendly and cross-platform compatibility. While switching phones, moving chat history is an easy task if both the phones are in the same system; Android or iOS.
1.1 Restore your chat history from an iCloud backup
Ensure that an iCloud backup exists. You can do so by tapping on "WhatsApp", then going to "Settings", and opening "Chats". There you will find the option for "Chat backup."
Uninstall and then reinstall WhatsApp if you can see when the last backup was done.
Verify your phone number and follow the prompts for restoring your chats and media files.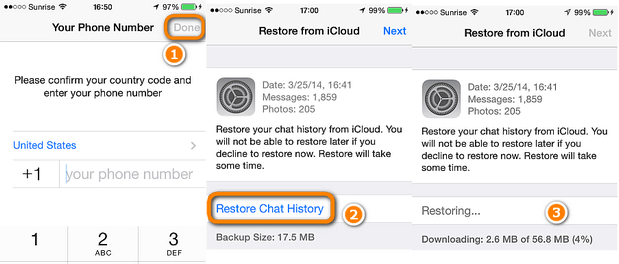 restore whatsapp from icloud
1.2 Restore from a Google Drive backup
For successfully restoring a Google Drive backup, you are required to use the same Google account and phone number used while creating the backup.
In order to restore your backup:
Uninstall the app and then reinstall it.
Verify your number on WhatsApp.
ClickRESTORE when prompted for restoring chats and media through Google Drive.
TapNEXT once the restoration process is complete. Once initialization gets done, your chats will be displayed.
Once the chats are restored, WhatsApp will start restoring your media files as well.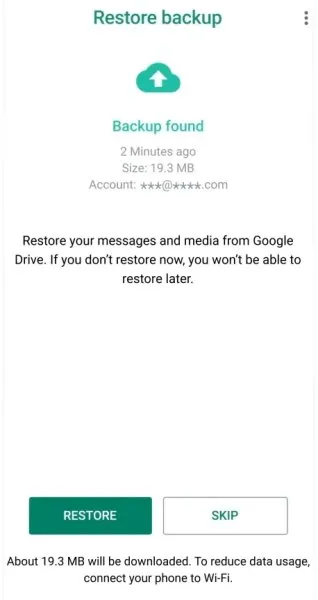 restore whatsapp data google drive
Besides, it is essential to know that even in the same system migration, the official method cannot completely solve it. This is because the cloud disk backup space supported by WhatsApp is limited. Google Drive and iCloud have 15 GB and 5 GB of free storage space, respectively.
In addition, it is pretty common to have bugs while restoring media files in your chat history, given that they are huge in quantity. Even after the restoration process is complete, chances are, your pictures and videos will not be recovered.
1.3 Main issues and their solutions with WhatsApp for Android
Issue 1: The backup process is either automatically canceled or never ends to back up the chat history.
Fix: You might be facing an issue regardingbackground data on the Android version. Ensure that you have turned off the battery optimizatio setting for WhatsApp.
Issue 2: Preparing the backup seems like a never-ending task
Fix: Turning off battery optimization is also the solution here. Some users have experienced this on Android 11. However, it is still unknown if lower Android versions are affected by it too.
Issue 3: The backup process gets stuck at 99%
Fix: The only possible solution here is to cancel the current backup process and restart it from the start.
Issue 4: WhatsApp doesn't allow me to view the previous backup even after reinstalling the app.
Fix: Check if you are using the correct Google account. If you are already doing so, try logging out and logging in again. It is a recurring problem. You should now be able to see backup.
1.4 Main issues and solution with WhatsApp for iOS
Issue 1: Backup getting stuck randomly
Fix: This depends on your space on iCloud. You might believe that you have enough available space. The critical rule is that you need to purchase a new iCloud plan if you do not have 2.05 times the available space in your account than the size of your backup.
Issue 2: WhatsApp fails to see my last backup after reinstalling the app
Fix: Similar to Android, verify that you have permitted WhatsApp for reading files on iCloud. If that is done, make sure you are using the correct Apple ID.
Issue 3: My chats have been restored but not my media
Fix: Unfortunately, this problem has been around for a while and still has no solution to it. It usually occurs when you have a lot of pictures and videos to restore. You can reinstall the app and try again. If it still does not work out, there is nothing you can do about this loss.
Part 2: Restore WhatsApp Chat to New phone without iCloud or Google Drive Backup – Different Phone System
What to do in case you are switching between iPhone and Android? There is another alternative to using Google Drive or iCloud to restore your chats.
Mobitrix WhatsApp Transfer is an easy-to-use and secure third-party tool to transfer WhatsApp chats between Android and iPhone instantly. Mobitrix develops powerful yet straightforward software that helps you manage device data and make your transfers more convenient.
Follow the steps below for easy restoration:
Install the Mobitrix WhatsApp transfer tool on your PC from the Mobitrix official page.
Using USB cables, connect both your iPhone and Android device to the computer.
Now clickTransfer, and Mobitrix will start transferring your WhatsApp data between 2 devices.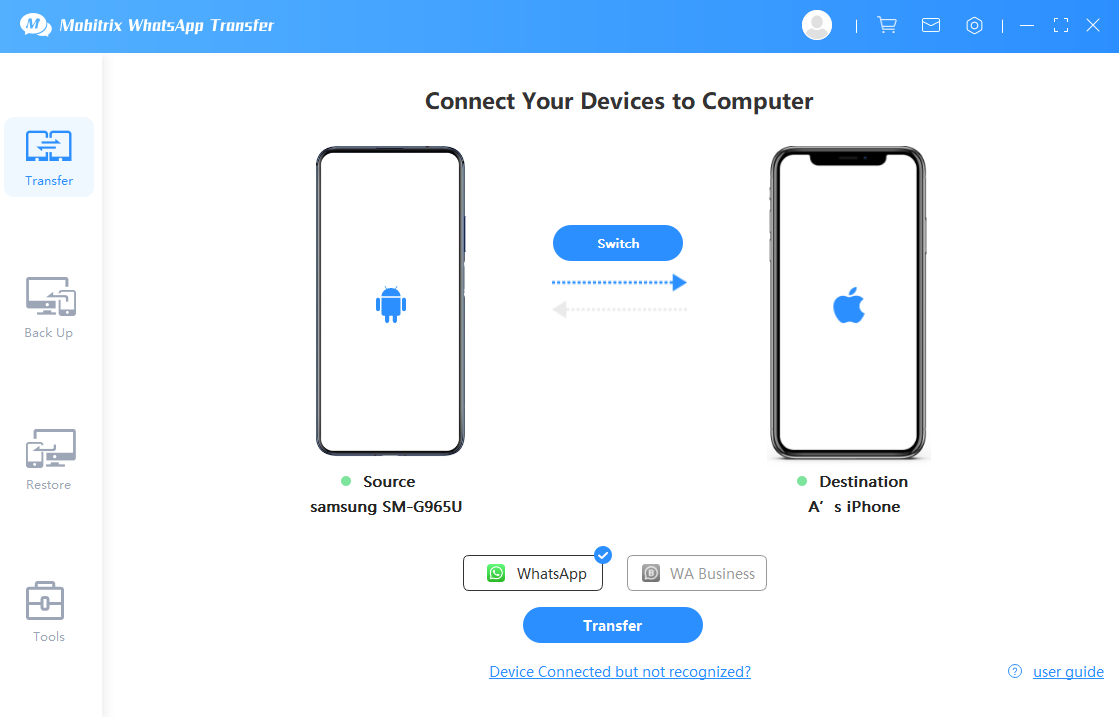 transfer WhatsApp messages from android to iPhone
Learn with the video tutorial as well:
Advantages of Mobitrix WhatsApp Transfer:
User-friendly:

You will not need to grab a manual every time. The interface is interactive and easy to use.

Secure and completely safe:

The privacy policy is strict to ensure all the data is kept safe.

Click Direct Transfer:

With just one click, get everything transferred without using Google Drive.

No need to uninstall WhatsApp:

Without having the need to uninstall the app, you can restore all the data.

Cross-platform compatibility:

Mobitrix supports a wide variety of iOS and Android devices, including Samsung Galaxy S20, iPhone 14, 14 Pro,iPhone 13, 13 Pro, iPhone 12, 12 Pro, etc.

Trusted and reputed:

Mobitrix is highly rated, trusted, and professionally recommended.
Part 3: Restore/recover deleted or missing WhatsApp messages
3.1 Must have iCloud or Google Drive backup
This recovery method is applicable for bothiOS and Android as long as you are having a backup. Ensure that it is within your chosenauto-backup frequency.
However, if you have selected the setting of backing up your files to daily, recovering deleted chats is possible before the next backup occurs.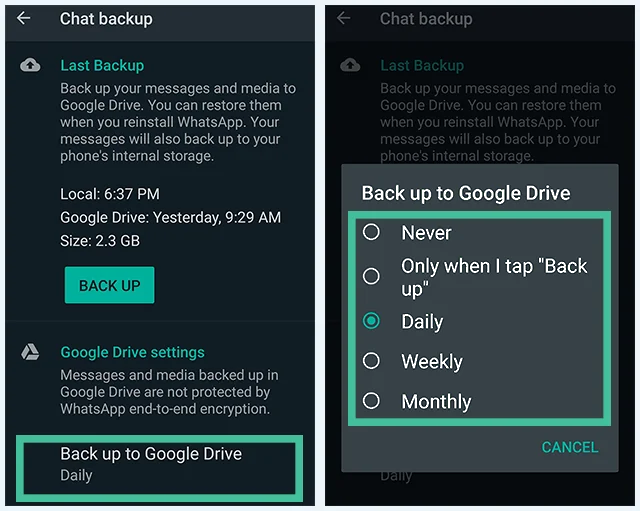 backup whatsapp to google drive on android
3.2 Introduction to restoring method
Are you wondering how you can recover yourdeleted WhatsApp messages if you have backed them up? It is as easy as uninstalling and reinstalling WhatsApp on your phone.
Next, upon installation, you will be prompted to restore your chats from the backup file. Tap the option and retrieve everything saved from the latest backup.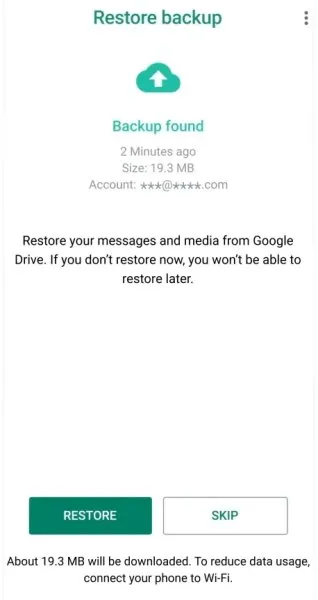 restore whatsapp data google drive
3.3 How to Recover Older Deleted WhatsApp Chats on Android?
WhatsApp can retain several days' worth of backup files. This includes the latest chat backup. The rest can be one day or several days ago, depending on how frequently your data is auto-backed up.
Besides the Google Drive cloud backup, WhatsApp uses your device'slocal storage for these backups.
All you need to do is open yourphone's file explorer app and navigate to WhatsApp and itsdatabases. The WhatsApp folder can appear understorage/sdcard/, or similar, depending on your device.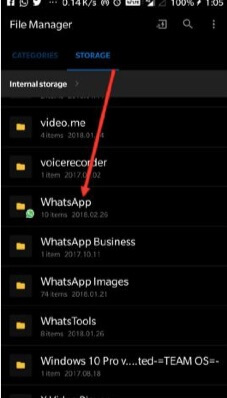 file manager whatsapp
Once you access that folder, there will be various chat backup files available. The latest one would be namedmsgstore.db.crypt12, but the others should look likemsgstore-YYYY-MM-DD.1.db.crypt12. YYYY represents the year, MM shows the month, and DD is for the date.
3.31 How to Recover Older Deleted Chats in WhatsApp?
Once a new backup has occurred, retrieving deleted messages becomes slightly more challenging. Your selected auto-backup frequency determines the success. It is noteworthy that this process is only compatible with Android devices since it enables you to access local backup files.
Here is an overview:
Openfile explorer on your device.
Navigate toWhatsApp>Databases.
You have to renamemsgstore.db.crypt12 and change it to msgstore-latest.db.crypt12.
Now renamemsgstore-YYY-MM-DD.1.db.crypt12 and change it tosmgstore.db.crypt12.
You are required touninstall WhatsApp.
Upon being prompted, restore data from the backup file.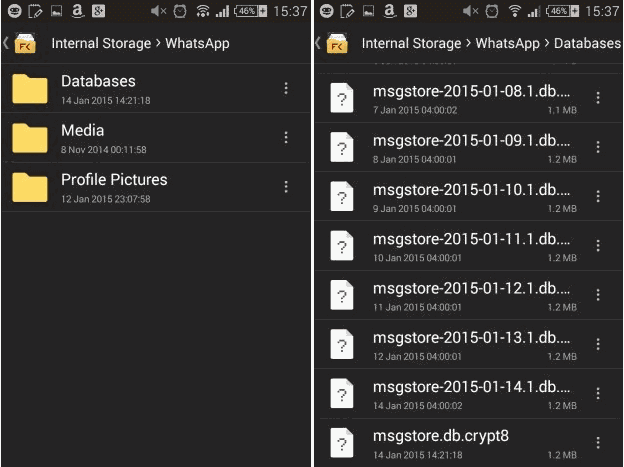 whatsapp databases
Now that you are done with all the guidelines, it is time for a definitive conclusion. Do not be overwhelmed if you have been unfortunate regarding the WhatsApp restoration process without uninstalling. There are effective options you can utilize, as discussed above.
In a real scenario, these will prove to be highly valuable.
So, in conclusion we have the following takeaways:
Same platform, official solution: Use official solution if you are restoring to the same platform. That is from iOS to iOS and Android to Android.
Storage issues, third-party tools: If the cloud disk space is insufficient go for third-party tools like Mobitrix that lets you use virtually unlimited storage space. If the software system in the old and new phone is different, it is again much easier to go for third-party tools.
Restoring deleted messages: You can resolve the issue by following the instructions above as long as you have a backup.