Preface
Have you backed up your WhatsApp chat history, but now want to restore it to a new or different device? We've compiled a comprehensive list of ways to restore your WhatsApp backup, depending on your phone type. The simplest way is to use the WhatsApp transfer tool by Mobitrix to restore your backup to any mobile device - and, yes, it works on both Android and iPhones!
3 Ways to Restore a Backup to Android
Restore from Google Drive
The step-by-step process for restoring a WhatsApp chat history back-up from Google Drive can also be found on the WhatsApp help page.
First, you must uninstall and reinstall the WhatsApp Application. This is usually done best with a strong internet connection.
Then, open WhatsApp and follow the prompts provided:
Verify your phone number
Select the "RESTORE" option when it comes up on the screen - ensure you are selecting to restore chats and media from Google Drive. This means you also want to include photos and videos as part of your chat history.
Wait for the restoration process to finalize, then select "NEXT".
Your media files (music, sound recordings, videos, and photos) should restore automatically at this point.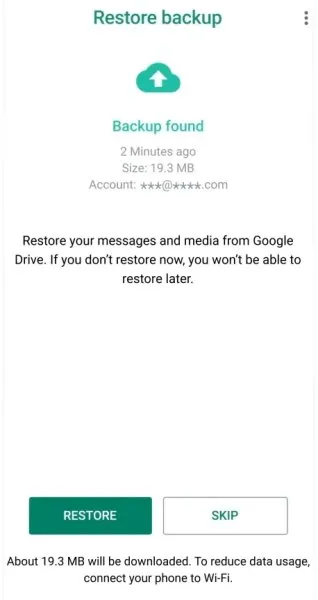 restore whatsapp data google drive
Restore from a Local Backup
Restoring files from a local backup means that your files were saved to another, physical location, such as a computer or SD card.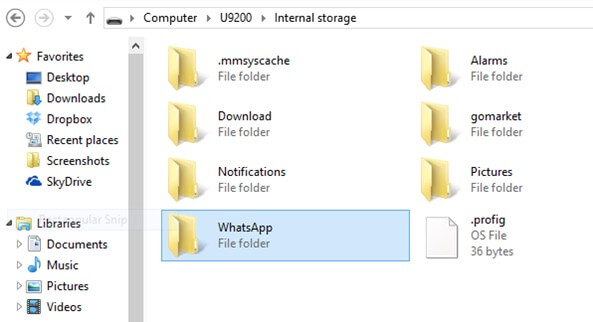 whatsapp folder
WhatsApp automatically creates local backups and saves them in your phone, under internal storage, main storage, or on the removable SD card. Find local backups for WhatsApp chats by opening these storage options on your phone.
Local backups only contain data for the past seven days.
Restore an older local Backup
There is a way to restore a local backup past the seven-day period that WhatsApp automatically saves by following these steps:
Download an app for file management.
Open the file manager and find WhatsApp databases, or internal storage or main storage, depending on where your phone automatically stores local backups from WhatsApp.The path for SD card storage of Whatsapp local backups is as follows: sdcard/WhatsApp/Databases
Select the backup file you wish to save and rename it. The original name should be: msgstore-YYYY-MM-DD.1.db.crypt12. Change this to: msgstore.db.crypt12.
Basically, you remove the date in the new name.
Now, uninstall and reinstall WhatsApp to your phone and follow the steps for a Google Drive backup restoration, starting with selecting "RESTORE" when it comes up on the screen.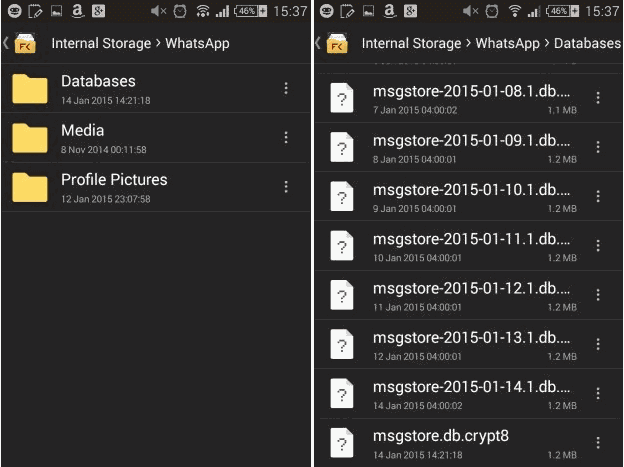 whatsapp databases
Drawbacks of using Google Drive to backup or restore:
Google Drive has a limited storage space of 15GB provided for free. That's right, if you want more, you must purchase additional storage space. If your chat data exceeds 15G, or if you simply have other files saved on Google Drive, then you will not be able to back up all your data.
When restoring data from Google Drive, you will be limited by the network speed. This can be very slow and take a long time to complete the restoration process.
You must have the same phone number and account name with Google as you used to originally back up the data. If your phone number has changed since you did the backup, you could face complications in completing the restoration of your data.
You must uninstall and reinstall the WhatsApp application on your phone. This can be time-consuming and take up storage space on your device.
Having Trouble Restoring a Google Drive Backup?
There are some common reasons you cannot restore a backup using Google Drive, so make sure:
You are logged in to your Google account with the same account name you originally used.
You are using the same phone number that you use for Whatsapp, or that was used when creating the original backup
Your SD card is working properly
The backup file exists on your phone or has been properly uploaded to Google Drive
2 Ways to Restore a Backup to iPhone
Restore from iCloud
First, you must confirm that you completed an iCloud backup of your WhatsApp chat history. Find this under WhatsApp Settings. After verifying the date of the last backup, simply uninstall and reinstall the WhatsApp application. Then follow these steps:
Make sure you are signed in with your Apple ID
Turn on iCloud
Confirm that you have sufficient storage space on your phone to complete the restoration
Verify your phone number when prompted for the reinstallation of WhatsApp
Select the option to 'restore chat history' when it appears on your screen.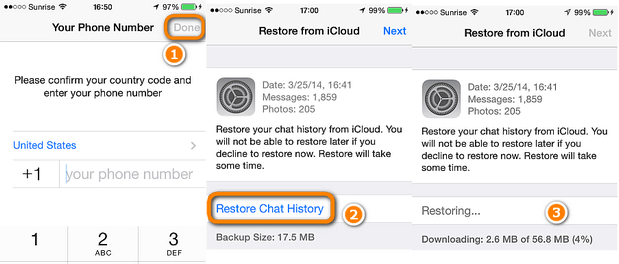 restore whatsapp from icloud
Drawbacks of using iCloud to backup or restore:
iCloud only offers 5GB of free storage space. Most iCloud users already have some storage space used for photos and videos. In many cases, the limited storage space of iCloud is insufficient for backing up WhatsApp chat history.If there is not enough iCloud storage space to backup your WhatsApp chat history it is recommended to use Mobitrix WhatsApp Transfer to complete this backup for free, instead of purchasing more space through iCloud.
You must have at least 2.05 times the storage space available on your phone and on iCloud than the actual size of the data you want to restore, in order for the backup and restoration to work.
Restore from iTunes
If you used iTunes to complete your WhatsApp chat history backup, you must restore through this same program. A detailed tutorial outlining specific steps can be found on this page.
A quick summary of the steps to restore backed up WhatsApp chat history to your phone through iTunes is as follows:
Log in to iTunes
Connect your phone to your computer with a micro USB cord and select "Trust this computer" when prompted by your phone screen
Go to 'iTunes Environment' and select the option to "Restore Backup"
Choose "Backup" and select the option to 'manually backup and restore'
Select "This Computer" to ensure the data will restore from the connected computer to your iPhone.
A message will prompt you to 'Restore', when you select this the restoration should begin automatically.
Do not disconnect the cable from your phone to the computer until the process has been completed.
When completed, restart your iPhone, while still maintaining the connection to your computer.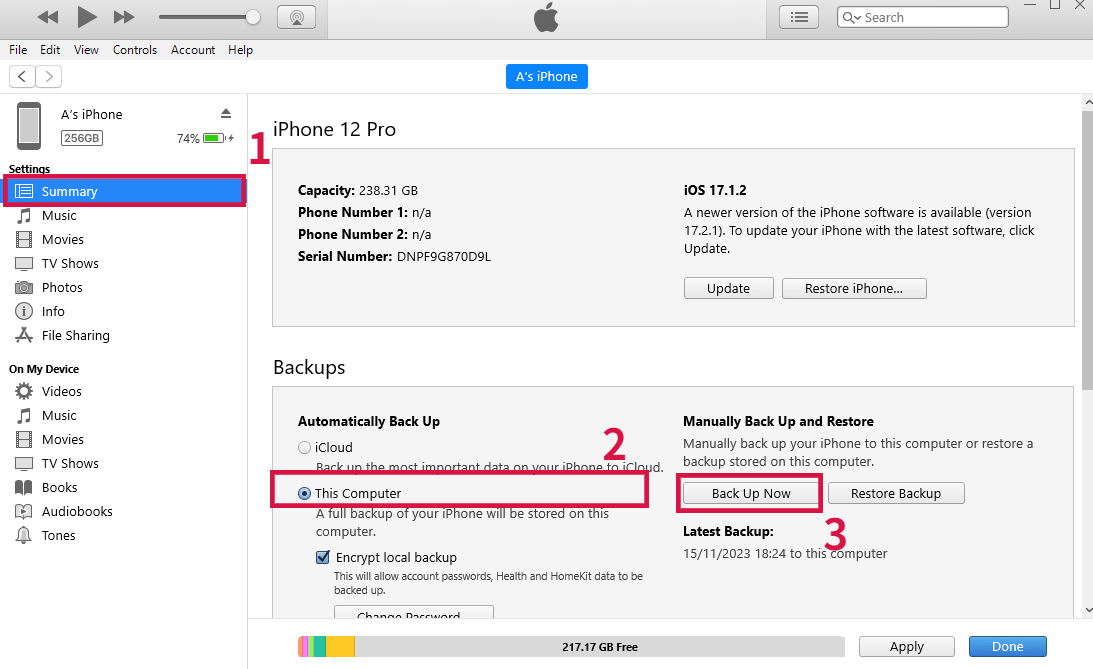 backup whatsapp via itunes
Drawbacks of using iTunes to back up or restore:
One of the most significant drawbacks of using iTunes for backup and restoration of data is that iTunes saves data using an encrypted format. In the event that you forget your password, your data will not be able to be restored and will be permanently lost.
Backing up, and later restoring data through iTunes requires many more steps than other options. This can be confusing for users and result in errors that may result in the backup or restoration process being unsuccessful.
Restore a WhatsApp backup to any phone without restrictions
Introducing Mobitrix
Mobitrix offers an easy solution for both iPhone and Android users to backup and restore WhatsApp chat history to any phone, without restrictions!
While both Google Drive and iCloud offer limited storage, users can transfer data with Mobitrix without any storage restrictions. If you have a large amount of WhatsApp chat history, or if your iCloud storage space is insufficient, Mobitrix is the answer.
Faster than either Google Drive or iCloud when backing up or restoring data.
Works with both Android and iPhone, so even if you change your phone type in the future, you will still be able to restore your WhatsApp chat history.
Backup for free to all users.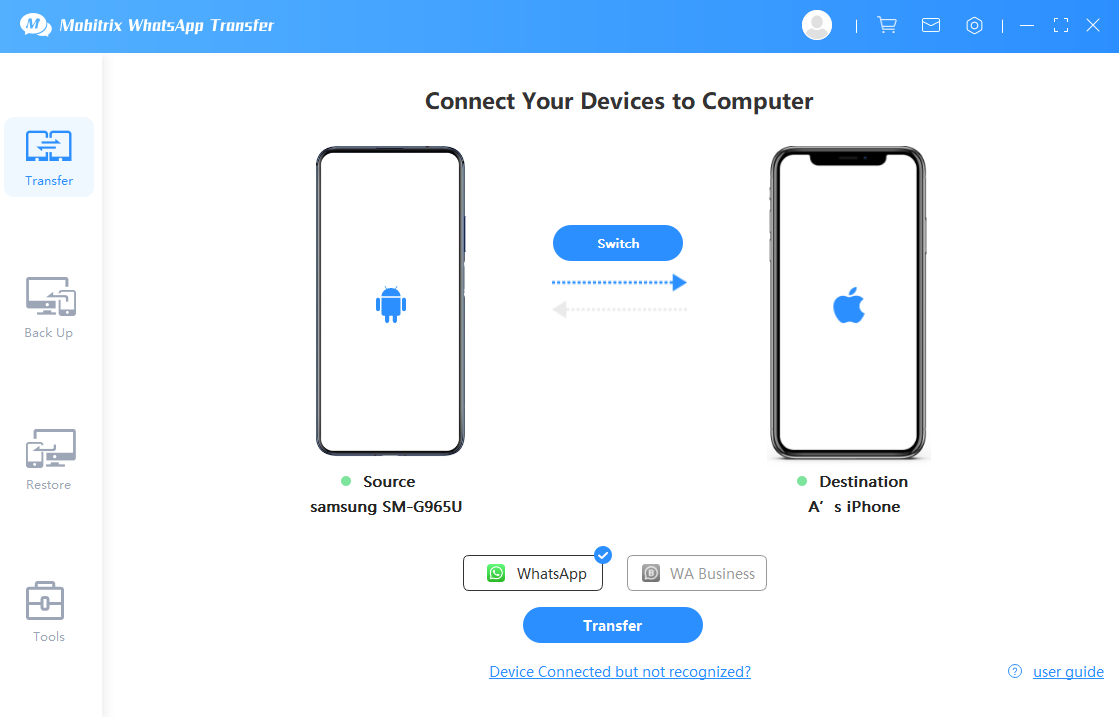 restore backup via mobitrix whatsapp transfer
Use Mobitrix to backup Android chat history and restore it to iPhone
Mobitrix offers an easy solution to backup and restore WhatsApp chat data. Mobitrix supports iPhone to Android, Android to iPhone, iPhone to iPhone, Android to Android WhatsApp chat history backup and restoration. With Mobitrix users are not restricted by programming or phone systems.
Follow these simple steps to restore:
Install the Mobitrix WhatsApp Transfer tool on your computer.
Connect your Android device and your iPhone to the computer using USB cables. You will need to keep both devices connected to your computer for the entire transfer process.
Select your Android device as the "Source" device and your iPhone as the "Destination" device.
Choose the "Transfer" button, and Mobitrix will automatically begin transferring WhatsApp data from your Android device to your iPhone.
When completed, you will see all of your WhatsApp data on your iPhone.
This process works easily from iPhone to Android, Android to Android, and iPhone to iPhone, as well. Just select the appropriate 'Source' and 'Destination' options for each device in Step 3.
iCloud and Google Drive are appropriate options for backing up your WhatsApp chat history if your data volume is not large, or if you don't use these storage options for other files. However, neither of these options works if you need to restore data between different phone systems.
If you have a large amount of WhatsApp chat history or are switching phone systems, then Mobitrix WhatsApp Transfer offers the perfect solution: no storage restrictions, it works with iPhone and Android and it is absolutely free.
It's important to backup your WhatsApp chat history, but you may need to restore it in the future, too. For both backing up this important data and for restoring it later, choose Mobitrix.