When I took to the internet to look for a way to restore WhatsApp chats from a backup to iPhone, I was confused. The official website of WhatsApp claims that iCloud backup is the best method to do that, but what do I do if I'm switching from Android?
After a long search and wasting many hours in front of the computer, I now think I am a master on the subject and know the methods of WhatsApp backup restore that transcend operating systems.
Let's see what I discovered and how you can benefit from it.
Part 1: How to Restore WhatsApp Backup to iPhone from iCloud
Naturally, I thought if WhatsApp is officially suggesting me to use iCloud for restoring my chats, it must be the best method out there. And it was, or was it? I'll tell you what I discovered on this, and you be the judge.
iCloud WhatsApp Data Backup Procedure
I'd say, it is a very simple and easy process as all other things on iPhone are. Here's what you need to do to get the data restored:
First, you need to make sure that you have a backup on iCloud. For this, go to WhatsApp>Settings>Chats>Chat Backup. You'll see a date and time for the last backup. If the backup exists, proceed.
I had a backup, so I followed the next step that asked me to delete WhatsApp from my phone and reinstall it, and I did just that.
Once WhatsApp was installed on my phone, I entered my phone number into the app, and it prompted if I wanted to restore the data. I replied Yes, and the data was supposed to be restored on this step.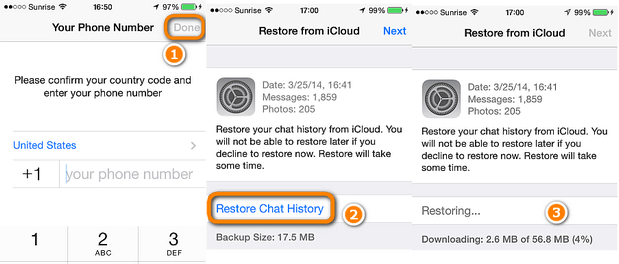 restore whatsapp from icloud
Simple, isn't it? The whole thing did not smooth for me. No matter how hard I tried, it kept telling me, "Couldn't Restore Chat History."
Here's what you need to note, but none of these was the problem for me.
Note:
You must be signed in to your Apple ID on the phone, and iCloud Drive must be turned on.
There must be at least 2.05 times the size of the backup free space on your phone and iCloud.
Your Phone number must be the same as the one you created the WhatsApp backup from. Backups can't be transferred across numbers.
You can have multiple WhatsApp backups on your iCloud Drive as every backup is linked to one and only one phone number.
In my view, here are some of the pros and cons of using this method to restore WhatsApp backup on an iPhone that we need to know before moving towards other methods.
Pros:
It is the official method recommended by both Apple and iPhone.
You don't need to use any other device or software for this to work.
Cons:
You need to delete and reinstall WhatsApp.
This method won't work if you do not have 2.05 times the size of the backup free storage space on the device and your iCloud Drive storage. Now, this thing makes this method almost impractical. iCloud Drive offers just 5GB of free space, and you can easily burn through that in a few months. It means you must have a paid iCloud Drive storage plan to use this method.
Part 2: How to Fix Error "Couldn't Restore Chat History"
As I was committed to restoring my chat history, I tried all the methods people were talking about on forums from Reddit to XDA. I thought I'd include them here before we talk of the method that I liked the most, the one that I'm going to recommend based on my experience and research.
Step 1 - Turn Flight Mode On and Off
This is not written in any book, but a lot of people say it works. The logic behind this is that disconnecting the network and then reconnecting it again can rectify connectivity issues, especially if you have poor reception.
Here's how you can do this:
Open the Control Center on your iPhone.
Click on the flight mode icon on the top left section of the Control Center.
Wait for a couple of minutes and then disengage flight mode.
Try restoring the backup again.
This did not work for me, but there was a considerable number of people saying it solved their problem, so it is worth trying. It takes just two minutes so give it a try before you do something bigger to tackle this error.
Step 2 – Restart the iPhone
Just like the previous method, this is not something recommended by Apple or WhatsApp. However, experience tells us that electronics seem to solve their problems if you turn them off and then on again. Just like the previous hack, this might not work, but there's no issue in giving it a shot.
Step 3 – Reset Network Settings
If both of the above methods do not work and you suspect the problem is with the connection, try this. What this does, is resetting all the network settings like proxy, VPN, and APNs. It solves the connectivity problem most of the time.
To do this, go to Settings>General>Reset>Reset Network Settings.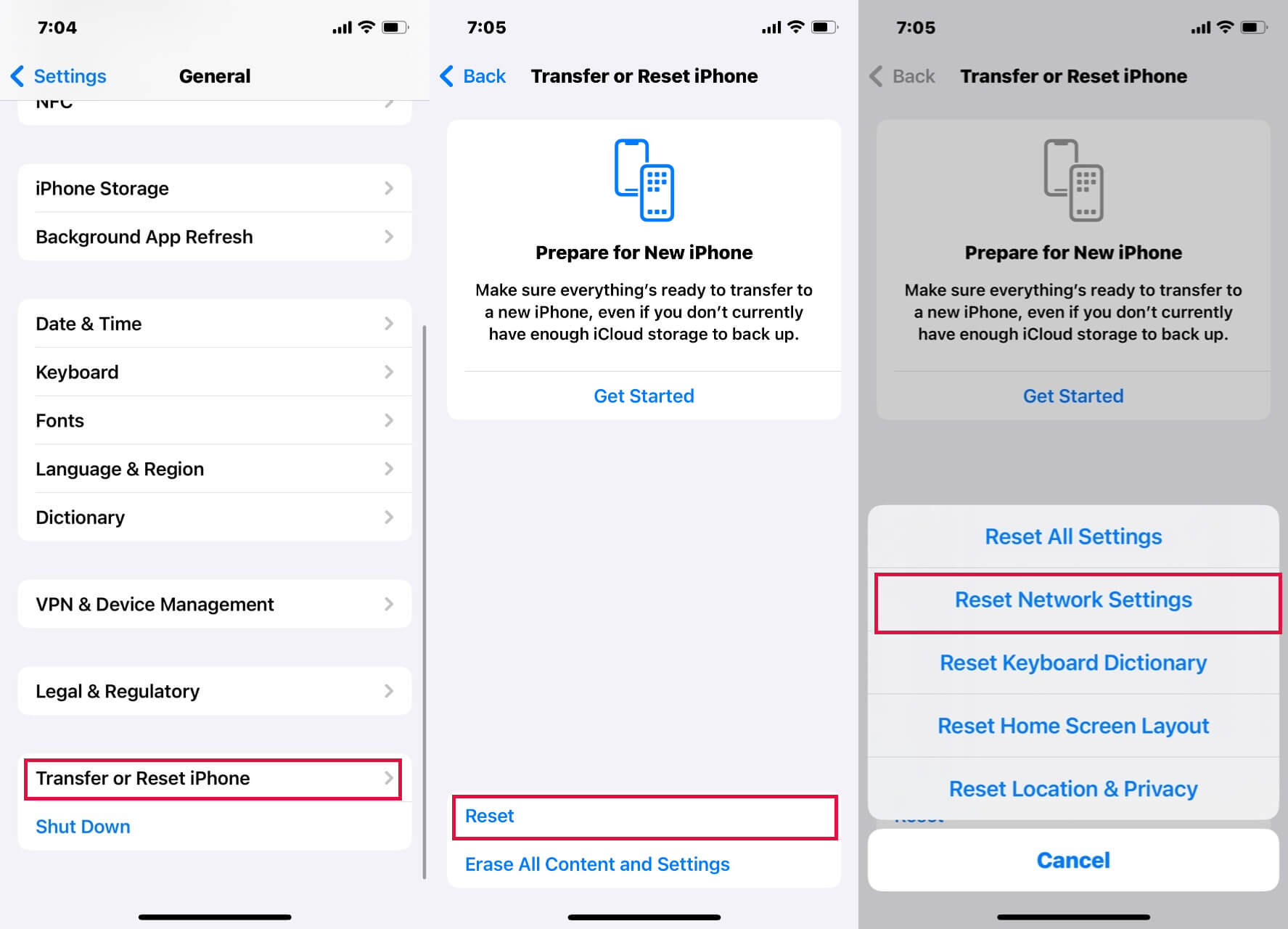 reset network connection
Go back to WhatsApp and try restoring the chat again, it will work this time. However, it did not work for me. The next thing that I thought of was the free storage on my iPhone and iCloud account.
Step 4 – Check Free Storage Space on Your Phone and iCloud Drive
Most of the time, this error results from insufficient space on your iPhone or iCloud Drive. The thing that you need to note is that you don't need free storage the size of the backup. You need at least 2.05 times that.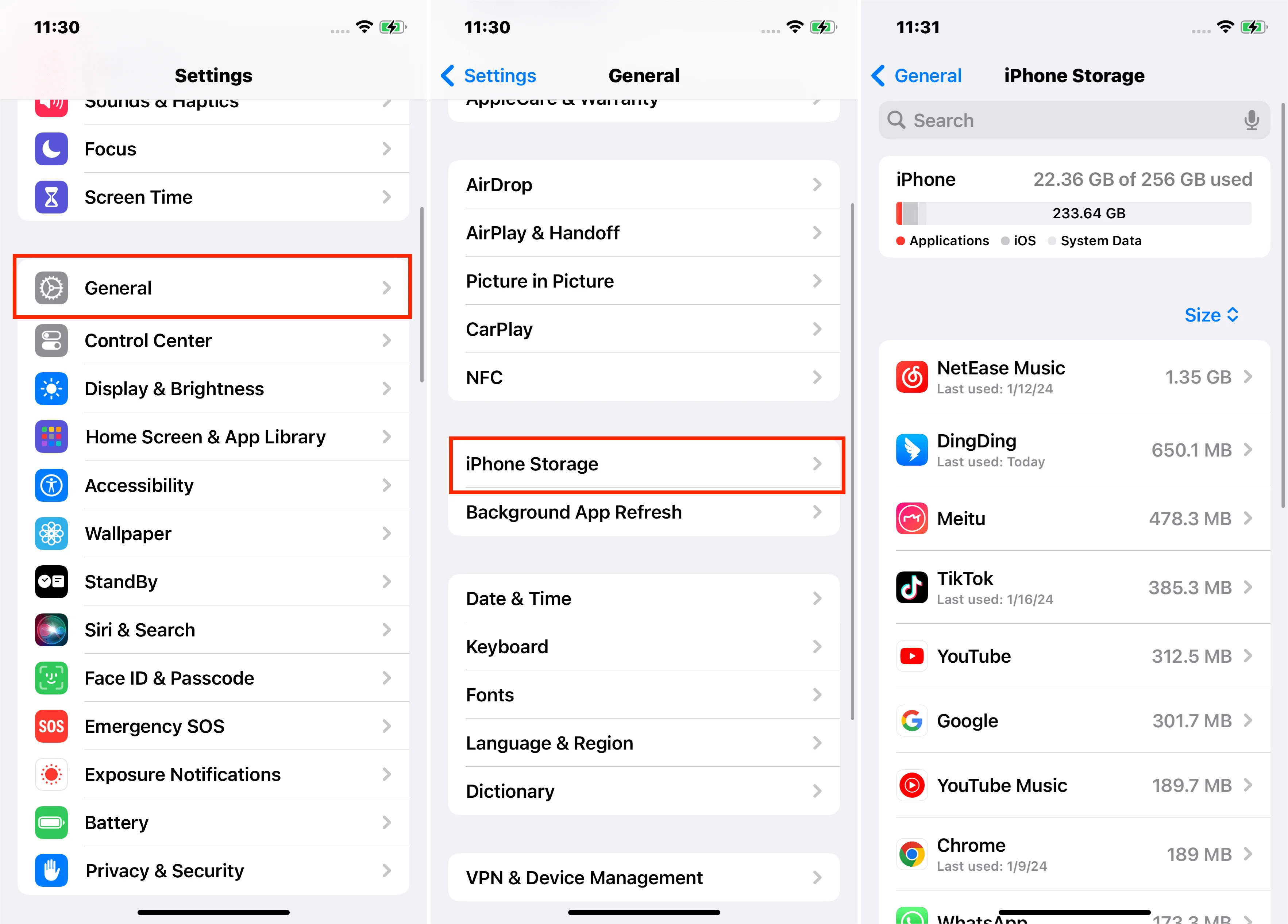 check iphone storage
Here's how you can verify the free storage available on your phone and iCloud Drive:
Checking and Freeing iCloud Storage
To see whether or not you have enough free space on your iCloud Drive, go to Settings>Your Name>iCloud. Here you can see the free storage that is available on your iCloud Drive.
You can tap on Manage Storage and see what's in there. You can do one of the following to free more storage:
Delete older WhatsApp backups.
Turn off iCloud Photos.
Buy more storage.
Delete backups of other apps that you do not need.
Checking and Freeing iPhone Storage
For this, go to Settings>General>iPhone Storage. There you can see how much storage is available on your device.
You can do the following to free more storage on your iPhone:
If the phone is giving a "Storage Almost Full" warning, click on it to see the suggestions for deleting unwanted data.
You can also free more storage by deleting music, videos, and images that you don't need or by offloading apps.
Part 3: Restore iPhone WhatsApp Backup Without iCloud
iCloud Drive is the official and, supposedly, the best method to restore WhatsApp backup on an iPhone and all, but it has its own limits. These include but are not limited to:
Freeing up 2.05 times the size of the backup storage on your iPhone and iCloud is not an easy thing, to say the least.
If you are using WhatsApp for a long time and opt to include videos in the backup, it will be above 5GB, the total available space on iCloud.
You cannot restore the backup to/from an Android device using this method.
This method does not work if you have a poor or an unstable internet connection.
After all that, I found something that, in my opinion, is a revolutionary solution to all WhatsApp data backup and restore problems. This solution comes in the form of a genius tool - Mobitrix WhatsApp Transfer .
Mobitrix WhatsApp Transfer is an all-in-one WhatsApp backup, restore and transfer tool. It can be used to transfer WhatsApp chats, videos, images, documents, and other attachments from one device to another regardless of the operating system.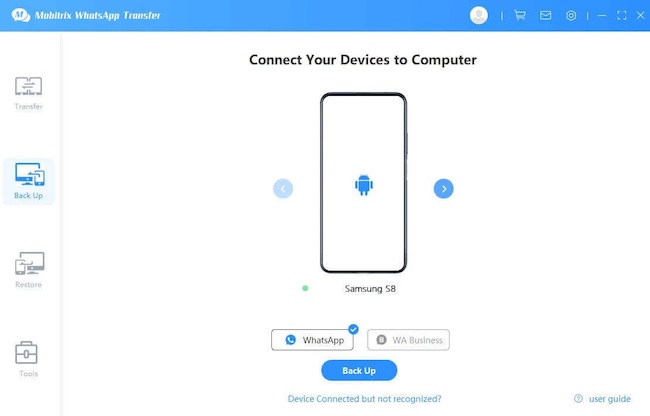 backup whatsapp to pc
How To restore via Mobitrix WhatsApp Transfer
Download and install Mobitrix WhatsApp Transfer on your computer to start.
Run Mobitrix on your computer and click on "Backup" and then connect your device to the computer.
Click on "Restore" on the main page and select the backup that you want to restore to the device.
For me, the problem was finally solved by Mobitrix WhatsApp Transfer. I started liking the tool and discovered some more things about it. I feel like I must share them with you.
Pros:
Unlike using iCloud Drive backup, it has no storage size limit, not even on the phone. You can backup or restore WhatsApp data of any size.
This app is 100% safe and does not make any compromises on the safety, security, and privacy of your data.
It transfers everything that there is in a WhatsApp chat. From videos and GIFs to documents and emoticons, you'll not miss anything.
You can even restore data from Google Drive or Android devices with ease.
That was all there is to know about restoring WhatsApp data from a backup to an iPhone. If you are getting the "Couldn't Restore Backup" error, I hope that's rectified by this text.
If you want to backup and/or restore WhatsApp data without using iCloud or if iCloud is not working for you, Mobitrix WhatsApp Transfer is the way you need to go. It will secure all your loved and cherished memories that you have on your WhatsApp, and you'll not miss any single one of them.