Every one of us will have saved our precious WhatsApp data to Google Drive, even if you are an Android or an iOS user. However, there are instances when you want to have it all back to your phones.
This article will guide you on how to restore WhatsApp backup from Google Drive to PC in 2 steps. You can also easily migrate it to the new device using the backup. Even if you are shifting to iOS with a new iPhone.
You can recover the following items on your phone:
Call History
Messages
Contacts
Locations
Audio
Emojis
Pictures
Videos
PDF files
Other attachments
Step 1. Restore WhatsApp backup from Google Drive to Android phone
The first step in this two-step process is to restore all of the data you backed up on your google drive. You must use the same phone number and the google account that you used to create the backup in the first place.
Restore from a Google Drive backup:
First, uninstall WhatsApp and then reinstall it.
Next, launch the newly installed application.
Verify the number that you have been using. It should be the same as you were using for your backup previously.
Tap the restore option so that all of the chat and media is restored from your Google Drive.
The media files will be restored, but first, all the chats and contact will appear. The entire process will take a little time, especially if it is the first time.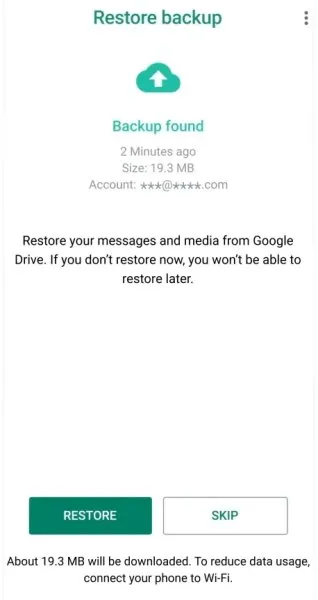 restore whatsapp data google drive
Note:
WhatsApp backups are not counted against the set quota of Google Drive storage.
This backup is tied to the email ID and phone number you used to create the account.
The first-ever backup will take relatively more time. You should leave your device connected to a power source.
Each time you make a Google Drive Backup using the same account, the previous files are overwritten. You will be left with no way to restore those chats and data.
Step 2. Backup WhatsApp to PC via Mobitrix WhatsApp Transfer
After you have successfully transferred your backup to your phone from Google drive, the next step is to shift this data to your PC. Once you make this transfer, you can easily copy your files to any mobile phone, whether Android or iPhone.
If you search online, you will come across a multitude of ways in which you can do this. However, it would help if you didn't waste your time on ineffective methods.
Mobitrix WhatsApp Transfer is one alternative that makes this process very efficient and smooth. It enables you to backup WhatsApp to your computer for free. You can also recover your backup from computer to iPhone as well.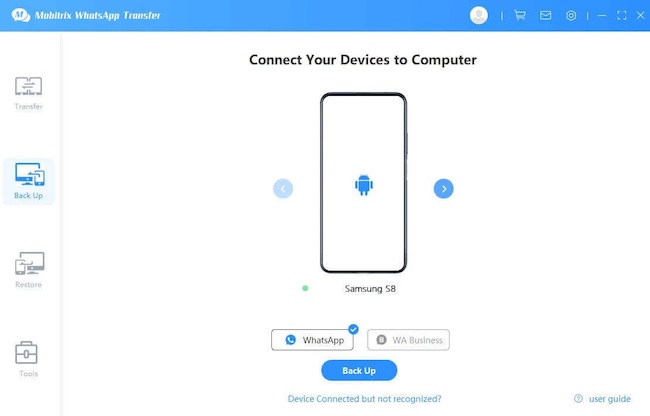 restore whatsapp backup to pc
How to use Mobitrix WhatsApp Transfer:
Install Mobitrix WhatsApp Transfer on your PC
Upon detection of both phones, make sure that you set the Android phone as the "Source" and the iOS phone as the "destination."
Now, all that is left to do is click on "Transfer," and it will begin the transferring process from your iPhone to Android or vice versa.
Note: Make sure you keep both of your devices connected until the entire transferring process is finished. Once completed, you will see all the data recovered on your screen. Your media files will recover after all the chats.
Pros:
It backups data for free.
Safe. There is no risk of your personal information being leaked.
Supports backup chats, videos, pictures, media, attachments, and others.
Compatible with most of the phone models, including Samsung, Apple, Motorola, Nexus, etc.
Well, the only limitation to this is that you require a Mac or Windows PC to make this happen. Other than this, it is a hassle-free and straightforward procedure to follow.
Tips: How to Restore Backups from PC to Any Phones
Since you already have your WhatsApp backup on your computer, you can restore it to a new iPhone or Android phone at any time.
How to Restore:
Make sure you have made a backup to your computer via Mobitrix WhatsApp Transfer as said in the Step 2.
Connect your phone to the computer with a USB or lightning cord.
Choose the backup you'd like to restore and wait for the restoration process to be complete.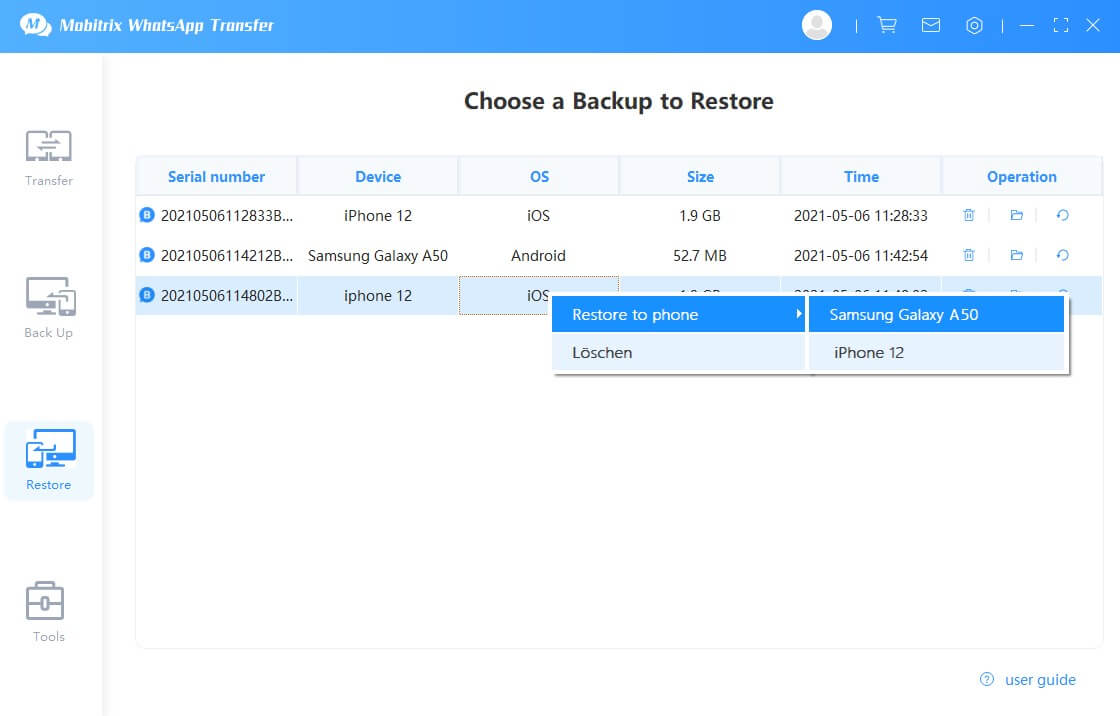 restore whatsapp data
Changing phones is exciting. However, the part that is not so exciting is losing most of your valuable memories and information while attempting to transfer data from one device to the next.
This guide helped you to learn the ways you can restore WhatsApp backup from Google Drive. It is not so challenging if you are switching from an Android to an Android, but it gets tricky if you have switched from an iPhone to iOS or vice versa. This is because the WhatsApp policy has made both the systems incompatible with each other.
However, using third-party tools like Mobitrix WhatsApp Transfer can help you transfer data across different platforms. It is fast, easy, and most importantly, not so crazy expensive. So, what are you waiting for?