Preface:
While your new phone probably comes with the WhatsApp application already downloaded, it doesn't have your previous chat history or contacts already set-up. Restoring WhatsApp to a new device does just that - brings up all your contacts and previous communication, so you can pick up right where you left off. It is easy to restore WhatsApp to the same type of phone (Android to Android), what gets complicated is trying to restore from an Android phone to an iPhone.
Don't be discouraged! This article will explain just how to safely restore your WhatsApp to a new device, even if it is a different type. If you follow our advice, you won't lose precious memories or important information that you've saved on WhatsApp.
Use Mobitrix WhatsApp Transfer for Restoring WhatsApp & WhatsApp Business
Let's be straightforward and tell you the best tool first - Mobitrix WhatsApp Transfer is the best option for restoring WhatsApp between different devices. It is a third-party tool, so you know it isn't biased toward Android or iPhone and works with both options. It is a safe and secure way to transfer data (you can even complete the transfer without internet connection, if you want).
Pros:
Safe and secure
User-friendly - the steps are very simple and don't require technical knowledge
Restores all data, including media files such as voice recordings and videos.
Transfers attachments as well as chat history - which is very helpful for WhatsApp Business
The best value for money when compared to similar third-party tools
Mobitrix works with both Mac and Windows computers
What you need:
Personal computer
2 USB cords (the ones which came with your phone)
The two devices (phones, iPad, ect).
How to Use:
Download Mobitrix Transfer Tool and run the software.
Connect your phones/devices to your computer with USB cords

connect the 2 device to pc

Choose the version of WhatsApp you want to restore - WhatsApp or WhatsApp Business
Assign devices as either "source" or "destination"

the device successfully connected

Tap "Transfer". Mobitrix WhatsApp Transfer tool will complete the transfer and alert you when it is finished.

start to transfer whatsapp messages
If you need any help, follow the instructions here.
Free Option - Mobitrix WhatsApp Trans
Mobitrix offers a free solution for restoring WhatsApp from an Android device to an iPhone, or other iOS device with the tool Mobitrix WhatsApp Trans. If you are confident in using computers, this may be the option for you! It's very secure, because you are in complete control of transferring your data, but it does require that you get into the computer's command system so you should be somewhat tech-savvy to complete this transfer.
Be sure you exactly follow the steps provided here if you want to use a free option to restore WhatsApp between phones of different operating systems.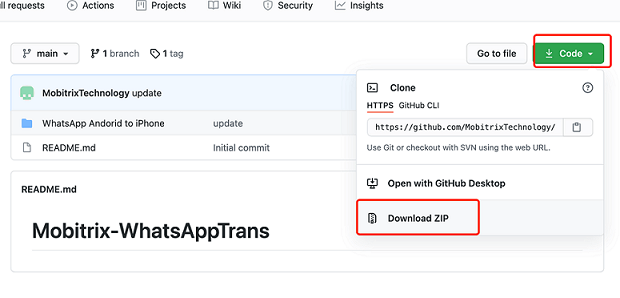 how to download whatsapptrans
via Email (not recommended)
We mention this option (although we do not recommend it) because the internet often suggests this method. We want to share the issues that restoring via email can bring and explain why it is not effective for restoring WhatsApp to a new device.
Reasons:
Exporting WhatsApp via email does not send media files and attachments automatically, you must command it to do this. And you must export each chat one by one, which can take a long time.
Sending via email changes the format of your WhatsApp chats into .txt files, and they cannot be viewed on your iPhone. You could, alternatively, view them on your computer, but that usually isn't helpful for users who want to view them conveniently on WhatsApp.
There is a limit to how many chats can be exported via email at a time. Therefore, sending ALL your chats can take a very long time and be a tedious process (especially since you won't be able to view them on your iPhone or iPad, anyway).
It takes up storage on your new device as multiple downloads.
Depending on your country, there may be limitations with WhatsApp exporting via email.
Steps:
In case you still want to try this method, here is the procedure:
Restore your WhatsApp backup from Google Drive to your Android phone (see the process to do this here)
Choose the WhatsApp Chat you want to export, tap the name of the contact at the top of the screen.
Select "Export". At this point, you must choose to send with media files or not. If you skip this, you will send only the text of the chat and no other files.
Type in your email address to send it to yourself.
Open up your email on your new device and download the email.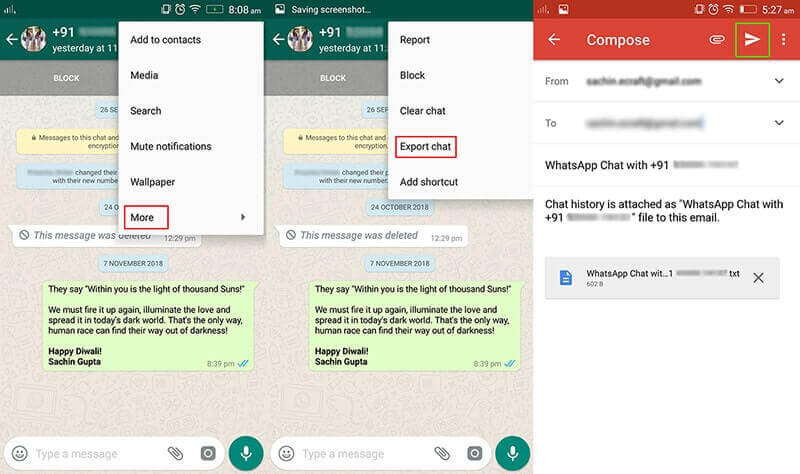 transfer whatssapp via email
This does not send the chat to your WhatsApp account on your new phone, it merely allows you to view the chat in text format on your phone
Other Methods to Avoid
Via phone number
This method doesn't work if you have changed your phone type, because iOS operating systems and Android systems are not compatible.
Via backup
A backup saved locally (the automatically saved feature that stores on your phone), or saved to Google Drive are saved in the Android 'language' and is not compatible with iPhone, which runs on the iOS system. You can restore a backup saved on Google Drive to another Android phone, but not to an iPhone or iPad.
Common Questions
Can you restore Whatsapp from Android to iPhone directly?
No. Because the two run on different operating systems they are not compatible at all. You must address this issue with a third-party tool.
Do you have to uninstall Whatsapp in order to complete the restoration?
If you use Mobitrix, you do not need to uninstall WhatsApp and either device. Because Mobitrix uses a computer for the restoration, you can avoid uninstalling WhatsApp with this method.
Is it possible to transfer two normal versions of Whatsapp to one iPhone?
Some Android phones have two SIM cards and therefore two services, they could have a WhatsApp account for each. However, iPhone only permits one SIM card. Currently, there are no options for merging two WhatsApp accounts into one account on an iPhone.
However, Mobitrix will work with normal Whatsapp and WhatsApp Business.
You do not need to forfeit your WhatsApp data simply because you switched phones. There are ways to restore your WhatsApp, even if you've switched from Android to iPhone. Exporting by email doesn't actually work, but Mobitrix WhatsApp TransferMobitrix WhatsApp Transfer is a simple, easy solution to get you back your WhatsApp chats and media files, fast.