How to Move WhatsApp to Another Phone in 2021
It happens sometimes that people acquire a new phone when this happens the most stressful thing is how to transfer all the WhatsApp history to the new phone and continue using it like the other phone.
If you have found yourself in such a situation worry no more because this article is here for you and will teach you all the ways you can use to transfer WhatsApp data to different models of phones.
How to Move WhatsApp to Another Phone [for all phones]
Use Mobitrix (the most convenient way)
Using an iPhone is the most exciting thing. When you switch from Android to iPhone you still want to hold into your WhatsApp memories in your Android.
Therefore, you need a very reliable tool that will not take most of your time and transfer all your WhatsApp data correctly and safely, and this is where Mobitrix WhatsApp Transfer comes in.
Mobitrix is a professional tool that is trusted by many people and it has helped many people to transfer their WhatsApp data.
Advantages of using Mobitrix are:
It is easy to use and does not require one to have skills to use it.
It supports all Android phone models
It can transfer data between different phone models such as transferring data between Android and iPhone, or between two iPhones.
It is very secure and ensures that your data privacy is not violated.
You can use it without uninstalling your WhatsApp version.
It has few and effective steps.
To use Mobitrix WhatsApp transfer follow the steps below:
In your computer install Mobitrix, then use USB cables to connect both of your phones to the computer.
Both of your phones will be displayed on the screen, just select your Android to be the source and the iPhone as the destination.
Simply click on the "Transfer" option and all of your data will be transferred just like that.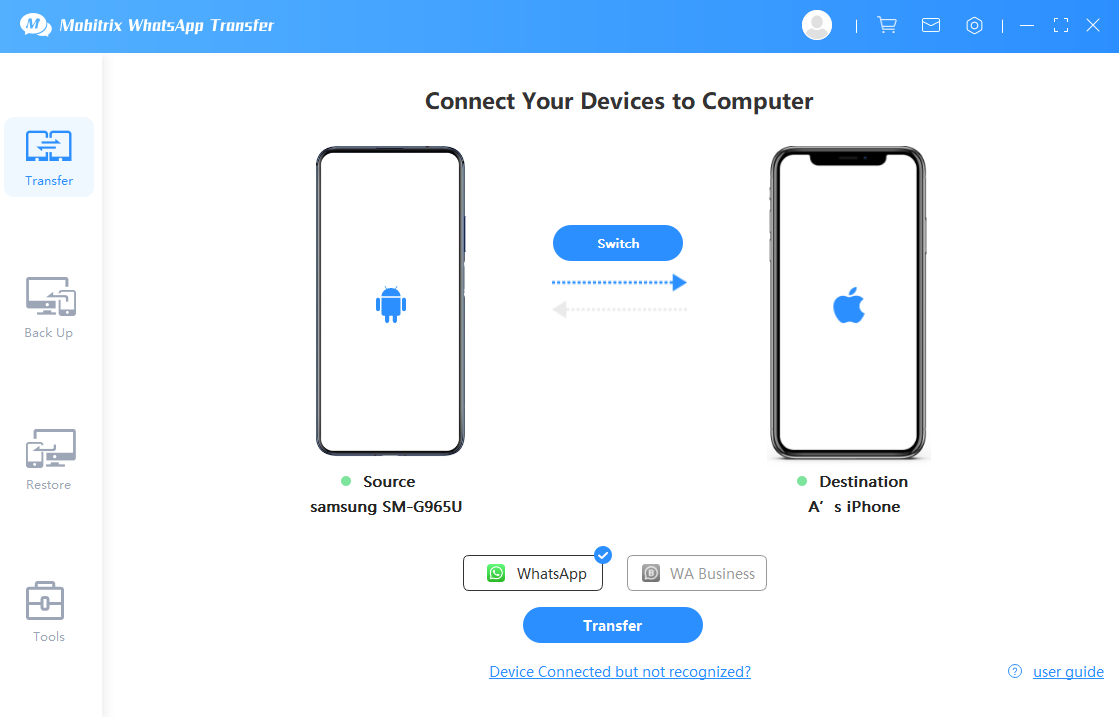 You have to allow the process to complete and all your data will be transferred successfully without any trouble.
Via email (time-consuming)
Use of emailUse of email is an easy way but it takes a lot of time to transfer your WhatsApp data from Android to your iPhone. Email work by transferring your data one by one hence consuming a lot of time.
The steps of using email are explained below:
Launch WhatsApp on your Android phone and select the chat you want to transfer to your iPhone.
Click on Settings > More > Export Chat > Email and choose to attach media or not.
Provide the email address where data will be sent to then use the same email in your iPhone to access the chats.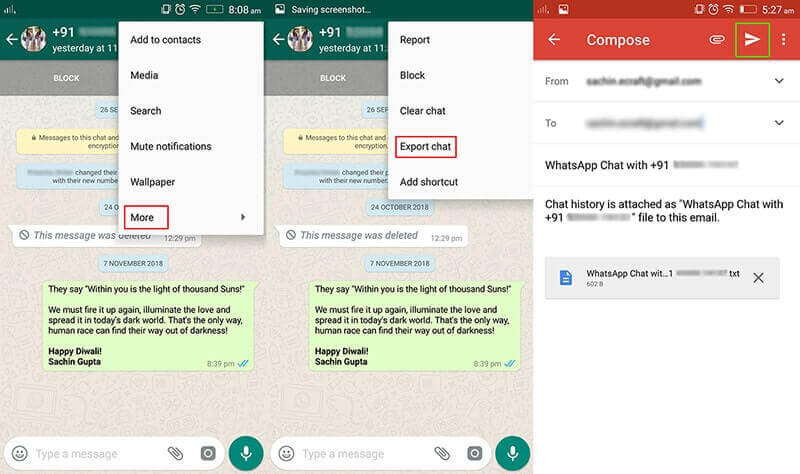 It is a simple way of transferring your data as no tool needs to be installed but it is slow and it only allows you to transfer 40,000 messages if no media is attached and when you attach media you can only transfer 10,000 chats.
Move WhatsApp from Android to Another iPhone or iPhone to Another Android
Via Mobitrix WhatsAppTrans (FREE)
Mobitrix-WhatsAppTrans is a free tool and you can use it to transfer data between an android and iPhone.
However, before using it take note that:
The tool is free to use.
To use it you require sufficient computer skills, otherwise, it is not recommended to use it.
There is no 100% guarantee that data will be successfully transferred and may lead to data loss if you don't follow instructions well.
It has the capability of transferring all the messages at once but you can not check them on your iPhone.
It is highly rated and recommended by tech websites and the chats are available in the files application of your iPhone.
To transfer WhatsApp data from android to iPhone follow the following steps:
Based on what you need you can download the customized version(.apk) or the business version(.apk) then download the data export tool "ExportAndroidWhatsapp.exe".
Visit GitHub then click on "Download"

Back up your android data by using the local backup. Uninstall the official WhatsApp and install the customized version and log to your account then click on "Restore".
Launch the file management app then navigate to the WhatsApp folder. On this folder create a file and name it "data. flg". Launch the customized WhatsApp and wait for a few minutes, then reopen the WhatsApp folder and check if you have a folder named "Chatpath" and a file named "ok. flg" if you have them it means data has been exported successfully.
Connect the Android phone to a computer and copy the WhatsApp folder to your computer.
Launch the CMD then type and run the command "ExportAndroidWhatsapp.exe WhatsApp path".

Ensure iTunes is installed then connect the iPhone to the computer.
By using file management you can transfer all images and media files to your iPhone.
You can as well transfer the text files in the "txt" folder to your iPhone.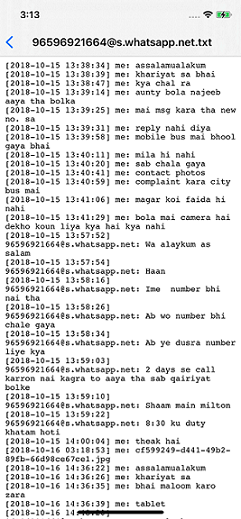 Click here for detailed step-by-step instructions for transferring chats from Android to iPhone.
To transfer WhatsApp data from iPhone to Android follow the steps below:
Visit GitHub click on Code then select "Download ZIP".

Ensure that iTunes is installed on your pc then connect the iPhone to the PC.
Back up the data in your iPhone.
Import the data of your iPhone to the Android phone.
Unpack the WhatsApp data from your iPhone.
Click here for a detailed procedure.
Important Note: Using a Phone Number/SIM card/Google Drive DOES NOT transfer WhatsApp messages from Android to iPhone.
Have you ever wondered if using a SIM card or phone number can transfer your WhatsApp data?
The truth is that that way cannot work. This is because a phone number only allows you to change the associated WhatsApp account but there is no connection between your WhatsApp backup and the phone number meaning you cannot restore your data.
Using Google Drive to transfer WhatsApp data is also useless as the data that is saved on google drive is not compatible with iPhone. This means that you don't have to waste your time trying these methods as none will help you.
2 Easy Ways to Move WhatsApp from Android to Another Android
Via local backup
To transfer your WhatsApp data from Android to Android, you can simply do so by using local backup.
Steps:
Launch WhatsApp in the old android, click on the three dots then go to Settings > Chats and calls > Chats Backup to start backing up your data.
Check the specifications of the SD card on the old device to install WhatsApp on the new device.
If using an external SD card, you can take it out of your old phone and insert it in the new android.
If you use internal storage only or an internal disk, move the "/sdcard/WhatsApp/" folder to your new android by connecting both devices to a computer then copy the folder in the old phone and paste it into the new android phone.
Launch WhatsApp on your new device then click on "Restore".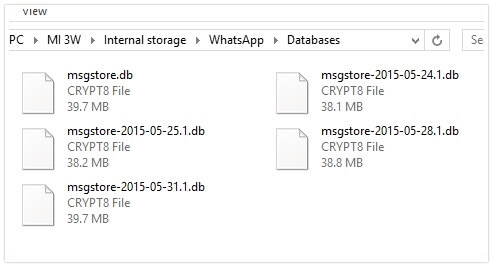 The advantage of this method is that it is free to use but you have to ensure that both devices share the same phone number. It is also a little complicated.
This is another way of transferring WhatsApp data between android phones but you have to ensure that both Google play services and Google drive are installed in bothe devices and have a google account.
Steps to follow include:
Open WhatsApp in the old android then navigate to Settings > chats > chat backup > Backup then select to create a backup on google drive.

Use the same google account and log into google drive on the new device.
Install WhatsApp and complete the installation process by providing the same phone number as the old phone.
Click on "Restore' and wait for the messages to be restored.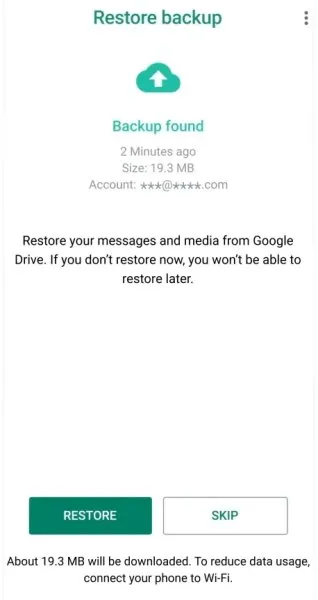 You don't have to install any third-party tool to use this method and you can access your WhatsApp data after clicking a few times to transfer the data.
However, even if it is compatible with Android phones you cannot use it with iPhone.
How to Move WhatsApp from iPhone to Another iPhone in 2 Ways
Restoring via iTunes Backup
In case you had an iTunes backup of WhatsApp data on the previous iPhone, then you can restore it in a new iPhone and access it normally.
Follow the steps below;
Use a cable to connect the old iPhone to the computer then open iTunes. Ensure that iTunes is updated to the latest version.
When iTunes detects your iPhone, click on it then navigate to Summary to view your backup. Select "Backup Now" to back up the data.
Allow the process to complete then disconnect the iPhone and connect the new iPhone ad iTunes will detect it automatically.
Select "Restore Backup" from the field of "Manually Backup and Restore" then select the latest backup and click on "Restore".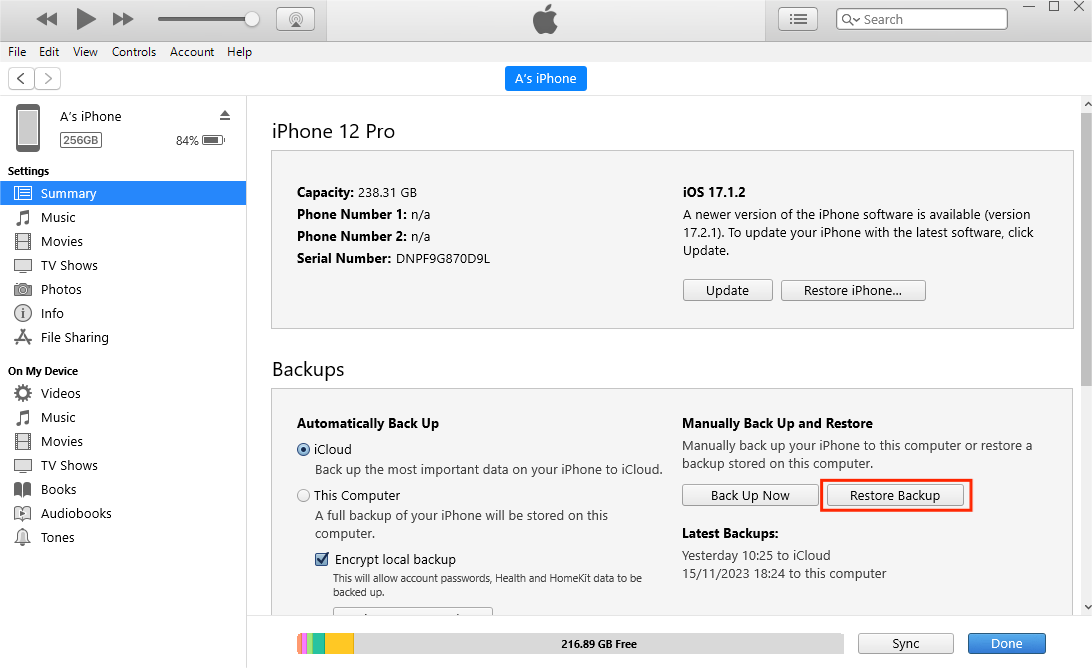 The disadvantage of using this method is that you are not able to preview the chat history before transferring it and you cannot select the chats you want to send. You also must have a strong network connection.
Through iCloud
To use iCloud, follow the steps below;
Launch the Settings app in the old iPhone then click on iCloud.
Click on "Storage and Backup" on the next screen.
Enable the "iCloud Backup" then click on "Backup Now".

Open the new iPhone then follow the instructions on the screen to set it up and select "Restore from iCloud Backup"
Sign in using the same Apple ID then select the latest backup to restore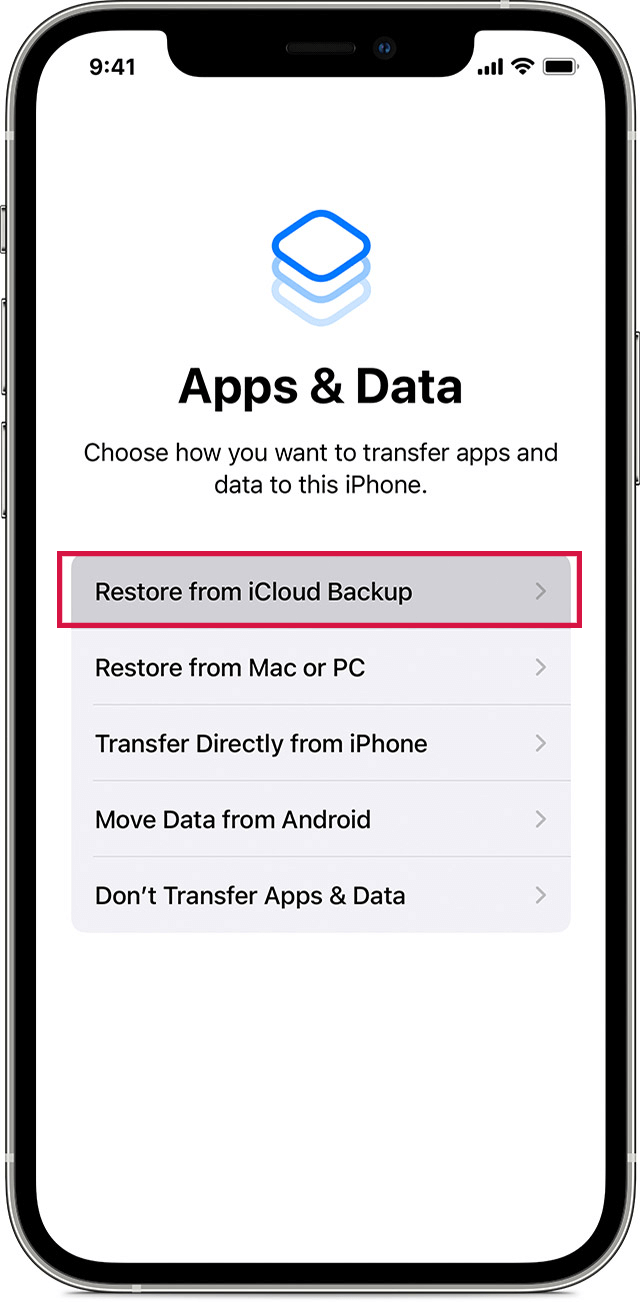 To use this method, you have to ensure that you have a strong Wi-Fi connection and iCloud has a limited storage space.
Summary
To conclude, the article has explained several ways of transferring your WhatsApp data between different phones.
You can go through the article and select the suitable method for you to use but the most recommended one is the use of Mobitrix WhatsApp Transfer because of its advantages as explained above.