Are you a heavy WhatsApp user? Are you afraid of losing important business chats or friendship memories on your WhatsApp, especially when you switch or lose a phone? Same here!
I've been using WhatApp for 12 years, an experience that has taught me how important it is to always remember backing up WhatsApp messages. Otherwise, once lost, there's no way to get them back.
If you are like me, and also using Android, then this article is a must read for you.
Just so you know, WhatsApp backs up its data onto Google Drive or your Android phone's local storage automatically. But sometimes, you may need to manually set your Android phone so that your WhatsApp messages can be backed up on your Google Drive account.
How? Let me walk you through how to create Google Drive WhatsApp backup in the most simplest steps you will ever find on the internet.
How to Create Google Drive WhatsApp Backup
Do you have a low storage problem? No worries. Saving your WhatsApp chat data on Google Drive can save you from local storage issues. Google Drive comes with 15GB's free space so you can use your phone memory for other important data.
So how can you use Google Drive to Back your WhatsApp Chats? Let's find out
Open WhatsApp on your Android device.
On the topmost right, click on the hamburger (three dots) symbol.
A drop-down menu will appear. Click on Settings
A new menu appears. You are looking for chats. This is where you can view your chat history. Click on Chats.
The second to the last option, the Chat Backup is where you click.
Here, you can customize your backup settings. Understand, you don't have to change the two other options unless you don't have Wi-Fi and you want to include videos.
Select Backup to Google Drive and Google Account. If you don't do that, clicking on the backup button won't work.
Make sure to select options for Backup to Google Drive and Google Account.
Click BackUp once you're ready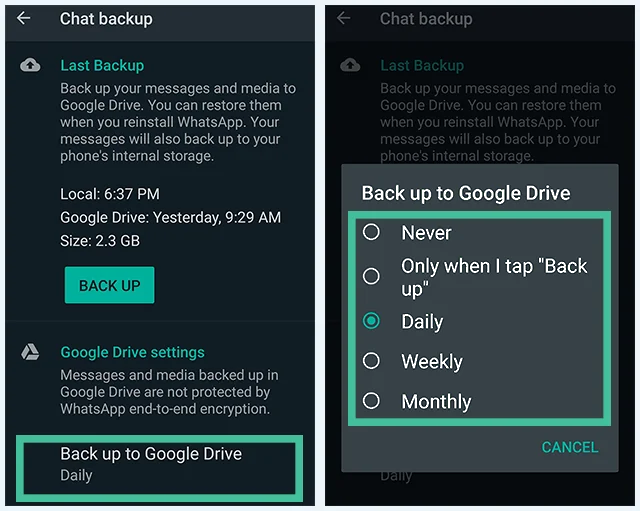 backup whatsapp to google drive on android
What's Needed in Performing a WhatsApp Backup?
Backing up your data to Google Drive is as easy as pie. But to successfully create a Google Drive backup, you need to be aware of these:
Your phone's operating system must be Android, but not iOS.
You can't use Google Drive to backup your data if what you have is an iOS device, like iPhone, iPad, or iPod. If you use any of these, the backup app for you is iCloud.
You need to have an active Google Account on the smartphone.
Your Google Play services must be activated on the smartphone.
You must have enough storage space on your Android device.
You need to have a stable internet connection
WiFi Settings
You can choose to do the back up when there is WIFI available only. This can save your mobile data to a great extent, especially if your mobile data is running out for the current month. To use WiFI, this is what you need to do:
Go to Settings
Click Chats and Calls
Click Chat backup
Find the Back Up Over and choose WiFi only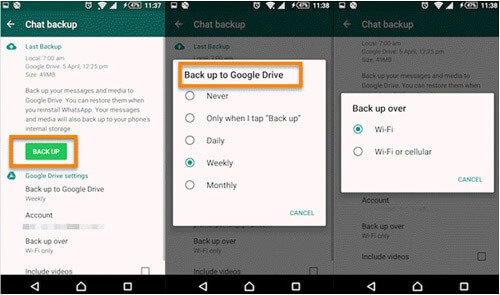 back up WhatsApp data to Google Drive
Should I Include Videos In The WhatsApp Backup or Not?
Like I said, you can back up your video files in WhatsApp too. But you have to select this option in Settings.
For example, you can choose to include videos in the backup and create a schedule for the backups. You can select daily, weekly or monthly. But I strongly suggest you go daily. Why? Because it's better to be up to date with your backups, in case some important data is missed.
To add video, toggle on the Include Videos option.
By doing so, you have captured all your WhatsApp memories, not just in text, but also in forms of voice notes and video clips.
It is also advisable to use WiFi for backing up your video, as videos consume a lot of data. If you are a chat freak like me, you could need as much as 6GB of data to backup your messages, audio and videos every week. It is going to suck up your mobile data.
And it's great if you work in an office which has its own WLAN. If you have access to it, you can conserve your mobile data.
WhatsApp Backups Don't Dump Google Storage
Remember that Google Drive offers 15 GB of storage space. You may think: won't the backup data take too much of my Google Drive cloud storage? But here's the good part.
Google and WhatsApp agreed in 2018 that WhatsApp back ups would not consume your storage space as long as you sync (or connect) your app to the Drive.
So do that now. Backup all your data so you can always have your precious WhatsApp chats back for future needs, without suffering low storage space problems.
Where Can I Find WhatsApp Backup in Google Drive?
So you might be wondering, where is the data I have transferred to Google Drive? Can I access it easily?
We have learnt how to create WhatsApp backups and stored them on Google Drive, but accessing them is a completely different thing. Google Drive stores your WhatsApp backups in a special folder, safe, discreet and out of sight.
It's not possible to download the backup file and run it on your PC. How do you go about it?
Access Google Drive from a browser, not the Drive on your browser. Browse Drive.Google.com.
Sign in with your Google ID and go to Settings
A General section pops up. This is where you can see how much space you have left. Click on Show items that are taking up space
The heavy files taking up space would come up now. Find Back Ups and click on it.
Another option is to click on Storage and here you will find a WhatsApp backup file displaying your number.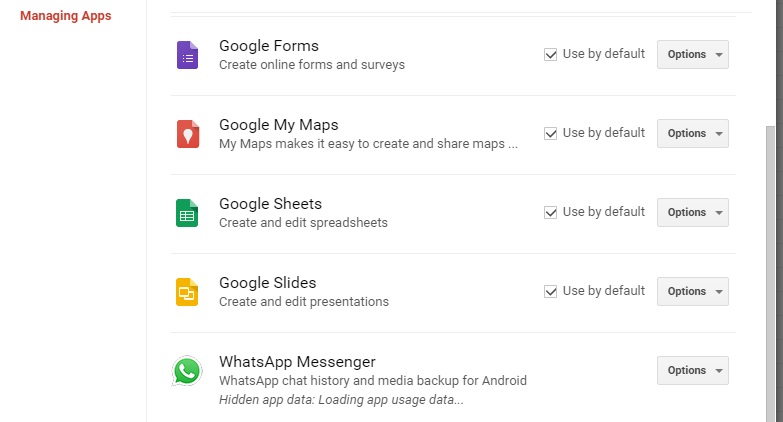 view WhatsApp backup in Google Drive
Now you get to see everything, from texts, to emojis, to videos, etc, that have been backed up on your Google Drive.
Can You Read The WhatsApp Chats On Google Drive?
Simple answer, no. Why? Because WhatsApp messages are end-to-end encrypted. You can download your WhatsApp chats but you can't read it with your PC or any third party app.
You can only have access to it if you restore it onto WhatsApp using the same account. Read below if you want to know how.
How To Restore WhatsApp Backup On Android
Great job done so far. Now you have created the backup and found it on Drive, next is to restore it to your Android or iPhone. Let's take a look at how to do that on an Android phone first?
Link your Android device to the Google Account where your backup is saved.
Install and open WhatsApp. Then, verify your number and all other requirements.
Click Restore when the option pops up.
After the restoration, tap Next. Your chats will be back up. Good as new too!
WhatsApp will continue to restore your media files after your chats are restore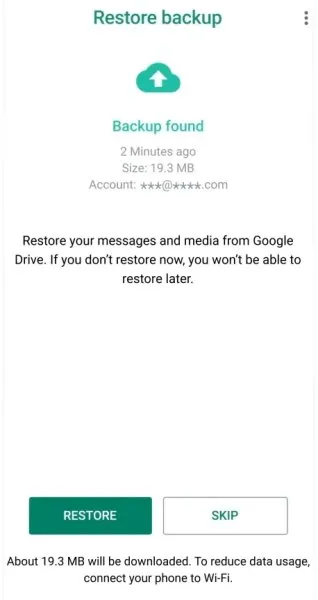 restore whatsapp from google drive
How To Restore WhatsApp BackUp on iPhone
Unlike an Android phone, it's not possible to restore the backups directly on an iPhone, hence you need a third party transfer tool. There are tons of such software on the internet claiming they can do this. But let me tell you this, from my experience dealing with software and data processing, most are either technically complicated, or taking too long, or not being able to restore your data fully.
My recommendation is Mobitrix Whatsapp Transfer. Tried it myself, and it is really easy to use. Hence, it is perfect for this task. The advantages of using this app include:
Backup Whatsapp to PC
Restore your Whatsapp backup to any phone(both iPhone and Android)
Safe and keeps your pictures and videos private
With Mobitrix WhatsApp Transfer, you can restore the Google drive whatsapp backups to iphone indirectly.
Simply follow the steps below to experience how it's done.
Restore your WhatsApp Backup to Android
Download Mobitrix WhatsApp Transfer
Connect your Android and iPhone to PC
Click Transfer.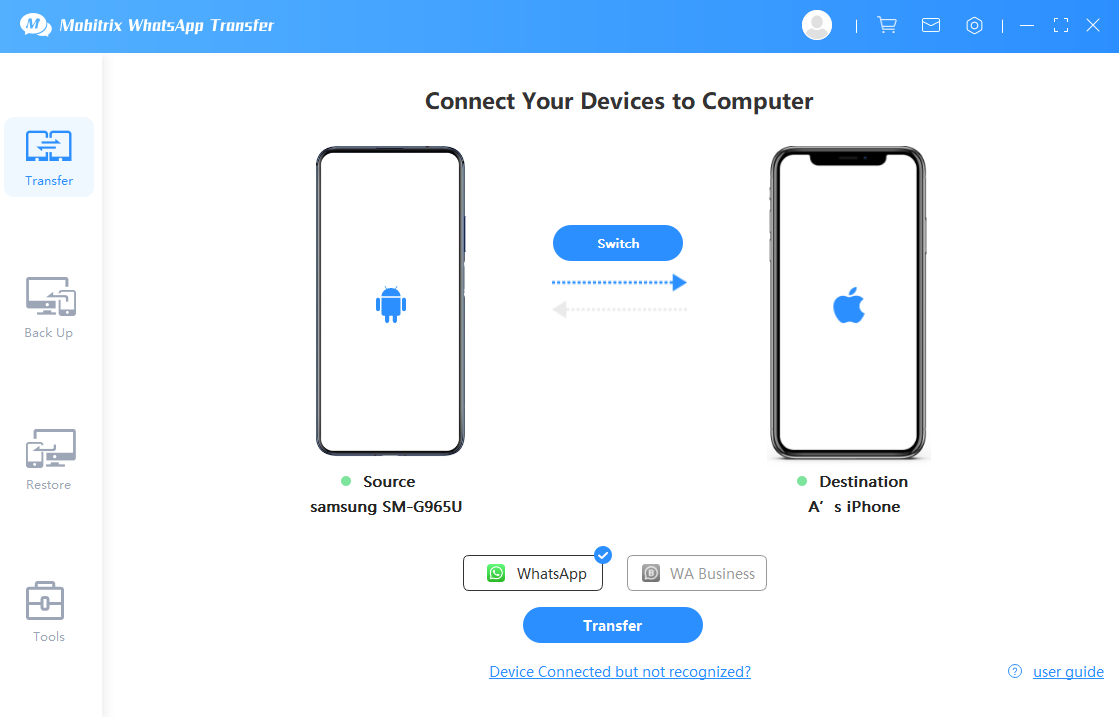 transfer WhatsApp from Android to iPhone via Mobitrix WhatsApp Transfer
How to Turn on and Turn off Encrypted Google Drive WhatsApp backup?
WhatsApp encrypts all private chat messages in a way that only you & the person you're communicating with can listen or read. Similarly, your iCloud and Google Drive backup are also encrypted with this added protective layer. Check below to know how to turn on or turn off WhatsApp's end-to-end encrypted backup.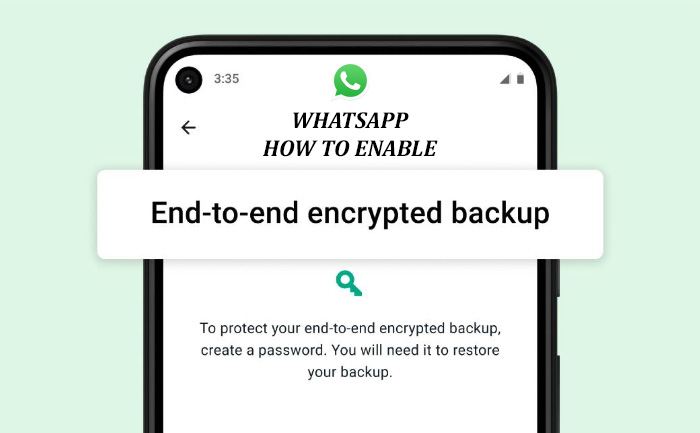 enable end-to-end encrypted WhatsApp backup
How to turn on end-to-end encrypted backup?
Go to Settings.
Click Chats > Chat Backup > End-to-end Encrypted Backup > Turn On. Then proceed to create a password or a key.
Hit Create. WhatsApp will start to prepare your end-to-end encrypted backup. This will take some time. You should better connect your phone to a stable power source until the whole process is complete.
Note: Make sure to keep your password or key. If both are lost, and you happen to lose your WhatsApp chats, there will be little chance for you to restore the backed up data. WhatsApp won't be able to reset the password or restore the backup for you.
How to turn off end-to-end encrypted backup?
Go to Settings.
Click Chats > Chat Backup > End-to-end Encrypted Backup > Turn Off. Then enter your password as requested.
Click Turn Off.
How To Delete WhatsApp Backup from Google Drive
Finding these backups unuseful and want to delete them for good from your Google Drive? Not an issue! This can be done quite easily. Moreover, deleting unnecessary backups helps you organise your Google Drive better. To do that, here are the necessary steps to follow:
Go to Drive.Google.com.
Sign in with your Google ID and go to Settings
Go to the General section. And click on Show items that are taking up space
Find Back Ups and click.
You get two options: Turn off or Delete Backup. To delete back ups, select the Delete Backup option.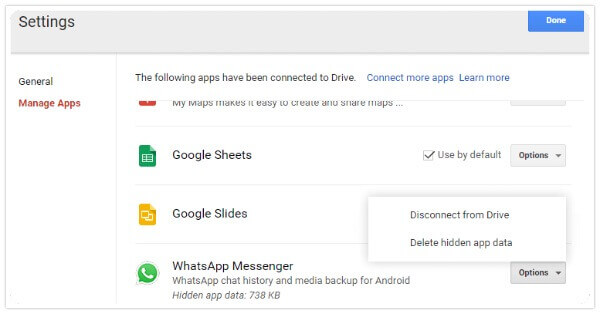 find whatsapp on google drive
How To Delete Backup from Cell Phone Memory
If you want to delete the backup data even from the memory of your Android phone, you can do it this way.
Open any file manager app.
Go to the folder with the backup files. In a normal setting you can find that in the internal memory. Find WhatsApp, then Database.
Press and hold on the Databases folder.
A menu appears asking if you want to delete. Select Delete and the backup is erased.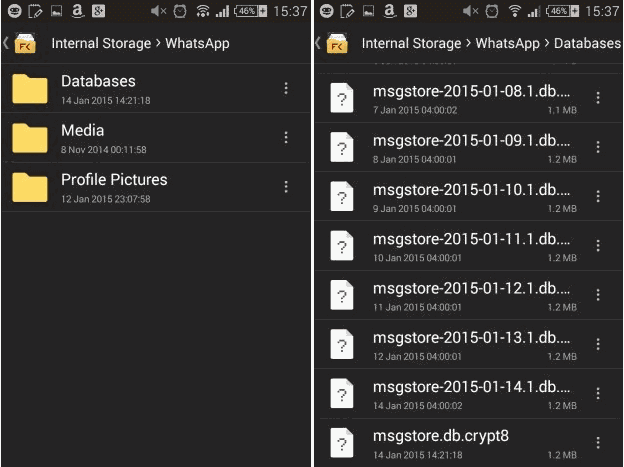 restore WhatsApp from local backup
Backups are important. They may come in handy in times you least expect, especially if you suddenly break your phone, or it's stolen or lost, or malfunctioning. With your important WhatsApp data backed up in Google Drive, you can always be assured that it can be accessed in one click anytime.
After all, to create Google Drive WhatsApp backup is just as simple as a pie. Yet the benefits are huge. No matter what happens, those confidential business communications with your clients and partners, lovey-dovey messages from your lover or affectionate messages from your family and friends shall stay intact as always. Do it now and keep a copy of all your precious memories right away.