One of the reasons that we enjoy using WhatsApp is because we get to chat and share files thus creating good memories through it. We, therefore, need to create a backup for our memories.
Google Drive is the easiest way to create a backup of WhatsApp.
This article describes how we can best backup WhatsApp via Google Drive, manage the backup, and still brings into light an alternative way to backup WhatsApp. Well, let's dive in.
How to Backup your WhatsApp to Google Drive
Google Drive is the official backup method for WhatsApp chats however, to use it few things need to be in place prior:
You need to have an active Google account signed in with your phone.
Ensure Google Play Services is installed on your phone.
You need to have adequate free space for creating your backup on the phone.
Well, if you have the above things set up, the next thing is to now set Google Drive for automatic backups.
To do this first, open WhatsApp and on more options click on settings then chats. On the chat menu click on Chat backup then click on Backup to Google Drive.
Here you need to set up a backup frequency of choice, ensure you don't choose "Never".
The next step is to select your preferred Google account to store the backup and that's it, you've backed up your WhatsApp.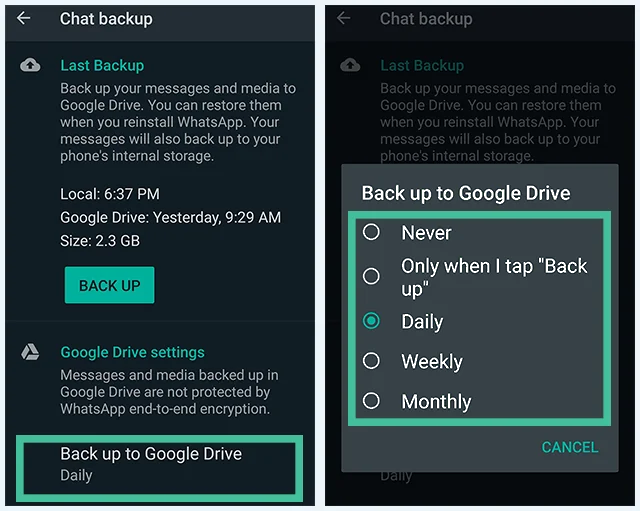 The above steps are for setting an automatic backup alternatively, you can opt to do the manual backup at whatever time you wish.
To initiate a manual backup, while on WhatsApp click settings then chats then click chat backup.
Finally, click on "BACK UP" and your WhatsApp is now backed up.
However, you need to note the following concerning WhatsApp backup on Google Drive:
If it's your first backup it will take a long time, ensure your phone is well charged or connected to a power source.
Every time you use the same Google account to create a backup to Google Drive, the previous backup gets overwritten.
While on Google Drive, messages and media that you backup aren't end-to-end encrypted by WhatsApp.
WhatsApp backups will not count against the quota of your Google Drive.
Can't backup to Google Drive
In case you encounter errors hindering you from creating WhatsApp backup on Google Drive, don't panic. Just verify the things below and all will be well:
Check if you are signed in to a Google account.
Verify that you have Google Play services on your phone, installed.
If you are using cellular data for the backup, you have data for both Google Play Services and WhatsApp, if you are uncertain contact your provider.
Try connecting to a different network or Wi-Fi.
Hopefully by verifying the above things you should have now successfully backed up WhatsApp to Google Drive.
How to manage your WhatsApp backup on Google Drive?
We now need to know how to find and manage our backup.
To access your backup, visit drive.google.com, under "storage" on the bottom left, click on the number.
Go back to the top, click Backups. You can now choose to view or delete the backup. However, key things to note are:
Deleting or stopping a backup is possible however you won't access the files in the backup.
You can restore your attachments and messages to WhatsApp through the backup.
Your WhatsApp backup is tied to the Google account and phone number used to create it.
An alternative way to Backup WhatsApp chats
Google Drive backups are a great way to backup your WhatsApp however, have a +1 and better way to backup WhatsApp.
This is useful especially if you plan on upgrading to an iPhone, as the official WhatsApp doesn't provide a way to backup WhatsApp to an iPhone from Google Drive.
The alternative is to use a third-party tool - Mobitrix WhatsApp Transfer, for its great features such as:
It is free to use to backup WhatsApp to a computer.
Mobitrix allows backup files in formats such as text, attachments, and videos.
Mobitrix is not space limited, neither does it overwrite previous backups.
It also guarantees 100% safety of the backup and user privacy.
To use Mobitrix do the following.
Click here to download and install it on your computer.
Via USB cable, connect your phone to the computer.
Open Mobitrix on the computer and click on Backup.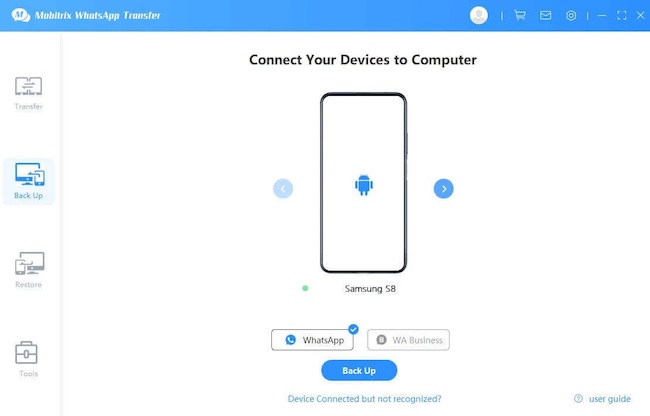 Let the backup proceed to completion. Bravo! You've successfully used Mobitrix to backup your WhatsApp.
Summary
To sum up, we've seen that backing WhatsApp to Google Drive prevents data loss and enables you to manage the backup by viewing or deleting it.
However, it has limitations such as overwriting the previous backup which in the case of WhatsApp contains our memories thus, using Mobitrix to backup WhatsApp is the best alternative.