Transferring WhatsApp directly between an Android and an iPhone is impossible as these two platforms use different and incompatible encryption protocols. However, there is a way that you can achieve a successful transfer of WhatsApp from your Android to an iPhone. Read the article to find out.
Mobitrix WhatsApp Transfer
One of the ways that you can use to transfer WhatsApp to an iPhone is via Mobitrix which is a third-party tool that is designed to meet your wants in an easy, user-friendly, and quick manner. With Mobitrix, you can still backup your data easily and regardless of the platform of the phone, you can easily backup and transfer your WhatsApp.
Mobitrix is the recommended method to use as it is safe to use, it works on devices running either iOS or Android, and it allows transferring multiple formats of files such as videos and images.
To use Mobitrix, first, download Mobitrix WhatsApp Transfer then install it on your PC. From there just follow the steps below.
Connect your Android and iPhone to the PC then open Mobitrix.
Once Mobitrix recognizes your devices, set the iPhone to be the destination and the Android to be the source.
Click "Transfer", WhatsApp will then be transferred to your iPhone.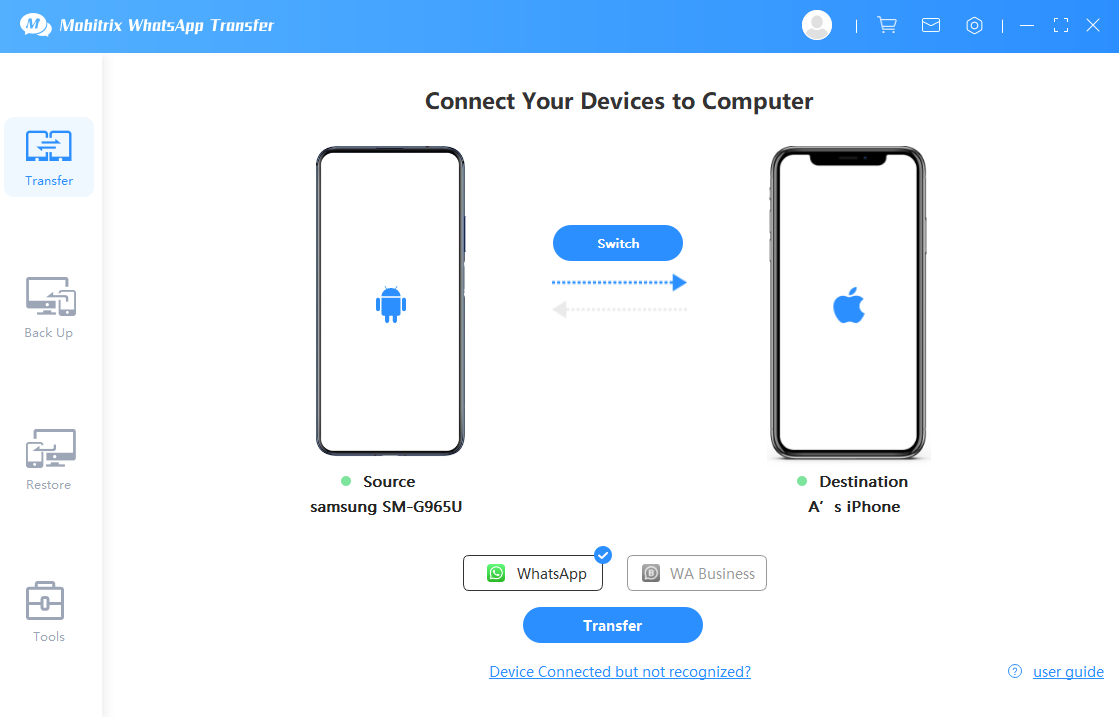 connect your iphone and android to pc
WhatsApp Trans (Free)
If you have some good technical computer skills and knowledge then using WhatsApp Trans is recommended for you. WhatsApp Trans is a free tool that allows you to backup your WhatsApp and transfer it from Android to iPhone.
To use WhatsApp Trans, the steps below will guide you.
Download the customized WhatsApp (.apk) or WhatsApp business (.apk) from GitHub. You also need to download a data export tool in this case, ExportAndroidWhatsApp.exe.

download whatsapptrans

On your Android, check if a folder "WhatsApp" exists on the file manager. If it doesn't exist DON'T use this method, refer to other methods in the article.

Create a local backup of your Android WhatsApp then uninstall WhatsApp on the Android phone and install the customized version that you downloaded. Allow WhatsApp to access storage permission and when installing it, choose to restore data from the previous backup.

On the "WhatsApp" folder, create a "data.flg" file. Once you finish installing the WhatsApp, the "chatpath" folder and "ok.flg" file will be created inside the WhatsApp folder.

Copy the WhatsApp folder on your Android and paste it on your PC.

Open on your PC's CMD terminal and enter the command: ExportAndroidWhatsApp.exe WhatsApp path. Your chat history will then be stored in a "txt" file.

backup whatsapp via whatsapptrans

Open iTunes and connect the iPhone to the PC.

To import your WhatsApp media files, copy the "Media" folder that is on the WhatsApp folder on the PC and import it to your iPhone in the "Photos" folder using file manager.

To import the chat messages, copy the "txt" folder inside the WhatsApp folder and import it to the "Photos" directory on your iPhone. From there you can access both media files and chat messages on your iPhone.

whatsapptrans
This method has limitations as the messages will be in a .txt format and it is technical and complicated unlike other methods like Mobitrix.
Through Email (inconvenient)
Using email, you can transfer WhatsApp messages as an attachment to your iPhone. However, this will work well if few chats are involved.
On the Android phone, select the chat that you want to transfer and click on more options at the top.
Choose "Export Chat" and attach the file or other needed media files and email them to your email.
On your iPhone, you can view or even save the chats from your email box.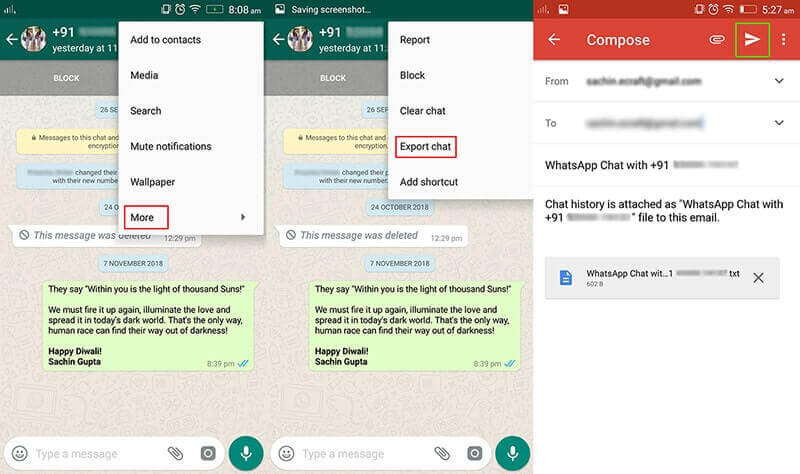 transfer whatssapp via email
Common user concern questions
i. "Is it possible to download my Google Drive Backup to my computer?"
The answer is no, you can't download your Google Drive Backup to a PC, you can either view or delete the backup. The solution here is to use Mobitrix WhatsApp Transfer which will enable you to transfer the backup to your computer from which you can then either transfer it to another phone or just retain it there as a backup.
ii. "Where is WhatsApp backup for Android Stored?"
The android phone uses Google Drive which offers cloud storage for the WhatsApp data. Moreover, a local backup of WhatsApp can be created on the phone. You can then choose to either restore the local backup if you change the WhatsApp or using a different Android to restore your WhatsApp backup from your Google Drive.
In summary, various methods exist that you can use to backup and transfer your WhatsApp but we recommend using Mobitrix WhatsApp Transfer which is a better alternative as it has no storage limitation, it's easy to use and with just a few clicks you get to back up and transfer your WhatsApp to any phone whether Android or iOS. Don't let changing your Phone keep you away from your WhatsApp memories, use the better option, use Mobitrix!