Not all backups go to completion successfully, at times WhatsApp backups get stuck thus the need to know how to fix this.
This article will guide you on fixing WhatsApp backup stuck for both Android and iPhone by enabling you to quickly troubleshoot and repair the backup problem step by step and introduces an alternative method of using Mobitrix.
How to Fix WhatsApp Backup Stuck on iPhone
In this section, we first look into what's needed for you to create an iCloud backup.
To create an iCloud backup:
Ensure that on your iPhone you sign in using the Apple ID that you access iCloud with.
iCloud Drive should be kept on.
Your iPhone should be iOS version 10 or higher.
A free space of about 2.05 times the backup size should exist on both your iPhone and iCloud account.
With that, you can now navigate to WhatsApp settings then chats and chat backup and click on "Backup Now" to create a backup.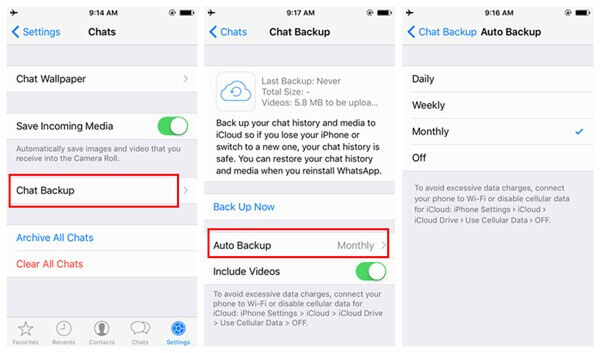 backup whatsapp icloud
Fixing iPhone WhatsApp backup stuck
Internet floods with many options claiming to fix WhatsApp backup stuck problem but none of them addresses the issue as it should.
In this article, we will guide you on how to sequentially troubleshoot and fix WhatsApp backup stuck on your iPhone by following the steps below:
Check your internet connection:

to verify that you have an active internet connection try to open a youtube video or website. If you are successful then your internet connection is working move to step 2.

Update WhatsApp:

frequently WhatsApp rolls out updates for both Android and iOS. WhatsApp backup stuck could result from a buggy build recently created on your device. Thus, the need to update it by simply opening up the App Store and on the update section click on the download latest build for your device. Try to backup again to see if the backup will be successful.

Check available space:

for a successful backup your iCloud account and iPhone should have free space of about 2.05 times the backup size. To check iCloud storage: open settings, click on iCloud then iCloud storage. To clear space: while on the iCloud storage tab, click on manage storage then choose backup. Select a backup to delete and tap on 'Delete Backup". To check iPhone storage: under the general tab click on the device storage. Select the videos, music, or apps to delete to create space.
Restart the phone and attempt the backup again. Hopefully, you should have now successfully created your iCloud backup.
How to Fix WhatsApp Backup Stuck on Android
Before creating a Google drive backup verify the following:
Google Play Services is installed and an activated Google account exists on your phone.
A stable and reliable connection exists.
Adequate free space for creating the backup exists on your phone.
Fixing Android WhatsApp Backup Stuck
Despite Android having lesser backup stuck issues the steps below will guide you on how to fix the issue in an event that it occurs:
Check internet connection:

verify that your internet connection is active by opening a website or playing a youtube video.

Update WhatsApp:

open Google Play Store on your Android and click on the update button on the right of WhatsApp. Once updated, attempt creating the backup again.

Check Android storage:

on your Android phone, open settings and tap on storage. Ensure that you have enough free space by deleting content like apps or videos. While still on settings, under WhatsApp click clear cache. You should now be able to create your WhatsApp backup conveniently.
Alternative backup method.
Both Google Drive and iCloud encounter WhatsApp backup stuck issues and the progress bar doesn't indicate the cause of the error making it difficult to troubleshoot.
To counteract this, this article introduces a safer third-party tool, Mobitrix , to aid you in creating WhatsApp backup with ease.
Mobitrix comes with great features such as:
It's free to use to create a backup to a PC.
User's privacy and the data are kept secure.
Backup is made for all files; attachments, text, videos, and pictures.
Unlike Google Drive, the current backup doesn't overwrite the existing backup.
The steps below guide you on using Mobitrix:
Download Mobitrix and install it on your PC.
Connect your phone to the PC via USB cable.
Click on backup, let the backup process run till completion.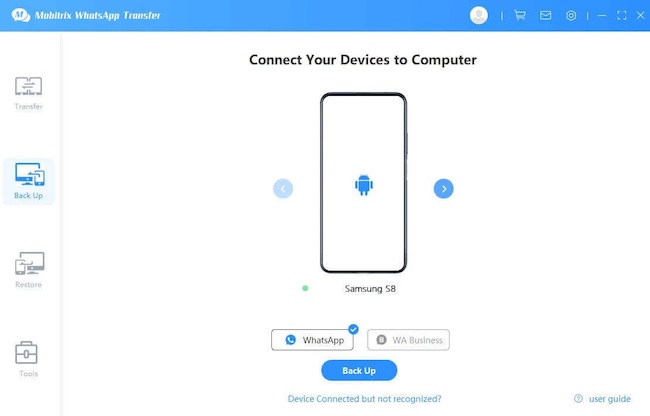 backup whatsapp to pc
Due to the sheer amount of communications that go through our WhatsApp, the amount of data we have in the form of WhatsApp backups is too much to be accommodated by iCloud Drive or Google Drive. Then there is the problem of cross-compatibility across these two services.
The best way to backup WhatsApp is by using Mobitrix WhatsApp Transfer as it has no storage limits, is safe and secure, and can allow you to transfer your WhatsApp chat to any device regardless of the operating system, make, and model of the device.