Preface:
One of the biggest frustrations for phone users is the battle between Android and iOS. These two systems are not compatible, so, if a user changes phone systems they risk losing precious WhatsApp data like photos, chat history and more. Well, not any more! Here are some ways to transfer WhatsApp data from Android devices to iOS.
Transfer WhatsApp from Android to iOS using email
Did you know you can transfer WhatsApp Chat history with your email? Here's how:
Open WhatsApp > Settings > Chats.
Go to "Chat History" and select "Export Chat".
Choose your own email address to transfer your chat history to.
Open your email on your new iPhone, to view your WhatsApp Chat history
Pros of this method:
Transfer via email allows users to transfer data without downloading a third party application.
Cons of this method:
The exported file will be sent in txt. format. This cannot be viewed by your iPhone in WhatsApp, so it is not an appropriate option for most users.
The procedure has several detailed steps.
A simple mistake, such as sending to the wrong email address can risk important WhatsApp data being leaked. This is not a secure option.
The speed of the transfer is dependent on your internet connection and might be very slow.
You cannot transfer via email without a network connection.
Can you Transfer Whatsapp from Android to iOS via Google Drive?
Unfortunately, you cannot use Google Drive to transfer WhatsApp chat history from an Android to an iOS device. The operating systems of these two companies are not compatible - basically, the 'language' that Android uses for the functionality of devices is completely different from iOS, so the two systems cannot 'communicate' with one another.
Android devices are compatible with Google Drive, but iOS is not. Therefore, you cannot use Google Drive to transfer WhatsApp chat history. However, there is a third party option to allow you to transfer data between Android and iOS.
An Easy Way to Transfer Whatsapp from Android to iOS - Mobitrix
Mobitrix WhatsApp Transfer provides an easy solution to the problem of transferring between Android and iOS. Since these systems cannot 'communicate' with one another, Mobitrix is the option you need to transfer data between the two.
Simply download Mobitrix on your personal computer and connect the two devices to your computer with USB cables. Follow the simple steps to set up one device as the "source" and the other as the "destination". Then, start the transfer.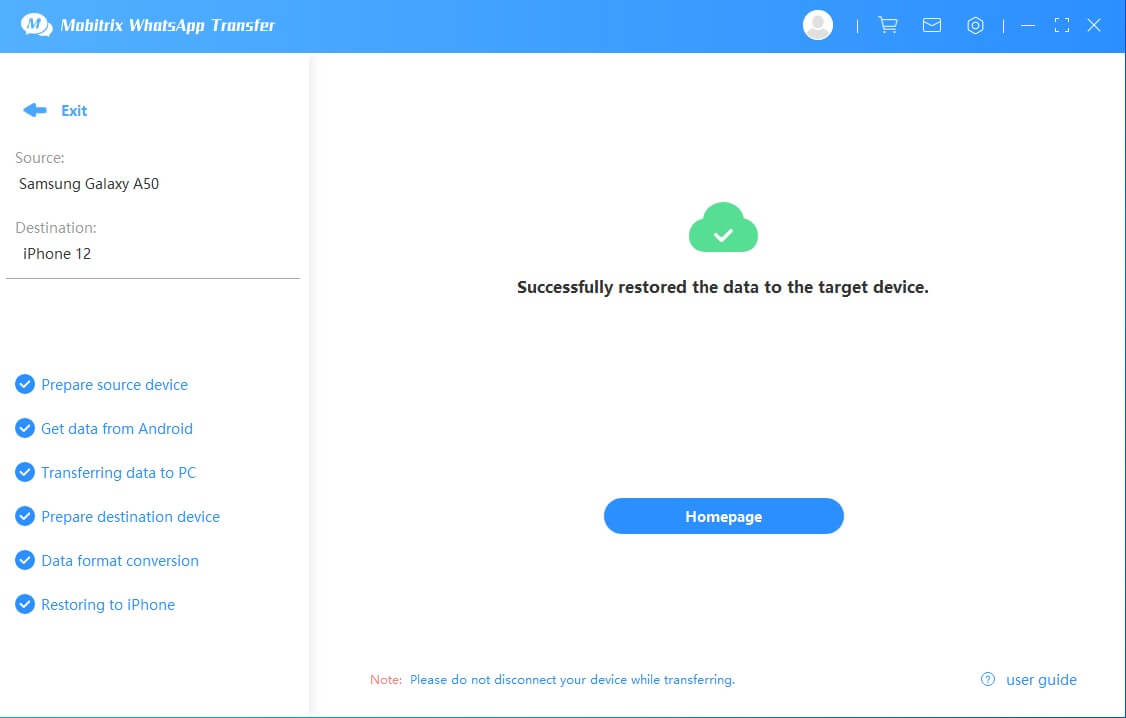 That's it! Mobitrix will transfer the WhatsApp Chat history from your Android phone to your iOS device (or vice versa).
More detailed steps (with graphics) are here.
Advantages of Mobitrix
Mobirix works with any phone number. If you change your phone number, many other methods will not work for you to transfer WhatsApp data.
Users keep not only all their chat information, but all files from your original WhatsApp account. This is very important for transferring important media and files, like videos and photos.
There are no "Country Limits", like some other transfer options.
Mobitrix is fast and convenient to use - one single download, and easy to follow steps.
After the initial download, no network connection is not needed. This means that your data is transferred in a secure manner, and you won't use lots of expensive data to transfer your WhatsApp Chat history.
Using WhatsAppTrans Box to Transfer WhatsApp from Android to iOS for Free
WhatsAppTrans Box is a free tool that supports the transfer of WhatsApp data between devices. To use this free tool, follow the instructions described below:
Step 1: Download the Toolkit of WhatsAppTrans Box.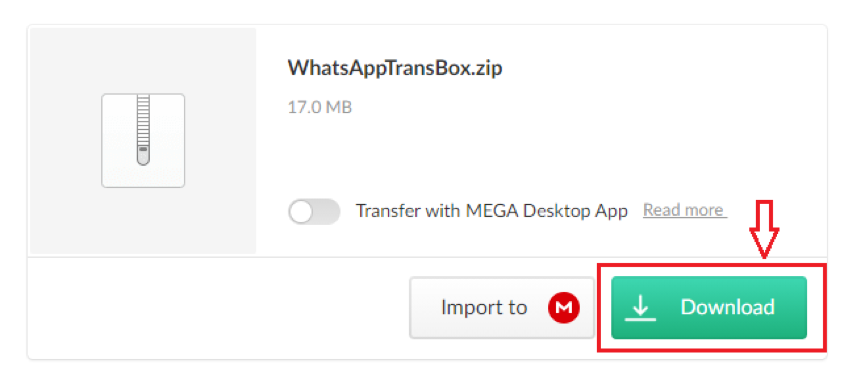 Step 2: Extract the WhatsApp data from you're your Android by following the instructions below:
Back up the WhatsApp data to the local storage of your Android phone.

Ensure that there is a connection between your Android and a computer the run [copywhatsapptopc] to transfer the data on your computer.
End the connection to your computer, then go ahead and install a suitable emulator from the internet.
Bignox is an example of an emulator that you can install on your Android..
Ensure to set the ROOT permission after installing the emulator.

Look for a WhatsApp version from the official website of WhatsApp to install on the emulator.

Note: Immediately after the installation of WhatsApp is complete, please DO NOT log into it.

Execute [copywhatsapptoandroid] to copy the data back to the emulate from the computer.
Now, you can login to the WhatsApp installed on the emulator to restore the data
To get the WhatsApp databases from the emulator, execute [pullwhatsapptopc] and the directory of the databases will be copied to the computer.

Take note of the path of the database: the path of the database is /data/data/com.whatsapp/databases/.
Step 3: Transfer WhatsApp data from Android to iPhone
whatsappandroid2iphone.exe is the main tool that facilitates the transfer of WhatsApp between devices. But, take note that it transfers data within the past three months only.
Run [whatsappandroid2iphone].
Step 4: How to restore WhatsApp data from Android to iPhone?
The first thing is to ensure that a new version of WhatsApp is installed on the iOS device.
Make a connection between the iOS device and the computer, then run [restorewhatsappdata].
You will see all the chat history within the past three months.
Advantages
Transfer for free..
It enables the restoration of WhatsApp data into a new device.
Large data sizes can be transferred without size limitations.
It enables the transfer of WhatsApp data between iOS and Android devices.
Disadvantages
Only chats within the last three months can be transferred.
Other media files like videos and other attachments won't be transferred.
Take note that only data within the last three months will be transferred to the new device. If you want to transfer all your WhatsApp data without limitation of duration or size, then Mobitrix WhatsApp transfer s the best option.
Summary:
You may find several ways to transfer Whatsapp Chat history between Android and iOS advertised on the internet. Many of these options -like email- don't actually work. There is really only one effective way - Mobitrix.
Save time and effort by transferring WhatsApp data with Mobitrix.