Preface:
Hands down, the best way to transfer WhatsApp between phones of different operating systems is to use a third-party tool. One of the most popular WhatsApp transfer tools is BackupTrans. But, does being popular mean it is the best option? This article will look at BackupTrans and compare it to some other third-party transfer tools to help you make the best choice.
Why You Need an Alternative to BackupTrans
A quick Google Search will show the most popular WhatsApp transfer tools first, and you're likely to see BackupTrans at the top of the list. But, keep in mind this is a reflection of the product's popularity, not necessarily that it's the best option. Here is a quick rundown on the popular BackupTrans WhatsApp transfer tool.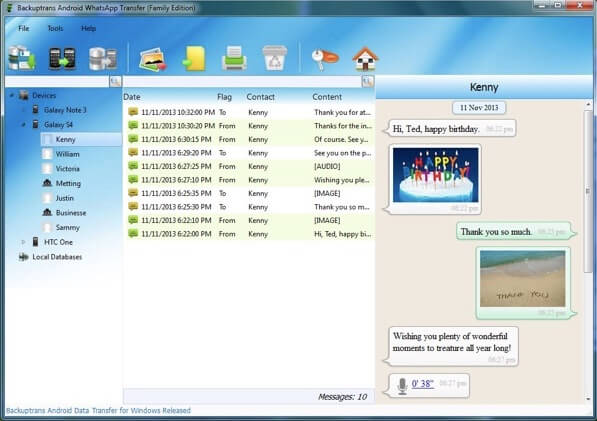 backuptrans android whatsapp transfer
BackupTrans is a third-party resource that helps users transfer WhatsApp data (chat history and more) from one device to another. It can move WhatsApp chats between iPhone and Android devices, or to your personal computer. It can also move attachments and media files from your WhatsApp to another device of a different operating system. Finally, if you want to view your chat history as word documents or .txt files, it works with systems using Windows 10 (and, in some cases, earlier versions of Windows) so that you can view them on your computer or Android device.
Now that you have an idea of what BackupTrans can do, let's review some of the drawbacks of this program.
It's not user-friendly. The program's tutorial has some steps that require some basic computer knowledge.
The transfer process can take a long time if you have a lot of chat history or attachments to move.
Users must update or install the most recent version of iTunes.
Some users have reported missing messages after the transfer was completed to their Android device, so this tool does not work perfectly.
It is one of the more expensive options, and we believe there are just as good (and even better!) tools out there for less.
Best Alternative to Backuptrans
1. Mobitrix (Most Convenient)
We will share our favorite pick right from the start: Mobitrix. We think Mobitrix is the ideal third-party tool to transfer WhatsApp between phones, that's why we are going to mention it first.
Mobitrix is easy to use, doesn't require users to update or download iTunes and works seamlessly between all types of devices: iOS, Samsung, Nokia, Huwawei and other Android phones. It transfers all WhatsApp chat history and media files (photos, videos, voice recordings and attachments) from one device to another without any complicated steps. Finally, it is price-friendly for consumers and guarantees data privacy during the transfer process.
Pros:
Mobitrix offers the best price for many features.
It is the safest third-party tool to transfer WhatsApp between devices, and ensures user data security.
Mobitrix is able to transfer WhatsApp between any two phones, no matter the model, make or even operating system.
It works to transfer Android and iOS (and iOS to Android)
No size limit for data transfer
After downloading Mobitrix, the rest of the process works, even without internet connection
Here's all you need to complete the transfer:
Download the Mobitrix tool from the official website. Open Mobitrix on your computer.
Connect your iPhone and new Android phone to your computer with USB cords, and designate your devices as 'source' and 'destination'.

connect the 2 devices to pc

Select "Start Transfer" and allow Mobitrix to do its thing! You will be notified when the transfer is complete.

start to transfer whatsapp
That's it. We told you it was easy.
Using WhatsAppTrans (Free Tool)
We like this method because it is completely free. However, as with all things that come without a price, there are some drawbacks. WhatsAppTrans is a good resource for users who are very confident in their computer skills, as the process is complex and detailed, getting into the command center of the computer to complete the transfer.
Another limitation to this tool is that WhatsApp chat history is exported as text files (.txt) which is not the most useful method for users. Text files are not read by WhatsApp, so once you complete the transfer you can access and read the chat history, but not through the WhatsApp application. You may find your WhatsApp chat history on your iPhone under "files" after the transfer.
While this option is free, Mobitrix is a more convenient solution for transferring WhatsApp chat history and data between devices. Users can easily access and use their WhatsApp data on their other device, without any hassles of dealing with text files.
Transferring WhatsApp data with WhatsAppTrans is a three-part process. You must complete each part exactly, or you risk losing your data all together.
Part 1: Export WhatsApp data from your Android device.
On your Android Phone:
Visit GitHub and download WhatsAppTrans. Do not select the downloads listed on the first screen. Instead, select the button labeled "Code" in the upper right corner. From the "Code" drop down menu, select "Download Zip"

how to download whatsapptrans

Now, download the file "ExportAndroidWhatsApp.exe" to begin the export.
Create a local backup of your WhatsApp on your Android device.
Go to WhatsApp > select the (...) feature in the corner > Settings > Chats > Chat Backup > Backup Now. You must have sufficient storage on your phone in order to include videos and other media in your local backup.

whatsapptrans

Uninstall WhatsApp, and install the unique version you downloaded to your PC from GitHub.
When prompted, choose "restore data" for your WhatsApp, and choose "Allow" when asked about accessing storage.
Open the WhatsApp folder on your Android phone. Make a new file within this folder by creating a "data.flg" file.

mobitrix whatsapptrans

Open the WhatsApp application and open the "chatpath" folder that has a "ok.flg" file beside it. If you do not see the "ok.flg" file, then the export failed and you cannot continue .
Part 2: Move chat history from your Android device to your PC
Now, connect your Android device to your PC using a USB cable. Through your PC, access your phone's files and locate the "WhatsApp" folder. Copy and paste it into your PC's files.

whatsapptrans

On your computer, enter the CMD terminal and type the following: ExportAndroidWhatsApp.exe WhatsApp path
Then hit "Enter"
Now, your computer should have created a .txt in your WhatsApp, which is your WhatsApp chat history in text file format.
Move chat history and media files from your computer to your iPhone
On your computer, start iTunes (you should be running the latest version, so you may need to update or download iTunes for this step).
Connect your iPhone to your computer using a USB cord.
Manually transfer files from your Android's WhatsApp media files to your computer.
Now, import the media files from your computer to your iPhone. You may transfer videos and photos quickly by moving everything into your iPhones "photos" folder.

mobitrix whatsapptrans

Your WhatsApp chat history text files may also be viewed on your iPhone through your "photos" folder.
WhatsApp chat history as text files do not read easily, but will show only as text, with date first and then the words of the chat.
Users should be confident at entering the command terminal of their computer and inputting commands in order to complete this transfer.
Transferring WhatsApp history and media files between devices is best performed through third party tools. While BackupTrans is popular, we don't think it is the best option for users, because it's not user-friendly and it is expensive.
If you're after a free solution, consider WhatsAppTrans; but, keep in mind that it's a bit complicated. If you want a simple option, then we recommend Mobitrix WhatsApp Transfer because it is easy to use, protects your data privacy and won't break the bank.
want to complete the transfer of WhatsApp messages, media files and attachments right now, the best solution is Mobitrix. For almost the same cost of purchasing a new USB-C Lightning cable you can get a one-year plan with Mobitrix and get the transfer done immediately! Mobitrix is safe and easy to use, so transfer WhatsApp data between any two phones today.