WhatsApp contains some of the best memories of one's social life. But it comes a moment when you may want to export the WhatsApp chats due to a change of the account or phone.
In this article, listed are 6 ways to export your WhatsApp chats on iPhone alongside their advantages and disadvantages.
Mobitrix WhatsApp transfer
Mobitrix WhatsApp Transfer is a third-party tool that has been developed to ease the process of exporting your WhatsApp chats with only a few steps.
We recommend using this tool for exporting your chat records to a computer. The exported data is stored in different folders according to their formats such as video and images.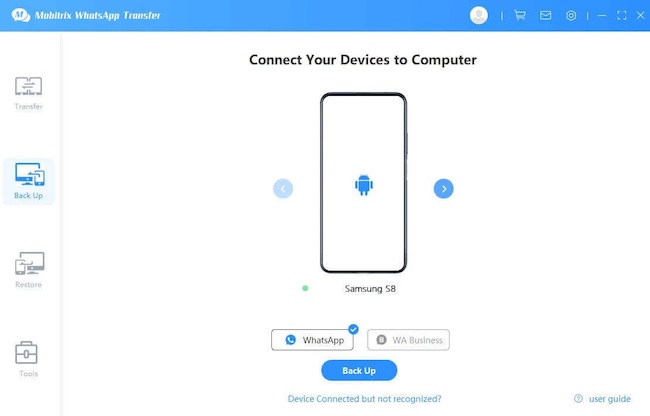 export whatsapp chat to pc via mobitrix whatsapp transfer
The following steps will guide you on how to use Mobitrix:
Install Mobitrix transfer tool for WhatsApp on your computer.
Connect your iPhone via a cable to your computer.
Open Mobitrix and click on "Backup WhatsApp on Devices" and allow it to detect your iPhone.
Click "Backup" and wait for it to complete.
Mobitrix has several advantages such as:
It preserves the previous backup that may be on your computer.
It supports all versions of Android or iPhone and supports transfer between Android and iOS devices.
It safeguards user's privacy hence making it safe.
Exporting your WhatsApp chats to your computer is free.
It performs a backup of various file formats of WhatsApp data.
The only shortcoming of Mobitrix is that you have to download and install it on your computer to use it.
Email
The use of email is an easy and free way to export your WhatsApp chat. It only needs you to select all the messages you want and export them in a .txt format and then download the file from your email.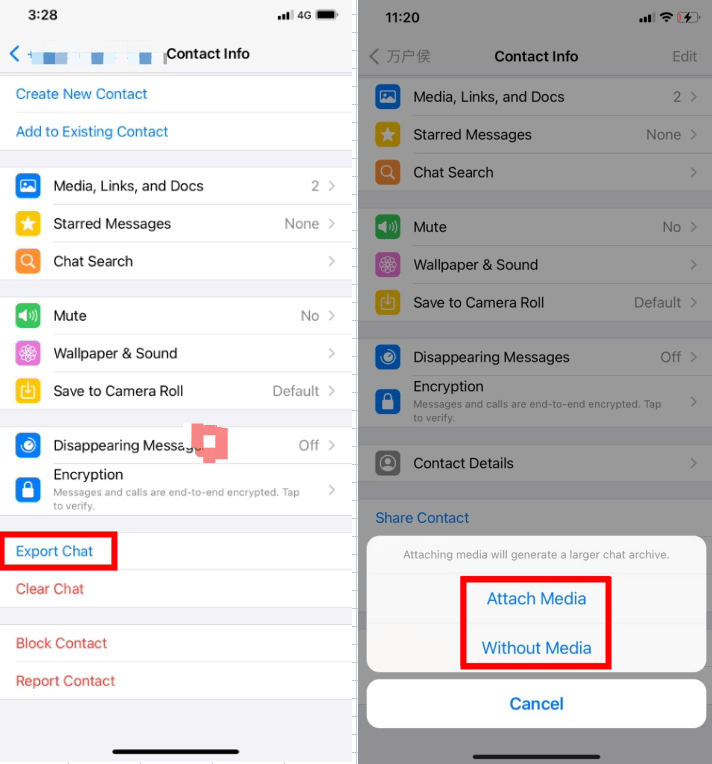 export whatsapp chat via email
To use email to export your WhatsApp chats on iPhone:
Open WhatsApp on your iPhone and select the chat to export, the selected name of the contact will be displayed at the top.
Click on export chat and choose to attach your email to the media file.
Enter your email address and click on the send button.
Pros:
It is free to use and does not require any intense skills to do the backup.
It only needs one to have an email account no other requirements such as installations.
Emails can be used on any platform whether Android or iOS.
One doesn't require a computer for the backup, a phone is enough.
Cons:
Mmessages are exported in a .txt file hence one can't reply or know the sender.
Emails also require a good internet connection for the backup process.
Emails also don't allow one to view the WhatsApp chats on your iPhone since it's a .txt file.
Email backup takes time as the number of backup chats per time is limited.
Chrome extension
Backup WhatsApp Chats is a Chrome extension that enables you to download your WhatsApp chats to your computer.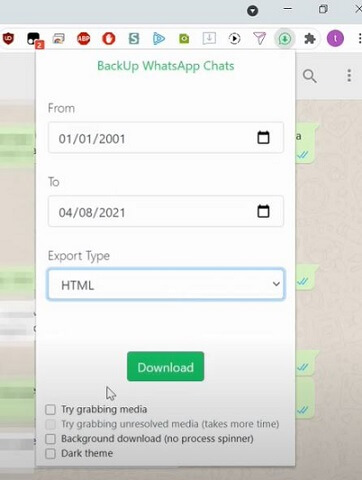 export whatsapp chat via chrome extension backup whatsApp chats
To use a Chrome extension to back up your WhatsApp data do the following:
Open up your Chrome browser on your computer, add Chrome extension - Backup WhatsApp Chats to your google chrome.
Type the URL https://web.whatsapp.com/
On your phone go to WhatsApp and select WhatsApp web from settings and scan the QR code on your computer.
On your WhatsApp web tap on the icon on the right corner then select the date between which data will be downloaded. Click on the download tab and your WhatsApp will be downloaded.
This method is suitable as it supports various phone platforms.
However, its disadvantage is that you must have an internet connection to use and one must install the Backup WhatsApp Chats extension to use it.
CopyTrans Contacts
CopyTrans Contacts allow users to export WhatsApp chats from iPhones to a computer.
It enables users save the data in formats such as PDF, Word, Excel, CSV, and plain text.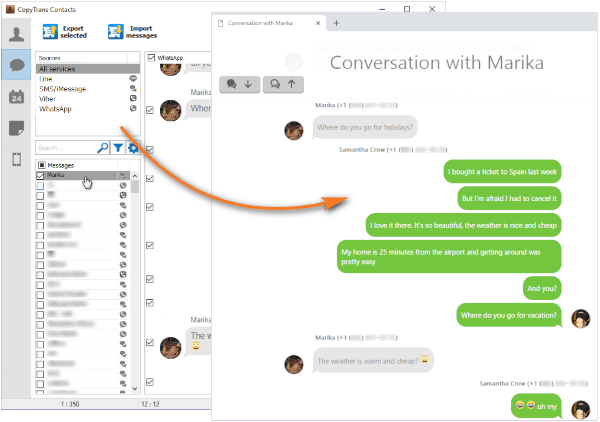 backuptrans android whatsapp transfer
The steps to use it are:
Download CopyTrans Contacts and install it on your computer.
Connect your iPhone to your computer and open the app.
Select the messages tab and click on WhatsApp from the list, you can even specify the date by use of the cogwheel icon.
Select the conversations to back up and click on export together with the format be used.
Choose the storage location to store the exported messages.
The advantage of using CopyTrans is that you can make a full backup or increment on the previous backup, plus it's compatible with iTunes backup.
The only disadvantage is that you have to install it on your computer to use it.
iMazing
iMazing is a tool that offers an easy solution for exporting your WhatsApp chat on your iPhone. It supports formats such as Excel, PDF, text, and CSV.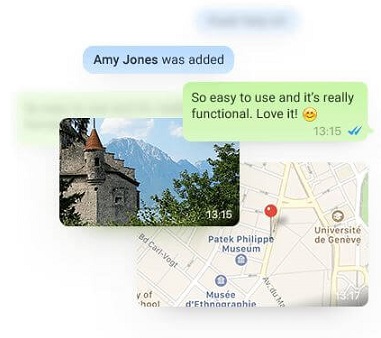 export whatsapp chat via imazing
The steps to use are:
Download and install iMazing.
Open it and select your connected iPhone in iMazing's sidebar and select WhatsApp.
Select on the chats to export and click on the export tab, you can choose the format of export.
Choose the export destination.
iMazing offers many export forms, it also supports WhatsApp and WhatsApp business, and has different search filters at your disposal.
However, you must download and install it.
Backup messages of Whatsapp
Backup messages of Whatsapp is a app for iOS users to eport chat messages and media from Whatsapp to this safe application and lock it with a passcode or Touch ID or Face ID.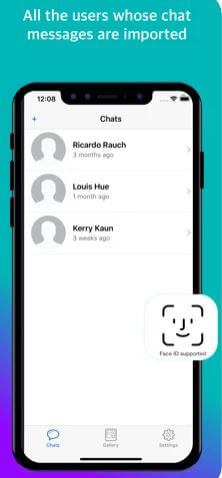 export whatsapp chat via backup messages of whatsapp
The steps to use are:
Launch WhatsApp and click the export tab to import your chat messages to app - Backup messages of Whatsapp.
Lock the app with your passcode or Touch ID or Face ID and use anytime you want.
This method is fast but only works for iPhones.
With this article, your memories are kept safe through the above backup ways.
Among the backup ways addressed, Mobitrix WhatsApp Transfer is the most recommended for its reliable features on top of it being safe and secure.