WhatsApp data plays a role in our life in terms of storing memories and chat history thus, often people want to backup this data. The trouble comes when we want to restore our backup.
In this article, we introduce 3 quick ways of restoring WhatsApp backup for Android users. Comparing the three methods on basis of their advantages and disadvantages, we conclude that Mobitrix is the most recommended way.
The Most Recommended Way: Mobitrix
If you haven't come across Mobitrix before, worry not. Mobitrix is a third-party tool that comes in handy in restoring WhatsApp chats without any data loss. Mobitrix is a professional tool that gets things done quickly and with just a few steps.
Mobitrix is the recommended method over the other two methods discussed as with Mobitrix you don't have to uninstall your WhatsApp and it supports both Android and iOS which makes it a universal tool for all users.
To use Mobitrix first, download the software from the official website then follow the steps below.
Launch Mobitrix on your computer with your Android phone connected to the computer. Click the option to backup WhatsApp to the devices.

connect the 2 devices to pc

Select the option to restore WhatsApp then select the WhatsApp data you want to restore.
Click restore and let the process finish uninterrupted.

start to restore whatsapp
Once the process completes, that's it. You have successfully restored your WhatsApp backup via Mobitrix with just a few, simple and instant steps.
The benefits of using Mobitrix are:
You won't have to uninstall WhatsApp.
It has no storage limitation like in the case of Google Drive.
It supports both iOS and Android.
With Mobitrix, your data is kept safe.
Restore Android WhatsApp backup via Google drive
In case you regularly opt to backup your WhatsApp to Google Drive, you can restore the backup with ease. However, few things need to be in place:
Ensure that the current Android phone that you want to backup to is the same one you made the backup to Google Drive with and the same Google account.
You need to have adequate free space on your phone to accommodate the backup.
Your phone should be well charged before you start the process.
Ensure you are connected to a stable and strong internet connection.
Once the above things are in place, proceed to restore your backup as shown below:
Delete WhatsApp from your phone then reinstall it.
Launch the reinstalled WhatsApp.
Follow the prompts to verify your details.
Once WhatsApp detects your previous backup on Google Drive, you will be prompted whether to restore it. Click Restore and your WhatsApp will be restored.

how to restore whatsapp messages on new phone using google drive
This method is convenient and also fast,
However, its disadvantages are:
You must uninstall your WhatsApp.
It will only restore your last backup.
You can't restore a backup between different platforms like from iOS to Android.
Restore Android WhatsApp from local backup
This method works only if you have a local backup of your WhatsApp.
Here is a quick tutorial on how you can create a local backup:
Open Settings on WhatsApp, and navigate to Chats > Chat Backup > Google Drive.
Navigate back to Chat Backup and click on the Back-Up option.
Select the Never option.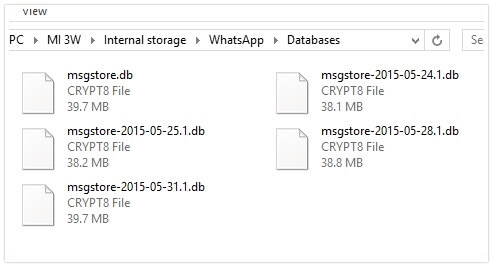 via local backup
Once the process completes, you will have a local backup with you.
Now to restore WhatsApp from the local storage, do the following:
Uninstall WhatsApp from Settings > Apps > WhatsApp.
Download and install WhatsApp from Google Play Store.
Launch WhatsApp and follow the prompts to set it up.
On the last step, click the option to Restore.
Let the restoration process complete uninterrupted.
Your local backup will have been restored.
The advantages of this method include:
third-party tools are needed.
No storage limitation
You get to restore your previous local WhatsApp backup.
However, it has its disadvantages.
You must uninstall the current WhatsApp.
It's time-consuming.
The procedure is complex.
It can't restore WhatsApp backup from an iOS to an Android.
To conclude, the article has introduced three ways that you can use to restore WhatsApp backup to your Android phone alongside their advantages and disadvantages. Moreover, from the comparison made, Mobitrix is the most efficient and recommended way to restore backup whether to an Android or iOS.