There is some good news for users who aim to use Apple's Move to iOS app to transfer WhatsApp data from Android to iPhone!
Finally, Apple and WhatsApp have announced that it is now possible from June 14th, 2022.
How?
In this post, I will share the information on how you can use the update. However, I have known that this method may not be the most perfect solution for WhatsApp transfer.
For this reason, I will also discuss the steps and features of much more powerful alternatives, such as Mobitrix and WAtrans to migrate data.
So, let's begin!
What's the Best Tool for WhatsApp Transfer?
Which tool best suits a standard user to transfer WhatsApp messages from Android to iPhone.
I have compiled a comparison table that will allow you to decide which one is the best platform for you:
| Tools | Move to iOS | Mobitrix WhatsApp Transfer | WATrans | Email |
| --- | --- | --- | --- | --- |
| Platform | Mobile-based application | A desktop-based all-in-one tool | Desktop enabled web app | Desktop, browser and app |
| Factory reset | Needed | No needed | No needed | No needed |
| Overwrite original data | Will | Won't | Won't | Won't |
| Transfer speed | Slow | Fast | Normal | Slow |
| Ratings | 3.0 | 4.4 | 4.4 | 2.8 |
Given the circumstances, Mobitrix WhatsApp Transfer is the most suitable option. This tool is compatible with every standard iPhone and Android model.
Also, it is one of the cheapest ways to transfer WhatsApp from Android to iPhone.
Transfer WhatsApp from Android to iPhone without Backup
Well, the number one solution for transferring WhatsApp between Android and iPhone devices is through a pro software called Mobitrix WhatsApp Transfer.
This software can transfer as many as 2 million WhatsApp messages across two devices without any hassle.
The handy tool is capable of moving every sort of WhatsApp data, including messages(individual and group chats), media files(videos, images, documents), voice notes, emojis, and even stickers. In addition, it works on all modern iOS(15) and Android(12-Snow Cone) versions.
Trustpilot
Why I Do Recommend Mobitrix?
It lets you export WhatsApp chat history to PDF, HTML, or TXT formats for viewing.
No factory reset required(You'll not lose any data)
Fast transfer speed.
The iPhone's previous WhatsApp chat data will not be overwritten/lost
Supports all WhatsApp versions(WhatsApp/WhatsApp Business) - Including the modded apps(GB/FM/OG/AERO WhatsApp)
How to Transfer WhatsApp Android Directly to iPhone
Launch Mobitrix WhatsApp Transfer. Click Transfer.
Connect your Android phone and iPhone to the PC. Click Transfer.

Set up devices to start the WhatsApp transfer

Go to WhatsApp Settings and backup chats locally.

Backup WhatsApp chats locally

Install the developer version of WhatsApp on your Android phone. Log in and tap Restore.

Restore chats to the developer version of WhatsApp

WhatsApp Messages will be copied to the computer, which will be converted and restored by Mobitrix to your iPhone.

Copy WhatsApp data to the computer

Your WhatsApp messages will be transferred from Android to iPhone.

WhatsApp Transferred from Android to iPhone
You can also watch the video guide on how to transfer WhatsApp from Android to iPhone:
How to Transfer WhatsApp Data from Android to iPhone Using Google Drive Backup
There is another way you can use Mobitrix WhatsApp Transfer to transfer WhatsApp messages from Android to iPhone, and that is through the Google Drive Backup feature.
Even though backing up WhatsApp data on Google Drive is recommended(by WhatsApp) for Android users, you can not access the contents when switching to an iOS device.
Follow the steps below to learn how!
Click Back Up > Backup via Google Drive.

Transfer WhatsApp using Google Drive backup

Log into your Google Drive.

Log into your Google Drive

Select the backup history you need. Click Continue, and your Google Drive WhatsApp data will be downloaded to the computer right away.

Download Google Drive WhatsApp backup

Enter your Country Code and Phone Number. Hit Verify.

Verify WhatsApp backup account

Once the download is complete, click Restore Now.

Google Drive WhatsApp backup is ready

Connect your iPhone to the computer with a USB cable.
Right-click your backup file. Tab Restore to phone > iPhone.

Restore Google Drive WhatsApp backup to iPhone

All your WhatsApp chats will be restored to the iPhone.

Restoring WhatsApp data to iPhone
Transfer WhatsApp data via Move to iOS App
As I had shared earlier before there was no support offered by Apple to transfer WhatsApp chats from Android to an iOS device.
However, things have changed!
If you own an Android phone with version 5.0 or newer, and have at least iOS 15.5 or above installed on your iPhone, then using the latest Move to iOS app update, you'll be able to automatically and securely move your WhatsApp content to the device.
Note: For this method to work, the iPhone should be in a set-up state, meaning you should either use a new iOS device or you must factory reset it before transferring WhatsApp data from Android.
Steps:
After installing the Move to iOS app on your Android device, launch it.
Next, enter the code that is displayed on your iPhone.
Now, on Android, you will be shown the Transfer Data section. There, select WhatsApp.
This action will encrypt your WhatsApp data and start the data shifting process. Also, you will be automatically signed out of your WhatsApp account on Android. Tap on Continue.
Once you receive the Transfer Complete notification, press Done.
Ensure the latest WhatsApp version is installed on the iPhone. Otherwise, the encrypted data won't be decrypted.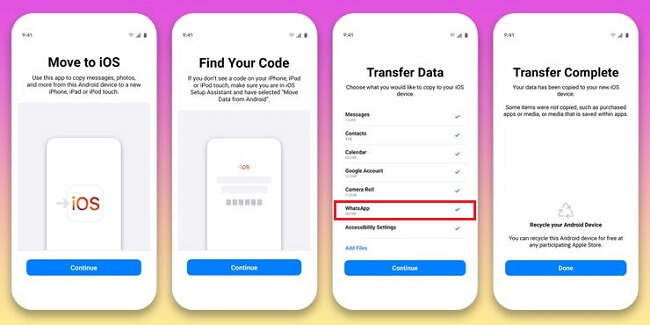 Transfer WhatsApp via Move to iOS app
Pros
It transfers data via WiFi
Free
Cons
Only works on devices with the Android 5.0 or newer, and iOS 15.5 or above.
Slow and low success rate due to WiFi-based transfer
The iPhone needs to be restored or factory resetted(All data will be erased)
The data transfer fails midway, and you will receive the "unable to migrate" error on the Android phone.
Transfer WhatsApp from Android to iPhone Without PC Via WAtrans
If you do not have access to your desktop or if it is too old or sluggish to function properly, then it could take ample time setting it up to transfer WhatsApp chats from Android to iPhone.
But, what if I tell you there is no need to access your desktop to complete this activity.
Well, it is possible!
Under such circumstances, you can try to use the app - WAtrans.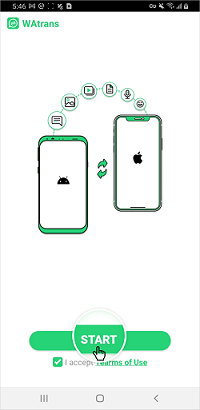 Transfer WhatsApp without PC via WAtrans
No matter which version of Android or iPhone you are using, the app supports transferring WhatsApp chats and media files.
Here is how you can transfer WhatsApp from Android to iPhone with WAtrans:
Launch WAtrans. Tap START.
Select a WhatsApp version. Tap Android to iPhone.

Transfer WhatsApp from Android to iPhone

Backup your WhatsApp data as instructed. Click Next.

Locate WhatsApp android backup

Enter your phone number for WhatsApp.

pair WhatsApp backup

Connect your Android and iOS device with an OTG/USB-C to Lightning cable.

Connect Android device and iPhone using cable

Tap Transfer Now on WAtrans.

Transfer WhatsApp data to iPhone

Once the transfer is complete, your iPhone will restart.

WhatsApp transfer completed
Watch the video tutorial and learn how to use WAtrans:
Pros
A pro app to transfer WhatsApp across platforms at ease.
Supports both WhatsApp and WhatsApp Business.
No need for a PC - it can be done directly from your smartphone.
Cons
Takes ample time(generally, up to 30 minutes) to shift data - It also depends on the size of your WhatsApp data
Requires an OTG cable
Move WhatsApp Chats from Android to iPhone Using Email.
Email is another effective way to move your WhatsApp data from an Android to your iPhone. I've added this in because it's super common and easy to use.
Be careful though: you can only do this by transferring your chats in succession, which could end up taking up all of your time.
Here's how to go about it;
On your Android device, open WhatsApp and select the WhatsApp chat you'd like to transfer to the iPhone.
Now, tap on "Settings > More > Export Chat >Email" and choose whether you'd like to attach media or not.
Enter the recipient email address and hit the Send button. Now log in the recipient email on your iPhone. You should be able to access the attached chats.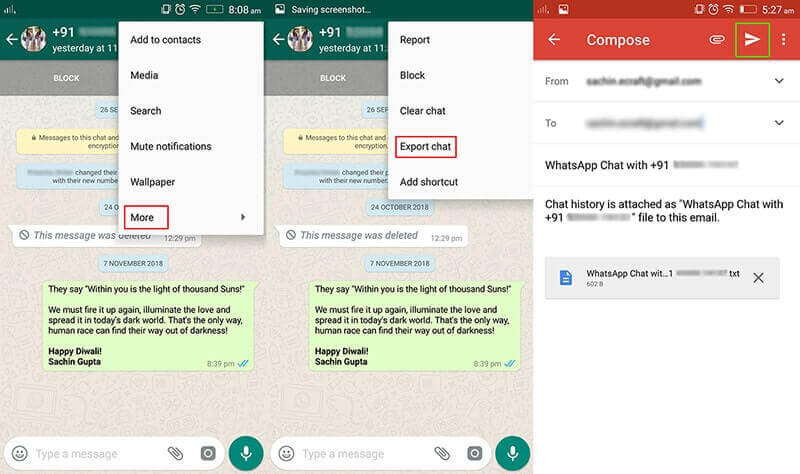 Export WhatsApp via Email
Pros
It's a relatively simple way to transfer WhatsApp to a new phone.
Cons
You can only use it to transfer WhatsApp messages one after another.
You can't open the chats in WhatsApp on the new iOS device since they are attached as ".txt" documents.
You can only transfer up to 10,000 latest messages with attachments and 40,000 messages without media attachments.
Tips: Using a Phone Number/SIM card DOES NOT transfer WhatsApp messages from Android to iPhone.
You've probably wondered or even seen an article saying it's possible to transfer WhatsApp backup from Android to iPhone via Phone Number, SIM card.
I tried them...not working.
The change number feature only allows you to change the phone number associated with your WhatsApp account. Yet your local backup is not associated with the Phone Number or Sim Card. Therefore, it won't help you restore your backup data when you take a new SIM card to your iPhone and install WhatsApp.
Instead of wasting time on something that doesn't help, you may want to skip trying the Phone Number/SIM card method and save yourself some energy.
Q1. How Can I Transfer My Two WhatsApp Accounts from Android to iPhone?
WhatsApp offers two kinds of apps which includes the simple WhatsApp messenger and WhatsApp Business.
Unless you are using both on your Android device, then it is quite possible to transfer your chatting contents to the iPhone using services, such as Mobitrix WhatsApp Transfer and WAtrans.
However, most Android phones support the dual-sim feature, where you have the luxury of using two sims on the same device. But, it is unlikely to combine 2 different WhatsApp accounts into one while transferring it. Also, iOS devices only let you use 1 sim at a time.
For this reason, you must decide which WhatsApp account(if the 2nd one isn't WhatsApp Business) you need to use on the new iPhone.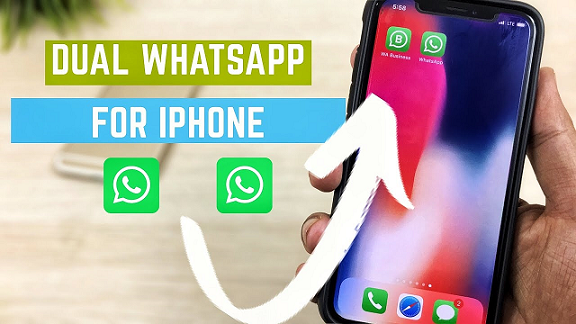 Transfer dual WhatsApp to iPhone
Q2. Will I lose my WhatsApp data if I use the Move to iOS app
Yes, you can't transfer:
Peer to peer payment messages
Your WhatsApp call history
However, to successfully transfer WhatsApp contents to the iPhone, you must factory reset the iOS device, which will erase all data on it, or else, this method won't work.
Q3. Can I transfer WhatsApp data using the Move to iOS app without doing factory reset?
No. This method is suitable, primarily, if you have a newly purchased iPhone as there will be no data lost while doing factory reset.
In the case of an older iPhone, things are a bit complicated. So, the alternate option is using Mobitrix WhatsApp Transfer application that allows you to move WhatsApp chats and files without doing factory reset.
Q4. Is it possible to transfer WhatsApp data on Android to a new phone number on iPhone?
You can switch the phone number on your Android first while keeping the same chat history. Once all is set and done, you can use Mobitrix WhatsApp transfer or Move to iOS to move the WhatsApp chat history and media files to the iPhone.
WhatsApp has become a necessity to communicate with loved ones and business associates in the modern world. Though the messenger app is user-friendly and convenient, it was hard work trying to transfer WhatsApp from Android to iPhone.
However, now that the Move to iOS app actually supports transferring WhatsApp data from Android to iPhone, it has brought a huge sigh of relief.
Still, things are not as simple, the transfer process generally fails midway. Plus, you have to factory reset your iPhone, resulting in losing all data .
However, it is where Mobitrix WhatsApp Transfer or WAtrans is here to help, as these tools work on the majority of operating systems.
Moreover, after reading my experience using the apps, I hope you can now quickly move your valuable data from the old Android to the new iPhone.