I love all the methods, but the first trick is my favorite method of all, as I don't have to move a single inch from my place. 
What can be more annoying than waiting for animation so you can start playing again? This next trick lets you skip the animation of Pokéball shaking and Pokemon catch screen.
You might receive warnings for suspicious acts like using third-party software or might also get banned temporarily or permanently.
Preface
Pokemon Go is a very exciting and competitive game, and I love to be on top all the time to boast in front of my friends' circle.
But things are boring in the same place and similar working, so I decided to come up with some tricks that can make it more fun to play.
If you also wish to become a Pro in Pokemon Go, then go through this article till the end so you can also learn all the tricks I have listed after experimenting.
What Is A Pokemon Go Cheat?
Are your friends ahead of you in the game? Do you want to beat them and be the top one? Pokemon Go cheats will work best for you in this case. The Pokemon Go cheats are known as some bugs that trick the game and help you catch more Pokemons and fulfill more tasks more quickly than others. Pokemon Go cheats are not harmful to the game in any case but only for personal use.
Let's take a look at the benefits of Pokemon Go cheats.
Benefits of using Pokemon Go Cheats
With the help of cheats, you can play Pokemon Go without moving.
You can complete daily tasks with minimum effort, such as walking your buddy.
Cheats also enable joystick mode so you can move like a natural.
They can be used to catch the rarest Pokemon around the globe.
Do you want to try these cheats? Of course, you would love to as they are so exciting and helpful. Let's move to the next part and look up some cool ways to trick the game.
Trick 1: How to Spoof Pokemon Go Location
The most demanding trick you will ever learn is spoofing location in Pokemon Go. The tools let you play the game without moving. Here I have listed a tool for both Android and iPhone users to enjoy spoofing.
MagicGo (Most recommended for iOS)
MagicGo is popular as a spoofing tool specially designed for iOS users to professionally change their location with just a single click. The tool is very quick to use and works smoothly to spoof your location anywhere in the world.
Let's get to the pros of the tool before moving to the steps.
Pros
The tool works with one click only.
It can change location to anywhere in the world.
The two-spot mode lets you adjust the speed for a real-like experience.
The joystick mode can be used to move up, down, left, or right.
Steps
Launch MagicGo
Connect to a computer and click start.
Choose a location and select move.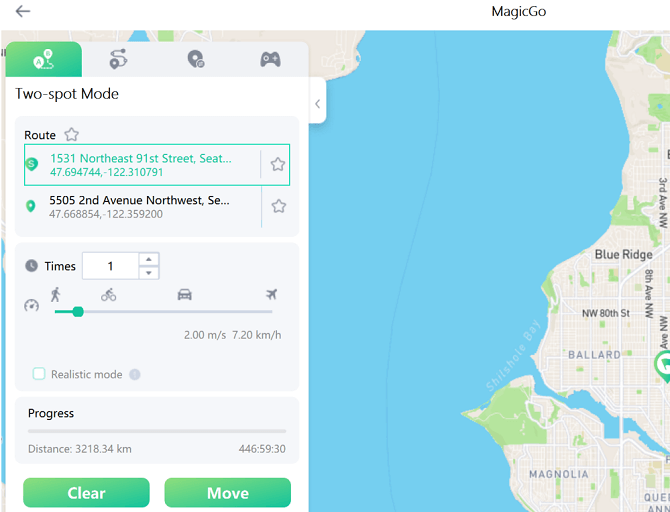 With the click, you will be moved to a completely new place and can enjoy catching Pokemons in different regions.
Fly GPS - Location fake/Fake GPS (Most recommended for Android)
Android users can also spoof their location with the help of the Fly GPS app, which enables you to change your location and enjoy the benefits of different areas. The pros and cons of the app will help you understand things better.
Pros
The spoofing app comes with easy steps and a friendly interface.
You can also run this app on older versions of Android.
Cons
You need routing to run Fly GPS.
You might be moved to the wrong location because of glitches.
Steps
Launch the Settings and find your build number.
Keep tapping the build number till you see developer mode.
Enable mock location from the developer options settings.
Open Fly GPS application.
Select a mode and choose a new location.
Trick 2: Skip Pokéball shaking animation and Pokémon catch screen
What can be more annoying than waiting for animation so you can start playing again? This next trick lets you skip the animation of Pokéball shaking and Pokemon catch screen so you can play your game in a flow. The steps to the trick are as follow:
Steps
Hold the Pokéball switcher and drag it to the left while holding it.
Throw a Pokéball with your other hand and catch the Pokemon.
Remove the holding finger when the Pokeball hits the Pokemon
Quickly close the Pokeball drawer that will open
Click on the escape button.
You might have to repeat the procedure if this does not work or an error message appears.
Trick 3: Skip the Pokemon Go Raid animation
We learned how to skip Pokemon shaking animation, but what about the Pokemon Go raid animation. To skip Pokemon Go raid animation and save your time, follow these steps.
Steps
Build an empty team.
Join a Raid.
Pick your empty team.
Wait for Raid to start.
Pick your real team.
By picking the empty team, you will be redirected to the beginning screen to choose a real team, and this will skip the animation.
Trick 4: Kick a Pokemon out of a Gym
Are you annoyed by a particular Pokemon in the Gym or want to place your own Pokemon? Here is how you can kick a Pokemon out of a Gym.
Steps
Start a Gym battle with your three fellow players.
Let the player one battle while the other players leave.
The other leaving players join a new battle.
Now, the battling player leaves while the two keep battling.
Player one joins a new battle and starts battling.
Let all the players finish the battle at the same time.
Losing so many battles at a time will lower the authority of a Pokemon, and it will be kicked out of the Gym.
Pokemon Go Cheats FAQs:
I decided to go the extra mile to help you enhance your experience, so here are some FAQs that can help you understand things in depth.
What happens if Nintendo detects spoofing or cheating?
Nintendo states that it has every right to ban any account that is involved in any suspicious activity. You might receive warnings for suspicious acts like using third-party software or might also get banned temporarily or permanently.
How many times will Nintendo warn me before banning my account permanently?
Nintendo cares about their customers, so usually, they give around two to three warnings before banning the account permanently in case users want to repent and not use any unfair means.
Is it a risk for my account to use a cheat in the game?
Yes, it can be a risk if you do not pay attention to the policy of tools. To protect your account, I advise you to always download any tool or software from a genuine or a trusted source.
How exciting would it be to visit your favorite places virtually and play your favorite game Pokemon Go, with tricks? It is like two wishes coming together as one. I took full advantage of this opportunity with the help of MagicGo and visited my dream place with 40+ other countries. The tool was so supportive and super smooth with a user-friendly interface.