Our phones are part of us, it's what we use to communicate to others via calls and even during leisure to listen to music and watch videos, and in a situation that we can't have them on or won't turn on. The situation becomes more miserable.
Part 1. Reasons why your iPhone won't turn on
1. Discharged battery
Your iPhone might fail to turn on due to discharged battery. The most common reason is the consumed battery
2. Update issues
This is the case where your iPhone may encounter may network issues while updating an OS. If the process is terminated before it is finished it may cause your iPhone not to turn on.
3. Attack by Malware
This is where you install apps from untrusted sources making your iPhone vulnerable to security attacks.
4. Software glitch
Drivers that have become unstable in your iPhone due to changes can make your iPhone not to turn on.
5. Physical damage
iPhone that has crashed or dropped in water may cause hardware components to fail hence iPhone won't turn on
Part 2. What to Do When Your iPhone Won't Turn On
1.Try charging your phone
The first step is to recharge your iPhone. Make sure the charger is connected correctly, and it is in good condition.
Use the original iPhone charger which is compatible with your phone.
2.Best software to fix "iPhone won't turn on"
One simple solution is to use software to repair your iPhone. You better to fix without iTunes, because you may lose your personal date while using it. Your precious and happy memory. Using a third-party tool like Mobitrix Perfix.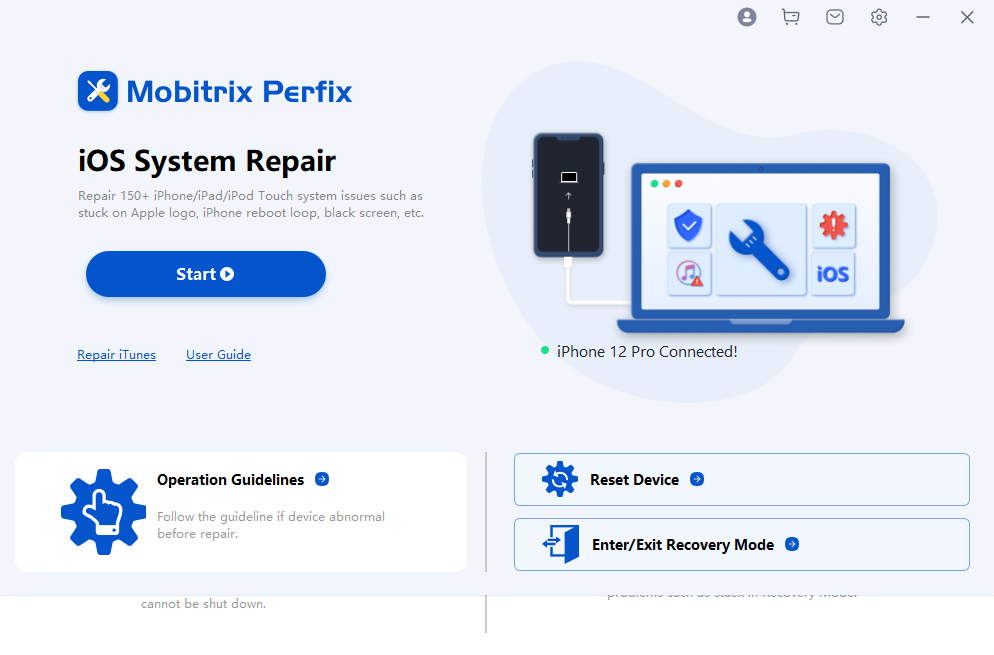 Use Perfix "iPhone won't turn on"
Mobitrix Perfix is a professional iOS repair software that can effectively fix many iPhone problems.
Therefore, with Perfix you will be sure that your problem will be solved effectively. The steps to follow include:
Step 1: Download Perfix and install it on your computer.
Step 2: Connect your iPhone to the computer.
Step 3: Select "Standard Repair".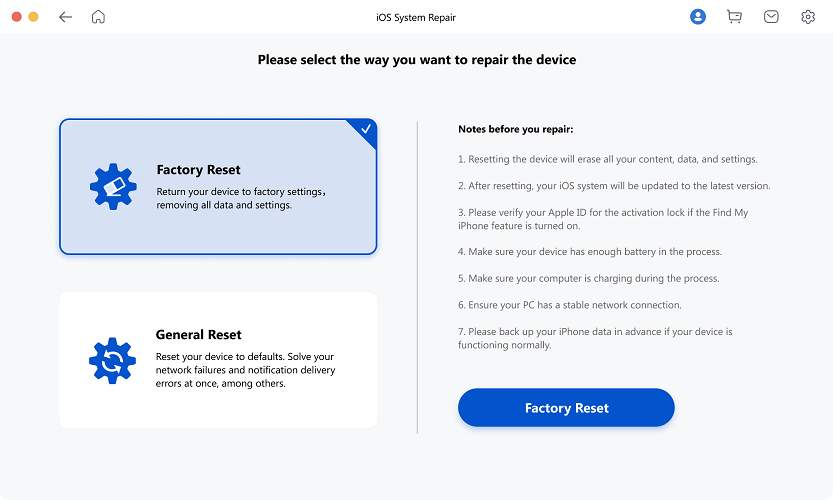 With a few simple steps, you will be able to access your iPhone. Some of the great features of using Perfix include:
Does not require you to install iTunes/Finder to use it.
You will not lose any data while repairing your iPhone.
Contains simple and few steps and your problem will be fixed.
Supports all versions of iOS.
Supports all versions of computers be it Mac or Windows.
3. Check the display
Make sure it's not just the display.
Step 1: Go to iTunes and select iPhone on the devices list. Then click 'Summary' at the top of the screen.
Step 2: Click 'Back up now' to back up your iPhone.
Step 3: Click 'Restore iPhone'. Then follow the instructions that appear on the screen for restoring.
Step 4: After restoring your iPhone, you can click 'Restore backup' on the iTunes screen to restore the data that you backed up.
4. Put your iPhone into recovery mode
This Put your device in recovery mode and set it up again. Use the following steps when putting your iPhone into recovery mode:
Keep your device connected to your computer and wait until the recovery mode screen appears:
iPhone 8 or later: Press and quickly release the Volume Up button. Press and quickly release the Volume Down button. Then, press and hold the Side button until you see the recovery mode screen.

iPhone 7, iPhone and 7 Plus: Press and hold the Top (or Side) and Volume Down buttons at the same time. Keep holding them until you see the recovery mode screen.

iPhone 6s: Press and hold both the Home and the Top (or Side) buttons at the same time. Keep holding them until you see the recovery mode screen.
Step 1: Locate your device on your computer.
Step 2: When you see the option to Restore or Update, choose Update. Your computer will try to reinstall the software without erasing your data. Wait while your computer downloads the software for your device.
Step 3: If the Update can't solve the issue and then repeat step 2 and choose Restore. By doing this, your data will be erased, make sure you have an iPhone backup on your iCloud or computer.
Step 4: After the Update or Restore completes, set up your device.
Disadvantages Put your iPhone into recovery mode
Recovery mode might cause data loss if you choose the Restore option.
5.Put your iPhone into DFU mode
DFU is the most important when restoring important updates on iPhone. In case the recovery mode doesn't work, consider using DFU to solve the problem.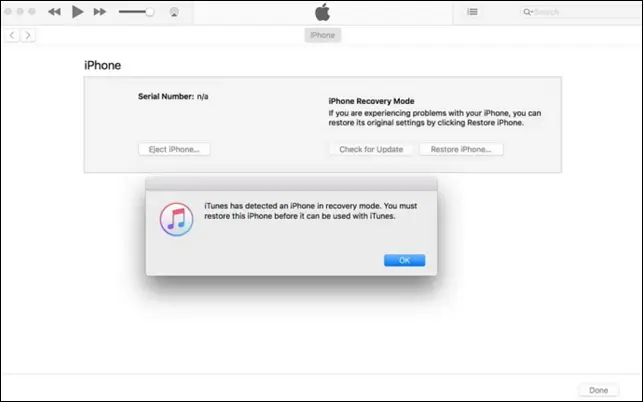 The difference between DFU and other forms of restoring iPhone won't turn on is that DFU can select firmware for your iPhone.
Check your iPhone twice to ensure that your iPhone has backed up to prevent losing it since DFU erases all personal data.
Double-check whether your iPhone has a backup because DFU restore erases all the personal data.
How to use DFU on iPhone that won't turn on
Step 1: Open iTunes and connect your iPhone to computer.
Step 2: Hold down the power button and home button (or volume button if you have iPhone 8 and newer) for 5-10 seconds simultaneously
Step 3: After 10 seconds, release the power button but continue to hold the home/volume button for another 5 seconds
Step 4: If the screen stays black, then your iPhone is in DFU mode. Check if there is an alert in iTunes that the device was detected in recovery mode.
Step 5: Click OK in iTunes.
Step 6: Click Restore iPhone.
Part 3: What to do if none of the above solutions works
The problem stated above can solved by just charging the phone or using DFU which can read to loss of data. By, using Perfix will save you from this struggle, which will fix this annoying problem while protecting your personal data.
If you are not helped by the solutions above, then you can consider Visiting any Apple center near you for assistance.
Summary
To conclude, many of us heavily rely on our iPhones for different functions such as keeping updated, communications, and education purposes. So, experiencing problems such as your iPhone won't turn on can greatly affect many things.
But with this article, you will be sure to find a way of solving the problem Perfix being the best among them all as it is less complicated and fast.
If you find none of the above solutions helpful, please seek help from Apple