You can get Apple support by going to "apple.com".
You can also contact Apple's support with live chat or genius bar for any issue with your iOS device.
If you have never used Apple support and don't know how, it's also not a big deal to worry about. I'm here to help you.
Have you ever had an occurrence where you needed to contact the support team of Apple real-quick?
Just so you know, Apple's support is truly amazing, with live chat or genius bar for any issue with your iOS device. But if you have never used Apple support and don't know how, it's also not a big deal to worry about. I'm here to help you.
Working at the Apple store, I've narrowed down some of the most effective ways to get in touch with Apple support.
I also got some pretty decent solutions to solve the Apple device's issue, but you have to read the article till the end for a better understanding.
What can the Apple Support team do?
If you are a new iOS device user, you might need some time to get acquainted with Apple's ticket processing first. Apple highly believes in customer satisfaction, so they are always there to help you via their Apple support system.
They offer offline and online services to help you through the problem. You can ask them about any issue such as:
Forgetting your Apple ID or password
Queries about billing and subscription
Repairing of your Apple devices
Hardware and software problems
Regarding services they offer
Or anything you are having problems related to Apple devices.
If you simply want to connect with Apple staff without going anywhere, read on to the most effective online methods below.
How to access Apple live chat support?
Apple offers a lot of services, out of which live chat is the most popular one. You can go to Apple's support website and ask questions to an Apple representative to clear your thoughts. Here are the advantages and disadvantages of fixing your devices by the Apple support live chat.
Advantages
Apple offers secure and professional customer support.
They are available 24/7 with quick response.
You can access it through the website.
Disadvantages
You will have to repeat the complete process if the webpage is mistakenly closed.
Apple ID and password is required to sign in.
You will have to select a linked device or enter the IMEI number manually.
Steps
Go to the Apple website and click on 'support.'



As you scroll down you will see "We are here to help".

Select the product or service you are having an issue with and specify the issue.
Answer the questions related to the specified issue you choose. And Apple may give you tips on how to troubleshoot, or the "How would you like to get help? " page, depending on the issue you choose.
Next, choose the live chat option, and you will have to wait for the estimated time given on the screen.
Undoubtedly, Apple support is a great way to solve your queries or issues, but with so many customers waiting to get their turn, processing slows, and you might have to wait a lot. Besides this, many users forget their Apple ID and password, so it can be a bit difficult to proceed.
But if you only want to get help with software malfunction, you can go for professional Apple repair software: Mobitrix Perfix, and solve your issues in minutes.
How to get support for Apple devices with Mobitrix Perfix?
Well, if you just hear 'Mobitrix Perfix' for the first time, I can understand you will be curious to know what this is. Don't worry; I am going to explain everything in detail.
What can Mobitrix Perfix do?
Mobitrix Prefix is a professional software developed for people like you who are having trouble with iOS devices and are unable to get help from Apple support.
It is capable of repairing up to 95% of problems in no time that occur in iOS devices like iPhone, iPad, tvOS, and others. You will not need Apple ID or iTunes to get access. Mobitrix Perfix is compatible with all iOS devices, including the latest iOS 15 and iPhone 13 series.
The Mobitrix Perfix offers you two modes of repairs. The standard repair method solves your issue without removing or deleting any data from your device; the second method solves the problem and deletes all the data with a higher success rate.
Here are the advantages to use Mobitrix Perfix:
Advantages
Fast: The application is swift and usually takes around 30 minutes to repair.
High success rate: The standard repair of Mobitrix Perfix has a 95% success rate, whereas advanced repair has a success rate up to 99%.
Easy to use: Anyone can use the application without any technical knowledge.
Affordable: It does not cost you like the local repair stores.
Steps
Download the Mobitrix Perfix from the website and launch it on your computer.
Now connect your iOS device like iPhone or iPad to the computer.
Select the start option from the menu and Start repairing.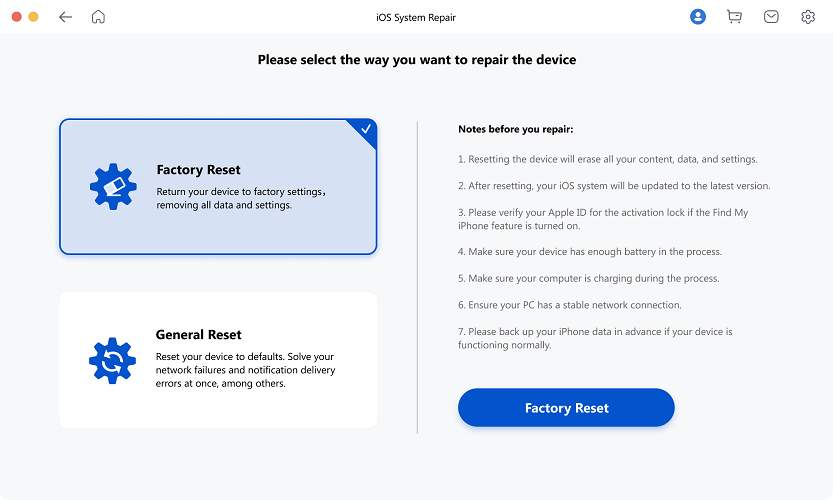 A professional tool like Mobitrix Perfix is an excellent option to solve software malfunction. If you don't have access to online tools and need to talk to someone at Apple support immediately, here is some useful information for you.
How to contact Apple Support by phone immediately?
Here are the two methods you can use to get access to Apple support through the offline process.
Call Apple
You can use the following numbers to get the Apple representative in line according to the issue and ask them about your problem.
| | | |
| --- | --- | --- |
| Situation/ Purpose | Number | Instructions |
| For any issue or problem | 1-800-275-2273 | Keep your device's serial number. |
| Education customer | 1-800-800-2775 | |
| Enterprise customers  | 1-800-800-2775 | |
| Payment issues with Apple cash or iMessage | 1-877-233-8552 | |
| Apple Online Store | 1-800-692-7753 (1-800-MY-APPLE)  | Press 0 repeatedly if you don't want to talk to the automated voice. |
To see more contact numbers, visit this link.
However, if you have an iPad or iPhone, you can also access Apple support through the app available on the App store.
Contact Apple Via App
The Apple support app is a modernized version of the support website to provide users with an enhanced experience. The steps are as follow:
Download and launch the Apple support app on your device.
Choose your problem and select the specification. You will see some troubleshooting tips.
If this does not solve your problem, you can also use the in-built app feature to live chat or call Apple support.
All the methods that I explained above are either remote or online. If you want to know more about the support at Apple stores, then here is a brief description for you.
How to contact the Apple Store or Genius Bar?
Apple stores come with a support center usually known as Genius bar. The staff at Genius bar is highly trained and can solve your problem very efficiently. All the Apple experts at the store will solve your problem with high-quality and genuine products. If they are unable to solve the problem, they will surely offer you a replacement for your device.
Before you head out, here is the Apple retail list you can use to find the exact location of the nearest Apple store. Also, do not forget to make a reservation to skip the waiting line at the Apple store.
FAQs about "apple.com support"
I can understand you might have some thoughts arising in your mind regarding the Apple support, so here I tried my best to answer them.
How to find your device's serial number?

You can find your device's serial number in the General settings under the 'About' information. You might have to scroll down all the way to IMEI to get your serial number.

How to send feedback to Apple?

Although Apple does not respond to feedback, they still do read them. You can send them feedback by following these steps:

Go to the feedback website of Apple.
Select a service or product.
Write your feedback and click enter to send feedback.

How long will my iPhone repair take in the Apple store?

Different services take different times. Apple offers same-day service for many of your problems, but if repairing your device takes time, you will be notified when it is ready for collection.

How much do iPhone repairs cost?

Apple covers the repair cost in most cases, but if it does not apply in your case, the technician at Apple support will guide you about the cost. However, if you want to get an idea of the repair cost, you can check here.

What if I have AppleCare+ for the iPhone?

AppleCare+ can provide you expert technical support regarding your device repairing, but if you do not have AppleCare+, you will have to pay extra, usually called out of warranty service fee.
Summary
Apple is the first choice of everyone to get their queries solved, but if you do not want to wait in line and need a quick solution to your device's software malfunction, then Mobitrix Perfix is the ultimate choice for you.