iPad force restart is turning your iPad on and off forcibly to solve iOS update errors, malwares, or software glitches that might be causing your iPad to get stuck, frozen, or unresponsive.
In this article, I will list some effective methods for iPad force restart to solve your stuck, frozen, or unresponsive device issues.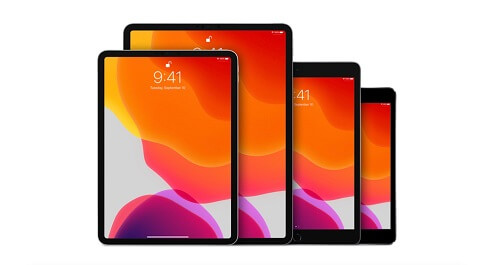 Is your iPad not charging, unresponsive, stuck, frozen, or all blank? I can understand the situation you might be facing right now because I have been through this a lot.
As an electronics technician at Apple for more than five years, I have seen thousands of people coming to me with these problems. All they expect is to get their hardware replaced.
Trust me; it is not always about hardware but the software. You can also solve these problems by iPad force restart, even if you do not have a tech background.
But for this, you have to follow me through this guide till the very end.
What iPad Faults Can Be Solved by Force Restart?
A force restart is also known as a hard reset. Basically, iPad force restart is turning your iPad or any other iOS on and off forcibly to solve iOS update errors, malware, or software glitches that might be causing your iPad to be stuck, freeze, or unresponsive.
iPad force restart won't cause you any data loss. But before you go for iPad force restart to solve your everyday iOS system and software issues; I want to let you know that it will affect your iPad's health as it is a kind of violence against the device. Not only does it harm your iPad's health, but it also decreases the second-hand recycling price.
How to Force Restart Your iPad?
Force restart does not delete your data. However, it might delete unsaved or temporary data. Suppose, if you are working on an application and didn't save the progress before your iPad starts malfunctioning, you won't be able to recover the latest progress or unsaved data.
Before starting the iPad force restart procedure, I suggest you plug the charger into a good connection outlet for an effective result. I have listed the iPad force restart method for both iPads, with and without a home button.
How to force restart your iPad without a Home Button?
Press the volume button nearest to the top button
Press the volume button farthest from the top button.
Keep holding the top button till you see the Apple logo on the screen.
How to force restart your iPad with a Home Button?
Press the home button and top button on your iPad.
Keep holding the buttons till you see the Apple logo on the screen.
For a detailed explanation of the steps, you can click here.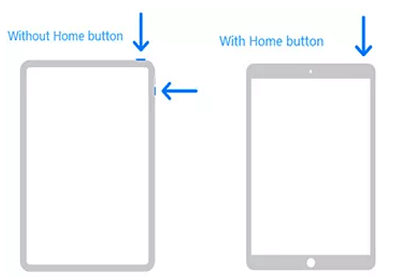 How to Solve Faults if iPad Force Restart Does Not Work?
A lot of people go for force restarting their iOS devices, such as you are looking for your iPad but let me tell you that it is not a permanent solution to your iPad malfunctioning problems. Also, you wouldn't like to take the risk of lowering the recycling price by force restarting your iPad if you are planning to sell it.
You wouldn't believe I was in the same situation as you. I was planning to sell my Apple iPad 4, but I came to know that the price has dropped because I kept forcefully restarting it many times in the past. From then, I never forced restart my Apple devices. Instead, I found Mobitrix Perfix that helped me with my freezing and stuck iPad problems.
Method 1: An Alternative Way of iPad Force Restart--- Mobitrix Perfix (Most Recommended)
If you are wondering about Mobitrix Perfix, let me tell you everything in detail. Mobitrix Perfix is a professional tool that helps you with various faults of iPhone, iPad, tvOS, iTunes, and other iOS devices such as stuck on the Apple logo, black screen, frozen, disabled, or unresponsive. Here are some advantages of Mobitrix Perfix that amazed me.
Advantages
Mobitrix Perfix does not delete your data.
Easy to follow steps with just a few clicks.
It has a higher success rate than iTunes.
You do not have to download iTunes or Finder.
The tool is compatible with all models and versions of iOS.
It is entirely safe to use and keeps up with your privacy.
Steps
Click on Start in the main menu
Click on Standard Repair
Start Repairing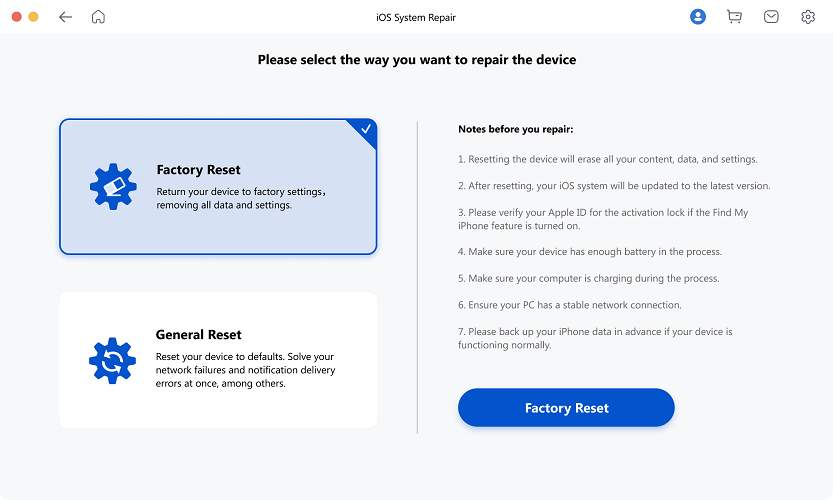 Method 2: An Alternative Way of iPad Force Restart--- Use iTunes (Complications Included)
If the problems with your iPad do not solve, you can use iTunes to update it to the latest version. But before you go with the iTunes update, I want to share some issues I experienced while I was trying out this method.
At first, iTunes couldn't locate my iPad, and then it got stuck while processing. Besides this, the process is time-consuming and can have unpredictable errors. As a former Apple technician, I would not recommend this method, but if you still want to try then here are the steps.
Steps
Connect your iPad to the computer and launch iTunes.
Locate your device on iTunes.
Click on summary and check for updates.
Select update if available.
FAQs:

I assume you must have some thoughts related to iPad force restart, so here I will be answering the question that might help you solve confusion in your head.
How to tell the difference between soft reset, hard reset (force restart), and factory reset?
A soft reset is known as turning your iPad on and off like rebooting a device, whereas a hard reset or force reset means forcibly turning your device off and on while it is unresponsive. About factory reset, it resets your device by deleting all the data and information on your iPhone, iPad, or any other iOS device.
Mobitrix Perfix VS iTunes, which one is better?
Apple recommends the iTunes method for iPad force restart but what I found better after trying both methods: Mobitrix Perfix. Mobitrix Perfix really stands out in the crowd because of its faster speed, more success rate, easier-to-follow steps, and better user-friendly interface than iTunes.
Summary:
According to my experience of trying out all the iPad force restart methods, what I have concluded is that turning your iPad off and on forcibly will damage the device. And iTunes has more cons than pros, so it is not worth the time and effort.
What I liked the most is Mobitrix Perfix. My iPad suddenly turned all black while I was playing games, and it didn't turn back on. No matter whatever method I tried, it failed. Luckily, I found the Mobitrix Perfix. It solved my iPad issue in no time. Also, the friendly interface made it super-easy for me to use.