The time has come. Apple has finally revealed iOS 16 for iPhones 8 and newer worldwide for its users to experience new technology loaded with advanced features.
But does that mean you should hop on it and upgrade your iPhone to iOS 16? I don 't think so. New updates do come with beneficial features but also have a lot of bugs.
Before jumping to the upgrade, go through this article till the end as I tested the iOS 16 update from every aspect and penned down my honest opinion about features, bugs, and safe updating methods.
iOS 16 New Features
While Apple introduced many new features in their latest software update iOS 16, the following three have become the talk of the town. Let 's get in them and see what specialty it comes with.
Personalize Your Screen - Be more creative
Apple introduced the new personalizing features to let the users feel more creative and express themselves by giving their iPhones a personal touch. With the personalization feature, you can now change the font text and color on your iPhone, add widgets on the lock screen for easy navigation and set your favorite photo as lock screen wallpaper. Not only do you get to choose a photo for your lock screen, but you can also set a shuffle mode to recall your memories every time you pick up your iPhone and see a different picture.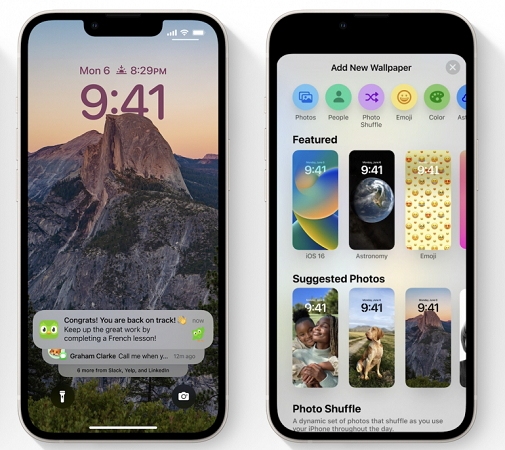 iOS 16 lockscreen personalization
Diverse Communication - Enjoy together
Ever wondered if you can schedule all your daily emails at once so you don 't have to keep hassling through the day? Well, this is now possible with Apple 's latest upgrade iOS 16 hidden features which take your communication to the next level. It does not only let you schedule emails but you can also cancel them if you made a mistake.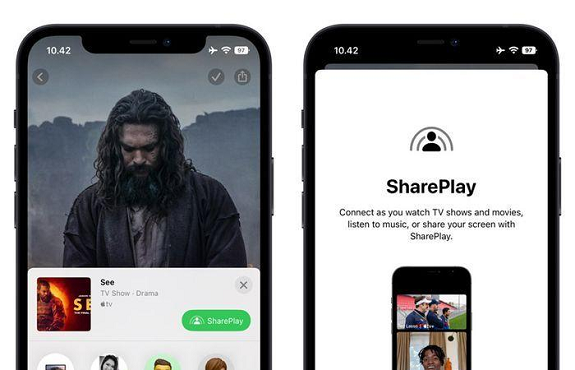 iOS 16 SharePlay feature
Another hidden feature introduced by Apple to enhance your communication is SharePlay. The SharePlay feature lets you enjoy movies, songs, etc. together by syncing. Besides this, the new iOS 16 update also comes with Dictation feature. The feature lets you move between text and voice seamlessly while also offering automatic punctuation and emoji insert.
Express Yourself - Try a new look
How exciting it feels to see an animated version of yourself with the memoji feature of the iPhone. With the latest upgrade, you can now make your Memoji look more like yourself. The newly introduced hairstyles, textures, patterns, headwear, and facial features make your animated version look way cooler than they were.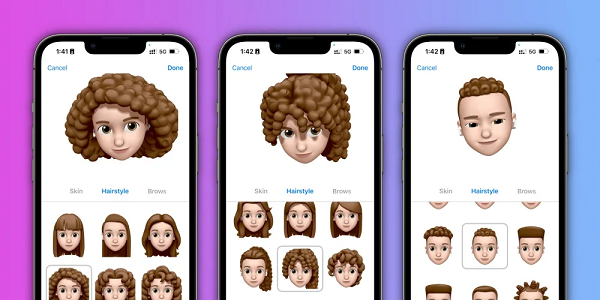 New memoji features in iOS 16
Should I upgrade to iOS 16 now?
Upgrading to a new version is always a good option as it improves your iPhone 's performance and speed. If you are eager to try the above-mentioned features then do download the latest iOS 16 update. However, there are still some things you need to know such as bugs and issues that come with it. Let 's take a look down and see if these bugs do not bother you much.
iOS 16 Bugs & Issues
Bugs and issues have always been a part of new updates and there is nothing to worry about. If a number of users are facing the same issue then most likely Apple will release a newer version such as iOS 16.1 to provide an authentic solution to bugs. Here are some issues that you might face with the latest upgrade.
Freezing iPhone
Usually, a phone 's performance is enhanced if it is upgraded to the latest software update. However, iPhone X users have been complaining that their iPhones are freezing while operating. If you have an iPhone X, do not update it because it might start freezing. Don 't worry, Apple has taken notice of this and will release iOS 16.1 soon to solve the freezing issue. I have listed some solutions later in the article that you can find by clicking here.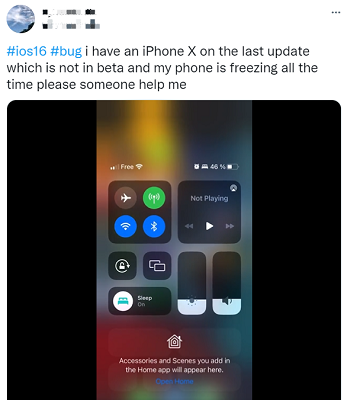 Iphone freezing feedback
Fast battery drainage
Battery draining faster than usual after the new upgrade iOS 16 is also one of the bugs users have found in the latest release. You can solve this issue by following some tips mentioned later in this article or jumping to this part.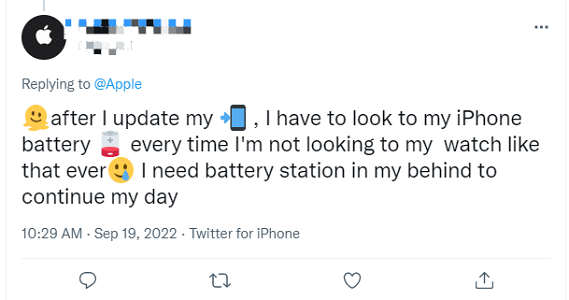 Battery drain has got faster
Third-Party Replacement
If you have replaced any part such as screen in your iPhone from a third-party store instead of Apple support then do not update it to iOS 16 at any cost because your iPhone will go brick. You can try hard resetting your iPhone or take it to Apple support to see if you can get access to your iPhone back.
AirPods connection problem
A lot of iPhone users have been complaining that they are unable to connect their AirPods to the iPhone after they updated it to iOS 16. This might be a temporary fault that Apple might be working to solve. However, the main reason can be that your AirPods are fake. Yes, the new update lets you discover if your AirPods are genuine or fake and determine their authenticity.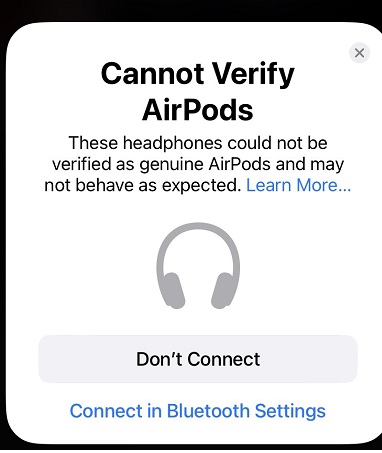 Cannot verify airpods
Malfunctioning apps
Some apps that have not been updated yet by their software developers to make them compatible with iOS 16 might not work properly. You can try checking for updates (if there are any) by such apps or wait for them to release an update.
Apple ID requirement
To get access to your iPhone after upgrading it to iOS 16, you are required to enter your Apple ID and password. If you no longer remember your ID or password then don 't upgrade before recovering them. This article demonstrates how you can recover your forgotten Apple ID and password.
Update iPhone via Perfix - The safest and most convenient way
Updating your iPhone to the latest version of iOS 16 comes with bugs and issues like freezing iPhone or fast battery drainage. But if you want to avoid these issues then upgrade your iPhone to iOS 16 with the help of Mobitrix Perfix as it is specially designed to resolve iOS software problems and issues.
Steps
Connect your iPhone and Click Start
Choose Standard Repair
Download and install the Fixfile

Download ios 16
Advantages
The process is super-fast and only comprises three steps.
Mobitrix Perfix is also compatible with jailbroken devices.
It offers you a 99% success rate with solutions for other software problems.
Update iPhone via Setting
Updating your iPhone via Settings is an official method introduced by Apple to keep your iPhone upgraded to the latest version. You can choose to update your iPhone automatically or manually via the steps mentioned after the advantages and disadvantages.
How to update my iPhone automatically?
Go to Settings on your iPhone.
Open the General tab and locate ' Software update '
Enable ' Automatic updates '

Update iPhone via settings automatically
How to update my iPhone manually?
Open your iPhone 's Settings.
Locate the General tab and click Software update.
Select Check for updates
Click Download if the option appears on the screen.

Update iPhone via settings manually
Advantages
The method is free to use.
Disadvantages
You may encounter software issues and bugs.
The method does not offer a 100% success rate.
Why won't my iPhone update to iOS 16?
There are multiple reasons why your iPhone won 't update to iOS 16 such as your device does not support the latest version or you do not have enough memory to download the update. However, you can easily fix this issue by trying one of the followings:
Try reconnecting your internet or Wi-Fi.
Restart your device
Factory reset your iPhone if it is iPhone 8 to iPhone 14.
Open your iPhone 's Settings and go to the General tab.

Scroll down and click Reset.

Click Erase all Content and Settings.

Confirm your action by clicking Reset and entering your password.
With Prefix, you can also solve other issues such as:
iOS Update Failed
iOS download stuck
iOS Update Not Appearing in Settings
Stuck on verifying update
Stuck on Slide to Upgrade Screen
Stuck on preparing update
Stuck on spinning wheel
Stuck on update screen
Stuck on charging screen
Stuck on black screen
iPhone won't turn on
Stuck on Connect to iTunes screen
Stuck on white screen
Wondering is iOS 16 for all iPhones or which iPhones can get iOS 16? iPhone 8 to iPhone 14 and later are able to upgrade to iOS 16. Any model below iPhone 8 is not applicable for iOS 16.
Battery drain has got faster - How to fix it?
The latest iOS 16 update may cause your iPhone 's battery to drain faster. After updating, if your iPhone 's battery health is under 80 and you still have a warranty left then you can get your battery replaced for free. All you have to do is follow these steps:
Steps
Back up your iPhone 's data.
Send your iPhone to Apple support.
If you are no longer eligible for a warranty, you can still get your battery replaced by paying for it.
After updating your iPhone to iOS 16, you can still get your battery replaced for free even if it is not covered under warranty as this is company 's fault foe bug in update. Follow these steps if you see " Recalibration of the battery health reporting system was not successful. An Apple Authorized Service Provider can replace the battery free of charge to restore full performance and capacity. "
The steps are the same as below.
My iPhone is freezing after updating? - Let 's downgrade to iOS 15.7
Does your iPhone keep freezing after the update? Or you don 't like the new look? Don 't worry, you can always go downgrade to your previous version i.e. 15.7 with the help of the following steps:
Steps
Download the iOS 15.7 IPSW files for your iPhone
Enter your iPhone in Recovery Mode by pressing the volume up and then the volume down button. At last, hold the side button until you see the recovery mode.
Connect your iPhone to the computer
Launch iTunes on your computer.
Go to the Summary page and hold Shift Key and click on the Restore iPhone button at the same time.
Select the iOS 15.7 IPSW that you have downloaded in the first step.
Upgrading your iPhone to the latest version i.e. iOS 16 might not seem to be a promising deal after reading all the issues and bugs people had with it. But Apple keeps releasing newer versions to resolve to solve these issues. You can either wait for these issues to be resolved officially or you can update it in a safer way through Mobitrix Perfix to enjoy new features immediately.