If you have problems connecting to iTunes for resetting your iPhone. There are various other methods you can try.
Don't forget to back up before resetting. Otherwise, you will lose all your data, and you can't retrieve it back.
Does resetting the iPhone with iTunes bother you too? You aren't alone. I have owned a mobile phone repair shop for five years. Since then, I have reset lots of iPhones.
Sometimes I had to reset to fix customer iPhone issues. Other times, to erase the iPhone's data for selling purposes. No doubt it's a very irritating and time taking process.
Most of the time, iTunes fails to connect or get stuck on the downloading software. Luckily, I have just found the perfect solution to all my iPhone reset problems. Resetting iPhones doesn't bother me anymore.
Keep up with me while I share my secret with you; you will find the solution to all of your iPhone reset problems here.
Part 1: Backup Device Before Using iTunes Reset iPhone
Don't forget to backup your data before resetting your iPhone. My customers often make this mistake and then want me to help them.
Unfortunately, I can't. If you don't back up before resetting, all your data will be lost and can't be retrieved back.
The Importance of Backups:
Backing up keeps your data safe. If you have a backup, you can go back to your backed-up data anytime you want. Let's say you get a software issue while upgrading your iPhone. Your backup will help you retrieve your original data through it.
Backup with iCloud:
To back up with iCloud: Go to Settings>iCloud>iCloud Backup. Select the "Backup Now" option, and all of your files and data will be backed up to iCloud.
Backup by iTunes:
Open iTunes to backup your iPhone, connect your iPhone to the computer and follow the onscreen steps for backup.
Once you have backed up, you can move on to the next step, i.e., resetting your iPhone. Earlier, I used to prefer iTunes for the reset as Apple recommends it.
Due to my profession, I had to fix several iPhones in a day. It would take me almost an afternoon to reset a single iPhone. Ugh, it was painful. I believe iTunes isn't designed as problem-solving software. Instead, it was intended for backup and listening to songs. Therefore, I have been looking for a way to reset iPhone without iTunes.
I have found many ways to reset iPhones without iTunes. After trying them myself and comparing the pros and cons of each, the one I recommend the most is "Perfix."
Now I use Mobitrix Perfix to reset my iPhones. It's a professional tool and a lifesaver for me, whereas iTunes has certain drawbacks. It's slow, and sometimes it fails to connect with the iPhone's operating interface.
I would say Mobitrix Perfix is a far better option. I find it much more convenient than iTunes.
Part 2: Alternatives To Using iTunes Reset iPhone
Method 1: Reset iPhone Without iTunes via Mobitrix Perfix
Mobitrix Perfix can fix 95% of your common iPhone problems without using iTunes.
What can Mobitrix Perfix do?
It performs two main functions:
Repair: The repair function of Mobitrix Perfix helps you to fix most of your iPhone software issues. It has two repair modes:
The standard repair mode.
The advanced repair mode.
Reset: The reset function helps factory reset your iPhone and erase the content and information on your iPhones. You can also do a general reset with it.
Advantages:
Fast: Resetting the iPhone with Mobitrix Perfix is pretty quick. It only takes about 30-60 minutes to reset your iPhone with it.
High success rate: The standard repair mode of Mobitrix Perfix has a 95% success rate of fixing iPhone issues. In contrast, the advanced mode has a success rate of 99%.
Easy to use: it's super easy. Even my non-techy customers love to use it.
Helpful guideline: The detailed step-by-step guide makes it beginner-friendly.
Steps:
Download and install the Mobitrix Perfix on your iPhone.
Connect your iPhone with the computer.
Click on the "Start" option to fix any iPhone issue.
Click on the "Reset Device" if you want to reset your iPhone.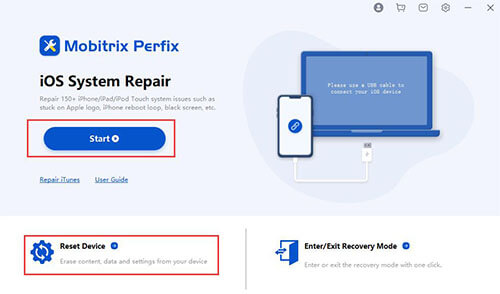 Since I have utilized Mobitrix Perfix, I haven't looked back to iTunes. Why would I? It's fast and super easy to use, and I don't have to worry about connection failure anymore. I get a successful reset with it every time.
The max it takes is about 60 minutes, but mostly it's done in half the time. If you don't want to reset with iTunes for any reason, there is yet another option for you.
You can do a reset directly from the iPhone settings. Let's move on to it.
Method 2: Reset iPhone Without iTunes Using Settings:
The best part of resetting through settings is that it doesn't require any computer. It's a relatively simpler process than iTunes.
Advantages:
It's free: You don't have to pay anything for it
It's secure because Apple proposes it.
Disadvantages:
You have to disable the "Find My iPhone" feature.
You can't reset until your iPhone is accessible and you have the passcode.
Steps:
Go to Settings>General>Transfer or Reset [device].
Select the "Erase All Contents and Settings" option.
Enter your passcode or the Apple ID password when asked.
Confirm to erase your content.
Your device will take a few minutes to reset.


You can check this Apple tutorial to return your iPhone to its default settings, like "Network Settings or Homescreen Layout."
If somehow you can't access your iPhone, you can use the "Find My iPhone" feature. It's a popular feature proposed by Apple, designed to help users find their lost phones.
Method 3: Reset iPhone Without iTunes via iCloud
The "Find My Device" setup was actually designed to prevent the abuse of iCloud by preventing it from unlocking stolen iPhones.
But only a few people know that it's also one of the methods you can use to reset your iPhone. Like iTunes, it also has a few drawbacks as well. But first, let me tell you its benefits. I am running a few minutes late; my previous meeting is running over.
Advantages:
It's a free and secure method to apply, as Apple proposed it.
You can efficiently operate it via app or the web hence no device limitations.
Disadvantages:
iCloud requires a "Find my iPhone" feature to reset your iPhone.
You will need your Apple ID and password to reset with iCloud.
An internet connection is mandatory.
With the iCloud reset, you can lose any data not backed up.
Steps:
Open the web browser on your pc, go to iCloud.com
Log in to your iCloud account using your iPhones Apple ID and password.
Select the "Find My iPhone" option and click on the "All Devices" option.
Choose the iPhone that you want to reset. (In case you have multiple devices with the same Apple ID)
Select the "Erase iPhone" option, and you will delete all your data.


Now that you know all about resetting your iPhone through iCloud, let's move on to our next part. Many non-tech people get confused between resetting and restoring iPhones. If you get confused, too, keep reading further to clear your confusion.
Bonus Tip: Resetting vs. Restoring An iPhone
Don't confuse these mixed and match terms. Although these words sound similar, they aren't.
Reset:
Resetting fixes minor issues in your iPhone. It can also erase your data depending on the reset type. Such as the general reset can set your iPhone to its default settings. A Reset doesn't affect the operating system of your iPhone.
There are four types of resets, each having different functions. You perform various reset styles on your iPhone, depending on their situation.
Method
What Happens
Done By
Data Loss
Soft reset (aka restart or reboot)
Turning your iPhone off and back, which lets the apps close and then restart correctly.
Settings/Buttons
NO
Hard Reset (aka forced restart)
Force the iPhone to shut down and turn on. It clears the working memory (RAM) and shuts down all running apps.
It will devalue the price of the iPhone in the pre-owned market.
Buttons
NO
Factory Reset
Reset or restore your iPhone to factory settings. It erases everything that is currently on your phone and reinstalls iOS.
Settings/ iTunes (Finder)/iCloud
YES
General Reset
Return iPhone settings to their defaults
Settings
Determined by choice
Restore:
Restoring fixes major iPhone issues. When you restore, the entire operating system of your iPhone is erased without hidden data left and reinstalled.
In addition, there are two scenarios when we say "restore iPhone."
Restoring Your iPhone to its Factory Settings:

The factory restore is also known as the factory restore. It deletes all your information and settings on your iPhone and will install the latest version of iOS. You might want to factory restore to erase all your data, such as for sale.

Restoring Your Backup from the Device to Your iPhone:

This restore allows you to retrieve your backup from iCloud or iTunes. Suppose you have factory reset your iPhone; you can quickly restore your previous data through iCloud or iTunes.
Difference Between Reset and Restore?
You reset to fix minor issues in your iPhone. With the reset, You can set your iPhone to default settings. You can also erase your data depending on the reset type.
The restore is for solving major iPhone issues, or even erasing firmware. Such as you might need to restore if your iPhone is unable to recover after the upgrade.
Summary
I have told you every method about how you can reset an iPhone. Now you know various ways to reset your iPhone without iTunes.
I hope my experience has served you well and you find this information insightful. Next time, You can reset easily without iTunes. Though I am delighted with Mobitrix Perfix, I plan to continue using it for reset.