This is not only a common issue but it is also complicated, and solutions to this problem vary depending on the version of the iPhone. This problem can be efficiently solved using Perfix professional software. If you are encountering this problem, do not panic because some solutions are outlined in this article.
Why Won't Your iPhone Turn Off?
Software problems:
Your iPhone may fail to turn off if there exists a corrupted application or software, memory space in the device is not sufficient.
Hardware damages:
A broken sleep button is an example of a problem that may make your iPhone not turn off. Screen damage may make the device not respond to taps, therefore, failing to turn off.
How to Turn Off a Frozen iPhone
Below are some of the solutions you can try out in an event where your iPhone device cannot open settings application or any application:
Method 1: Force restart your iPhone
Steps followed when force restarting your iPhone mobile device depend on your iPhone device model. Steps for force restarting some iPhone models are:
Force restarting iPhone 8, iPhone X, iPhone XS or later: When using this model, first press the button for volume up then release it, do the same for the volume down button, then press the device side button and hold it until Apple's logo shows up.
Force restarting iPhone 7, iPhone 7 Plus : Long-press the button for volume down and the Sleep button until the Apple logo shows up. When it appears, release the buttons.
Force restarting iPhone 6, iPhon 6S or earlier: Long press the sleep button and home button until Apples' logo shows up then release the buttons.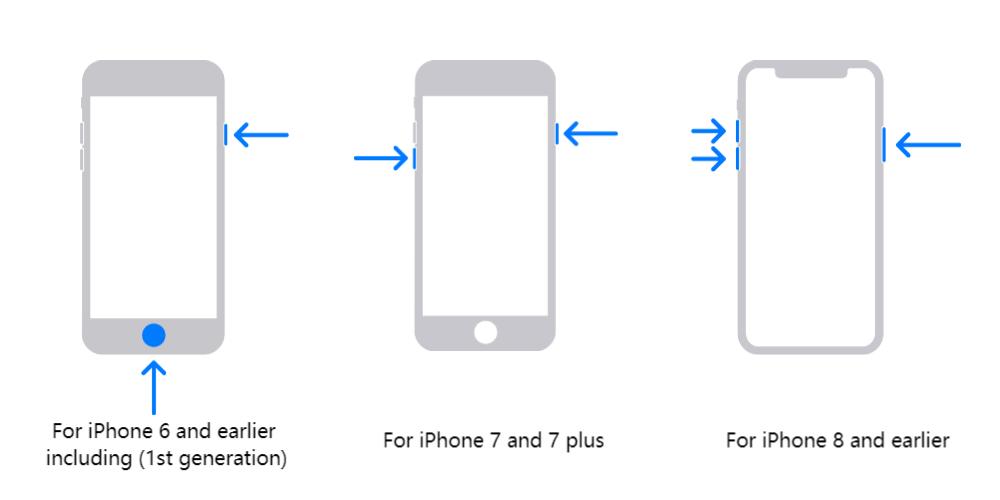 Method 2: Enabling AssistiveTouch
There are two methods used when enabling the AssistiveTouch.
The first method is to long-press either the power button or button for home or say "Hey Siri" to start Siri then say "Turn on AssistiveTouch" iPhone command.
You can also turn the AssistiveTouch on in the following way:
Launch Settings application > Accessibility > AssistiveTouch
Tap the option at the right-hand side of AssistiveTouch to turn it on.

Choose your iPhone and then, long-press the icon for Lock Screen.
Method 3: Use Perfix software to turn your iPhone off
If methods 1 and 2 above do not work, you can use Mobitrix Perfix software which is 100% efficient and your iPhone will turn off within a short period after using it.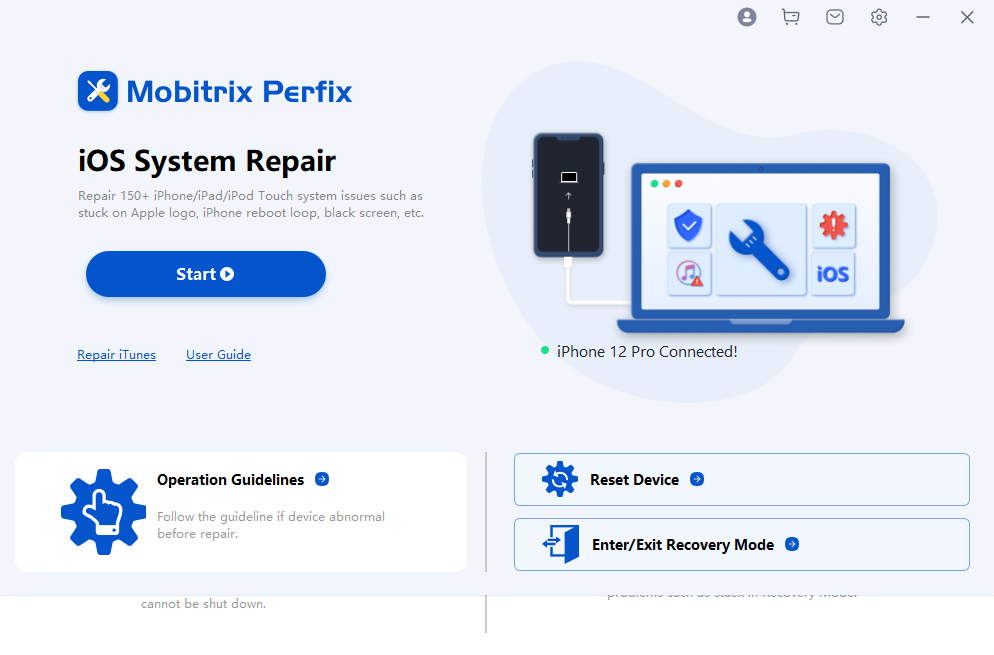 Advantages of using Perfix:
You just need to click a few times to unfreeze the device and you do not need to figure out what happened to your iPhone device.
It is compatible with any iPhone model.
You do not risk losing data stored in your iPhone.
Steps to fix iPhone won't turn off with Perfix :
Download Perfix on your computer, and then launch it.
Connect your device to the computer.
Click the button labeled "Standard Repair".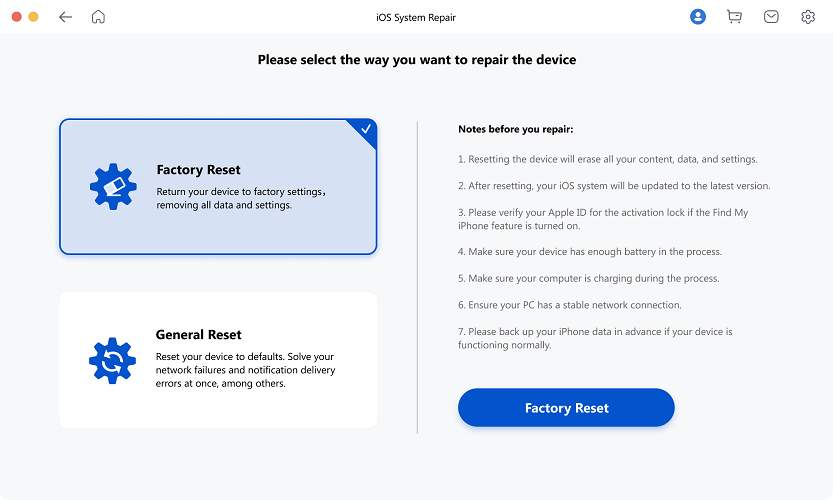 If your mobile device works well but you cannot turn it off, below are some of the solutions you can try to solve the issue.
The methods do not apply to everyone because your device is usually frozen when it cannot be turned off.
Method 4: Turn off your iPhone by use of Settings app
First, open general and then scroll until you reach the screen bottom and tap on the Shut Down button to turn off your device.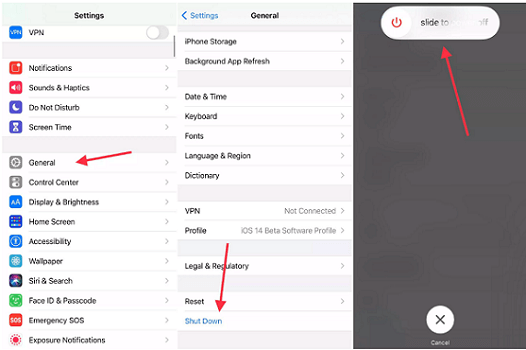 Method 5: Reset all the device settings
If using the button for shutting down fails, you can try resetting your device using the settings application. Passwords saved on the device and preferences will be deleted but data files such as contacts, pictures, and audio will not be affected.
Below are steps for using this method:
Open Settings > General.
At the bottom of the screen, choose the tab labeled "Reset".
Tap the button labeled "Reset All Settings".
Select the option "Reset All Settings" to reset your iPhone.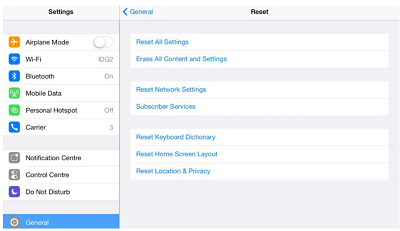 Method 6: Free up memory space
To free up some memory space in your mobile device, carry out the following steps:
Launch Settings app.
Go to General > About.
Look at the available memory capacity .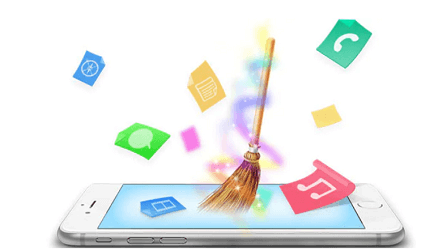 If storage available in your device is less than 1GB, back up and then delete applications and data that are not necessary.
Restore Your iPhone to Solve the Issue
Restoring is a method commonly used for solving all sorts of issues but it requires one to follow many steps compared to the methods stated above. Below are some of the methods used when solving the problem using restoration:
Method 1: Restore from backup
When using this method, the problem will be solved without data loss and it is only used if iPhone's owner had backed up with iTunes.
The following steps are followed when using this method:
Start iTunes on your computer and then connect your iPhone to the computer.
Click the icon for iPhone and then choose summary.
Tap on the Restore Backup option.
Click restore.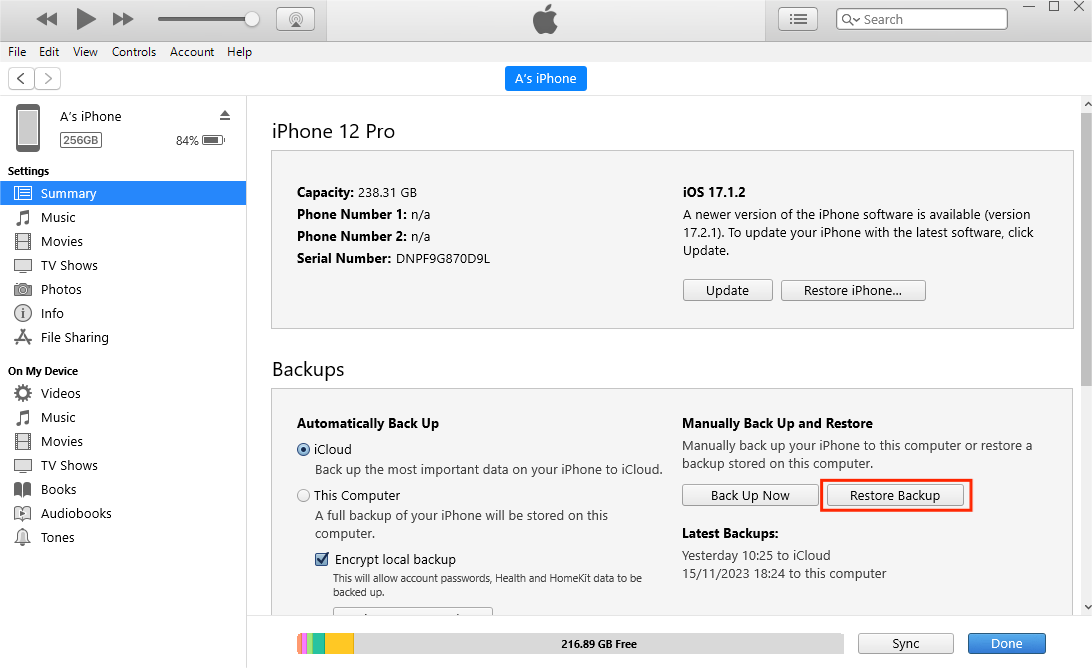 Method 2: Restoring using iTunes
1. Backup and restore with iTunes
Below are steps followed when carrying out backup and restoration using iTunes :
Start iTunes and then connect your device to the computer.
Select "Back up now" to create a backup for your device.
Click on the Restore iPhone option.

Then click on the Restore backup option.
When using this method, data stored on your iPhone will not be lost.
If this method does not solve your problem, you can use the methods below:
2. Fix the issue using Recovery Mode
When using this method, all the data in your device will be deleted.
Steps followed when using recovery method to fix the issue are:
Start iTunes on the computer you are using.
Long press the volume down button on your device having connected your mobile device to your computer using a cable.
When the icon for iTunes appears on the screen, stop holding the volume button and iTunes automatically detects your device in recovery mode.
A pop-up appears and then click "Restore" to carry out the restoration.
3. Fix the issue using DFU mode
This is not the best way for solving the problems because all the data stored in the memory of your device will be deleted.
Steps:
Connect the device to a computer then start iTunes.
2.Long press the sleep button and the home button (this is applicable for iPhone 6 or models released earlier) or button for volume down (if you are using iPhone 7) for about eight minutes.

Stop pressing the sleep button but continue holding the volume or the home button until your iPhone device is detected by iTunes in Recovery Mode.
Then release the home button or the volume button that you were holding if the screen appears to be black completely and if does not, repeat the steps stated above.
Then in iTunes, click restore, and click OK at the pop-up windows.
Summary
In conclusion, iPhone failing to turn off is a common problem and the methods stated above provide a solution to the problem.
Mobitrix Perfix software is the fastest and efficient method that is recommended when you want to fix an iPhone that is not turning off.