Working as a smartphone technician for 10 years, I have dealt with 1000+ iPhones stuck on the Apple logo. In this article, I am going to analyse this issue for you in depth. Trust me, most people can solve it at home directly.
In this tutorial, you'll find out why this happened while getting the most comprehensive tutorial to fix your iPhone. If you simply want a quick fix, skip right here!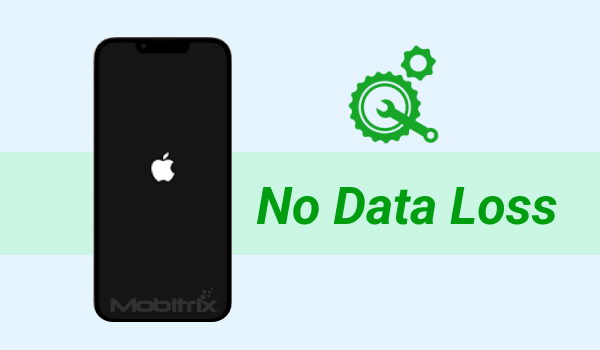 fix iPhone stuck on Apple logo with no data loss
Part 1 iPhone Startup Routine
When your iPhone fails to boot past the Apple logo, it's important to know something has definitely messed up its startup routine. There are 3 steps involved when an iPhone turns on: Low Level Bootloader (LLB), iBoot, and iOS kernel. Each step needs to be signed, verified and then executed before proceeding to the next one. In one word, it's a chain of verifications on the device's firmware and software.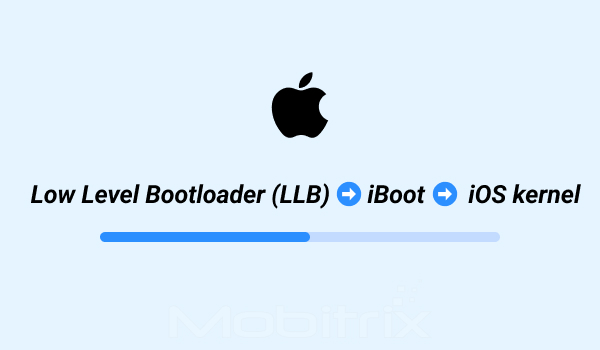 iPhone boots with these 3 steps involved
When any component goes faulty, making your iPhone unable to access the essential data for signing, verification and execution, your iPhone would try to fix the issue by automatically restarting again and again, hence the white Apple logo issue.
Part 2 Diagnose The Problem That Made Your iPhone Stuck on Apple Logo
So, what has possibly affected your iPhone startup routine? Specifically speaking, what has influenced the 3 essential steps above in your iPhone? Apps don't have any root access to your iPhone data, and therefore should be ruled out. Instead, these are the most common factors that you need to watch:
1.iPhone storage running low
At full storage, your iPhone becomes less responsive. You may want to perform a restart to load it afresh. But that's when the whole white Apple logo problem occurs.Why?
Well, an iPhone is designed to auto-delete downloadable content when its storage is running low. When you restart or force restart it, that sudden power off would cause a significant iOS key data loss, then the booting verification cannot continue. Your iPhone won't be turned on past the Apple logo screen.
2.iOS update or restore failed
An iOS update or restore would require access to the iPhone's internal file system, which is essential to the boot process. That means, for instance, if your update files are corrupted, or there is a restore error, your iPhone won't be able to switch on properly.
3. Data syncing and transfer between your computer and your iPhone
If there's anything interrupting the connection between your PC and iPhone, for example, defective USB cords, dusty USB ports, computer virus, etc, your iPhone software may get corrupted.
4.Jailbreaking
Jailbreaking is about bypassing iOS security and gaining access to your iPhone core files. It will make your iPhone vulnerable to malicious applications hidden in the background, which keep disturbing your iPhone functionalities.
5.Hardware problems
Like mentioned above, the iPhone startup routine includes checks and verifications on the device's hardware. A malfunctional hardware component would hinder your iPhone from turning on. But don't worry, the possibility of hardware damage causing white Apple logo is very low.
Part 3 How to fix iPhone Stuck or Frozen on the Apple logo
Method 1 Hard Reset Your iPhone

Hard reset is usually the first simple trick to try. It fixes minor bugs and terminates all running activities in your iPhone by forcefully shutting off the power supply. 10% white Apple logo issues can be fixed with this method.
Here's how to go about it:
For iPhone 8, iPhone SE(2nd gen), iPhone X, iPhone XS, iPhone XR, iPhone 11, iPhone 12, iPhone 13 or iPhone 14:
First press and release the volume up button. Press and release the volume down button then. Now, long-press the side button until the Apple logo appears.
For iPhone 7: Press and hold the volume down button and sleep button at same time. Release them when the Apple logo appears.
For iPhone 6s and SE(1st gen.): Press and hold the sleep/wake button and home button together. Release when the Apple logo appears.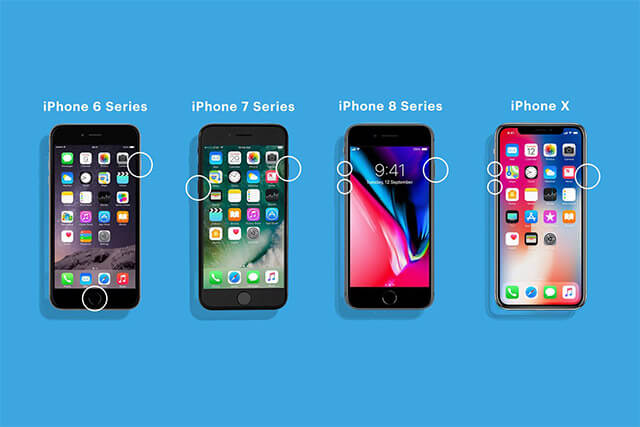 If a hard reset doesn't help, you'll need a computer to help fix it. But first make sure you've disabled the security software on the computer. Why?
Because the security software can cripple the connection between your iPhone and computer during a data transfer or an iOS upgrade, which is also why many people have had their iPhone stuck on Apple logo in the first place!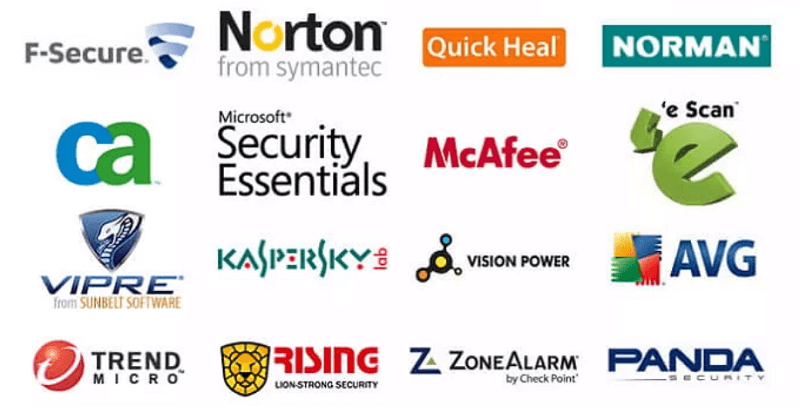 remove anti-virus software in your PC
Method 2 Fix iPhone Stuck on Apple Logo by Using Mobitrix Perfix
Whenever clients come to me with an iPhone frozen on Apple logo or other issues, I would resort to Mobitrix Perfix. This is a professional iOS system repair tool that can fix various iPhone issues in 30 minutes.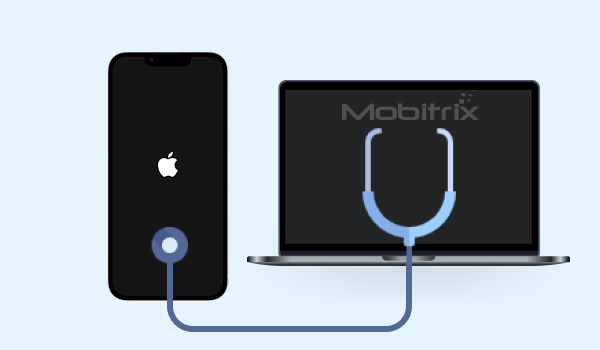 Fix iPhone stuck on the Apple logo with Mobitrix Perfix
Here's how to go about it:
Download and install Mobitrix Perfix on your computer.

Launch Mobitrix Perfix

Connect your iPhone to the computer. Launch Mobitrix Perfix.
Click "Standard Repair"
Click Start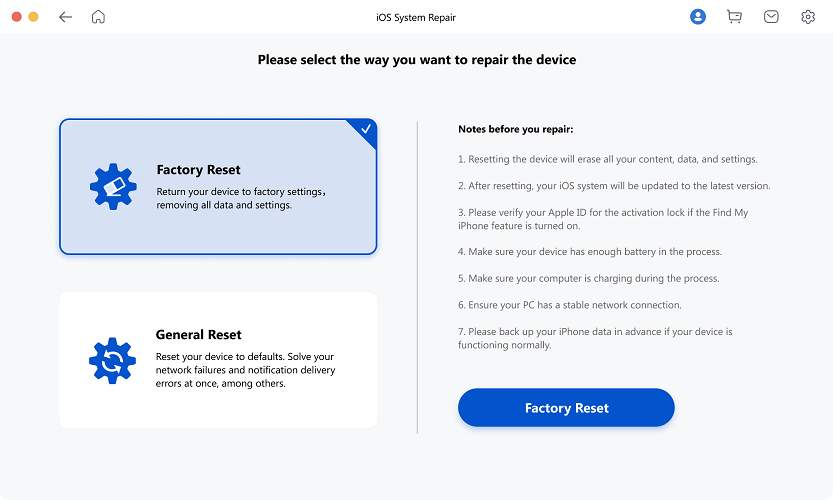 Standard Repair Mode of Mobitrix Perfix
Mobitrix Perfix will automatically detect your iOS issues and start fixing it. In around 30 minutes, your iPhone can get back to working.
Mobitrix Perfix offers two repair modes: Standard Repair and Advanced Repair. Usually, the Standard Repair would suffice for most cases.
Why would I choose Mobitrix Perfix to fix iPhone issues?
Keeping the old data is always the top concern for many. The Standard Repair Mode from Mobitrix Perfix doesn't cause any data loss.
It repairs any iPhone issue in around 30 minutes. This way, you don't need to wait for hours for a local repair shop to fix your iPhone.
It is super simple to use, requiring only a few clicks. All you have to do is to connect the iPhone with the computer, follow the prompts and then the tool will automatically begin repairs. You don't need to stare at the computer while not being able to do anything else.
Method 3 Fix iPhone Stuck on Apple Logo via iTunes
You might have heard of iTunes as an Apple software program used to manage media files. Sometimes, it can also help fix some iPhone problems too, though not always successfully.
This is how it's done:
Download and install the latest iTunes

download the latest iTunes for Windows

Connect your iPhone to Computer

different iPhone models enter recovery mode

When you see a pop-up asking you to choose Restore or Update, select Update.
Note:
If you use a Windows PC or a Mac with macOS Mojave 10.14 or earlier, then launch iTunes. If you use a Mac with macOS Catalina or later, then open Finder.
The download of iTunes can take hours. Also, you need to check your PC system to decide if you should install the 32 bit or 64 bit version of iTunes.
Make sure you've created a backup before. Otherwise all your data might be lost.
iTunes can be unstable to use. Your iPhone can get disconnected often during the restore process. Meanwhile, a lot of random errors can happen, like 4013, 4010, 1011.
There is no progress bar during an iTunes restore. You may find it hard to tell how your iPhone is being repaired.
If Recovery mode doesn't work, then you'll need to put your iPhone in DFU mode and try restoring it with iTunes again.
Both Recovery Mode and DFU mode are built-in repair modes within an iOS device. Recovery mode is helpful for most general system issues, but a DFU restore can fix much more severe iOS bugs. Check this tutorial to know how to perform a DFU restore.
Part 4 Hardware Problems
As mentioned above, only a very few white Apple logo issues are caused by hardware issues such as water damage, or accidental drops on a hard surface. If you have tried all methods above, and your iPhone is still showing the white Apple logo, it's best to visit a local repair shop or a nearby Apple store. The technicians there will run full checks on your device.
Part 5 How to prevent your iPhone from getting stuck on the Apple logo?
Ensure your iPhone always has at least 20% memory left

Make sure your iPhone's storage never gets too full. Keep deleting unnecessary data on your iPhone. Or transfer some of your data onto iCloud, by enabling iCloud backup. This will prevent iPhone crashing, white Apple logo, and many other issues. 

Ensure stable network connection

When you are updating your iPhone OS via settings, make sure your iPhone stays charged and that you have decent internet connectivities.

If you don't have Wifi, or want to save your mobile data, it's better to upgrade your iPhone with the help of a computer. In such cases, make sure your iPhone and computer are well connected. You can use the original Apple cable, and connect your device to the computer port instead of the keyboard port. Also, turn off the security software on your computer if any.

Avoid installing suspicious apps on a jailbroken iPhone

Jailbreaking removes security restrictions on your iPhone, so you can download third-party apps with ease. However, this makes your iPhone exposed to more cyberthreats, especially if those newly installed apps are poorly developed, or from an unreliable source. Before downloading an app unavailable in the Apple store, make sure you Google about its reviews and security certificates first.
Your life can't just stop because your iPhone suddenly gets stuck on the Apple logo. Using the methods all above can help you get back on your feet quickly. If you need the quickest solution, go for Mobitrix Perfix. With only 30 minutes, there will be a big difference to how you connect with friends, families and clients on your iPhone. Get going with Mobitrix now!