An iPhone getting stuck in recovery mode is a common problem that affects many individuals daily, this article has gathered and outlined the different solutions for iPhones getting stuck in recovery mode.
Part 1: Why is my iPhone stuck in recovery mode?
An iPhone getting stuck on the recovery mode indicates that it has an issue with the Operating system. This may be caused by an interrupted system update or system restore that prevents it from exiting recovery mode because of crashing or failing to work again.
Part 2: How to solve the problems that iPhone stuck in recovery mode?
1. Force restart
Doing a hard restart on your iPhone can make it start functioning well again. The following steps can guide you on how to do a force restart.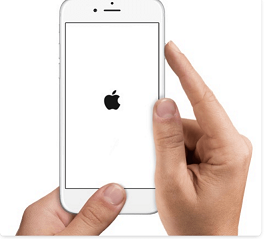 In iPhone X or 11: Go to either the button for home or side and press it till the power off slider pops up. Drag the slider to the close option then long-press the side button until your iPhone turns on again.
For iPhone 7,8 or 6: press the side button until you can see the power off slider, close the iPhone by dragging the slider then go to the side button and press it long enough to see the Apple logo.
iPhone 5 and any early versions: In the top of the right corner press the button that is there till the slider for power off is seen, close your device by dragging the slider then go for the side button and press it long enough to see the logo for Apple.
2. Restore iPhone via computer
To restore your iPhone using your computer follow the steps below:
Connect your computer with your iPhone.
For macOS Catalina or later versions launch finder and select your device from the sidebar.
For earlier versions of macOS or windows launch iTunes and select the iPhone icon on the top of the left corner.
Select the option for "Restore" and confirm it.
Allow your iPhone's data to be erased then download the latest iOS version and install it to start using your iPhone again. Be aware that all the data will be completely deleted.
3. Use Perfix
When your iPhone gets stuck in recovery mode, it may be due to system faults that need to be fixed. In this case, one can use Mobitrix Perfix which is a perfect software that can help to fix this issue easily.
To repair iPhone with Perfix follow the steps below:
Open Perfix on your computer after installing it and select the Standard mode.

Connect your device to the computer and wait for it to be detected.
Once it is detected select "Repair Now".
To exit recovery mode with Perfix:
Download, install and launch the software while connecting your iPhone to the computer at the same time.
Allow the software to detect the device.
Select "Exit Recovery Mode" and allow the process to complete.
Some of the benefits of using Perfix include:
Does not require iTunes or Finder to be installed.
Data is not lost during the process.
Few and simple steps to follow.
Supports all iOS versions and devices.
4. Restore iPhone By DFU Mode
This method is not highly recommended because if it is not done well it can lead to fatal damages to your iPhone. You are advised to try this method when no other method works for you.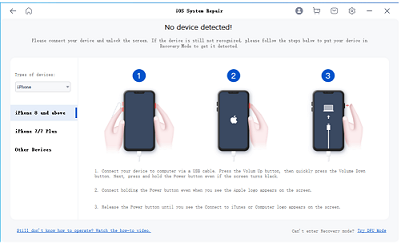 iPhone 7 or iPhone 7 Plus: Press the side buttons for some time then release them. Press the side and volume up buttons shortly then finally press the volume down button long enough for your device to be recognized.
iPhone 6S or the earlier models: Press the Wake (Sleep) button then the button for a home for 8 seconds then continue pressing the button for home but release the Sleep button until your iPhone is acknowledged.
iPhone 8 and newer models: Press the button for volume up then release it, press the button for volume down shortly as well. Long-press the button for the side till you can see the black screen, go ahead and long-press the volume down button alongside with side button for 5 seconds then release the side button only but continue holding the other button for volume down till your device is detected then follow instructions in your computer.
The problems with this method are that you must install the latest iTunes version on your computer, data is lost during the process and it has complicated steps.
How to solve it if you have tried every method above and still have no success?
In case your Phone is still in recovery mode after trying all the possible solutions, then you can visit any Apple store near you to get professional assistance.
Summary
To sum up, an iPhone is an essential item that one cannot afford to stay without. iPhones offer great assistance during communications or even accessing some important resources easily.
Therefore, in cases where your iPhone is stuck in recovery mode, go ahead and use this article to solve that issue with Mobitrix Perfix which is the recommended way that you can try.
In case no method solves the issue for you, you can visit any Apple store near you and get assistance.